This post may contain affiliate links. It doesn't cost you anything extra and it keeps our lights on, our families fed, and our dogs spoiled. For all the juicy fine print, see our affiliate disclosure
Fleas and ticks thrive in dog hair as it provides a perfect environment for their sustenance and breeding. These parasites feed on the blood of dogs by biting into the skin and latching onto it.
Tick species such as lone star ticks and brown dog ticks as well as dog fleas and other parasites may carry several diseases.
Flea and tick infestations are known to cause numerous health issues or allergic reactions, compromising your dog's health.
Parasitic infections are more common during the warmer months, but fortunately, you can take steps to prevent an infestation by these pesky critters.
Related: Simparica Trio Review: How Does this Chewable Flea Preventative Match Up?
Prevention: Flea Treatment and Tick Treatment
To maintain the health and well-being of your canine buddies, it's important to take preventive measures for tick and flea treatments.
There are plenty of oral treatment options known for killing ticks and fleas.
We are here to fill you in on the oral medications available for getting rid of flea and tick infestations. It can be daunting to choose the best treatment for your dogs as the market is flooded with all sorts of remedies.
Out of all the solutions out there, the two that rightfully stand out the most are NexGard and Simparica chewable tablets.
We have listed major features and some similarities and differences between the two treatments to help you select the one that kills fleas and best fits your dog and its condition.
This will assist you in determining your choice in the NexGard vs Simparica matchup.
So without further ado, let's dive right into the details.
How Are NexGard and Simparica Tablets Similar?
Easy to Feed to Your Dog
NexGard and Simparica solutions for flea treatments and tick infestations are available in the form of chewable tablets.
Is Your Dog Driving You Nuts During the Day?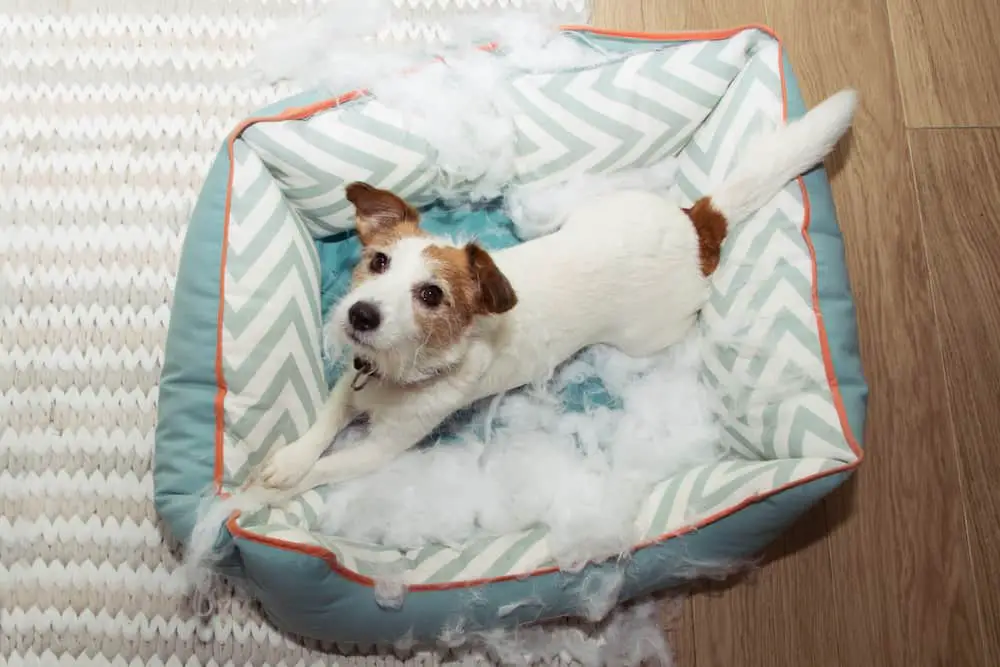 Get Our List of 11 Awesome Indoor Activities to Keep Your Dog Busy and Out of Trouble!
These are oral treatments in the form of chewable tablets that are flavored to make it easier for you to feed your dogs.
NexGard tablets are marketed as beef-flavored, while Simparica tablets are marketed as liver-flavored.
Effective against Flea and Tick Treatment
Both NexGard and Simparica are specially formulated for dogs only.
Both treatments are highly effective in treating and preventing infestations from fleas by killing them swiftly.
In the case of ticks, both brands offer effective treatment against four species of ticks, i.e., brown dog ticks, lone star ticks, American dog ticks, and black-legged ticks.
Deliver Results on a Monthly Schedule
They are both monthly treatments.
Therefore, it is important to set up a monthly dosing schedule for your dog to achieve the best results.
NexGard vs. Simparica: How Are They Different?
There are several differences between NexGard and Simparica that may be a factor in determining which one is the best suited for your dog.
Some of these differences are:
Which Treatment Is More Effective?
While belonging to the same class of pesticides, i.e., the isoxazolines, the active ingredients in NexGard and Simparica tablets are different.
NexGard is based on Afoxolaner, while Simparica has Sarolaner as the active ingredient.
Both are effective ingredients for offering treatment against fleas and ticks.
However, the difference lies in the time they take to spring into action and the efficacy against different species of ticks.
NexGard tablets kill fleas within 4 hours and ticks in about 24 hours.
Simparica tablets take about 3 hours to eliminate fleas and about 8 hours to eliminate ticks. According to DailyMed, Simparica is 96.2% effective even on the 35th day of treatment1.
When comparing NexGard to Simparica Gulf Coast ticks could be a deciding factor.
While Gulf Coast ticks are not common in dogs, there is still a chance of your four-legged companion getting infested with them.
NexGard is ineffective against Gulf Coast ticks, while Simparica offers effective treatment against them2.
On the other hand, NexGard tablets are also effective in getting rid of eggs and larvae of fleas. Simparica falls short in this regard.
Treatment Against Other Parasites
In addition to the original Simparica tablets, the brand offers another product under the name of Simparica Trio, which has all the features of original Simparica chewable tablets and more.
In addition, Simparica Trio offers treatment against other parasites such as roundworms, hookworms, and heartworms.
NexGard has a similar product called NexGard Spectra.
Tablet Use for Younger Pups
Comparing the two treatments, both have different profiles regarding the safe administration of the tablets in young puppies.
NexGard is safe to use for dogs who are at least two months old and weigh 4 lbs or more.
Simparica is meant for dogs six months or older and those who weigh at least 2.8 lbs or more.
Safety Precautions For Breeding, Pregnant or Lactating Dogs
In addition to considering the age and weight of dogs, NexGard and Simparica brands have different safety profiles regarding breeding, pregnant or lactating animals.
Both the brands are approved by the FDA for general usage. However, Simparica was evaluated and marked as unsuitable for breeding or pregnant dogs.
NexGard has not been assessed yet for dogs in these conditions.
Protection Against Lyme Disease
NexGard was the first treatment that was approved by the FDA when it comes to protection against infections that can cause Lyme disease in your pet.
Simparica was approved for this purpose as well in 20213.
Final Thoughts On the NexGard vs. Simparica Comparison
Both NexGard and Simparica tablets for dogs have some pros and cons.
The choice of the treatment depends mainly on the age, weight, and condition of your dog.
Both of these treatments are available for purchase after a prescription is provided by a veterinarian. Don't have a prescription? You still have flea-treatment options.
Since Simparica is not safe to use for dogs younger than six months, many pet owners choose to go with NexGard and later shift to Simparica when their puppies are old enough.
In any case, you should always consult a professional first.
The vet will examine your pet and help you decide which treatment is best for your dog, depending on the circumstances.
Resources