This post may contain affiliate links. It doesn't cost you anything extra and it keeps our lights on, our families fed, and our dogs spoiled. For all the juicy fine print, see our affiliate disclosure
The other day I received a panicked call from a friend, Sarah, who just got her first dog.
Her panic was over the abundance of choices of kibble at the pet store, which as a dog parent I totally get.
Her new dog is a medium-sized mix breed. The shelter guessed the dog to be about six years old.
Because she wasn't sure about the breed or the personality of the dog, I suggested she start with a non-specialty formula, meaning not grain-free or for a specific activity level.
The gal working at the store suggested Nutro and Blue Buffalo.
Unfortunately, these were brands I wasn't familiar with, so I had to hop online and do some research.
On the surface, both companies looked pretty similar, offering a price-friendly well-balanced food.
I wanted to delve a bit deeper into each company and learn more about their histories and overall product lines.
I was able to find some pretty interesting information about the two companies, though the nicest surprise was the numerous recipe varieties each company offers.
Nutro Company History
Nutro was started by Herben Serois in September of 1931, in Santa Monica, California[1].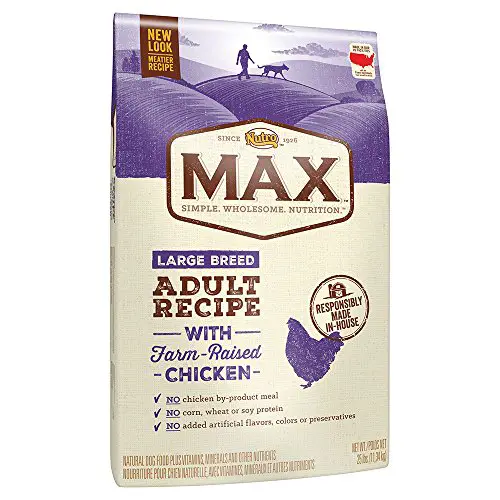 Nutro originally sold dog, cat, and fox food to the pet food industry.
In 1942, Mr. Serois passed away at the age of 63.
There is some confusion as to when Mr. Saleen purchased Nutro, but recent evidence shows he purchased Nutro in 1947, not 1926[2].
Nutro was a family operated company until 1975, at which point it was sold for the 3rd time.
Is Your Dog Driving You Nuts During the Day?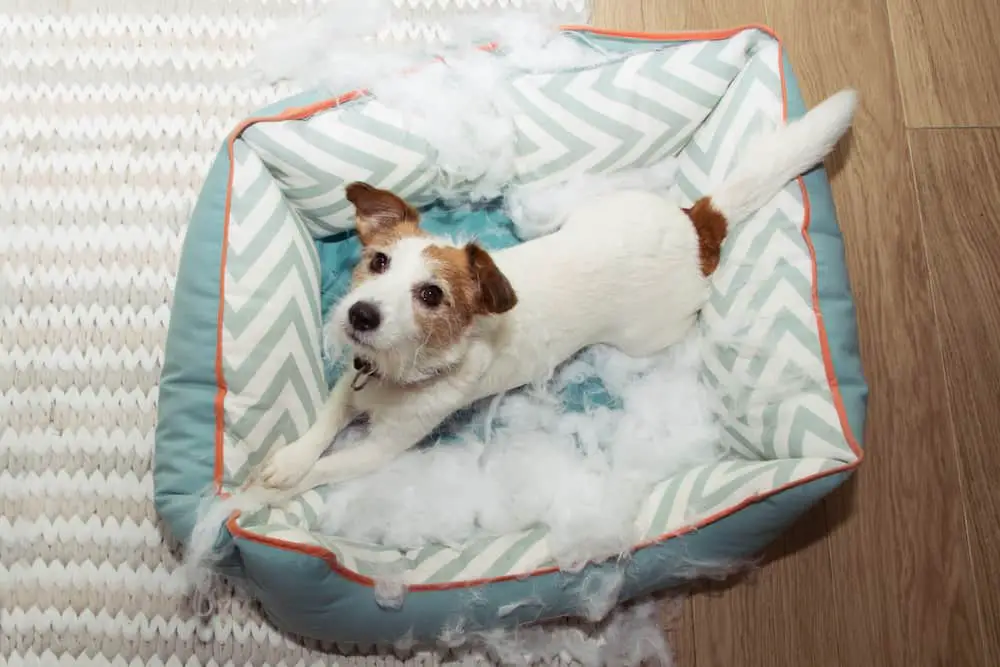 Get Our List of 11 Awesome Indoor Activities to Keep Your Dog Busy and Out of Trouble!
There is no documentation regarding who ran the company between the death of Mr. Serois and when Mr. Saleen later purchased it.
Ed Brown, Dave Traitel, and the other unnamed silent partners purchased Nutro in 1975[3].
Between 1975 and 2005, Mr. Brown eventually bought out his partners and took over sole ownership of Nutro until 2005.
A company by the name of Bain & Associates bought the company in 2005 but only kept it for two years, until 2007.
In 2007, Mars Incorporated purchased Nutro[4], making it once again a family owned and operated pet food company.
Nutro has 5 Different Dry Dog Food Lines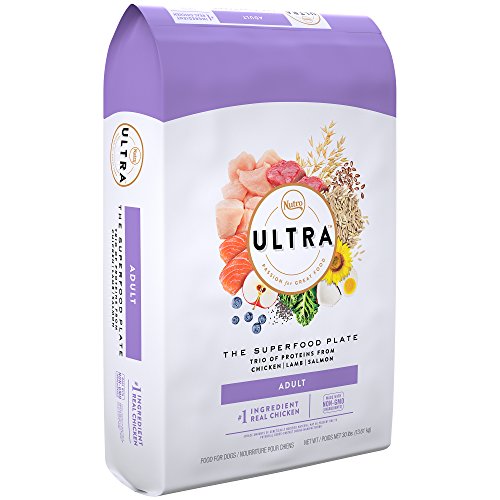 Nutro offers special recipes within each of the five different food lines for different life stages, weight management, and different breed sizes.
The five food lines they offer are:
Ultra
Grain Free
Wholesome Essentials
Limited Ingredient Diet
Max
Nutro 3 Best Selling Dry Dog Foods
Blue Buffalo Company History
The inspiration behind Blue Buffalo is an Airedale named Blue[5].
The business was started in 2003 by Bill Bishop.
Blue Buffalo was initially a small family owned company; however, in 2018, the Bishop family sold the business to General Mills.
Blue Buffalo Varieties
Blue Buffalo has 5 different dry dog food lines:
Blue Life Protection – There are 23 varieties with specific formulas for adult dogs, puppies, seniors, breed size, and weight management. The Blue Life Protection lines are, "Formulated for the health and well-being," of dogs.
Freedom Grain-Free – Has 12 different options ranging from puppies to seniors and a couple specific to breed sizes.
Basics Limited – This line is made up of 13 recipes and are all limited-ingredient formulas for dogs with food sensitivities. There are unique blends for weight management, puppies, adults, and seniors. Also, they have foods based on breed size as well.
Blue Wilderness– Like the other diets, they have individual formulas for different life stages and breed sizes. This line was, "Inspired by the diet of wolves, true omnivores whose endurance is legendary," and is a grain-free high protein option.
Blue Natural Veterinary Diet – Exclusive to vet clinics.
Blue Buffalo 3 Best Selling Dry Dog Foods
Nutro Recalls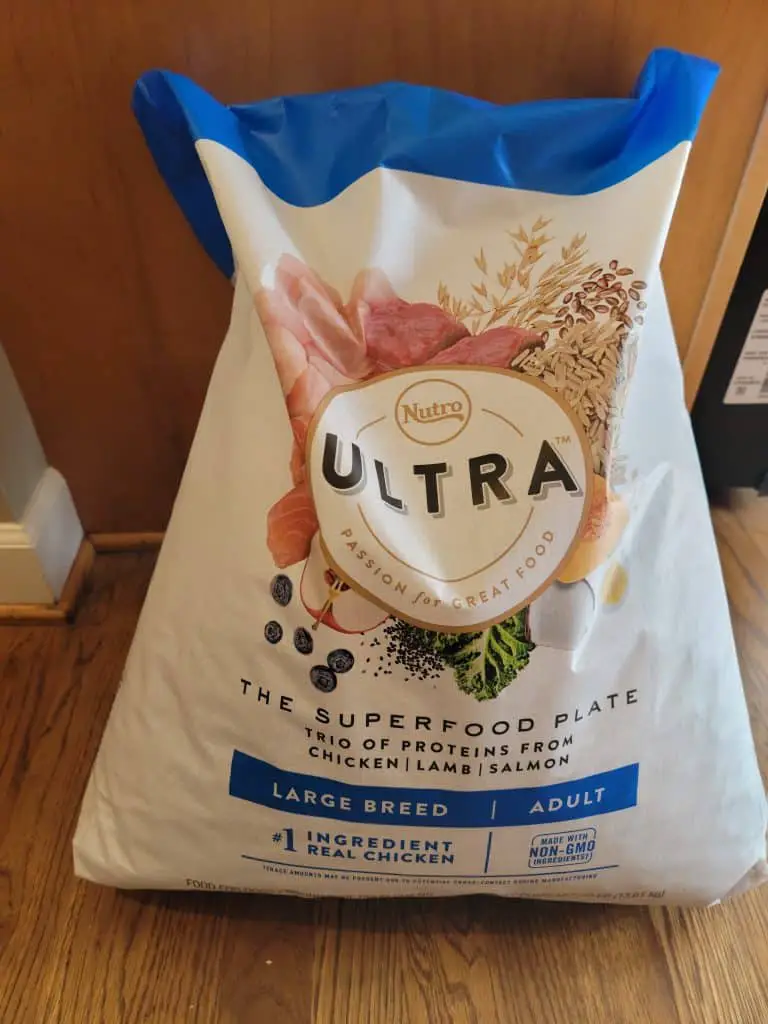 In the last ten years, Nutro has only had one recall that affected their dog food products.
The recall occurred in September of 2009 when they discovered plastic on their production line[6].
The following is a list of foods involved:
Nutro Ultra Puppy
Nutro Natural Choice Chicken Meal Rice
Oatmeal Formula Small Bites Puppy
Since the 2009 recall due to plastic on the production line, there hasn't been any other recalls on their dry dog food.
Blue Buffalo Recalls
Blue Buffalo has had six recalls in the last ten years involving their dog food products:
March 2017 – Blue Wilderness Rocky Mountain Recipe Red Meat Dinner Wet Food for Adult Dogs, due to high levels of beef thyroid hormones[7].
February 2017 – Blue Buffalo Homestyle Recipe Healthy Weight, Chicken Dinner with Garden Vegetables, 12.5 ounce can, due to possible aluminum contamination[8].
February 2017 – The following varieties packaged in the 3.5 oz cup were impacted due to packaging issues with the foil cover[9]:
BLUE Divine Delights Filet Mignon Flavor in Gravy
BLUE Divine Delights New York Strip Flavor in Gravy
BLUE Divine Delights Prime Rib Flavor in Gravy
BLUE Divine Delights Rotisserie Chicken Flavor in Gravy
BLUE Divine Delights Pate Filet Mignon Flavor
BLUE Divine Delights Pate Porterhouse Flavor
BLUE Divine Delights Pate Grilled Chicken Flavor
BLUE Divine Delights Pate Top Sirloin Flavor
BLUE Divine Delights Pate Angus Beef Flavor
BLUE Divine Delights Pate Roasted Turkey Flavor
BLUE Divine Delights Pate with Bacon, Egg, and Cheese
BLUE Divine Delights Pate Sausage, Egg and Cheese Flavor
BLUE Divine Delights Pate Steak and Egg Flavor
BLUE Wilderness Trail Trays Duck Grill
BLUE Wilderness Trail Trays Beef Grill
BLUE Wilderness Trail Trays Chicken Grill
BLUE Wilderness Trail Trays Turkey Grill
May 2016 – 30lb Blue Buffalo Life Protection Formula Fish & Sweet Potato Recipe, due to high moisture content[10].
November 2015 – Cub Size Wilderness Wild Chews Bones, due to possible salmonella contamination[11].
October 2010 – The following foods were impacted due to possible excess Vitamin D[12]:
4.5#, 11#, 24# Blue Wilderness Chicken Flavor dry dog food
11#, 24# Blue Basics Limited Ingredient Formula Salmon and Potato Recipe dry dog food
30# Blue Life Protection Formula Natural Chicken & Brown Rice Recipe Large Breed Adult dog food
Most of these were voluntary recalls made due to the possibility of contamination, with no or minimal negative effects.
What's Important When Choosing a Dog Food?
Obviously, we know that ingredients are essential in deciding which food would be the best match for our dog, but numerous other factors impact our buying decision.
There are two groups of elements that help us decide on the best dog food choice for our dogs.
The first group is the primary factors that directly relate to our dog's specific needs, and the other group is the secondary aspects that aren't related to our dogs.
Primary Factors
Health – Heart or kidney disease, GI issues such as chronic pancreatitis or irritable bowel disease, allergies, and so on can require dietary changes
Size
Age
Weight (gain or loss)
Energy Level
Secondary Factors
The dog food company's reputation
Availability
Ingredients
Where the food is manufactured
Where the ingredients are sourced
Price 
Comparison of Nutro vs. Blue Buffalo
Ingredients
Winner: Blue Buffalo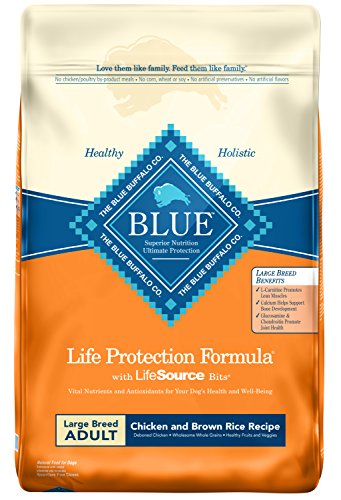 This was almost a tie since the two companies have similar product line variations; however, Blue Buffalo has enriched their foods with probiotics and also has a higher fiber, omega-6, and omega-3 fatty acids content.
Another enhancement Blue Buffalo made to their products was to add BLUE LifeSource Bits, which are a precise blend of antioxidants, vitamins and minerals.
Nutro does have impressive, extensive food lines. It is worth noting that their dry dog foods are all made up of non-GMO ingredients.
Price/Value
Winner: Nutro
The average price per pound for Nutro is about a dollar fifty and the average price per pound for Blue Buffalo over two dollars.
The X Factor
Winner: Blue Buffalo
Blue Buffalo's exclusive LifeSource Bits are unique, and the added bump in antioxidants, vitamins, and minerals is a definite bonus in any dog food.
Availability
Winner: Blue Buffalo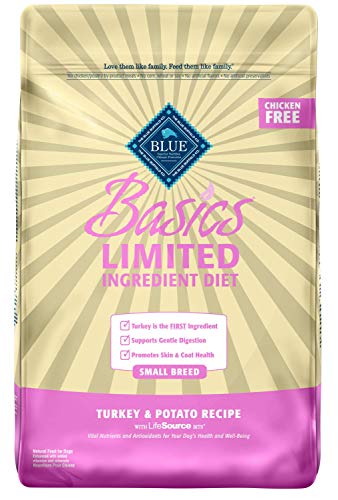 Blue Buffalo is available in almost all large pet stores, some boutique stores (but only select lines), some large hardware stores, and grocery store chains.
Nutro is available in most of the large chain stores like Pet Smart, Target, and Walmart, but not as many places as Blue Buffalo.
You can find Nutro at both Amazon and Chewy.
You can get Blue Buffalo from both Amazon and Chewy as well.
Taste
Winner: Blue Buffalo
Dogs seem to prefer Blue Buffalo over Nutro.
The ingredient lists are similar, so there's no apparent reason that stands out as to why one is preferred over the other except for the vagaries of taste.
Overall
Winner: Blue Buffalo
Blue Buffalo and Nutro are very similar products, but Blue Buffalo is available at more retailers, has the LifeSource Bits, and more importantly, the dogs' votes!
Conclusion
If you are deciding between the two brands and are unable to choose between the two, maybe consider the fat and protein content.
The crude analyses between the foods vary and depending on your dog's needs, and those might be worth factoring into your decision.
Also, if you are purchasing the food from a pet food retailer, many will let you return the open bag of food if your dog doesn't eat it.
Resources