Recently I found Pets Best while researching pet insurance companies.
At first glance, Pets Best almost seems too good to be true.
It has a lower monthly rate than most other companies offering similar coverage, which makes me wonder:
Is their coverage as good as they claim?
In this Pets Best review, I will go over the pros and cons, benefits, alternative options, if this pet insurance is worth it, and final thoughts on the company overall.
About Pets Best Pet Insurance
Pets Best's founder, Dr. Jack Stephen, has been referred to as the "Father of Pet Insurance."
Dr. Stephen's inspiration behind starting the first pet insurance plan was after a dog, Buffy, was euthanized due to her family's inability to pay for the testing she needed to determine her illness.
Dr. Stephen had come across several situations in his career where keeping a pet or euthanizing them came down to finances.
And though the Buffy incident occurred more than 40 years ago, economic euthanasia is still unfortunately not that uncommon[1].
Dr. Stephen hoped to create an insurance program that would help reduce the need to euthanize a pet due to the cost of the vet bill, so in 1981 he opened the first pet insurance company in the US.
Though it wasn't until many years later and with help from Greg McDonald, the current CEO, that Pets Best was founded in 2005.
✔
Pros
Fully customizable plans
Offers Accident, Accident, and Illness, and Routine Care coverage
Unlimited Annual Limit Option available and Unlimited Lifetime Limit
Accident Coverage for as low as $9 per month
Vet Direct Pay
✘
Cons
Longer than normal wait times on reimbursement
Recent drop in satisfactory customer experience
Things to Consider When Buying Pet Insurance
Pet insurance is an excellent solution to offset vet bills.
Most pet insurance plans are created to help you financially in the event of the unexpected such as illness, injury, or accidents.
However, many pet insurance companies now offer additional coverage for routine and preventative care.
Ideally, you would sign up your dog when they are young and healthy, which would help avoid future issues being exempt from coverage.
Otherwise, the older your dog is and the higher the cost of insurance.
But, every pet insurance company is unique, and all of them have different scenarios not covered in their policies, which is why it is essential to understand the pet insurance plan before you sign up.
It is critical to pay attention to the multitude of factors involved in choosing the ideal plan for you and your dog.
Some of the main considerations to think about, include:
Your dog's age
Your dog's breed
Monthly cost and additional fees
Reimbursement amounts and maximum payout coverage
Veterinary clinic networks
Pre-existing issues your dog may have
Wait time for coverage
Ease of submitting claims
Customer reviews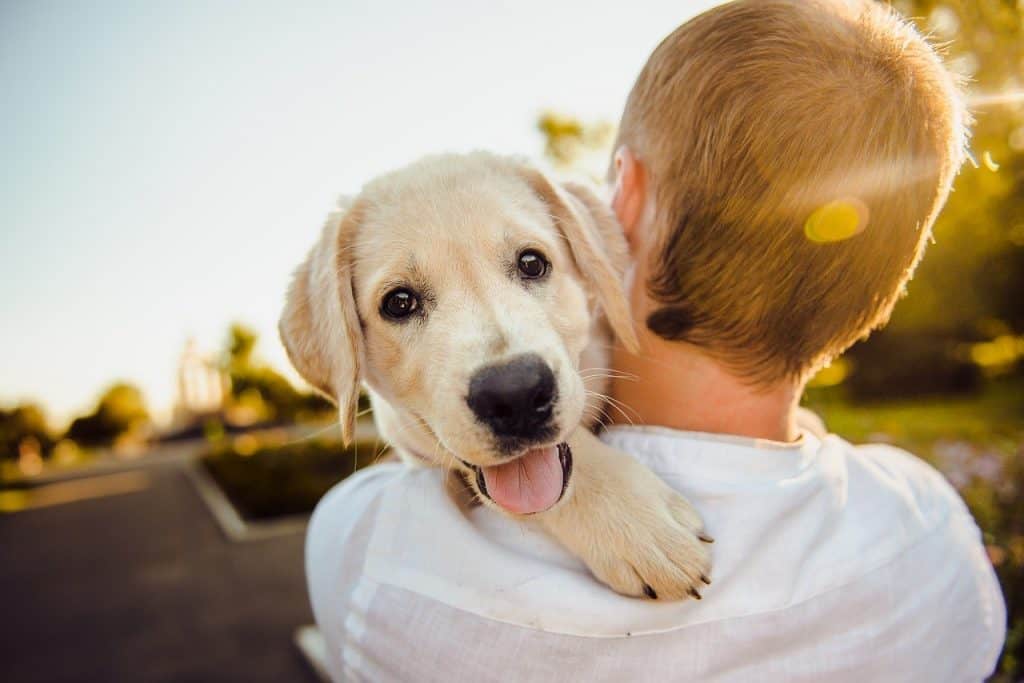 Features and Benefits of Pets Best
Flexible Coverage Options
Pets Best allows their clients to choose which plans will give them the greatest comfort at a price they can afford.
Some of the options available at Pets Best include:
Annual Limit – $5,000 or Unlimited
Annual Deductible – $50-$1,000
Reimbursement Level – 70%, 80%, or 90%
Depending on your overall needs, you can create a plan that works for you, knowing that as you adjust each option, it will change the monthly rate of your policy.
Routine Care Coverage Options
Though many insurance plans focus solely on accidents and illnesses, Pets Best offers two different routine care packages if you would like to add that onto your primary policy.
Is Your Dog Driving You Nuts During the Day?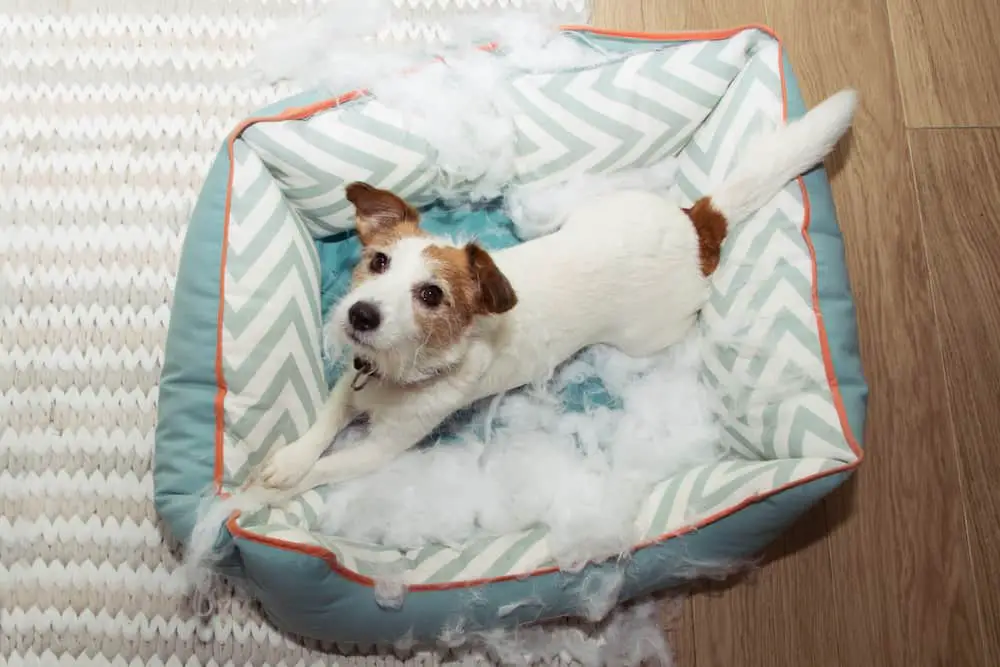 Get Our List of 11 Awesome Indoor Activities to Keep Your Dog Busy and Out of Trouble!
The two available wellness care options are:
Essential Wellness: $16/Mos
Rabies – $15
Flea/Tick Prevention – $50
Heartworm Prevention – $30
Vaccination/Titer – $30
Wellness Exam – $50
Heartworm test – $25
Blood, fecal, parasite exam – $50
Microchip – $20
Urinalysis or ERD – $15
Deworming – $20
Total annual benefits – $305
Best Wellness: $26/Mos
Best Wellness covers all of the above at the same maximum, except for the below items that have a higher limit
Spay/Neuter + Teeth Cleaning – $150
Flea/Tick Prevention – $65
Vaccination/Titer – $40
Heartworm test – $30
Blood, fecal, parasite exam – $70
Microchip – $40
Urinalysis or ERD – $25
It is worth noting that no deductible applies to the wellness care coverage.
Four Coverage levels
There are three care plans for accident and illness:
Essential
Coverage includes:
Accidents
Illnesses
Cancer
Hereditary Conditions
Emergency Care
Surgeries
Prescription Medications
Plus
All of the above plus:
Accident
Illness Exam Fees
Elite
Everything the Essential and Plus plans cover and:
Rehabilitative, Acupuncture & Chiropractic Coverage
Accident Only
This is ideal for seniors or other dogs that have pre-existing conditions since it covers accidents for as low as $9 per month
24/7 Helpline
Pets Best's helpline aids its customers with more than just insurance questions. They are available to help answer any questions and concerns regarding your pet's health.
The 24/7 helpline is made up of a group of experts in the field of veterinary medicine so you can be comfortable with the information they provide.
They can even help determine if the situation warrants an immediate vet visit or if it is a situation that can wait until your regular vet office is open.
The 24/7 helpline offers unlimited access and is available via phone, live chat, and email.
Vet Direct Pay Option
Vet Direct Pay is a unique feature not often offered by other pet insurance companies, like PetPlan or Embrace, unless you go to a vet hospital that is part of their network.
Pets Best does not work with a vet clinic network so you can bring your dog to any licensed vet in the country.
Pets Best Vet Direct Pay program is designed to let you focus on what's important during stressful times.
Unlimited Annual or Lifetime Plan Option
The unlimited annual plan is optional; you may choose between $5,000 or unlimited.
The unlimited option is unique because most programs have a maximum limit per year, and some have it based on the life of your dog.
Some pet parents may think that unlimited is overkill when you can receive up to $30,000 per year, but crazy unfortunate things can happen, and sometimes they all pile up at once.
Having an unlimited plan would have been ideal when Daisy had multiple strokes.
She had to have expensive diagnostic tests done, and I had to meet with almost every specialty, to formulate a care plan since Daisy also had many other health issues such as Cushing's.
Plus, to make matters worse, she had other health issues pop up earlier that year, adding to our overall financial stress.
One Annual Deductible
Pets Best has six different annual deductible options ranging from $50-$1000 per year.
Once the annual deductible has been met for the year, all other eligible charges are reimbursed according to the plan you chose.
Not all companies have an annual deductible. Some are based upon the incident and range between $50-$100 per event.
Pets Best annual deductible is beneficial for a couple of reasons. First, it is usually a lot less than paying per incident.
Second, you won't need to worry about being charged for a second deductible for the same issue if it is an ongoing problem.
I would love to have a plan with an annual deductible for Sophie since she has so many chronic issues.
I currently have to track what I send in per incident until the minimum is reached, and even then, I need to keep claim numbers to refer back to when the deductible was met.
Sophie is 15 with pre-existing conditions so I can't switch her to a different company.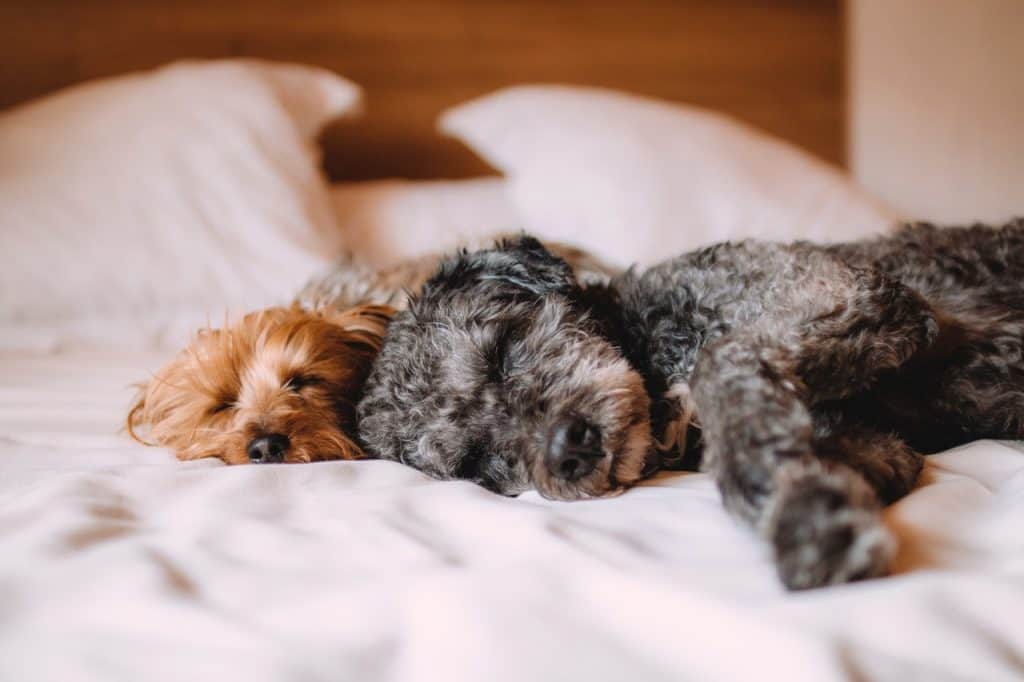 What Does Pets Best Cover?
Because all insurance companies are different, here is a summary of what Pets Best covers.
However, please remember that Pets Best does not cover pre-existing conditions even if it is on the below list.
Accidents like broken bones, foreign object ingestion resulting in surgery or other medical procedures, poisoning, car accident, lacerations, and even accidents that occur while hunting or in the line of service
Illnesses like diabetes, arthritis, allergies, skin and ear infections, urinary tract infections, and epilepsy
Injuries like a cruciate ligament tear
Cancer coverage including blood work, surgery, MRIs, medication, and chemotherapy
Hereditary and congenital conditions such as hip and elbow dysplasia, luxating patella, cherry eye, IVDD, Wobbler Syndrome, and, glaucoma
Emergency care, hospitalization, and surgery
Prescription medications
Ongoing and chronic conditions
Diagnostic testing
Full coverage even on dogs not spayed or neutered
Behavioral consults with a licensed veterinarian as well as any medications prescribed by the vet
Dental coverage does not including cleanings
Prosthetic devices and wheelchairs when provided or prescribed by a licensed vet
Euthanasia
Travel coverage in the US, Canada, or Puerto Rico by a licensed veterinarian
Exam fees (Most but not all plans cover this expense so be sure to check your policy)
Physical therapy and rehab, acupuncture, and chiropractic treatments (Some but not all plans cover this expense so be sure to check your policy)
Prescription medications
How Much Does Pets Best Cost?
Pets Best bases its pricing on the deductible, annual limit, reimbursement percentage, the age and breed of your dog.
Below I've included quotes for three different breeds at three different ages.
I chose the following policy options, as they are the most common choices:
Annual Limit – Unlimited
Annual Deductible – $250
Reimbursement Level – 80%
| | | | |
| --- | --- | --- | --- |
| | Essential | Plus | Elite |
| Goldendoodle – Under 1 YO. | $17.50 | $20.42 | $21.37 |
| Brittany – Under 1 YO. | $20.84 | $24.32 | $25.45 |
| German Shepherd – Under 1 YO. | $26.04 | $30.37 | $31.78 |
| Goldendoodle – 5 YO. | $22.10 | $25.78 | $26.98 |
| Brittany – 5 YO. | $26.32 | $30.70 | $32.13 |
| German Shepherd – 5 YO. | $35.10 | $40.95 | $42.85 |
| Goldendoodle – 10 YO. | $53.90 | $62.88 | $65.80 |
| Brittany – 10 YO. | $64.19 | $74.89 | $78.37 |
| German Shepherd – 10 YO. | $89.94 | $104.93 | $109.80 |
What Other Customers Are Saying
I searched the internet for Pets Best reviews and found some reviews both positive and disappointing.
One of the two primary websites I use to see what other customers are saying is the Better Business Bureau.
The BBB gives both their rating and a customer rating, including the number of complaints filed against the company.
Here is what I found:
Better Business Bureau – A+
Customer Reviews – 1 star from 39 customers
80 Complaints in the last 3 years
43 of these were closed in the last 12 months
The BBB listed a current alert for the business starting in May of 2020, stating that there was a pattern to the complaints filed against Pets Best[2].
The trend reflected a lengthy turn around time on insurance claims, as well as the customers needing to continuously follow up with Pets Best to ensure payment on their claims.
As of June 2020, Pets Best is working with the BBB to resolve this issue and increase the turnaround time on paying out claims.
However, on the other consumer website, Trust Pilot, I found more favorable reviews from 1,312 customers giving the company a 4.1-star rating[3].
I took the time to read the Pets Best Reviews on this website, and though most were favorable, some were not.
Most, not all, negative reviews were the result of consumers not thoroughly reading or understanding the policy they purchased.
Unfortunately, while researching different pet insurance companies, this is the most common complaint.
Examples of this include:
Filing claims within the waiting period
Not understanding what an annual deductible is
Not reading that pre-exisiting conditions are not covered
Alternatives
PetPlan
PetPlan offers traditional accident and illness coverage, covering very similar medical conditions as Pets Best.
The most significant differences between PetPlan and Pets Best are:
Pet Plan only offers accident and illness policies, and there is no option to add a wellness plan. Pets Best offers two different wellness policies.
Medical records requirement – Pet Plan requires 24 months of medical records and Pets Best does not request any records
$0 enrollment fee for Pet Plan and Pets Best, but Pets Best does have a $2 transaction fee at the time of payment
15 day waiting period for accidents and illnesses versus Pets Best 14 days for illness and 3 days for accidents
The initial vet visit requirement with Pet Plan is six months before enrollment. Pets Best does not have an initial vet appointment requirement.
If you are looking for a plan that offers first-rate accident and illness coverage, click here to get signed up.
For a more in-depth look, read our full Petplan Review!
Embrace
Embrace is very similar to Pets Best, they both offer flexible accident and illness plans, as well as, wellness plan add on options.
However, there are differences like:
Medical Records Requirements – Embrace requires medical records are sent in to be eligible for the signup, and Pets Best does not
Waiting Periods:
Embrace
Accidents: 2 days
Illnesses: 14 days
Orthopedic conditions: 6 months
Pets Best
Accidents: 3 days
Illnesses: 14 days
Cruciate ligament conditions: 6 months
Initial Vet Visit Requirement – Embrace requires the visit be done within the first 12 months, and Pets Best doesn't have a requirement
Enrollment Fee – Embrace has a $25 enrollment fee, but Pets Best has a $2 transaction fee
Reimbursement Limit – Embrace tops out at $30,000, and Pets Best maximum is unlimited
| | | | | |
| --- | --- | --- | --- | --- |
| | Annual Reimbursement Limit | Annual Deductible | Reimbursement | Monthly Rate |
| Embrace | $30,000 | $300 | 80% | $50.95 |
| Pets Best – Elite | Unlimited | $250 | 80% | $25.45 |
*Monthly fee based on a Brittany puppy
To get your free Embrace quote, click here!
For a more in-depth look, read our full Embrace Review!
Should You Get Pets Best Insurance?
Pet insurance is not for all dogs; there are some situations the investment makes sense, and other times that seeking alternative options would be more economically beneficial.
For example:
You have an older dog with pre-existing medical conditions; it may be best to set money aside to cover pre-existing conditions and opt for accident and wellness plans only.
If you have a puppy, such as a German Shepherd, and you know they are prone to congenital and hereditary health issues, then choosing a pet insurance company such as Pets Best would provide the most significant benefit. Also, opting for a wellness care plan can help with offsetting the first year's costs, which can be more substantial with a puppy.
If you have recently adopted a one-year-old rescue dog that is healthy, considering a standard illness and accident plan will help avoid unneeded stress in the event of unexpected vet bills.
Conclusion
Pets Best's Promise is:
We deliver quality insurance coverage, prompt claim payment, and unsurpassed service both before and after you purchase an insurance plan.
After completing the research for our Pet Best review, I would say that though they had a recent drop in customer satisfaction, it appears they are making great efforts to improve their turn around time on claims.
Plus, looking at the overall history of Pet Best, I would say that the majority of the reviews reflect they are fulfilling their promise to their customers.
Overall, even with some of the less than positive responses, I found on the BBB website, I found far more happy customers on Trust Pilot, making up for the negativity.
Additionally, their flexible plans and coverage at an economical rate add to Pets Best appeal.
Pets Best pet insurance is a company I wouldn't hesitate to recommend to others.
Resources
https://www.bbb.org/us/id/boise/profile/pet-insurance/pets-best-insurance-services-llc-1296-39001947