I never knew how many different pet insurance companies were out there until I started digging into it a few weeks ago.
Pet insurance is much like insurance for humans, in that there is a multitude of choices in companies and coverage options.
While researching, one thing I have found is that there seems to be the perfect policy for everyone.
Since there are so many variances, pet parents can choose a plan that works for their unique budget and lifestyle.
In this Embrace Pet Insurance review, I will cover:
The many benefits of signing up with Embrace, such as their personalized plans and Wellness Rewards

How Embrace pet insurance can aid in giving greater peace of mind
Who would best benefit from signing up for their plan
How much it costs
Alternative options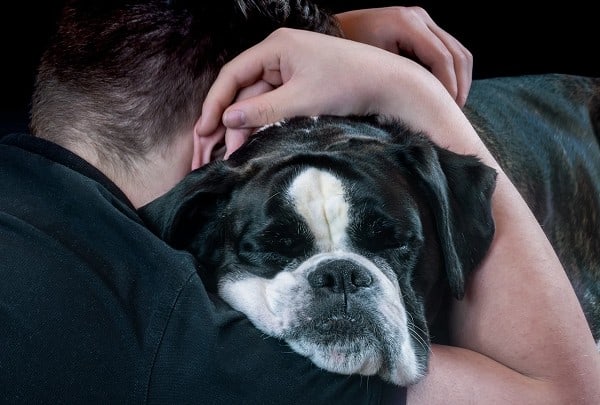 About Embrace Pet Insurance
Before committing to any pet insurance policy, it is always best to know who you are working with, which is why I've included a brief history of the Embrace pet insurance company.
Embrace, founded in 2003, has grown into one of the country's leading pet insurance companies.
They have won a couple of different awards over the years, including[1]:
2019 International Service Excellence Award
The Plain Dealer Award – Northeast Ohio's Top Workplaces (Eight-time winner)
Additionally, Embrace is a company that prides itself on giving back to the community through supporting various charities, through[2]:
A $2 donation is made for every policy sold to a pet-related charity.
Embrace matches all employee donations 100% regardless of whether its an animal charity or not.
Embrace's employees have teamed up with Neighborhood Pets and volunteer their time at low-cost clinics.
Embrace funds a $1,000 student scholarship for vet tech students
Plus, Embrace donates to a variety of other animal-focused charities like the Humane Society and other local groups like Cleveland Animal Protective League, Helen Woodward Animal Center, and The Red Rover Organization.
✔
Pros
They are a company that gives back to their community
Receive up to 90% reimbursement
Customized Plans
Annual deductible discounts available
Wellness Rewards covers grooming, routine care, teeth cleaning, and more
✘
Cons
Embrace does not cover pre-existing bilateral conditions
A vet exam is required within the last 12 months before or 14 days after the start date of the policy
Enrollment fee of $25 and a $1 monthly fee
Higher premiums for breeds that are more likely to develop certain medical conditions or illnesses
Cannot sign up for the unlimited plan online
Things to Consider When Buying Pet Insurance
Pet insurance is the ideal solution to offset vet bills, with most plans designed to aid you financially when the unexpected occurs, such as accidents or illness.
Though, some pet insurance companies cover routine and wellness care, too.
Pet insurance is generally best purchased when dogs are young and healthy.
When dogs are older with pre-existing medical issues, that's when pet insurance may not always be the optimal investment. Most commonly, pet insurance companies will not cover medical conditions already diagnosed, and many companies don't cover older dogs.
However, every pet insurance company is different, and all of them have different situations that are not covered by their policies.
And like with all insurance, whether for humans or pets, there is always the fine print, which is why it is vital to take into consideration the many factors involved in choosing the ideal plan for you and your dog.
Some of the primary considerations are:
Monthly cost and additional fees
Reimbursement amounts and maximum payout coverage
Your dog's age
Your dog's breed
Pre-existing issues your dog may have
Wait time for coverage

Ease of submitting claims

Customer reviews
Veterinary clinic networks
Features and Benefits of Embrace Pet Insurance
I found Embrace Pet Insurance policies to be extremely flexible and likely to meet the needs of most dog parents.
Below are some noteworthy features and benefits regarding Embrace Pet Insurance:
Medical History Review
Embrace offers certainty and peace of mind by sharing a review with all new enrollments.
The medical history review reduces the risk of unwanted surprises.
The report is optional but gives dog parents a look at how the insurance company views their dog's medical history and highlights any complications in coverage that may come upon future claims.
Personalized Pet Insurance
Embrace offers customized plans based on your budget, going so far as allowing you to choose your annual deductible, reimbursement, and yearly maximum coverage.
Breed Coverage
Though they do not deny coverage based on breed, the cost of your premium may be impacted if your dog's breed is prone to medical conditions.
Is Your Dog Driving You Nuts During the Day?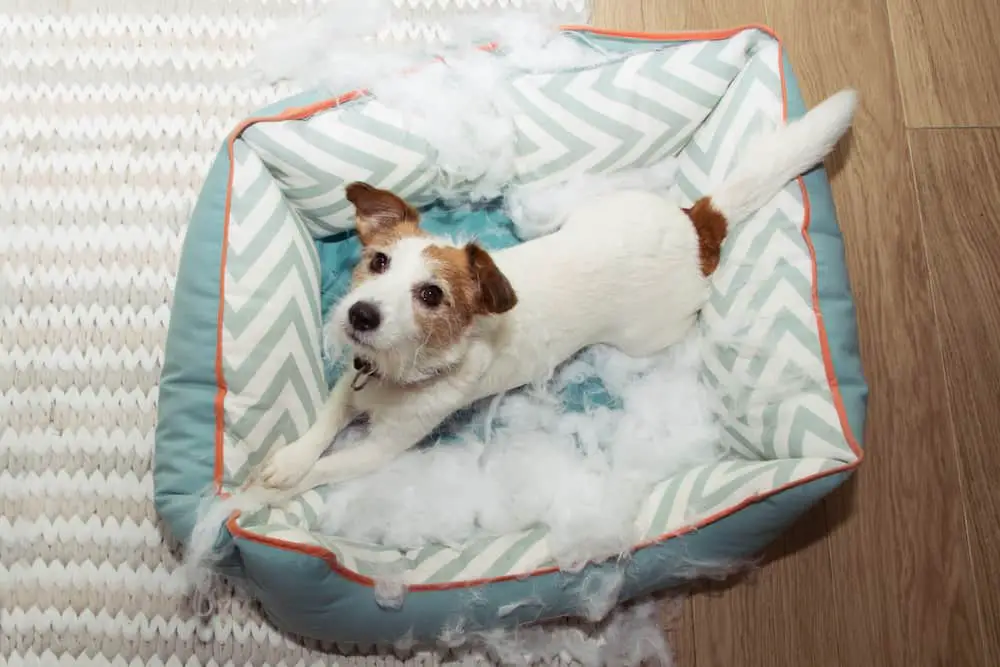 Get Our List of 11 Awesome Indoor Activities to Keep Your Dog Busy and Out of Trouble!
For those who have breeds less likely to develop specific medical issues, this works in your favor.
Age Coverage
Embrace offers enrollment for accident and illness policies for dogs 6-weeks to 14-years old.
For dogs 15+ years old, they offer reasonably priced accident-only coverage. And dogs 15+ are eligible for their Wellness Rewards.
30-day Money-back Guarantee
Embrace offers a full refund if you choose to cancel in the first 30 days, provided you have not received payment on a claim.
You may still cancel beyond 30-days, but the reimbursement amount depends on prior claims and is prorated accordingly.
Waiting Period
Though some of the waiting periods may vary based on the state, the general guidelines are:
Illness – 14 days
Accident – 48 hours
Orthopedic conditions – 6 months or 14 days if you opt for the Orthopedic Exam and Waiver Process
Healthy Pet Deductible
The Healthy Pet Deductible program is part of all plans.
The program will reduce your annual deductible by $50 each year if you do not receive a payment on a claim.
What Does Embrace Cover?
Because all insurance plans are different, here is an overview of what Embrace generally covers.
Keep in mind that they do not cover pre-existing conditions even if it is listed below.
Cancer
Accidents & illnesses
Alternative therapies & rehabilitation
Prosthetic limbs, devices, & mobility aids
Breed-specific, congenital, and chronic conditions like: Hip dysplasia, allergies, patellar luxation, intervertebral disc disease (IVDD), and cancer
Exam and consultation fees
Diagnostic testing
ER and specialist care
Surgery and hospitalization
Behavioral therapy
Prescription medications
Dental illness up to $1,000/year
Wellness Rewards
You can add Wellness Rewards for a more comprehensive coverage plan.
By adding this, you will also receive coverage for:
Wellness exam fees
Vaccinations and titers
Flea, tick, and heartworm preventatives
Spay or neuter surgery
Fecal & routine blood tests
Microchipping
Nutritional supplements
Grooming
Medicated shampoos
Toenail trimming
Routine anal gland expression
Wearable pet activity monitors
Cremation or burial
Gastropexy
Hip dysplasia exams and x-rays
Preventative teeth cleaning
Prescription diet food
Training
Routine chiropractic care
Reiki, massage therapy, and acupuncture
The coverage amount for the Wellness Rewards program comes in three options, giving you a $250, $450, or $650 allowance per year.
Plus, the wellness reimbursement plan does not have a waiting period.
How Much Does Embrace Cost?
Because you can customize your plan with Embrace, there is no one set monthly fee.
Additionally, the cost of the policies are dependent on three primary factors:
Breed – The cost is lower for dog breeds that are less prone to specific health issues
Age – Younger dogs are less expensive to enroll than older dogs, though there is no age limit for accident insurance.
Location – Reimbursements are based on the local average of vet costs in your area, so premiums are impacted based on where you live
Annual Reimbursement Limit – Options include $5,000, $8,000, $10,000, $15,000, $30,000
Annual Deductible – Options include $1,000, $750, $500, $300, $200
Reimbursement – Options include 70%, 80%, and 90%
Here are a few examples of coverage and pricing:
2-year-old female Golden Retriever in San Diego, California with the following coverage options:
Maximum annual reimbursement limit of $30,000
The lowest annual deductible of $200
Maximum reimbursement 90%
Wellness Plan $650 Rewards per year
…would cost $95.28/month for Accident + Illness and and additional $52.09 for Wellness.
15-year-old female Brittany in St. Paul, Minnesota with the following coverage:
Annual reimbursement limit of $5,000
Annual deductible of $100
Reimbursement 90%
…would cost $24.51/month for accidental coverage only.
7-year-old male Medium-sized mixed breed in Omaha, Nebraska with the following coverage:
Annual reimbursement limit of $10,000
Annual deductible of $500
Reimbursement 90%
…would cost $36.08/month for accidental coverage only.
Social Proof
I searched the internet to see what I could find for reviews regarding peoples' overall experience with Embrace.
According to the Better Business Bureau, Embrace received an A+ from the BBB, but only 1.5 stars from the 29 Customer Reviews, and there were 53 complaints filed in the last three years[3].
The majority of the complaints were based on denied claims. Many of which denied due to pre-existing conditions or the client filed within the waiting period.
I can not stress enough the importance of fully understanding your policy before committing to a plan.
Pre-existing conditions can include a broad spectrum of conditions.
For example, Sophie had a skin infection that was not covered since her allergies are considered pre-existing.
Though it wasn't her allergies, skin infections are frequently the result of chronic allergy conditions, so my claim was denied.
Though I do not believe it is anyone's fault, I do feel that the better amount of dissatisfaction on the consumer's part is often due to a lack of clear communication.
I do not think that pet insurance companies intentionally mislead their customers.
Still, I know that it is impossible to write out every single ailment that is and isn't covered in all situations, and it is equally impossible for every pet parent to know all of the ins and outs of their policies.
Alternatives
Eusoh
Eusoh sets itself apart since they are the only community based cost-share pet insurance company on the market.
Their unique vision teams up pet parents to help support each other to cover unexpected vet bills.
Because Eusoh is a cost-share plan, monthly fees change based on reimbursements paid out the previous month. The monthly payments are between $17-$65 per month; however, the average payment amount is $35 per month.
Unlike Embrace, Eusoh only covers illnesses, accidents, and injuries and does offer wellness or preventative care option.
Additionally, they only have one plan.
Eusoh's community plan has a maximum deductible of $250, and they cover up to 80% of the national average of the approved charges.
Basing reimbursement on a national level is another minor variation since Embrace covers based on the client's local area.
If you are interested in learning more about Eusoh's cost-share plan, click here for more information.
For a more in-depth look, read our full Eusoh review!
PetPlan
Pet Plan is a classic pet insurance program and offers a similar pet coverage plan to Embrace.
The biggest differences between PetPlan and Embrace:
Pet Plan is strictly accidents and illness. There is no wellness plan add on available.
Medical records requirement – Embrace requires 12 months, and Pet Plan requires 24 months of medical records
$0 enrollment fee for Pet Plan
15 day waiting period for accidents and illnesses versus Embrace's 14 days for illness and two days for accidents
Initial vet visit requirement is shorter with Pet Plan, being six months before enrollment versus 12 months.
The reimbursement methods are the opposite: Embrace has the deductible then copay and Pet Plan set up with the copay then deductible
Window to submit claims – Embrace full policy term + 60 days and Pet Plan is 90 days from the office visit
If you are looking for a plan that offers excellent accident and illness coverage, click here to get signed up.
For a more in-depth look, read our full Petplan Review!
Pets Best
Pets Best is another conventional-style pet insurance company, similar to Embrace, that offers a variety of coverage plans, including unlimited care options.
Just like Embrace, the monthly premium is affected based on the plan's deductible, as well as the other coverage options, including reimbursement limits.
Also, similar to Embrace, Pets Best does offer insurance plans that cover both wellness and preventative care.
And Pets Best carries a very low-cost accident only plan for as low as $9 a month, which is available to all ages and breeds.
One of the most significant differences in the two companies is that Embrace's Wellness Rewards program covers more options than Pet's Best add on routine care program offers.
However, there is a cost difference in the two add on plans as well, and it all boils down to how much coverage you want.
If you want more information on a full-coverage plan, click here for a free quote!
Should You Get Embrace?
After completing my research for my Embrace Pet Insurance review, I believe that Embrace would be perfect for the majority of pet parents.
If you have a senior dog, 15+, Embrace offers an excellent accident coverage at a reasonable monthly price.
Plus, they allow you to add on their Wellness Rewards program for an additional cost, even though your dog is a senior.
Embrace is also perfect for younger dogs, especially puppies, when you sign up for the wellness rewards program that aids in offsetting costs for routine and wellness care.
Puppies are very expensive, especially if you plan to spay or neuter, microchip, and vaccinate.
However, if you have a dog with multiple pre-existing issues, pet insurance may not be the best choice, since those issues and most related conditions will not be covered, so it would likely not be worth the expense.
Conclusion
I am a supporter of signing up for pet insurance since it has helped me out financially with both routine and unexpected expenses.
Pet insurance gives me more financial comfort knowing it is available, and if and when the next emergency arises, I know I can expect aid in dealing with the vet bills.
As far as Embrace goes, I would say they have one of the best pet insurance plans I've researched so far
I love that they have a multitude of choices so people can customize their policy to fit their budget.
Additionally, the Wellness Rewards program encompasses the most services I've ever seen in any policy.
I don't recall any other company assisting with charges for grooming, nail trims, or massage therapy.
And they are one of the rare companies that offer coverage assistance for behavior training, medicated shampoos, and wearable pet activity monitors.
If you interested in a free quote from Embrace, click here to get started!
Resources