This post may contain affiliate links. It doesn't cost you anything extra and it keeps our lights on, our families fed, and our dogs spoiled. For all the juicy fine print, see our affiliate disclosure
I was playing around on the computer and came upon a video clip from the Ellen Degeneres show.
In the clip, Ellen is interviewing Burt Ward, formerly known as Robin from the Batman and Robin Show from the 60's.
What grabbed my attention was not the former actor, but instead the picture in the background of two dogs. One of the dogs featured was twenty-four years old, and the other was twenty-seven!
The even more amazing thing was that the dogs were large breeds. One was a Chow, and the other looked like a long-haired Greyhound.
Back to show: Burt and his wife, Tracey Posner Ward, started Gentle Giants Rescue in 1994[1]. Although Gentle Giants initially opened to rescue large breed dogs, it has since expanded and now includes dogs of all sizes.
After the start of their dog rescue, the Wards had a specially formulated dog food created.
They fed this newly formulated food to their dogs as well as those they rescued for several years before they launched it commercially in 2008.
The Wards contribute the long lives of their dogs partly to the Gentle Giants dog food.
Burt stated in an interview with Inventors Digest that they, "invented something that changes, lengthens, and improves the lives of dogs."[2]
With a claim like that and pictures of dogs in their twenties, they had me intrigued.
I started to research both the Gentle Giant's company as well as the food they produce, and here is what I found.
What's in Gentle Giants' Dog Food?
There are two different dry dog food formulas:
Both recipes are free of wheat, soy, dairy, and corn, which can be ingredients to look out for when choosing a dog food.
Also, many of the vegetables and fruits are free of GMOs.
Gentle Giants Chicken Feast Dry Dog Food Formula
This food is made up of a mix of chicken meal, menhaden fish meal, grains, vegetables, fruits, herbs, nutrients and vitamins, and prebiotics and probiotics.
What I like about the Ingredients
The variety of superfoods, like cranberries, blueberries, sweet potatoes, and kelp, all of which aid in boosting the immune system.
The mix of grains such as pearled barley, brown rice, and oatmeal, which help to maintain a healthy weight and digestive system[3].
The added prebiotics, and probiotics for digestive health.
The guaranteed analysis reflects:
Crude Protein 22% (Min.)
Crude Fat 9% (Min.)
Crude Fiber 4% (Max.)
This formula is a bit lower in protein than other foods, but not uncommonly so.
The fat content is also lower than similar brands, but the amount of fiber is average.
Gentle Giants Salmon Feast Dry Dog Food Formula
This formula is grain free, egg free, and more allergy friendly.
Is Your Dog Driving You Nuts During the Day?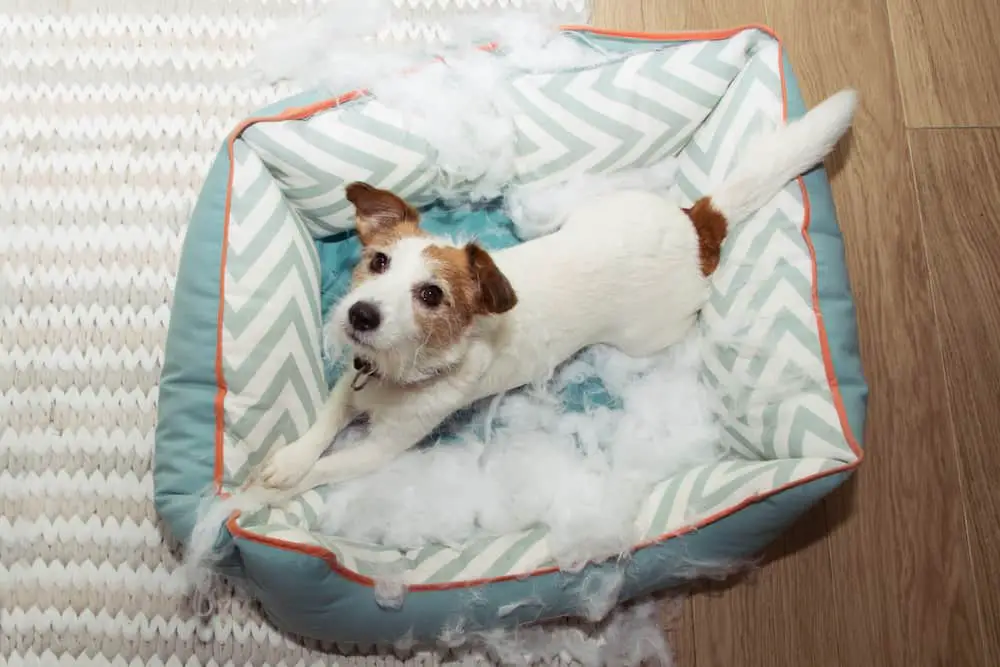 Get Our List of 11 Awesome Indoor Activities to Keep Your Dog Busy and Out of Trouble!
Also, glucosamine and chondroitin have been added to this formula, to promote good joint health.
What I like about the Ingredients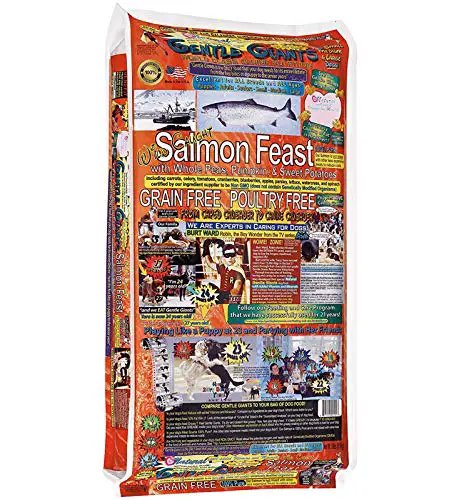 Just like the chicken recipe, I like the superfoods, prebiotics, and probiotics in this food.
But in addition to these ingredients, the salmon recipe has even more vegetables.
The guaranteed analysis reflects:
Crude Protein 24% (Min.)
Crude Fat 10% (Min.)
Crude Fiber 5% (Max.)
The salmon formula is slightly higher in protein, fat, and fiber than the chicken formula, so would be the better choice for dogs needing more protein and a grain-free diet.
What Makes Gentle Giants Different Other Dry Dog Food Brands
Most dog foods will have common components, but some dog foods have ingredients or other characteristics that make them stand out from their competition.
These make Gentle Giants stand out:
A larger quantity of superfoods in both formulas
Dried fruits and vegetables which retain vital nutrients
Enhanced with probiotics and prebiotics
Economically priced at around a dollar per pound
Hypoallergenic option available
What People are Saying about Gentle Giants Dry Dog Food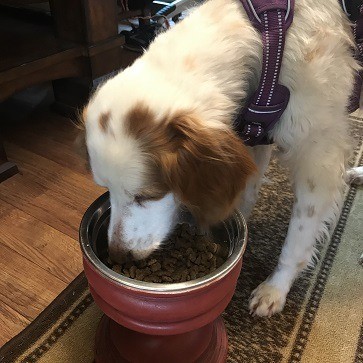 I like reading reviews on products before investing.
There are always those who swear by the product and those who warn against it, but I look for common threads within the reviews.
Here's what I found about Gentle Giants.
The reviews I read are from three different retailers and not from the Gentle Giant website.
Pros
Senior dogs are more energetic after eating this food
Allergies clear up
Skin and coat appear to be healthier
Some dogs love the flavor
Longer life
Cons
Can cause GI upset, vomiting, soft stool, or diarrhea
Some dogs don't like the taste
Price consistency, different retailers are selling the food at varied prices
Damaged packaging
Not all reviews are in regards to the product. Sometimes there are reviews about the purchasing experience and have nothing to do with the product itself, yet those reviews still impact the overall rating.
The average rating found from the three retailers was 4.6 out of 5.0.
There were 1,324 reviews that made up this rating.
There were many more positive comments than negative.
I read all of the 1-star reviews to see what made people so unsatisfied with the product.
There was nothing unusual about the concerns people wrote regarding the 1-star reviews. Indeed, all of the complaints were ones commonly found in all dog food reviews.
What I Liked about Gentle Giants Dry Dog Food
Several aspects impress me about both the Gentle Giants dog food and the company that makes it.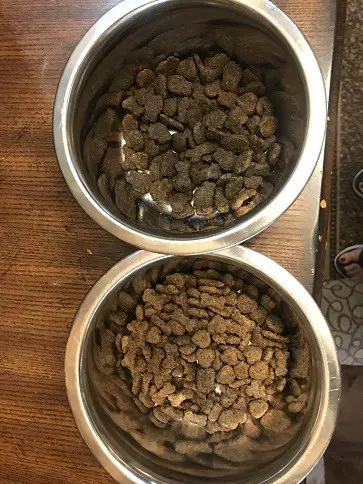 First and foremost, is the claim that this food can help your dog live longer[4].
Really, who wouldn't want to see their dog still alive and active in its twenties?
Second, I like the ingredient lists.
The lack of unique carbohydrates and the abundance of superfoods appeals to me. Also, the guaranteed analysis is more in line with my dogs' needs.
Third, they have a hypoallergenic formula, so even Sophie can eat it.
Fourth, the price. Currently, we pay almost $4 per pound for a different dog food.
Fifth, since launching this food in 2008, there has yet to be a recall on their food.
My Biggest Complaints about Gentle Giants Dog Food
I have four complaints.
First, it is not readily available at local stores.
I know buying online makes things easier, but when I buy dog food, I like to purchase it from the store.
If my dogs don't eat the food, I can always return it and pick something else up for them.
Second, the salmon formula only comes in one size, 18 lbs. I wanted to go with something smaller because again I don't know if my dogs will like it or not.
Third, the name is misleading.
It makes it sound like the food is for large breeds, and though that is why the company started, the food is a well-balanced diet for any dog breed.
Fourth, I think dog food bags should be resealable and this one isn't.
Recommendation
My recommendation is to try Gentle Giants dog food.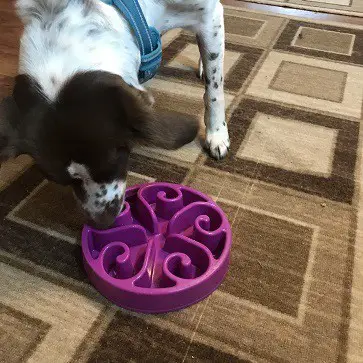 I bought two bags, one bag of the chicken formula and one bag of the salmon.
It has not arrived yet, but it should be here in a day or two.
Even if my dogs don't like it or if it causes GI upset, I would still recommend this food.
Not all foods agree with my dogs' GI systems or palates. That doesn't make the food bad, it just means it is not the right choice for my family.
I think there are enough positive reviews to make it worth trying.
Plus, I like the ingredient lists, and I love that there hasn't been a recall.
Alternative Choices to Gentle Giants Dog Food
There are a lot of high-quality dog foods on the market.
Here are my top five dog food brand choices for both grain-free foods and foods with grains:
Grain-Free:
Farmina
Natural Balance
Wellness CORE
With Grains:
Farmina
Wellness
Solid Gold
Natural Balance
Updated Experiences and Conclusion
So, a fun thing just happened. The food arrived!
Literally, as I was about to type the conclusion to this article, the dogs started barking, and the delivery guy dropped a large box off on our front stoop.
I was so excited that I opened the box and had my dogs each sample a ½ cup of the food.
Here's what happened:
I offered the chicken formula to Calvin. First, he turned up his nose, but when I set the salmon down in front of him, he gobbled it up!
Second, I offered the chicken recipe to Ginger. She liked it a lot; in fact, she was eating so fast I had to do another round of pictures since the first ones came out blurry!
She definitely didn't complain when I offered her more kibble!
Third, Sophie. She LOVED it!  She literally licked the bowl clean!
Finally, Daisy. She's my pickiest eater of the pack.  She not only cleaned her bowl, but she requested seconds!
For her that's amazing!
✓
Are there any other dog foods which passed the Daisy test?
NomNomNow did
!
It is obviously too soon to tell if there will be any GI issues, or if there are any changes in energy, lifespan, or even if they will eat it again.
But I will say that I am over the moon that they liked it!!!
In this household of picky eaters, I don't remember when the last time they all finished the food in their bowls, so for me, this is a HUGE win!!!
Also, I have three observations about this food.
First, Gentle Giants advertise that the food is not greasy and that's a true statement.
Second, it doesn't have a horrible smell. Some dog foods stink, especially the fish verities; these don't smell bad at all.
Third, the size of the kibble would work for most breeds.
So, as I sit here at this moment, I would recommend this food, especially for dogs that are picky eaters.
Resources