This post may contain affiliate links. It doesn't cost you anything extra and it keeps our lights on, our families fed, and our dogs spoiled. For all the juicy fine print, see our affiliate disclosure
I'll admit that the only dental care my family's dogs ever got was a nice bone every once and a while. Doggy dental care just wasn't even on our minds.
When I brought Maggie home, my best friend told me about Greenies and how important it is to keep your dog's mouth healthy.
That made me wonder, are Greenies the best dental health option out there for dogs?
There are also Dentastix products to consider.
Here's what I've discovered about these two brands and why I prefer one over the other.
Greenies' Company History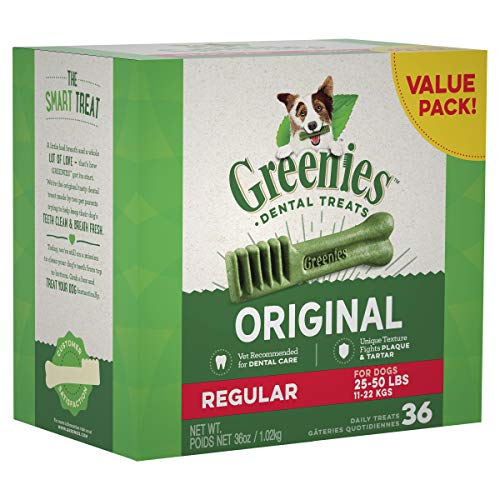 Greenies began when Joe Roetheli got tired of smelling the bad breath of his dog, Ivan.
No matter what he tried, Ivan always had terrible breath.
After doing some research, he mixed together the ingredients that would become the key to Greenies' success—chlorophyll, vegetable oil, and wheat, along with other dry foods Ivan liked.
Ivan's bad breath was gone in days, and in 2006, Joe and his wife Judy sold their company to Mars Petcare to reach a larger audience[1].
Best Sellers
The top best sellers all focus on providing dental health aid while still being a delicious treat:
There are many different products for the needs of dog owners, all of which align with Greenies' mission to produce food and treats that are nutritious and all natural[2].
Dentastix's Company History
Since I'd never heard of Greenies before I got Maggie, I'd never head of Dentastix either.
Turns out, they're a product from Pedigree, the blue-ribbon dog brand that I'd recognize anywhere.
Pedigree makes Dentastix to provide dog owners with another option for their dog's dental care. The chewy texture was specifically designed to reduce tartar build up by 80 percent[3].
Best Sellers
Pedigree approaches their oral health treats by offering these bestselling products:
Dentastix — original flavor (fights tartar)
Dentastix — original and fresh (fights tartar and bad breath)
Dentaflex — same ingredients, slightly chewier but harder to find online
Another difference between Greenies and Dentaflex is that Dentastix are made to be eaten and enjoyed quickly.
Recalls
Greenies has a pretty clean history when it comes to recalls.
Is Your Dog Driving You Nuts During the Day?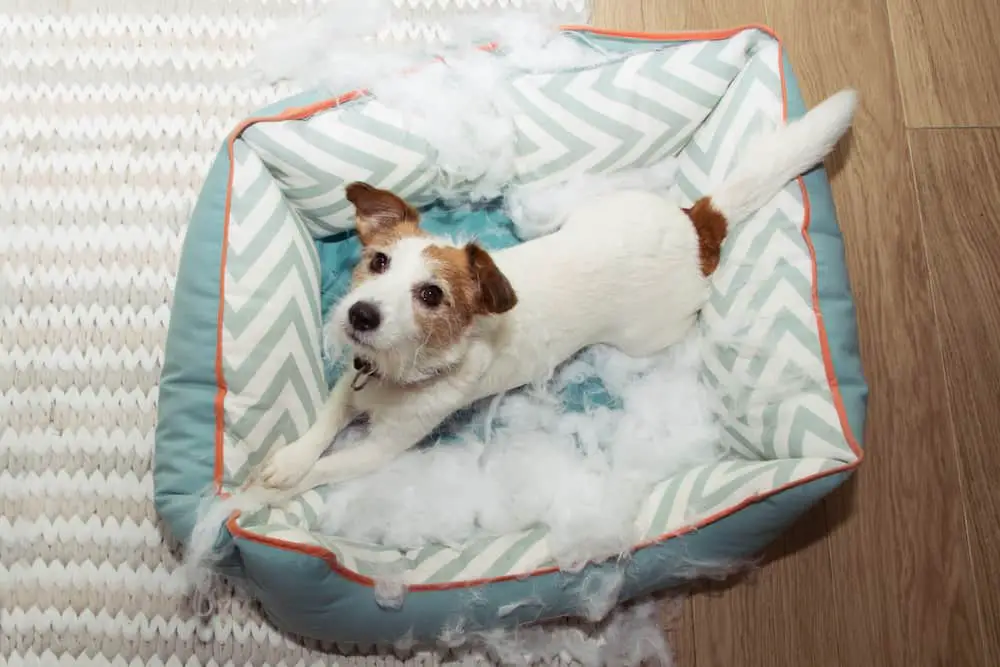 Get Our List of 11 Awesome Indoor Activities to Keep Your Dog Busy and Out of Trouble!
They haven't had one yet, but there have been a few cases where dogs have been injured or killed because they ate a Greenies product.
Specifically, Greenies toothbrushes (also known as their Original Dental Treats) can choke a dog when the dog is given the incorrect size.
A smaller dog chewing on a large Greenies can get the treat stuck in their esophagus, needing surgical removal[4].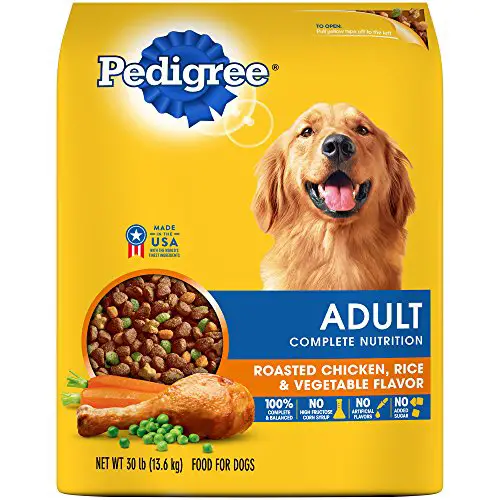 Although some dogs have been put in danger by this treat, the packaging warns owners to size their treats appropriately and watch to make sure everything is chewed. Because of this, there haven't been any recalls.
Dentastix also have a good track record.
Pedigree's last recall was in 2014 for their Adult Complete Nutrition dry dog food[5], but they've only ever had recalls on their dry and canned dog foods.
Dentastix are made with a different process, so the treats don't have the same recall issues, like metal pieces in the food mix.
What's Important When Choosing a Dog Teeth Cleaning Treat?
Before you get your dog anything for their health, you need to know that you're looking for the right product.
These factors are the key features to look for in order to get the best dog teeth cleaning treats.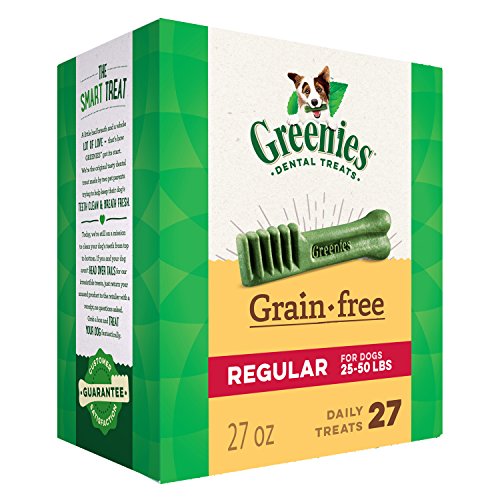 Ingredients
You probably won't be able to recognize all the ingredients in dental treats and that's okay.
Instead, keep an eye out for treats that contain butylated hydroxyanisole and butylated hydroxytoluene.
These are preservatives that prevent fats and oils from spoiling in food. When eaten over time, they can be harmful to dogs[6].
Price
Pricing will always be different depending on where you're shopping for dental treats.
If you want the best deals, you'll have to check both options before buying anything.
Availability
If you choose to give your dog a dental treat once a day, like the packaging advises, it'll be smart to learn ahead of time where you can buy these treats.
Or, if you don't mind waiting, you can see which of your favorite pet supply websites offers them.
Taste
What the dental chews taste like will play a big role in how often your dog eats them and what brand you end up with.
You shouldn't have to wrestle your dog to eat a dental chew if there are other flavors out there for them to try.
Effectiveness
It's important that both brands know what they're doing when it comes to tartar and plaque buildup.
VOHC Approval
The Veterinary Oral Health Council (VOHC) was organized to recognize products that actively fight plaque and tartar in animals[7].
They don't test products on their own, but they do review studies and data about each oral health product.
If a dental chew has the VOHC seal of approval, it means the ingredients and effectiveness have been individually approved by a board of vets.
Comparison of Greenies vs Dentastix
So how do these two brands stack up against each other? Here's what you need to know.
Ingredients
Winner: Greenies
Greenies and Dentastix don't contain either of the dangerous butylated hydroxyanisole or butylated hydroxytoluene preservatives, so they're safe for dogs to eat over a long period of time.
I prefer for Maggie to get all-natural ingredients whenever I can afford them, which is why I'd stick with Greenies.
They have more all-natural ingredients than Dentastix.
Price/Value
Winner: Greenies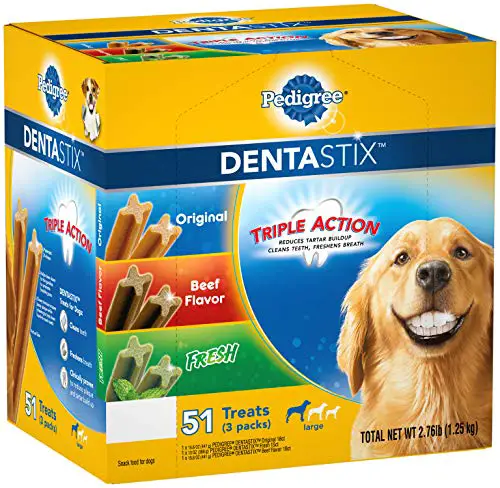 In general, Greenies will be slightly more expensive than Dentastix because they focus on using all-natural ingredients.
I don't mind paying slightly more for better ingredients, especially if Maggie were eating these once a day.
I've also noticed that my local PetSmart often has sales on Greenies where I can get one half off if I buy one full priced.
That definitely helps bring down the cost without sacrificing on ingredients.
Availability
Winner: Greenies
Both of these dental treats are available both online and in pet stores.
They also come in a variety of sizes, so you should never have a problem finding a bag of treats that's right for your dog in either brand.
Again, I think Greenies wins for me in availability just because of the special sales that happen in-store compared to discounts online.
Both Greenies and Dentastix are available at Chewy.com.
Taste
Winner: Dentastix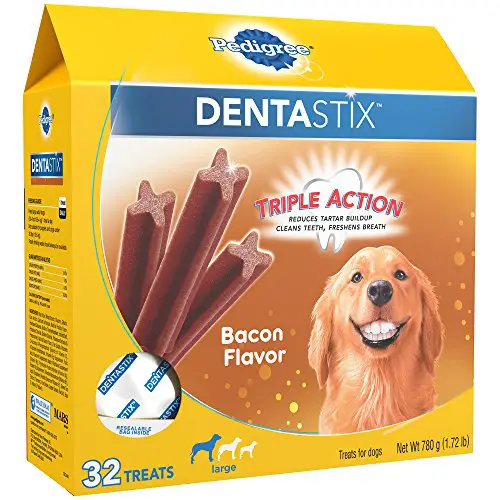 One of the downsides of Greenies is that they don't have a variety of flavors for their dental chews.
Consumers can only buy their "original" product, although it is highly reviewed by customers.
Maggie has Greenies once a week and loves when I hand over her weekly toothbrush, so based on her experience, Greenies must taste pretty great.
Dentastix gives consumers more options, since their dental chews come in a variety of flavors.
If your dog doesn't like the original flavor, there's also bacon, chicken, and beef to choose from.
Effectiveness
Winner: Greenies
Greenies states that their dental chews reduce these buildups by 60 and 33 percent, respectively[8].
Dentastix doesn't give percentages like Greenies does. They just claim that their treats have been clinically proven to reduce buildup[9].
I like that Greenies is bold with showing their percentage rates. It makes me feel like they've done more studies.
VOHC Approval
Winner: Tie
I didn't know about the VOHC before I started Maggie on Greenies, but there's good news:
Both brands are approved by the VOHC[10], so you'll be buying vet-approved treats either way.
Overall Winner: Greenies
I'm glad I learned more about Dentastix, because they seem like a great option for pet owners to have when and if their budgets are tight.
For now, I think I'll stick with Greenies.
Maggie loves them and I like that they take a more holistic approach to making dental chews.
I'd recommend Greenies more than Dentastix also because they show the evidence of their studies, and it makes me uneasy that Dentastix products don't.
Resources