This post may contain affiliate links. It doesn't cost you anything extra and it keeps our lights on, our families fed, and our dogs spoiled. For all the juicy fine print, see our affiliate disclosure
Lately, people have become aware that dogs need more oral care than just a new bone every once and a while.
Besides getting regular dental cleanings at the vet and brushing their teeth every day, dogs can use some extra help to keep buildup from occurring.
Dentastix is a product that was created to do just that.
I hadn't heard about it before, so here's the research I found and why I may or may not introduce this treat to Maggie.
What Are Dentastix?
Dentastix are a dental treat made by Pedigree, which I immediately recognized from the blue ribbon symbol that seems to be on every bag of dog food at the store[1].
What They're Made Of
Dentastix come in many flavors, but their core ingredients remain the same:
Rice flour
Wheat starch
Natural flavors
Vitamins
Green tea extract
These ingredients were chosen because they break down into essential nutrition elements that every dog needs.
What They're Used For
Although they're classified as treats, Dentastix are oral care chews that can be given to dogs up to once a day.
They help maintain the oral health of dogs, reducing plaque buildup.
This is similar to certain other chews, such as Greenies.
How Do They Work
The chewiness of each Dentastix works the plaque that gets stuck around the gums.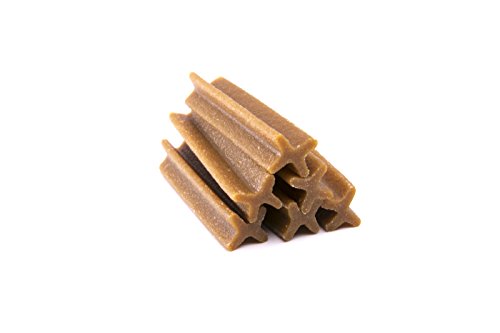 The chewy treat attaches to the plaque and then pulls it loose when dogs lick their teeth to clean them of all remaining treat flavors.
Is Your Dog Driving You Nuts During the Day?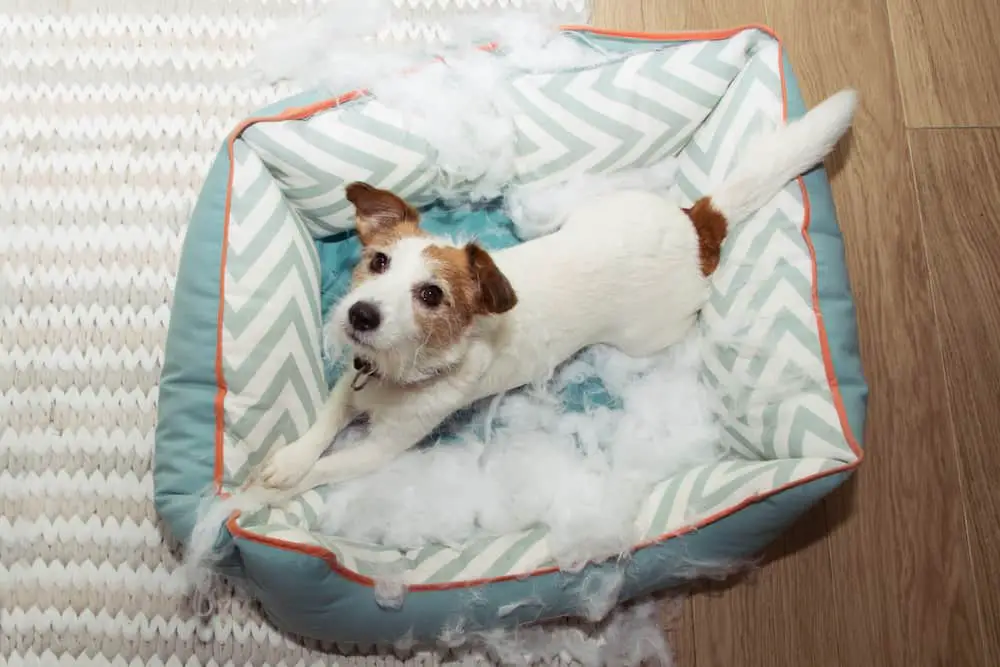 Get Our List of 11 Awesome Indoor Activities to Keep Your Dog Busy and Out of Trouble!
There are two ways to know if Dentastix works for your dog.
The first is to visually inspect their teeth after each use[2]. Plaque isn't always visible, but a dog with bad plaque buildup will have noticeably cleaner teeth around the gums and in between each tooth.
The second major difference will be their breath. Dentastix freshen breath while they clean teeth, so if your pup can pant right in your face and it doesn't make you want to run for the hills, it's a good match for your dog.
Are Dentastix Safe for Dogs?
Yes, Dentastix are safe for dogs and are recommended by vets[3].
While you may not be able to recognize every ingredient on their list, it's still a safe and viable option for your dog to maintain their dental health.
Are They Safe for Puppies?
Regular and small Dentastix are not safe for puppies, as they're not meant to be fed to dogs under 15 pounds.
However, there is a Dentastix Puppy treat option available for your little pup.
They can also eat one treat a day, but they must be over six months old (with their adult teeth) and weigh more than five pounds.
There are other, better options for teething puppies.
Dangers of Giving Dogs Dentastix
Whenever you want to give your dog something new, it's always a good idea to know both the good and the bad about the potential product.
Let's start at the beginning.
Vets recommend dental sticks as part of a healthy dog lifestyle[4]. The only time they caution dog parents is when it comes to choosing the treats.
For example, there have been cases where Nylabones were harmful to dogs[5].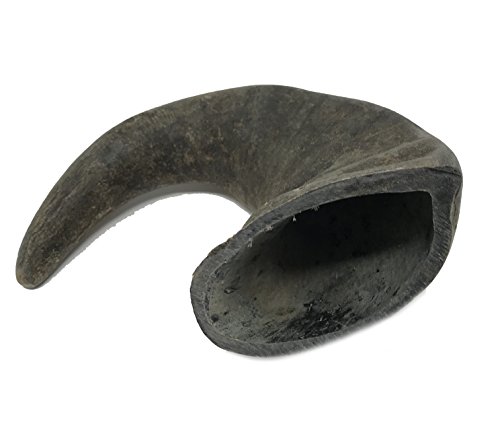 The same goes for any brand of dental treats, including Pedigree.
Each bag is labeled with directions that dictate which size treats to give which size dogs.
Nervous pet owners have gone online to complain that the ingredients in Dentastix aren't safe for dogs because they aren't recognizable foods like what you might see on kibble bags, like chicken or sweet potatoes.
That's understandable, but since vets still recommend treats like Dentastix, it's still safe to say that this treat is just fine for your dog if given at the proper size and frequency.
What to Look For
Maggie can go nuts on a super large bone or treat, so I wouldn't normally think twice about getting her something that's oversized.
The thing pet owners should know is that chewy treats have to be considered more carefully.
Dogs that eat treats, such as Dentastix, that are too large may end up getting them stuck in the back of their mouth or throat and cause choking.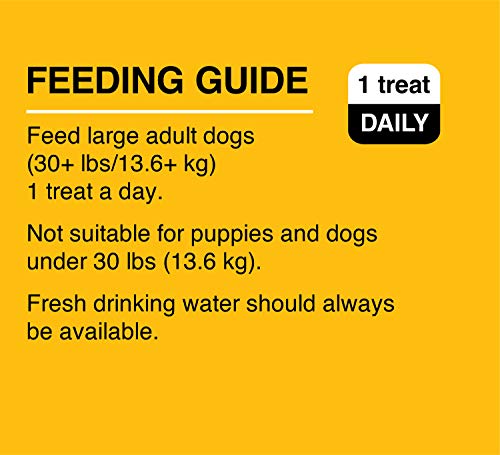 Each bag of Dentastix will recommend the size and age of the dogs who can eat what it contains, so just be sure to read the bag before purchasing.
While your dog enjoys a Dentastix, you should also keep an eye on them to monitor for signs of choking.
Signs could be:
A discolored tongue
Whistling noises
Panicked movements
If your dog seems to be acting like anything other than their usual self, check the back of their mouth and throat with a flashlight and remove anything that could be stuck.
Be extra careful to watch for this if this is the first time your dog encounters a chewy treat.
Safe Alternatives
Don't worry if you're starting to feel worried about dental chews.
There are other alternatives for your dog to try that are perfectly safe.
Brush Their Teeth
It's always a good idea to brush your dog's teeth regularly, with or without dental chews.
Use these cleaning tips to get the best results[6]:
A quick brush will prevent plaque build up as well as any dental chew.
Set Regular Dental Exams
Humans are told to go get their teeth cleaned at the dentist every six months, but dogs can be a little more relaxed about exams.
It's generally recommended that dogs get oral exams once a year[7].
Talk with your dog's vet about their specific case. Your vet may recommend more or less frequent cleanings depending on your dog's dental history.
Buy Oral Health Food
Some food brands are made specifically for dogs with dental issues.
Look for brands that advertise this.
They may also only be available through your vet, so call your vet's office to talk with them about what brands could be best for your dog.
Conclusion
I know people who don't care about their dog's dental health at all, and I also know people who are probably way more attentive than they need to be about it.
Personally, I think there's a perfect balance in the middle.
Dental treats like Dentastix are good for maintaining healthy teeth, but dogs should also get regular dental exams just to ensure that everything is okay.
Without brushing your dog's teeth or providing dental treats, there could be many dental issues in your dog's future.
Resources