This post may contain affiliate links. It doesn't cost you anything extra and it keeps our lights on, our families fed, and our dogs spoiled. For all the juicy fine print, see our affiliate disclosure
Sophie's anxiety started with thunderstorms, the dreaded fireworks, and high-pitched beeping noises.
At first, it was only a mild case of anxiety. We attempted training to desensitize her to these situations but it didn't seem to work.
Unfortunately, as Sophie got older, her anxieties expanded beyond noises and increased in severity, which meant it was time to call the vet.
We discussed different options with our primary vet, who suggested we start with a ThunderShirt.
I'm not going to lie, I was more than a bit skeptical.
How was a wrap going to help Sophie with her frantic, anxious behavior?
Like any good skeptic, I went home and jumped online.
It's not a matter of trusting my vet, I just wanted to learn more about the ThunderShirt before making the investment.
Here's what I learned.
Is your dog excessively circling its bed before lying down? That can be a sign of
anxiety
!
What is a ThunderShirt?
The ThunderShirt is body wrap with a neck strap and two body flaps, using Velcro to secure the wrap in place.
The wrap, when properly secured, is supposed to create consistent pressure over the dog's torso, producing a calming effect.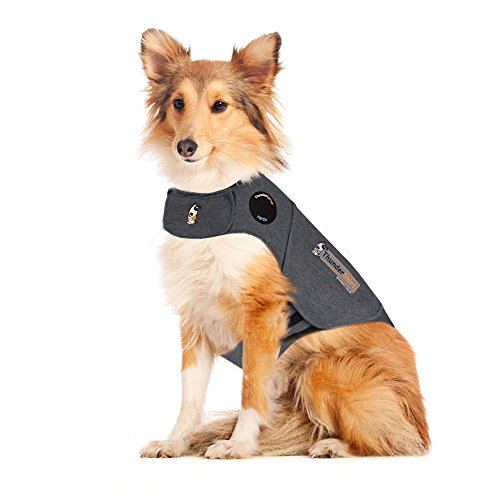 How Does a ThunderShirt work?
According to the website, the pressure created by the ThunderShirt mimics the actions of swaddling a baby or giving a hug, both of which are said to provide a calming effect in humans.
The hug-like pressure is claimed to release calming hormones, like endorphins and oxytocin, thus alleviating the dog's anxiety.
The Skeptics
I'm sure I'm not the lone skeptic ranger regarding the effectiveness of the ThunderShirt.
Is Your Dog Driving You Nuts During the Day?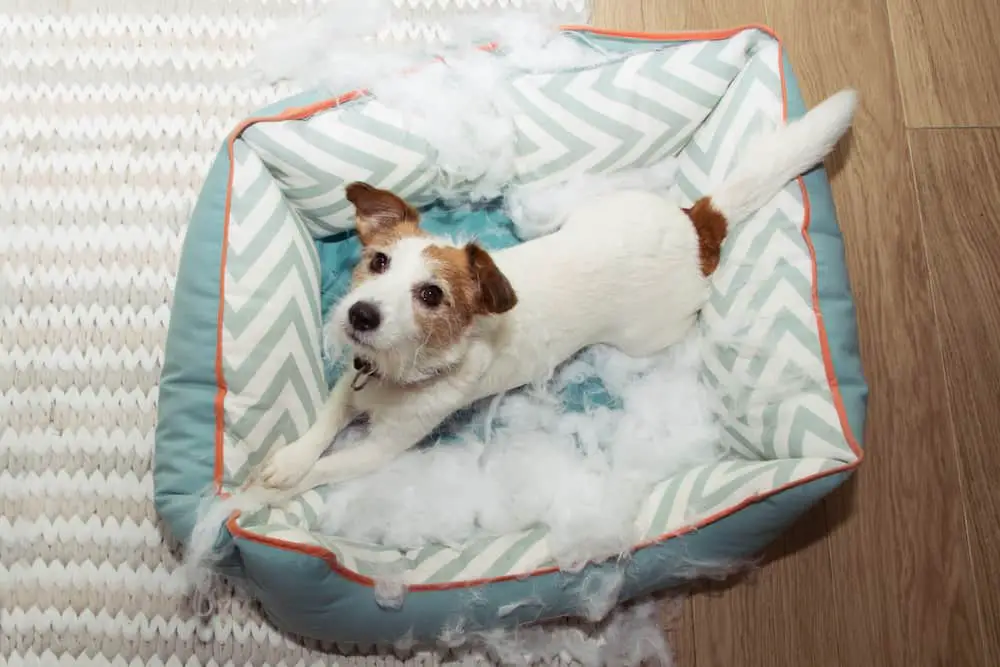 Get Our List of 11 Awesome Indoor Activities to Keep Your Dog Busy and Out of Trouble!
In fact, my research turned up another fellow skeptic going by the title of "Skeptvet".
They stated, "While these anecdotal reports from professionals certainly justify interest in conducting trials, they do not necessarily support the confident claims made on the product websites."
Which I'm in full agreement with. The website does make some pretty big claims, such as preventing leash pulling, barking, and the almost instant relief to anxiety.
The question for me was, can something so simple really work that well?
The Believers
The optimist in me wanted so badly for this to be the cure.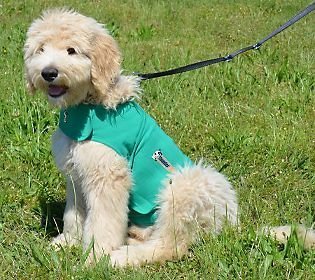 If it worked, it would mean I wouldn't have to put Sophie on medication to keep her comfortable.
I went to the ever-reliable Amazon site to see what the buzz was there.
I found the majority of people thought it worked well for anxiety and few that didn't.
The ThunderShirt website is upfront that it isn't 100% successful with all dogs. Essentially, the reviews were a bit more favorable than I expected.
The biggest complaint I found was regarding the quality of the shirt itself. Many people had stories about the fabric unraveling or looking ratty after just a few uses.
The Purchase
ThunderShirt offers a variety of wraps. There's indoor and outdoor gear, plus they offer multiple colors, which I thought was pretty cool.
I went with the gray one. I know that was last year's color, but Sophie can definitely rock the gray.
Here's what I liked about it…
Easy to use – I watched the instructional video on how the wrap goes on. Sophie was a bit squirmy at first but then settled down enough for me to put it on her. It took less than a minute, so that's a definite plus because no one wants to wrestle with an anxious dog.
Soft Material – I liked the feel of the fabric and because it didn't have any hardware, I wasn't worried about it being overly uncomfortable or getting caught in her hair. Once it was on, she didn't seem to mind it, so that was another plus.
100% Satisfaction Guarantee – I like companies that offer a 100% money back guarantee, it says a lot about their faith in the product.
Here's what I didn't like about it…
The Quality – Unfortunately, I was disappointed at the flimsiness of the material. I could see why it received poor reviews online.
Velcro – Though I still like the idea of the Velcro, the coarse side tends to gather unwanted debris, which is mildly annoying.
The Noise – Thankfully, the ripping noise when removing the shirt didn't bother Sophie, but it did startle Axel. Admittedly, it is pretty loud but unfortunately, I don't believe there's a solution for that.
Alternatives
I wanted to check out the other options to see if any of them would be a better match for us.
WOW… this is the ThunderShirt on steroids!
It plays music (using 2 AAA batteries) and has lavender and chamomile essential oil crystals.
Very similar to ThunderShirt but only has one flap on the torso instead of two.
It is a little less expensive than the ThunderShirt but only by about $6.
This one is interesting.
It has a pouch on it for hot or cold packs, which can be attached anywhere on the wrap.
It also has a feature for holding gauze pads in place.
This was definitely more medical oriented than what I was looking for, but it's great to know it's out there.
Other Supportive Products
Though the ThunderShirt should work fine on its own, there's no real harm in adding supportive products to aid in its success.
Though there isn't a lot of scientific proof these products will work, it's unlikely they will make things worse.
Aromatherapy
Aromatherapy has been around for years and if it doesn't work the worst that will happen is your dog and house will smell better for it.
Some of the same essential oils can be used to naturally get rid of fleas, too!
I like De-Stress by Gerrard Larriett Aromatherapy Pet Care.
CBD Products
These are still fairly new to the market but are worth trying. Some are more focused on anxiety and others help with mobility.
They are fairly safe to use but always check with your vet first before adding supplements to your dog's diet.
We use Releaf Edibites. Select CBD is another good source of CBD oil.
Pheromone Therapy
Our vet not only supports the use of pheromone therapy, but they also use it in their clinic.
They recommend Adaptil, which comes in a variety of forms.
In Our Opinion
It does work for Sophie most of the time.
Unfortunately, if her anxiety is extremely high, the ThunderShirt only takes the edge off and we need to also use medications to help alleviate it completely.
I'm glad we purchased it and would recommend it to others.
There's little risk if the ThunderShirt doesn't work and a great reward if it does. With a money back guarantee there's really no downside in trying it!
FAQs
Can I leave the ThunderShirt on my dog all the time?
If your dog needs it all day every day, it is advised to still remove it twice a day.
In the beginning, you will want to start with only 1-2 hour increments.
Does ThunderShirt work for barking?
Barking wasn't an issue for us, but the general consensus was that it helped with anxiety barking but not nuisance barking.
Does the ThunderShirt help with aggression?
Check with a professional before trying to handle aggression on your own.
But if your dog has fear aggression, wearing a ThunderShirt may aid in lowering the aggressive behaviors.