I got her a puppy crate, lots of toys and an adorable name tag to put on her tiny collar.
As I was stocking up, a friend told me that one of the best things I could get for Maggie was Greenies dental treats.
The family dogs I'd grown up with had never had dental treats, so I wasn't sure what they even were.
After talking with Maggie's vet about them, I've had them stocked in my house ever since.
Here's my review on Greenies dental treats, so you can make an informed decision before buying them for your dog.
Greenies aren't the only dental chews around. How do they stack up against the competition? Find out in:
Greenies vs Dentastix
!
Ingredients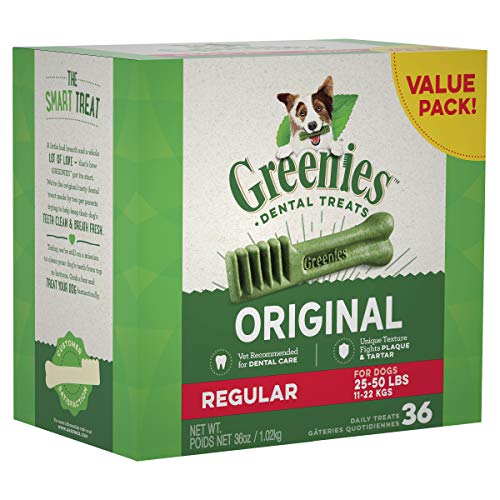 When my friend first recommended Greenies, the first thing she talked about was how the ingredients were super fresh.
She only fed her dog the purest foods and ingredients, so I trusted her judgement call.
After I went to the pet store, I double checked the ingredients list.
Turns out, she was totally right. The Greenies company takes pride in using only natural ingredients[1], so dogs get all the nutrients and vitamins they need from one source while staying safe.
Features
The first features that stood out the most to me were the fresh ingredients.
The last thing I wanted to do was introduce my puppy to chemicals and preservatives, even if they cleaned her teeth.
The next was that the flavors were named after actual foods, like blueberries, instead of being just mint or meat flavored.
What I Like
I love that Maggie knows the difference between her regular treats and her Greenie's toothbrush.
Whenever I ask if she's ready to brush her teeth, she spins around with her tail wagging a million miles per hour.
She seems to enjoy the taste too.
Although there's the blueberry flavor to choose from, I get her the Original bag.
I can't locate what it's supposed to taste like anywhere on the bag but that doesn't discourage her from running off to devour it.
Maggie is also a couch dog, so when she gets any treat, she jumps up there to munch away. Some treats crumble easily and leave a mess, but the Greenies dental chews never do.
It's a fact that continues to surprise me, because she really goes to town on them.
One other thing I love is that she's grown up with them. Greenies has dental treats for dogs at every life stage.
It makes me feel good knowing that she's had dental support since I brought her home two years ago.
Complaints
While I think that Greenies have been great for Maggie, there have been some issues that continue to bug me.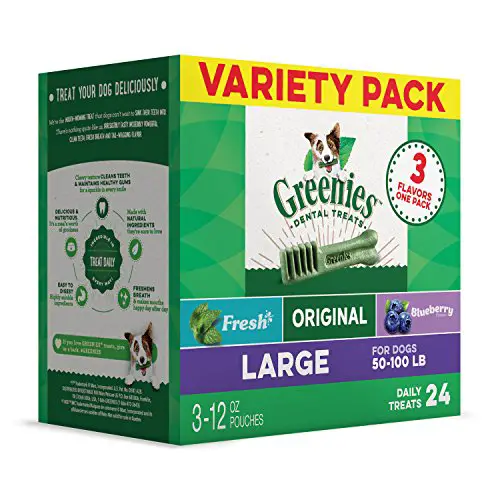 First of all, they advertise that the chews freshen your dog's breath, but I've never noticed a difference.
Although, that may be because I buy the Original flavor and not one with a noticeable scent.
A bigger issue for me is the price.
The pack of Original, Regular treats that I buy at the local pet store that has 36 treats in it comes out to about what I pay for a bag of dog food[2]!
That's a huge chunk of change just for treats, especially when you consider that they're meant to be daily chews.
For that reason, I come to my second issue with Greenies:
I give them to my dog once a week because they're so expensive. She should be able to get daily dental help at a price that doesn't break the bank.
Dog owners shouldn't have to choose between quality ingredients and a budget friendly dental chew for their dogs.
Another very small issue I have with Greenies dental chews is that they're eaten so quickly.
The term "chew" makes me think of something Maggie can chew on for a while, but the treats are eaten in less than a minute.
I think it'd be more worth the money if I paid so much money for treats that cleaned her teeth and entertained her, like a bone (or Nylabone) or rawhide chew.
Recommendation
I'm going to stick with Greenies whenever I can, just because I prefer their ingredients over other brands and I know they won't upset Maggie's stomach, which sometimes gets irritated with food changes.
Every owner will have to make their own decision, but even with my complaints, I think Greenies are the best dental chew on the market.
Alternatives
Buying Greenies won't always be a possibility, which I completely understand.
That's why these alternatives are my second choices when Greenies don't fit the budget.
Blue Buffalo Dental Chews
Blue Buffalo is a dog food brand known for quality ingredients, which is why I trust their dental chews[3].
They're allergen free, contain no preservatives, and have no by-product meals in them.
Plus, they're meant to be a bit chewier, so after the treat itself is gone, your dog will still be licking their teeth clean.
At nearly half the price per bag, they're much more budget friendly.
Virbac C.E.T. VeggieDent Tartar Control Chews
Virbac's bags of chews are meant for heavy chewers in each size category, so they'll last a little longer.
They also have a neat shape, causing dogs to work harder to chew them apart.
These chews have also received the Veterinary Oral Health Council (VHOC) seal[4].
That means that it's been tried and tested to reduce and control tartar on dog teeth.
Natural Balance Dental Chews
Averaging around $20 per bag, Natural Balance's dental chews are something to be considered.
Their ingredient list begins with sweet potatoes and continues down the line with nutrients and vitamins, with a little spearmint thrown in for good measure.
They're safe for dogs with food sensitivities and promote healthy digestion, so they should be a reliable dental chew for most dogs.
Resources