Every once in a while, dogs find themselves in messy situations.
Your dog may dig holes in the backyard or run around in a muddy park.
My Maggie's coat acts like a sponge when it's wet outside, which means I need to bathe her a lot.
I'm sure plenty of other dog owners feel the same way, but it's even more challenging to bathe your dog when they have sensitive skin.
Sensitive skin prevents dog owners from washing their pups more than once a month without making their dogs feel completely uncomfortable.
You might think the only solution is to avoid bathing your dog altogether, but there are more options at your disposal.
I've picked out the best dog shampoos for dry skin so you can try them out and see what's best for your dog.
You may find some you haven't tried before and find a new way to help make your dog comfortable when they're in the bath.
The Best Dog Shampoo for Dry Skin
There are plenty of dog shampoos out on the market that were designed for dogs with dry skin.
Here are a few of my favorites and why they make a difference for so many dogs who leave the bathtub itching and uncomfortable.
Overall Best Choice
Buddy's Best
The best choice I found for dry skin dog shampoo is Buddy's Best.
Their hypoallergenic formula heals your dog's skin while using only vegan ingredients, so no harsh chemicals will irritate your pup.
The fact that it is a shampoo and conditioner left my Maggie's coat soft and smelling clean.
It's also very affordable so I don't feel like I have to use it sparingly or add it to my monthly budget.
Best Value for Your Money
Burt's Bees for Dogs Oatmeal Shampoo
A tight budget may make you feel nervous about trying a new shampoo, but Burt's Bees oatmeal shampoo could solve your dog's skin issues.
It soothes, moisturizes, and softens skin after just one wash for quick and noticeable results.
Best Daily Shampoo for Itch Relief
Earthbath Oatmeal & Aloe Shampoo
When you feel like you've tried every shampoo in your local dog store or you want to buy the best money can get, look for a bottle of Earthbath's oatmeal and aloe shampoo.
It will immediately calm inflamed or dry skin and work its magic long after your dog dries off.
The best thing about this Earthbath shampoo is that it is safe enough to use everyday (like when Maggie finds a mud puddle EVERY DAY for a week).
Best Organic Dog Shampoo
4Legger Soothe Dog Shampoo
When you want to get your dog and all-natural or organic product for their skin, there's no better place to turn than 4Legger shampoo.
It's biodegradable and meant for dogs who need a little extra help in the tub.
Best Medicated Shampoo
TropiClean Medicated Itch Relief Pet Shampoo
Some dogs struggle with chronic itchy or dry skin, which is when you'd need a medicated shampoo.
TropiClean's oatmeal and tea tree formula gives you an over-the-counter option to save you from another trip to the vet's office.
Best Hypoallergenic Shampoo for Dogs
Rocco & Roxie Soothe Conditioning Shampoo
Sometimes shampoo will make your dog itch because it contains certain dyes or fragrances.
If you want to eliminate all possible triggers, try Rocco & Roxie's hypoallergenic oatmeal shampoo.
It cleans and conditions your dog's skin without any ingredients that could bother their allergies.
What Causes Dry Skin on Dogs?
Dry skin is an irritating health issue that can affect dogs of any age.
There are many reasons why it occurs, so consider these skin irritants and see which your dog may have come in contact with.
Allergies
Just like humans, dogs can have seasonal allergies affected by the time of year.
Your dog may be allergic to pollen or other allergens produced by the environment during the spring and fall.
Dogs can also get dry skin if they have an allergy to their food or where the protein in their food was derived from.
Talk with your dog's vet to see if their food may be an irritant, and discuss options to find a better source of kibble for them.
Grooming Products
You may have taken your dog to the same groomer for years, but that doesn't mean that they've been using the same products the entire time.
Your dog may be sensitive to the shampoo or conditioner the groomer switches to, as well as any scented sprays used after they're dry.
Some shampoos have chemicals or alcohol in them that strip natural oils from your dog skin, which are essential for keeping your dog skin hydrated and healthy.
Call your groomer and ask about which products they use.
They'll help clarify any questions you may have so you know exactly what's being used on your dog when you drop them off.
Dietary Issues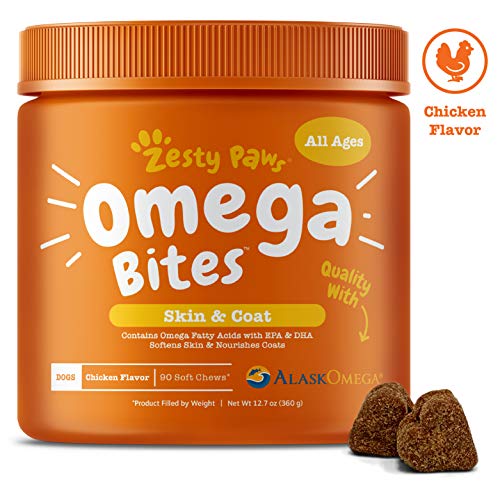 Your dog jumps at the chance to eat their dinner every night, but are they getting everything they need in a nutritional sense?
Their kibble may be delicious, but it could like nutrients that they needed depending on their health situation.
Many dogs have dry skin because their kibble lacks omega-3 oils that regulate the health of their skin[1].
They can get this in fish-based kibble or even tuna fish straight from the can. You may also find treats that are based in omega-3 oils.
If you choose to start giving your dog more food or treats focused on fatty acids, start very slowly.
The oils can upset the digestive tract and cause symptoms like diarrhea or vomiting if given too much at one time[2].
Symptoms of Dry Dog Skin
How can you tell when your dog has dry skin?
You can look for some common symptoms that most dogs have when they're itchy and uncomfortable.
Check your dog's skin and look for signs like: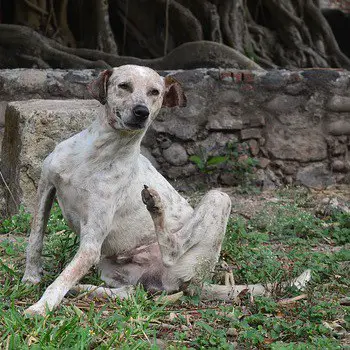 Itchiness
Dandruff
Scaling
Redness or inflammation
Hair loss
Your dog may itch at one spot throughout the day or a lick themselves frequently.
Licking is also a sign of dry skin and is a cause for concern if they're doing it more than a couple times per day.
What to Look for in a Dog Shampoo for Dry Skin
There are a few things to keep an eye out for when you're looking for dog shampoo that will help your dog's dry skin.
Run through this checklist and compare to any products you have in mind to see whether or not it's the right shampoo for your dog.
Skin Soothing Ingredients
Your dog is experiencing itchiness, dandruff and other symptoms because their skin is inflamed.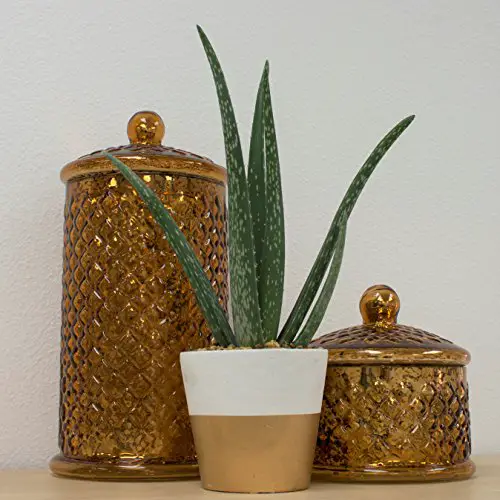 They'll get the fastest relief from a shampoo that's designed to soothe irritation.
Aloe vera is an excellent ingredient for this since it's known to heal skin after things like sunburn and eczema[3].
Oatmeal is also known to be good for dry skin.
It's commonly used to stop itching caused by chicken pox.
When it's ground into a powder, it balances the skin's pH levels and reduces irritation[4].
Buddy's Best hypoallergenic formula is a great way to get both of these ingredients in one shampoo.
You'll get an organic solution for a problem that nature can help you solve.
No Alcohol
You may not realize it, but alcohol is in many products and can dry out human and animal skin[5].
It's commonly found in shampoos, including those meant for dogs.
The presence of alcohol quickly dissolves other ingredients without affecting the product's usefulness, but can be harmful to those with sensitive skin.
Like Buddy's Best, Rocco & Roxie's hypoallergenic oatmeal shampoo is alcohol-free because it's made for ultra-sensitive canine skin.
It's one of the more expensive brands, but it's worth it when you're trying to avoid such a common ingredient.
Coconut Oil
Coconut oil can solve many dog-related issues, especially dry or inflamed skin.
When used regularly, it nourishes skin cells and acts as a protective barrier against allergens or irritants[6].
It moisturizes long after your dog has dried off and enjoyed a post-bath nap.
A product like 4Legger shampoo solves a few problems at once. Your dog will enjoy all the benefits of topically-applied coconut oil and you won't have to watch them afterwards.
When people massage coconut oil into their dog's skin, it leaves a strong scent that dogs like to lick off.
The shampoo reduces this scent without taking away any of the skin-healing qualities of the coconut oil.
You and your dog can relax after they bathe with shampoo from 4Legger.
Conclusion
Although any of these shampoos could help your dog, Buddy's Best is still my number one choice.
You can't beat its natural, hypoallergenic ingredients and the inclusion of oatmeal and aloe vera.
Try these shampoos out at home to see if they're the sensitive skin relief your dog is looking for.
FAQs
What Is Good for Dogs With Dry Skin?
The best solution for dogs with dry skin is a hypoallergenic shampoo.
Those will often contain ingredients such as oatmeal, aloe vera, or vitamin E, which all encourage natural skin hydration and healing.
Will Coconut Oil Help My Dog's Dry Skin?
Coconut oil has been proven to moisturize and heal dry skin.
It can be applied topically or by using a shampoo based in coconut oil.
How Can I Soothe My Dog's Itchy Skin?
The fastest way to soothe your dog's itchy skin is to use an irritant-free shampoo.
You'll cover their whole body at once and can talk with your vet about further options after your dog becomes more comfortable.
Resources