Best Shampoos Used by Dog Groomers: Winners
I just brought Ginger to the groomer and when she got home her coat was so white and silky soft, I couldn't help but wonder what the groomer used to get her coat so clean.
When I went to the store to find a good shampoo to use in between grooming appointments I couldn't help but be overwhelmed at the large assortment of shampoos available.
And that did not even include the many shampoos used by dog groomers.
I later found that dog groomers use a variety of shampoos based on the needs of their canine clients.
What Shampoo Do Dog Groomers Use
After searching the internet over we found the best shampoos used by groomers that are also easily accessible to you.
Best General Purpose Dog Shampoo Used by Groomers – TropiClean Berry and Coconut Deep Clean Shampoo
TropiClean Deep Cleansing shampoo is a gentle formula that is perfect for dogs who may be overdue for a bath.
The shampoo is designed to deep clean, deodorize, and condition with just one treatment.
The shampoo is made with natural plant or mineral ingredients.
Plus, the TropiClean brand is available in seven other formulas:
Flea Bite Relief – Neem and Citrus
Oatmeal Medicated – Oatmeal and Tea Tree
2-in-1 Shampoo and Conditioner – Papaya and Coconut
Deodorizing – Aloe and Coconut
Hypoallergenic – Coconut
Shed Control – Lime and Coconut
Whitening – Awapuhi and Coconut
Key Features
Moisturizes and conditions coat
Free of soap, parabens, and dyes
Made in the USA
pH balanced
Uses safe natural ingredients
Pros
Available in three sizes
Safe to use on puppies as young as 12-weeks old
Long lasting scent
2 in 1 conditioner and shampoo
Cons
Deep cleansing solution only available in one scent
Best Hypo-Allergenic Dog Shampoos Used by Groomers – WAHL Dry Skin & Itch Relief Pet Shampoo for Dogs
WAHL Oatmeal shampoo is designed to provide relief from itchy skin, especially for dogs suffering from allergies.
Plus, it has a fresh coconut and lime scent, with a bit of spice from the verbena.
Is Your Dog Driving You Nuts During the Day?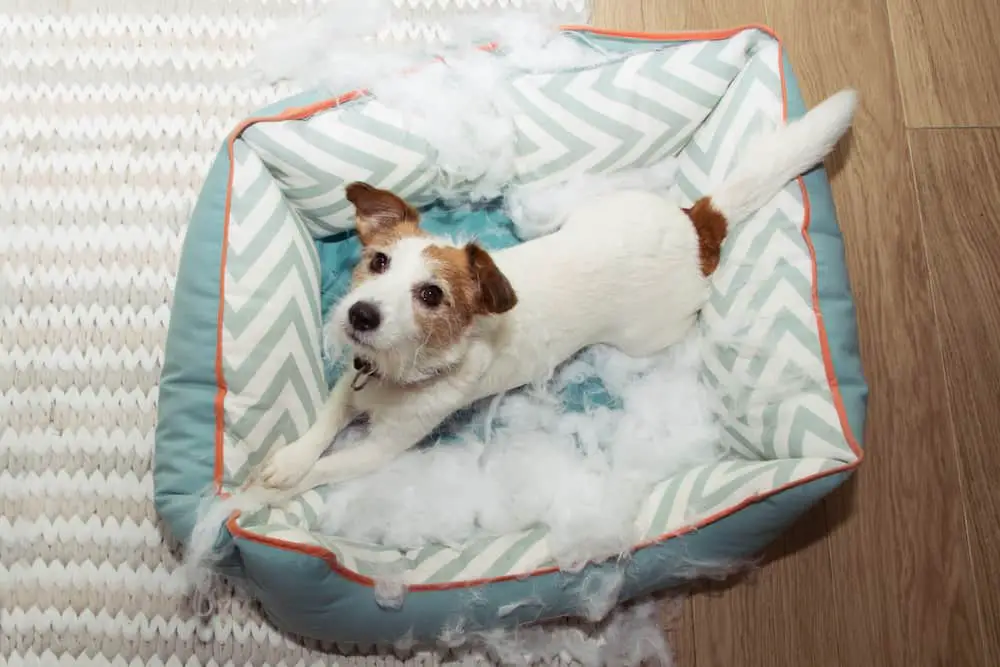 Get Our List of 11 Awesome Indoor Activities to Keep Your Dog Busy and Out of Trouble!
WAHL Oatmeal shampoo works with all different breeds and coats, regardless of how thick or thin your dog's hair is.
Plus, WAHL makes more than just oatmeal shampoo. They also make:
Key Features
Paraben and alcohol Free
Cleans and soothes
Highly concentrated
Contains coconut, lime, and verbena
Easy rinse formula
Pros
Made in the USA
Budget friendly
Brand trusted by groomers for over 50 years
Allergy friendly
Available in multiple sizes
Best Dog Shampoo for Sensitive Skin Used by Groomers – Moosh Natural Dog Shampoo
Moosh Natural Dog Shampoo is perfect for dogs with sensitive skin, dogs who are suffering from hot spots, allergies, or dogs with itchy and dry skin conditions.
Moosh is safe for your dog and the environment and is made from natural ingredients such as bentonite clay, shea butter, aloe vera, and argan oil.
The bentonite clay in particular can help prevent hot spots from getting infected1.
Plus, Moosh shampoo is free from sulfates, preservatives, and chemicals, and is cruelty-free.
And the shampoo is American-made in small batches to ensure quality.
Key Features
Clay based
pH balanced
Concentrated formula
Contains argan oil and aloe
Pros
Natural ingredients
Safe to use in streams and lakes
Cleans, deodorizes, and nourishes your dog's skin and coat
Cons
Only available in one size
Only available in one scent
Best Medicated Shampoo Used by Groomers – Arava Natural Medicated Dog Shampoo
Arava Natural Medicated Dog Shampoo is formulated to provide relief from itchy inflamed skin. It is perfect for dogs suffering from:
Hot spots
Ringworm
Dandruff
Abrasions
Skin irritations, infections, and inflammation
The shampoo is created with 28 botanical ingredients like rosemary, chamomile, tea tree, and jojoba.
Plus, it has 26 minerals from the Dead Sea.
Arava shampoo can also aid to heal minor wounds and contains anti-fungal, anti-bacterial, and anti-yeast ingredients.
Key Features
28 active ingredients
pH balanced
Enriched with minerals from the Dead Sea
Works for all breeds
Pros
Natural botanical ingredients
Safe to be used around kids
Free of hazardous chemicals
Cons
Only one fragrance choice
Best Whitening Shampoo Used by Groomers – Veterinary Formula Snow White
Veterinary Formula Snow White shampoo is perfect for keeping your pup's coat white and vibrant.
It is a safe formula that is free from bleach and hydrogen peroxide. Snow White is a bluing shampoo.
Snow White shampoo not only whitens your dog's coat but also cleans and deodorizes your dog.
Key Features
Includes vitamin E and green tea
Gentle formula so it won't irritate your dog's skin
Will help whiten yellowing coats
Uses blue coral
Pros
Free of bleach and peroxide
pH balanced
Budget friendly
Uses optical brighteners
Contains fragrance extenders
Cons
Not as strongly scented as other shampoos
How to Choose a Professional Grooming Shampoo for Your Dog
Most professional-grade shampoos are designed for a specific purpose and aren't the same as human shampoo.
Let's look at those purposes so you can see if that type of shampoo is right for your dog.
General Purpose Shampoo
General-purpose shampoos are the shampoos most often used by groomers.
They are perfect for getting the average dog clean and smelling great.
Hypoallergenic Shampoo
Most hypoallergenic shampoos are oatmeal-based because it helps to soothe itchy skin while also relieving redness and irritation.
Plus, oatmeal-based shampoos can provide greater moisturize and condition your dog's coat and skin.
Hypoallergenic shampoos can be used all of the time or as needed for dogs that suffer from seasonal allergies.
Shampoo for Sensitive Skin
Shampoos designed for dogs with sensitive skin are ideal for dogs suffering from allergies, sores from flea dermatitis, itchy and dry and flaky skin, or hot spots.
Medicated Shampoo
Medicated shampoos are not ones you want to use every time your pup needs a bath, but they are an excellent option for dogs who have chronic hot spots or dry, itchy skin.
Though many dog shampoos have a 2-in-1 conditioning agent, general-use shampoos can irritate your dog's skin if they have any abrasions or skin conditions.
Whitening Shampoo
For dogs that should have a bright white coat, groomers use specially formulated shampoos that will best display the true white of your dog.
There are a few different types of whitening formulas2:
Bluing shampoos reflect the light and hide yellowing in your dog's coat. Best of all, blue shampoos can be used for black dogs too, to help make their black coats shine.
Enzymatic shampoos use specially formulated enzymes to help dissolve and eliminate the discoloration of your dog's coat.
Clarifying shampoos help open up your dog's hair cuticle and cleans the dirt that's collected there.
Conclusion
If I could choose just one brand for professional-grade dog shampoos, I would choose TropiClean. They have the largest variety of formulas and scents. Plus, they are all budget-friendly.
The runner up is the WAHL brand shampoo. I have used WAHL for years both the shampoos and the deodorizing wipes.
I like both of these brands because they both use natural ingredients.
Plus, both are safe and are scented to help your dog smell great.
And though I have used WAHL for years, I think the next time I buy a shampoo for my girls I will try TropiClean to see how they compare.
Resources