This post may contain affiliate links. It doesn't cost you anything extra and it keeps our lights on, our families fed, and our dogs spoiled. For all the juicy fine print, see our affiliate disclosure
Fish skin chews for dogs have been one of my favorite dog chew choices over the years.
The first thing that turned me onto fish skin chews was that they are hypoallergenic, since both Sophie and Calvin had horrible food allergies.
Fish is one of the few proteins most dogs with food allergies can enjoy without issues.
Also, fish skin chews are a single-ingredient treat, which is another appealing aspect since they don't contain cheap fillers.
And though Calvin and Sophie are no longer with us, I still get fish skin chews for my dogs since they are an excellent and healthy alternative to other options such as rawhides.
Related: What is Salmon Meal? Is it a Safe Dog Food Ingredient?
Can Dogs Eat Fish Skin?
Dogs can eat fish skins that are appropriately prepared, such as the ones you find at your local pet boutique.
However, raw fish skins can carry harmful bacteria, so they are not recommended for your dog to eat1.
Plus, fish skins that still have their scales are not a good option either.
Dried fish skins prepared without added oils or seasoning are ideal and perfectly safe for your dog to consume.
In fact, fish skin contains healthy fish oils for your dog!
Are Dried Fish Skin Chews Good for Dogs?
Dried fish skin chews are good for our dogs; they contain similar beneficial nutrients and vitamins as found in the whole fish.
Fish skins are also high in protein, which helps our dogs build and maintain strong muscles.
Is Your Dog Driving You Nuts During the Day?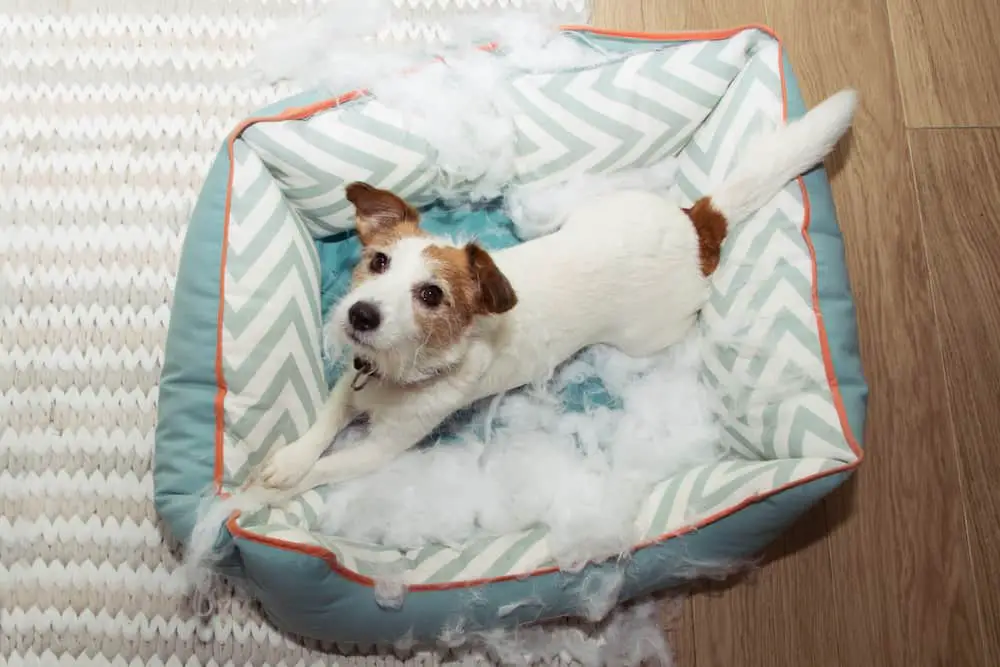 Get Our List of 11 Awesome Indoor Activities to Keep Your Dog Busy and Out of Trouble!
And as I mentioned earlier, they are a healthy chew alternative to rawhides, which could contain unwanted chemicals and bacteria.
Though fish skins don't last as long as some other chews, they are fully digestible.
Plus, unlike some chews, fish skins are pliable and won't run the risk of cracking or breaking your dog's teeth.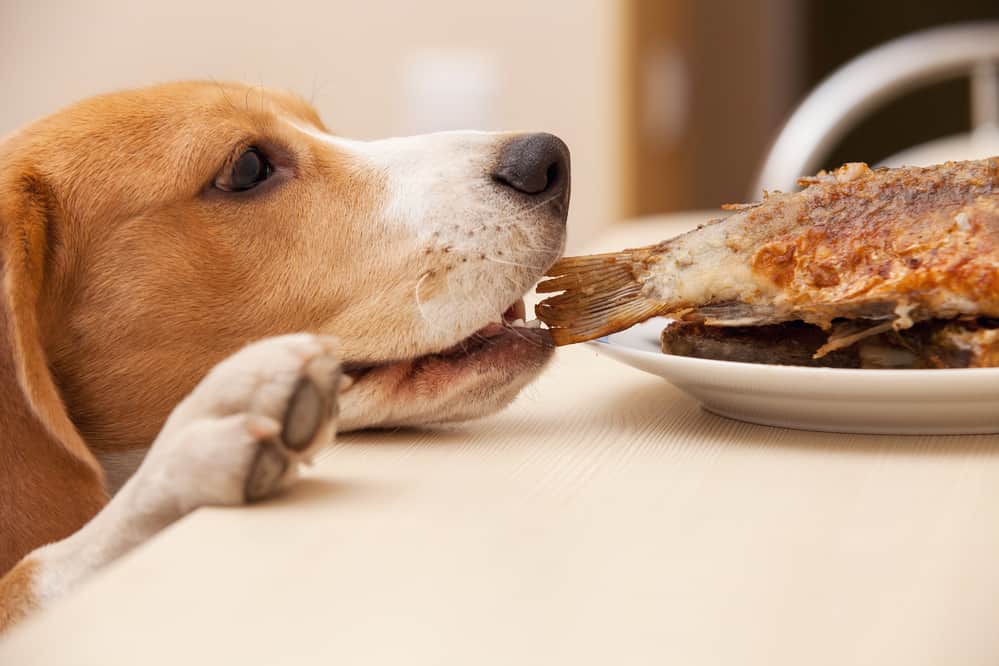 Which Fish Skin is the Best for Dogs?
There are several safe fish varieties that you can give your dog, but the most common fish skin treats you will find include:
Wolffish
Sardines
Whitefish
However, one thing to consider when choosing the ideal fish skin chew is heavy metal contamination2.
So selecting fish such as sardines and cod is best since they are lower in the food chain.
The fish known to have increased heavy metal toxins include swordfish, dogfish, and shellfish like mussels.
Fish Skin Chew Recommendations
There are a few different varieties of fish skin chews on the market, so it can be challenging to know which one is best.
Here are my favorites.
Best Overall
The Honest Kitchen – Ocean Chews
These are made from either Wolffish or Cod and made with human-grade ingredients.
In addition to chews, The Honest Kitchen also makes a variety of fish skin treats.
Click here to try The Honest Kitchen's fish skin chews!
Best Rolled Fish Skins
Icelandic+ – Hand Wrapped Sticks
These cod skin chews are a bit heartier since they are rolled to make them bulkier so they last longer. Also, Icelandic+ comes in two sizes, 5-inch, and 10-inch.
Plus, The Icelandic+ has Cod Skin Block, which is a 2-inch block of fish, which might be a good fit for some of our medium to larger dogs.
Icelandic+ offers the whole herring, too.
Click here to try rolled fish stick chews from Icelandic+!
Best Fish Skin for Small Dogs
Plato Pet Treats – Wild Caught Baltic Sprat
Plato Pet Treats' Wild Caught Baltic Sprat is perfect for our smaller canine friends.
Though, they are not just fish skins. The sprat treats are whole fish harvested from the Baltic Sea, but they are small enough for tiny mouths.
Click here to try Plato's sprat treats for your pup!
Conclusion
I love fish skin treats for my dogs, but I know the smell may be a big turn-off for some people.
However, if that is holding you back from getting these, I recommend using them as an outdoor chew.
And though these are a safe option for our canine buddies, I always recommend keeping an eye on your dog whenever they have a chew.
Also, less is more in the beginning since you want to make sure they sit well with your dog.
FAQs
Is Fish Skin Good for Dogs' Teeth?
Yes, though they do not have the same scraping capabilities of harder chews like bones.
Can Salmon Skin Make Dogs Sick?
Raw salmon skin and any raw fish skin can make your dog sick.
Also, cooked salmon skin can be very fatty and cause issues such as pancreatitis, so dried salmon skin is best.
How Much Salmon Skin Can a Dog Eat?
Salmon skin should be given in moderation due to the higher fat content.
Are Cod Chews Good for Dogs?
Yes, cod chews are great for dogs; they are high in protein and nutrients.
Can Puppies Eat Cod Skin?
Yes, puppies can eat cod skin chews but should avoid raw or undercooked skins.
Additionally, all fish skins should be properly cleaned and scaled.
Can Dogs Eat Mackerel Skin?
Yes, dogs can eat mackerel skin as long as it has been properly prepared and thoroughly cooked.
Can Dogs Have Smoked Salmon Skin?
If given in small amounts, it can safely be consumed, but smoked salmon skin can be very fatty, so caution should be exercised.
Can Dogs Eat Smoked Haddock Skin?
Yes, but again, use caution, as it can be too rich for our dogs and may cause GI upset.
Can Salmon Skin Cause Pancreatitis in Dogs?
Yes, fatty foods have been linked to pancreatitis in dogs3.
Resources
https://www.fda.gov/animal-veterinary/animal-health-literacy/get-facts-raw-pet-food-diets-can-be-dangerous-you-and-your-pet