This post may contain affiliate links. It doesn't cost you anything extra and it keeps our lights on, our families fed, and our dogs spoiled. For all the juicy fine print, see our affiliate disclosure
There are several reasons dog owners look for rawhide alternatives.
A few of the top reasons rawhides aren't always the ideal choice are that they are not the easiest for dogs to digest[1], can cause intestinal blockages, and may cause general gastrointestinal upset.
Though a less critical reason, some dog parents don't like rawhides because they get gummy and can leave an offwhite sticky residue behind, plus they can often be quite fragrant.
Thankfully for those of us who prefer rawhide alternatives, there are numerous options available on the market.
Related: Bone Alternatives for Your Light to Aggressive Chewer
The 13 Best Rawhide Alternatives
Himalayan Yak Chews – Longer Chew Time Alternative
Himalayan Yak Chews are also known by other names such as Himalayan Yak Milk Bones, Yak Cheese Chews, and Himalayan Dog Treats, to name just a few.
Most are made from yak's milk, but some have added ingredients, including cow's milk, so for those thinking this is an excellent hypo-allergenic option, be sure to check the label before buying.
Features
Available in a variety of sizes and forms
Can be softened in the microwave to make them easier to chew
Yak chews last a long time
Very digestible
Often is an excellent hypo-allergenic option.
Learn more about Himalayan Yak Chews!
Bully Sticks – High Protein Alternative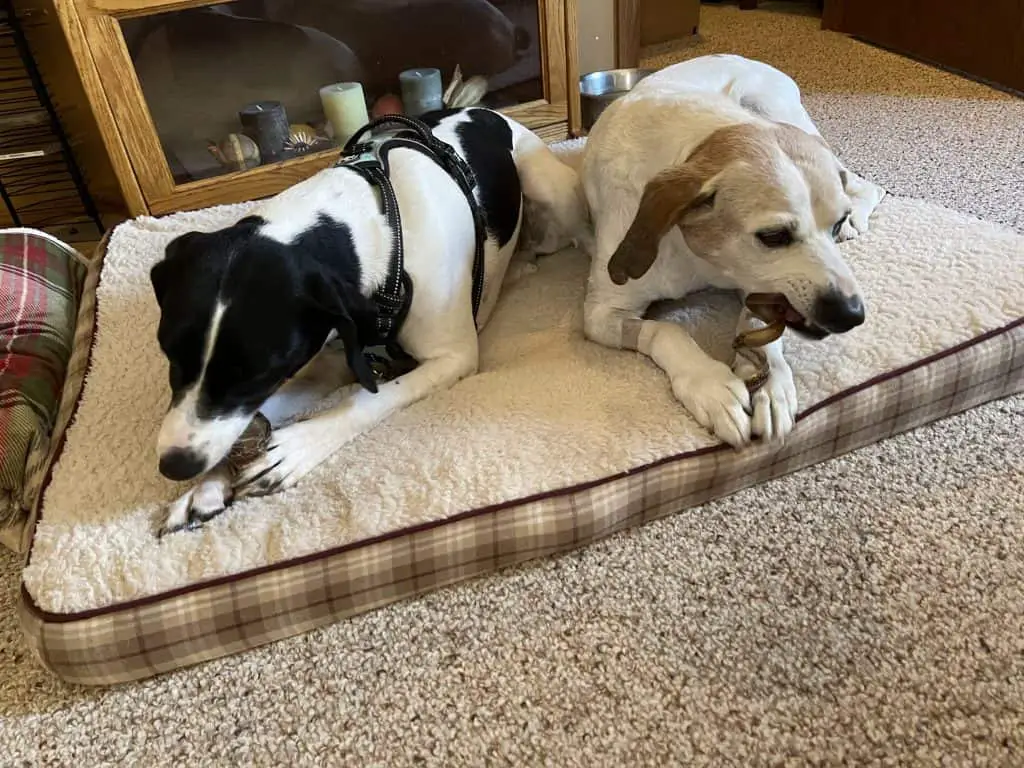 Bully sticks, also referred to as pizzle sticks, are bull penises.
Though that may make some people squeamish, dogs love bully sticks.
Bully sticks are an excellent rawhide alternative because they are more easily digested, less processed, and have less of a chance of chemical contamination.
Features
Available in buffalo and pig for a hypo-allergenic alternative
Variety of lengths making them suitable for different sized dogs
Rich in amino acids
Help keep teeth clean
Check out our more detailed comparison of bully sticks and rawhide!
Tendons – Senior Alternative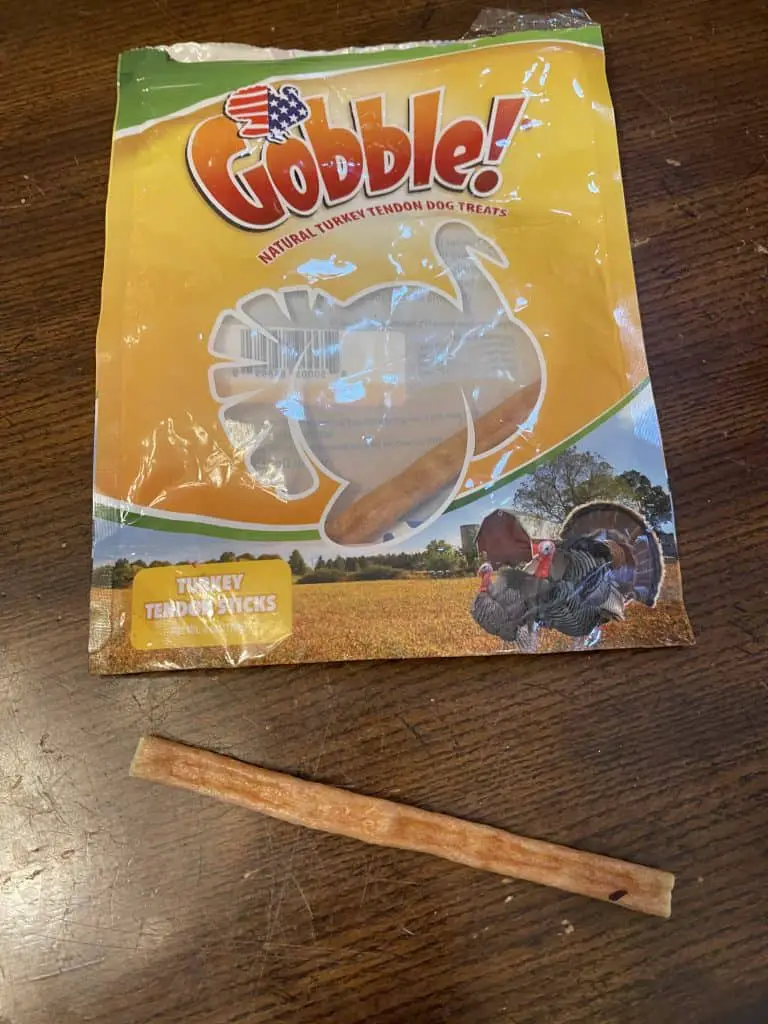 Tendon chews come in a variety of proteins, such as beef, turkey, and ostrich.
Tendon chews are a better alternative for seniors since they contain glucosamine, elastin, chondroitin, and collagen, all of which promote good joint health.
Features
Can be hypoallergenic
They are smaller than most rawhide treats
An excellent option to support orthopedic health
Easily digestible
Great for helping keep teeth clean
I like using Gobble! Turkey Tendons as a quick distraction, such as when company comes over.
Tripe Sticks – Sensitive Stomach Alternative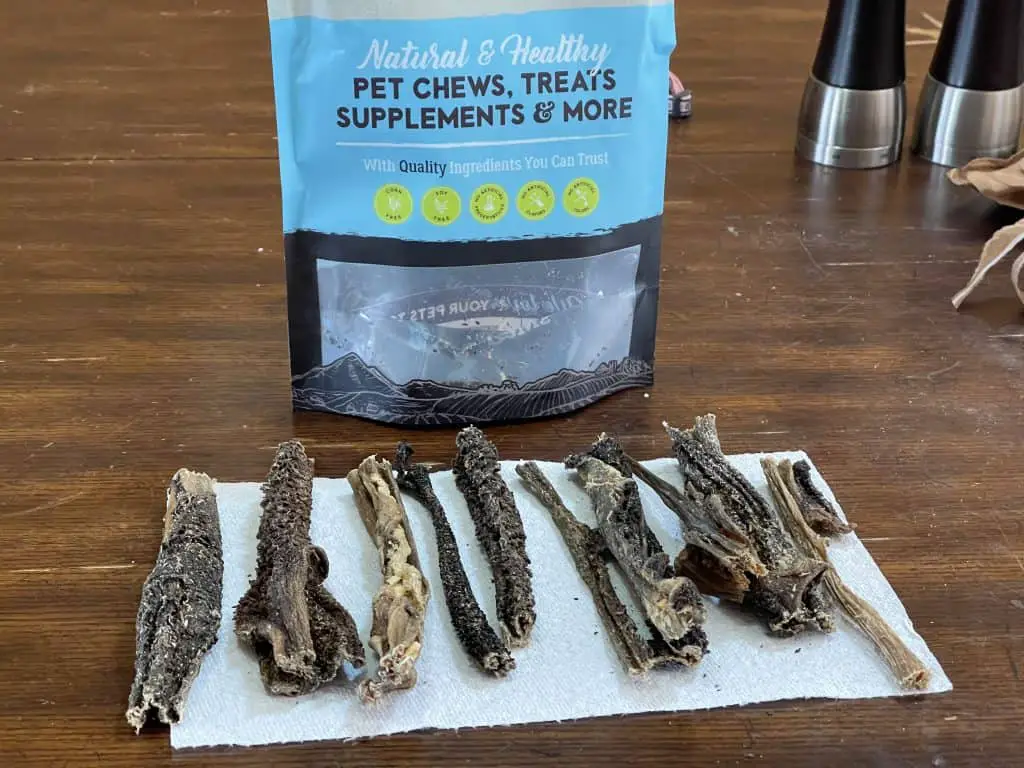 Tripe chews are made from the lining of the cow's stomach, which is highly edible, nutritious, and lower in calories, making it a perfect rawhide alternative.
Tripe twist sticks are low in calories and are very easily digested, making them ideal for dogs with sensitive stomachs.
Is Your Dog Driving You Nuts During the Day?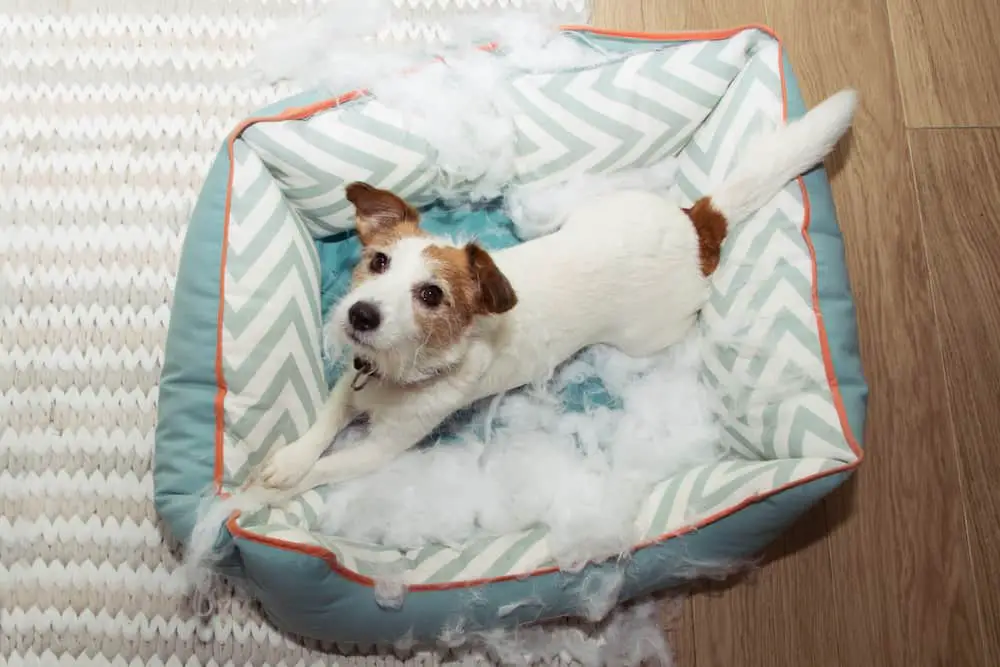 Get Our List of 11 Awesome Indoor Activities to Keep Your Dog Busy and Out of Trouble!
Features
Great for dogs with sensitive stomachs
It is a softer alternative to rawhides
Rich in vitamins and nutrients
Available in unique proteins for dogs with allergies
Excellent source of protein
I hadn't tried tripe before, but after learning about its benefits, I ordered some Raw Paws Lamb Tripe Sticks for Calvin, who has a sensitive stomach. Success!
Related: Beefhide vs Rawhide: Which is the Best Chew for Your Dog?
Cow/Pig/Water Buffalo Ears – Puppy Alternative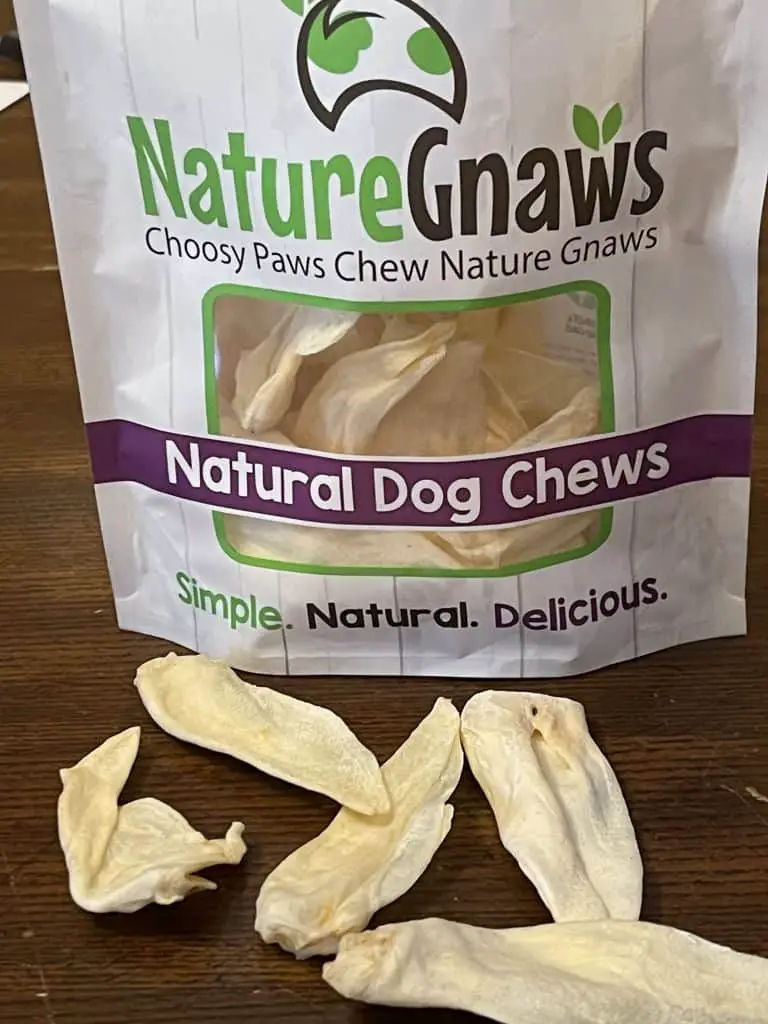 For seniors and puppies that have a hard time chewing on rawhide, cow, pig, and buffalo ears are a thinner and more flexible option.
Puppies need to chew, and animal ears are firm enough to help relieve discomfort from teething but are less likely to break teeth.
However, be sure always to check the labels since some ears have added ingredients.
Features
Often a single-ingredient chew option
They can be ideal for dogs with allergies
They help promote good dental health
Variety of protein options
High in protein
Though not listed above, I buy Nature Gnaws Rabbit Ears for Sophie since they are smaller and she has severe food allergies.
Trachea or Esophagus Chews – Low-Calorie Alternative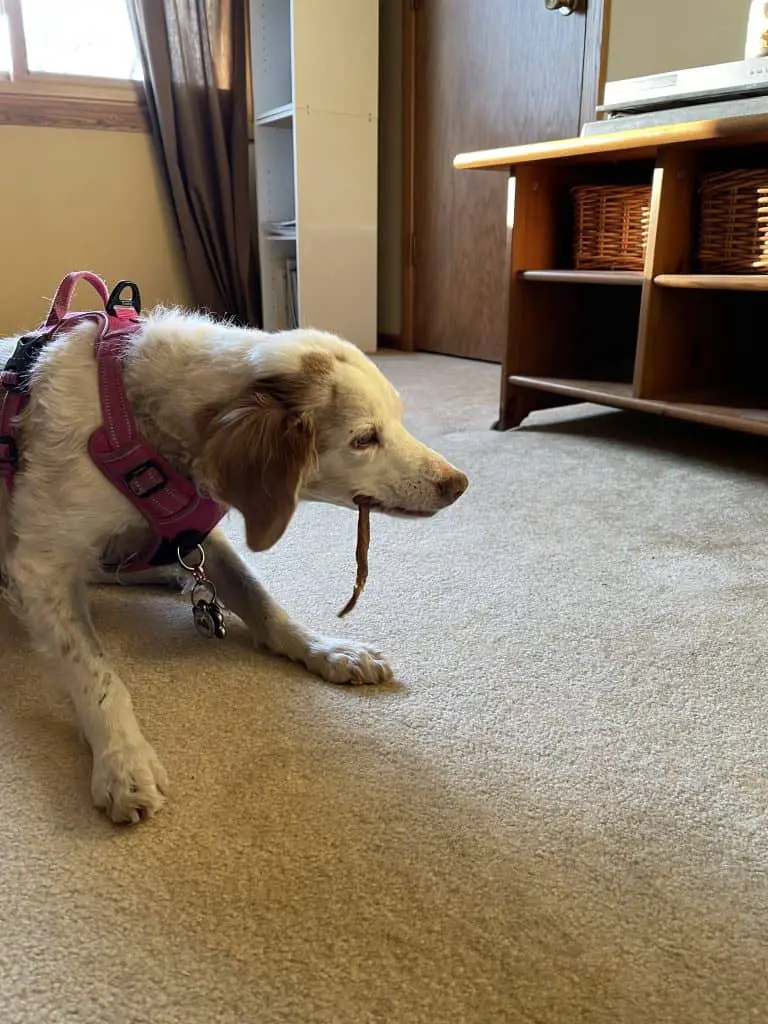 Trachea and esophagus chews often come from cows, though some companies offer lamb and pork options.
Tracheas and esophagi are very similar but connect different organs.
Because trachea and esophagus chews are not as rigid as rawhide, they are less likely to break or crack your dog's teeth.
Features
Full of chondroitin and glucosamine
Softens quickly after your dog starts to chew
Help keep teeth clean
Great source of protein
Available in a variety of sizes and shapes like the braided option for aggressive chewers
Raw Paws Lamb Gullet Sticks are the chews I buy for when we travel. They are a great way to keep the dogs entertained on long drives in the RV.
Fish Skin – Tooth Friendly Alternative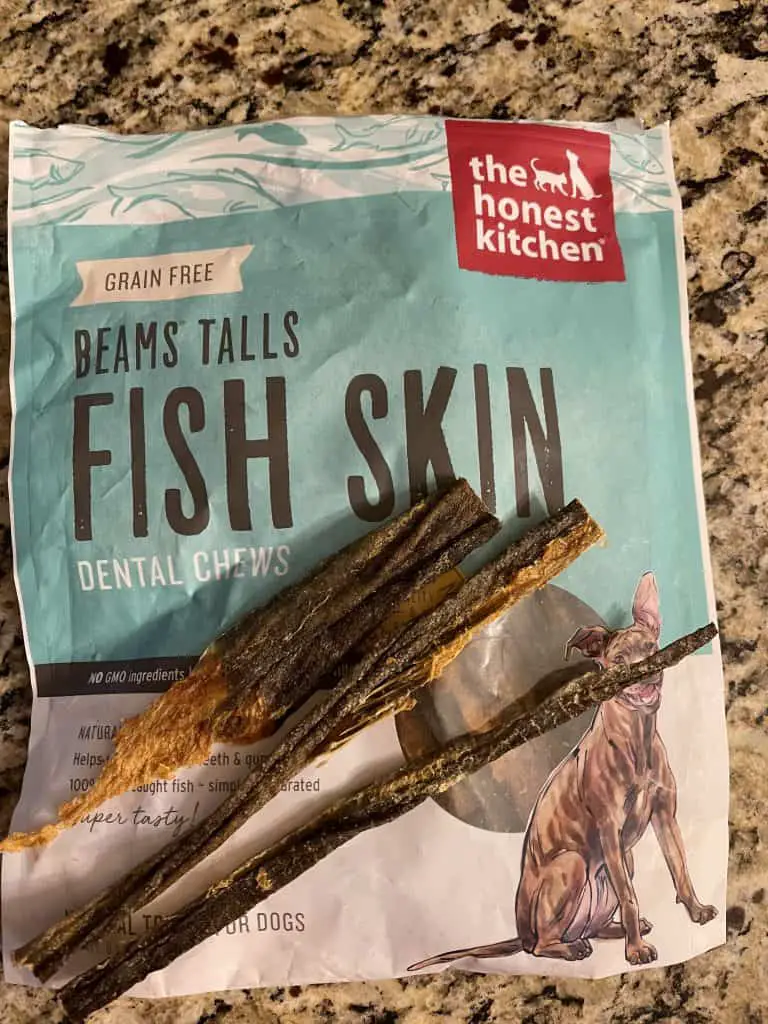 So many dog chews are potential risks for breaking, cracking, or chipping teeth.
However, you don't have to worry about your dog's teeth with fish skins.
Fish skin chews are softer and more flexible yet require your dog to gnaw on them, making them a safer choice for dogs with dental issues.
Features
Fully digestible
Won't break teeth
Low in fat
High protein option
Rich in Omega-3s
I have been giving my pups fish skins from The Honest Kitchen for years, and though they don't smell awesome, they aren't near as fragrant as some rawhides and rawhide alternatives.
Sweet Potato Chews – Meat Alternative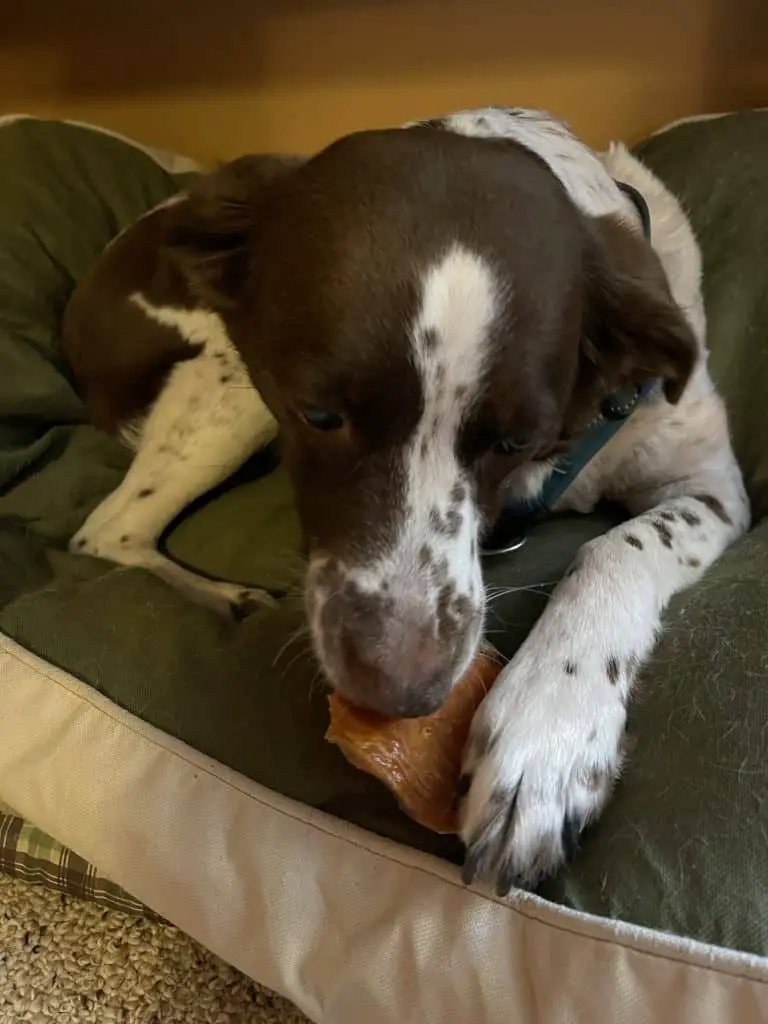 Sweet potato chews are large slices of dehydrated sweet potatoes; they are chewy and highly digestible.
Plus, sweet potatoes are a superfood full of antioxidants and vitamins.
Features
Packed with vitamins like beta keratin, A, B6, and C
Easy to digest
High in fiber for GI health
Chewy and flexible
Hypo-allergenic
My dogs love Crumps' Naturals Sweet Potato Chews, and since they aren't rigid, they are easier on my dogs' teeth.
Frozen Carrots – Lower Price Alternativeo
It is simple and easy to pop some carrots into the freezer, plus carrots are full of vitamins.
Also, frozen carrots are an excellent option for teething puppies because the cold and firmness will help reduce the pain of their new teeth coming in.
However, be careful not to freeze the carrots fully; otherwise, they may become a risk for broken or cracked teeth.
Features
Low cost
Nutritious
Easily digestible
Hypo-allergenic
Good for dental health
I've not tried this method, but I often give my dogs full sized carrots since it helps promote good dental health.
Pegetables – Low Fat Alternative
Pegetables are vegetable-based, grain-free dental chews.
They are an excellent rawhide alternative for dogs who are carrying a few extra pounds.
Plus, they are packed with superfoods, making them a more nutritious selection.
Features
Excellent for cleaning teeth
They contain superfoods such as flaxseed, dried kelp, and sweet potatoes
Low fat
Easily digestible
Pegetables are a great choice for cleaning your dog's teeth and giving them nutrition with a single treat.
SmartBones and SmartSticks – Healthier Alternative
Though they look like rawhide chews, SmartBones and SmartSticks are made with vegetables and chicken.
Plus, SmartBones are enhanced with several vitamins and minerals. And SmartBones are available in a variety of health-conscious formulas.
Features
Available in a variety of shapes
Excellent for dental health
They contain added vitamins and minerals
Available in a variety of recipe options
SmartBones are enhanced, healthier alternatives to rawhide.
Earth Animal No-Hide – Closest Match to Rawhide
Though they look like rawhide, Earth Animal No-Hide is just like the name says and does not contain any rawhide material.
Instead, No-Hide is made up of seven ingredients: Rice flour, agar-agar, organic eggs, olive oil, banana, pineapple, and your preferred protein choice.
Features
Hand rolled
Made in the USA
No chemicals, bleaches, additives, or formaldehyde
Long-lasting
Available in six flavors: Chicken, venison, beef, pork, salmon, and peanut butter
If you want to give your dog the most rawhide-like experience without the risks, try Earth Animal No-Hide.
Whimzees Natural Dental Chews – Hypo-allergenic Alternative
Whimzees are a vegetarian grain-free option that is perfect for dogs with food allergies.
Whimzees last a long time and promotes good dental health.
They come in various sizes and shapes, so dogs of all sizes can enjoy these rawhide alternatives.
Features
All-natural
Promotes good dental health
Safe for daily consumption
Available in a variety of form like Veggie Ears, Stix, and Veggie Sausage
I have been buying Whimzees Dental Treats for years, though they are a tad spendy, they are a safe and highly digestible option.
Possible Risks of Dog Chews
Providing your dog with safe things to chew on is key to a happy and healthy dog.
Dogs need things to chew to keep their jaws strong, their teeth clean[2], and the gums healthy.
Dog chews can also provide added protein, vitamins, and minerals, depending on which chew you choose.
However, all dog chews come with a variety of risks. The two most common risks associated with dog chews are choking and intestinal blockages.
But in addition to those primary hazards, dog chews carry other risks too, like:
Stomach upset
Broken, cracked, or chipped teeth
Splinters
Intestinal punctures
Indigestible
Chemical contamination
Allergies
Because no chew is 100% safe, it is critical dog parents keep an eye on their dog while they enjoy their treat.
Conclusion
Though rawhide dog chews have been around for years, they are not the safest option on the market.
Not only do rawhides lack any nutritional benefit, but they are also not easily digested.
Additionally, rawhide chews have been commonly associated with salmonella poisoning[3].
Thankfully, there are numerous great rawhide alternatives, many of which have nutritional and dental benefits.
Plus, rawhide alternatives come in a variety of sizes, shapes, and ingredients, so you will never have to worry about not being able to find the right option for your pup.
Resources
https://jbs.camden.rutgers.edu/content/effect-dental-products-and-natural-chews-canine-oral-bacteria-lindsay-gallagher