This post may contain affiliate links. It doesn't cost you anything extra and it keeps our lights on, our families fed, and our dogs spoiled. For all the juicy fine print, see our affiliate disclosure
While I was debating on which items to get, a fellow customer asked my opinion on which was better: the bully stick or the rawhide? She saw I had both in my cart.
Maybe it's just me, but I love chatting with fellow dog lovers, so I was happy to help.
She had a young Bull Mastiff with her, so she said she was looking for something that would keep him occupied but was also safe to give him.
I had no doubt that the big guy was an aggressive chewer!
I have very diligent and focused chewers but nothing like the jaws on this guy.
There was a large variety of bully sticks and rawhides to choose from, so we were able to find a few things that would likely work for her boy.
As for my household, we keep both.
Related: Rawhide vs Beefhide: Which is Right for Your Dog?
How I Use Bully Sticks and Rawhides
I use rawhides more as more of a short-term distraction.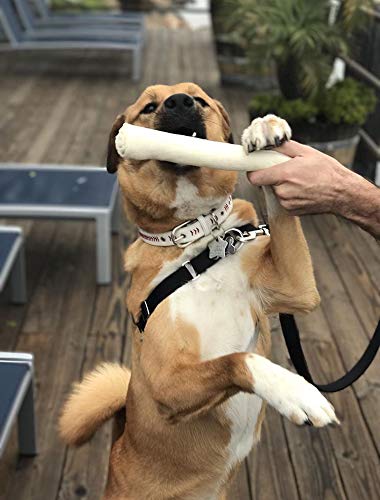 An example of this is:
When we have company over, we give the dogs a rawhide bone to occupy them, so friends and family can come in without being bowled over.
The reason I say short term distraction is because once everyone is settled we take the bones away.
Because rawhide chews are not a high value treat in our house, it is an easy one to get back from the dogs.
Though I buy rawhides for my dogs, I am particular as to how long they can be chewed on, since I know they can be choking hazards or cause intestinal obstructions.
We use the bully sticks for longer distractions or just as fun treats for the dogs.
They all love them, and I know my dogs can't bite pieces off, so I worry less about them being choking hazards.
I purchase the larger ones since I take them away as soon as the sticks are small enough for the dog to fit the whole bully stick in their mouth.
Is Your Dog Driving You Nuts During the Day?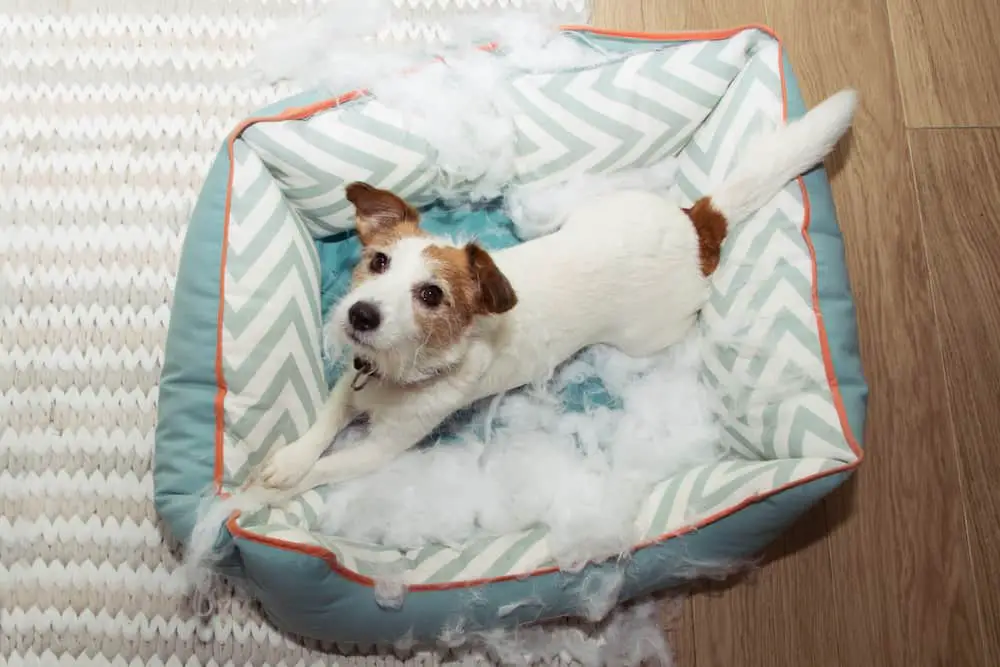 Get Our List of 11 Awesome Indoor Activities to Keep Your Dog Busy and Out of Trouble!
What are Bully Sticks?
Bully sticks are also known as pizzle sticks.
These are made up of beef muscle.
Specifically the penis[1]!
They are a single protein dog chew that is known to be easily digestible.
Plus, dogs go crazy for them!
We reviewed Raw Paws' Bully Sticks, which you can find
here
!
What is Rawhide?
Rawhide is the inner layer of the skin from an animal.
Rawhides come in a variety of proteins, shapes, and sizes.
How to Pick the Right Bully Stick or Rawhide Chew
At first glance, this might seem to be an odd question.
But the reality is there's a ton of options to choose from.
Both bully sticks and rawhides come in various animal proteins, lengths, widths, and even shapes.
Also, some have added ingredients.
Factors to Consider:
Dog's chewing style – Aggressive, light, or somewhere in between.
Dental health
Age: Older and younger dogs may not need an extremely durable chew
Food allergies or sensitivities
Dog's size
Country of origin – Not all countries have the same standards when it comes to pet products.
Protein type
GI health
Ingredients – Bully sticks and rawhides should only have one ingredient listed
Look for chews that are in sealed packaging and not just sitting in the open[2]
Which is Better?
Ingredients
  Winner: Bully Sticks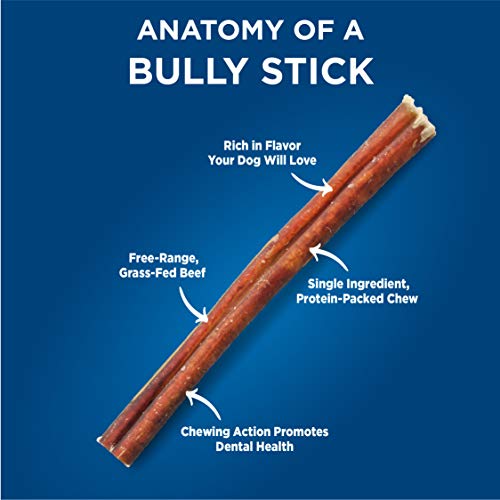 I almost chose rawhide as the winner because it has a higher number of protein options.
Rawhide comes in a variety of proteins, making it more available to dogs who have food allergies or sensitivities.
However, rawhide chews are made from a heavily-processed leather by-product while bully sticks are less processed.
While rawhides win in variety of sources, bully sticks win in quality.
Bully Sticks
The two bully stick proteins available are:
Beef
Buffalo
However, there are grass-fed beef bully sticks available too.
Rawhide
There are four proteins available for rawhide:
Bison
Elk
Beef
Wild boar
Price
  Winner: Rawhide   
Rawhide chews are far cheaper than bully sticks.
The price difference is due to the available supply (There's a lot more hide per animal!).
Bully Sticks
The average price per 6″ bully stick is about a dollar fifty.
Rawhide
The average price per chip is under a dollar, chip being the square rawhide chews.
Durability, Size, and Shape
  Winner: Rawhide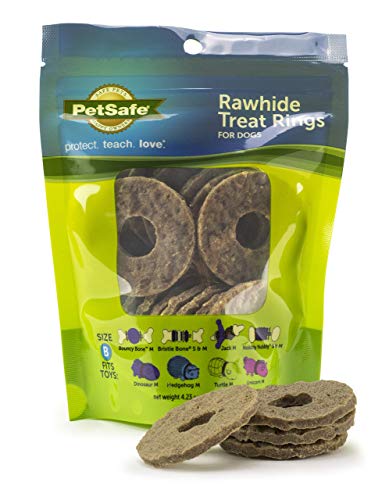 Rawhide wins because of the greater variety of shapes and sizes.
Bully Sticks
There is a wide variety of bully sticks.
They range in length from 3 inches to 3 feet.
Also, you can find braided bully sticks, creating a longer-lasting chew
Other styles of bully sticks include extra-thick, ring-shaped, spiral, and straight.
Rawhide
Like bully sticks, rawhides come in a variety of sizes and shapes.
Some of the different forms you can choose from are rolls, chips, twist sticks, bones (these are the ones with knots on the ends), pressed, and braids.
Rawhides can be as small as 2.5 inches or as long as 2 feet.
Availability
  Winner: Rawhide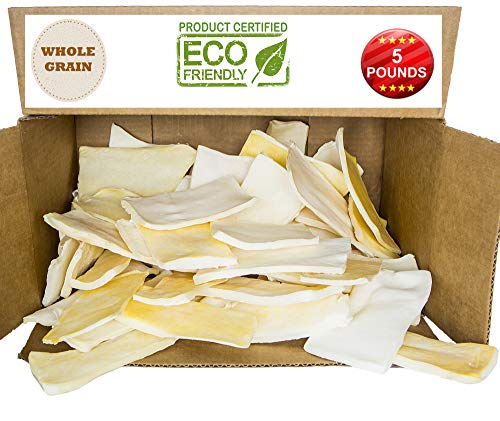 Rawhide treats are available at more retail locations.
Bully sticks are available in pet supply stores, hardware and farm supply stores, and online.
Rawhides can be seen in pet supply stores, hardware and farm supply stores, and online, as well as in grocery stores and other non-specialty shops.
Health Benefits
  Winner: Bully Sticks   
Bully sticks win because they are rich in amino acids.
✔
Bully Sticks Benefits
Easily digestible
Rich in amino acids
High in protein
Aids in keeping teeth clean
Helps to reduce anxiety
✔
Rawhide Benefits
Aids in keeping teeth clean
Helps to reduce stress
Safety/Dangers
  Winner: Bully Sticks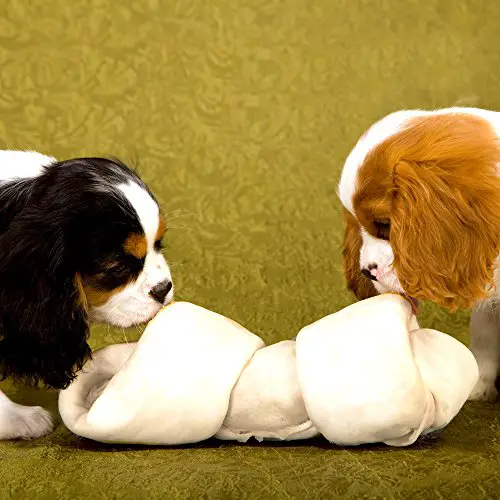 Bully Sticks are the safer of the two treats as they are more digestible.
✘
Bully Stick Safety
Bully sticks are easily digested
Don't splinter or break easily
Can be a choking hazard
High in calories
Potential bacterial contamination[3]
✘
Rawhide Safety
Not easily digested
Can cause intestinal blockages
Can be a choking hazard
GI upset
High in calories (100 calories per palm sized piece)
Potential chemical contamination
Potential bacterial contamination
Taste
  Winner: Bully Sticks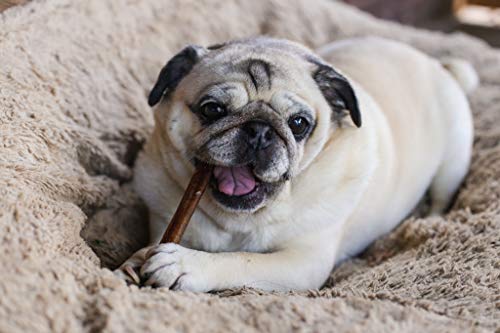 Bully sticks taste better, per my dogs' opinions.
I've never tried either!
Bully Sticks
Although they stink to high heaven, these are my dog's favorite.
As soon as they come out of the cabinet, my four are dancing around my feet.
Rawhide
My dogs like these, but tire quickly of them.
Also, two of my dogs refuse to start them, meaning they wait for one of the other dogs to soften them up first.
Side Effects
  Winner: Rawhide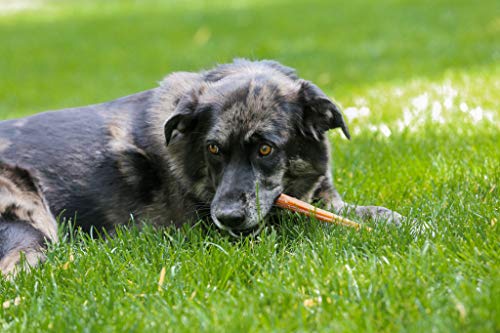 I chose rawhide because they don't smell as bad as bully sticks.
This was a close one since there isn't a lot of side effects to these treats.
Bully Stick Side Effects
Bloody gums
Smell
Gooey residue left on carpet or dog bed
Rawhide Side Effects
Bloody gums
Gooey residue left on carpet or dog bed
Overall
  Winner: Bully Sticks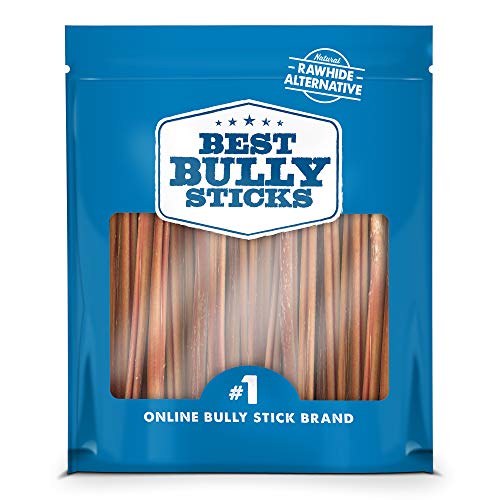 Although rawhides won in more categories, bully sticks are safer and provide more health benefits.
Those categories are more important than variety or a small difference in price.
Also, bully sticks are preferred by my dogs over rawhide chews.
I'm guessing it's because of the smell and protein content.
Recommended Brands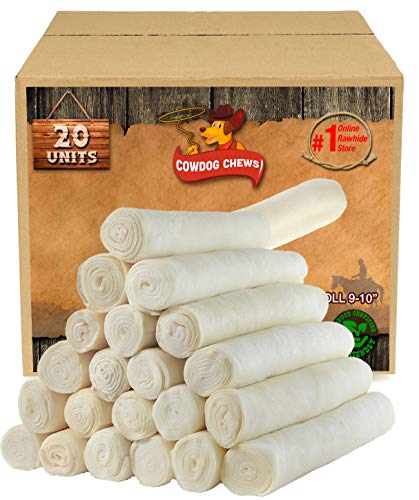 Here are some of my favorite bully stick and rawhide chew brands:
Bully Sticks
Rawhides
Alternatives
Knowing that both rawhides and bully sticks carry some health risks, if you are uncomfortable using them then consider an alternative treat.
There are several options available as healthy alternatives, but keep in mind all things carry a risk.
Fish Skins
The thing I like most about these treats is that they are made from human-grade fish.
Also, the fish I recommend are wild-caught from the ocean.
Beams come in two sizes, large and small, so you can pick a size to match your dog.
Note: Be sure to check where the fish are sourced from as some fish skins can contain contaminants from the water.
Sweet Potato Treats
These are a great dog treat that is easily digestible.
These sweet potato treats are a single ingredient treat option.
Plus, sweet potatoes are a superfood full of antioxidants.
Dental Chews
My dogs love these!
They come in a variety of sizes and flavors.
Additionally, Zuke's bones work well for dogs with food allergies as they are free of animal proteins, grains, and soy.
Himalayan Dog Chews
Himalayan chews are made from yak's milk and are lactose-free, reducing the chances of GI upset.
They are pretty durable, but aggressive chewers can break chunks off, which can pose a choking hazard.
Final Thoughts
Dogs need things to chew on, and the truth is all treats and chews carry some form of risk.
If you give your dog a long-lasting treat, it is crucial to keep an eye on them to help avoid potential health hazards.
Dog chews are very useful in our house as distractions and aiding in dental wellness.
I always weigh the pros and cons of anything I give my dog to chew on or eat.
Though both bully sticks and rawhide chews carry a risk, I offer them sparingly and only when I have the time to watch them.
References
Still Have Questions?
Ask a Vet!