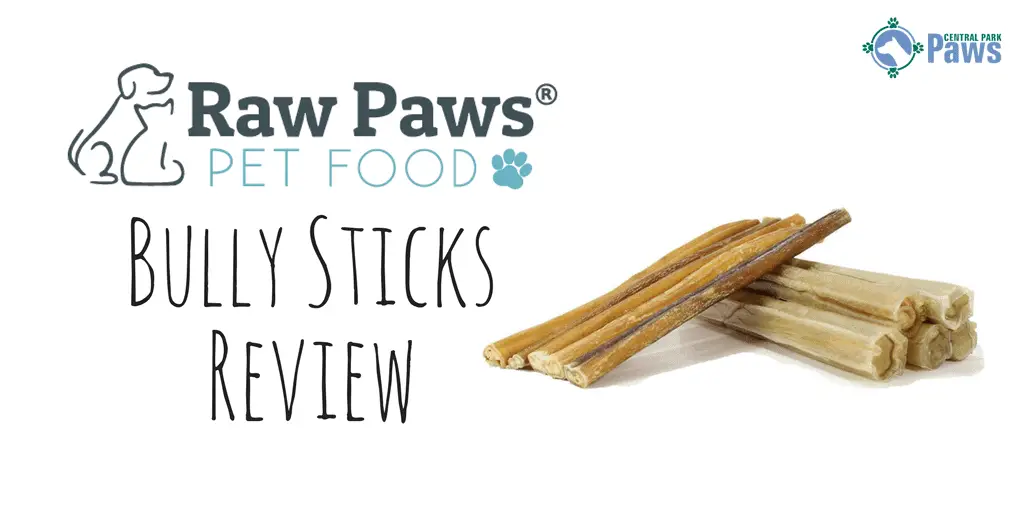 Disclaimer: We were sent this product in return for a review. It was delicious.
With Fall fast approaching, and the cold winter months fast on its heels, our canines will tend to spend more time inside than out – which lead to restlessness and the potential for destructive behavior.
So, it seemed like the perfect time to do a review of specific chew products – so we chose to focus on the Raw Paws® Pet Food bully sticks.
Who are Raw Paws?
Since they exploded onto the scene in 2014, Raw Paws® has quickly become a premier supplier of high quality and affordable raw and natural pet foods, which include freeze dried and refrigerated raw products, nutritional supplements, treats and chews.
With experts available, they can advise their clients on the benefits of raw or partially raw diets, as well as transitioning diets so as not to cause any digestive upset to your four-legged kids. Trust me – no one wants digestive upset in their canines!
When it comes to choosing, preparation, and feeding, Raw Paws® certainly doesn't leave you blowing in the wind.
Their highly detailed website impressively covers all the basics from understanding the benefits of this dietary style, to choosing and incorporating the change – and the customer service was top of the line for answering questions fully and factually.
Personally, I was introduced to Raw Paws® back in 2016, through a friend of the family – so I have some experience with their company and products, although I had not previously purchased these particular chews.
I believe that bully sticks should be chosen over commercially processed rawhide for a number of reasons (let's not open that can of worms here!), however I do not to allow my personal preferences to cloud our reviews.
We have a simple formula; the dogs do the testing, and I do the writing.
What are Bully Sticks?
Bully Sticks. Also called pizzle, these sticks are a natural, healthy option over commercially processed rawhide aimed at hours of chewing enjoyment for canines of all shapes and sizes.
But what exactly are bully sticks? Experienced dog owners choose them over other forms of chewing treats without a second thought – but always hide a knowing smile when they overhear a novice owners ask what they are made from. If you're not sure what bully sticks are, we could tell you – but what fun would that be?
Unlike traditional rawhide chews, bully sticks are highly digestible. Because they break down easily in your dog's stomach, there is less chance of intestinal blockage – unless they swallow large chunks.
Unlike bones, bully sticks do not splinter – another benefit for your pup's tummy.
Available in 3 different sizes (6″ standard, 6″ jumbo, and 12″ jumbo), Raw Paws® Pet Food sources their bully sticks directly from Brazil, under strict guidelines of grass-fed, antibiotic free beef. Like all of their products, these bully sticks are excess additive and preservative free – containing one simple ingredient: 100% beef.
For this review, we chose the 6″ standard size bully sticks, and enlisted the professional chewing services of three canines who enjoy bully chews; one German shepherd, one Rottweiler, and one American Staffordshire Terrier.
To Chew, or Not to Chew?
Bully sticks are for chewing enjoyment – nothing more, nothing less. They may have several specific uses, but they still remain a chew treat. Like any other treat, they should not be fed in place of any base nutrition (like, in place of meals) and should not be fed so often that the dog cannot eat their meals.
Bully sticks – like other chews – are NOT recommended for dogs that tend to swallow large pieces of treats or gulp their food when eating.
While these sticks are one of the safest treat and chew options on the market, when a dog insists on swallowing large chunks of anything, the potential of choking is still there.
Monitor your dog carefully to determine if they have any bad chewing habits before allowing them to wander off with their prize.
Uses for Bully Sticks
So you've got your bully sticks – now what?
Some uses for bully sticks can include;
Rewards
Rewards can be part of training, or generically used because they've been a good boy. Whatever you choose, try to be consistent in the rewarding – and never reward bad behavior!
Creating distractions
Lets be honest, sometimes dogs need distractions. They're bored, or the weather outside is frightful, and they're underfoot to the point of banishment. Sometimes it's the doggie parent that needs the break from throwing the ball for the ten millionth time.
Bully sticks are perfect to occupy your furbaby for long chunks of time, but never give a chew or treat because YOU are frustrated or need to occupy them somewhere else. Rewarding what you consider bad behavior is a recipe for future disaster.
If you need to distract your pup while you finish that report or project, take a breath and an extra few minutes to send your dog to their spot or the couch – and then present them with the chew.
Training
Training can be made easier for dogs that love to chew, and can easily fall into a training pattern by withholding and returning their chews. From incorporating chews while teaching "stay" and "place", to rewarding them for a job well done, bully sticks are more than just a chew toy.
Staying busy
Occupying their mind – and mouth – with a chew is a win-win for human and canine alike. We all feel the effects of boredom, and when our canine kids can't get out and stretch their legs, that pent up energy still needs to be spent. These rugged chews will keep Rover's jaw moving for hours, a perfect way to use up that energy!
Is Raw Paws® a Better Product?
Hmmm …. There's no easy answer to this. If you were to ask me if Raw Paws® produces a quality product, and would I feed it to my own canine kids – I would answer with a resounding "yes".
The value for product is above industry standard – more than fair, and the company has clearly combined ethically sourced quality ingredients with a focus on high nutritional value, and are then proportionally packaged for easy feeding and freshness.
Are they better than everybody else? I can't answer that since I haven't reviewed everyone else, BUT you don't necessarily have to do a full-throttle review to get a feel for a product, to know whether it's above average – or below average.
Strictly from an ingredient point of view on a website, a curious consumer can learn a lot about a product.
Are they 100% natural? Do they contain additives and preservatives? Are they flavored? Remember – added flavoring is added chemicals.
Websites of quality product will tackle these questions head on with openness and honesty.
Still not sure? Then remember this simple rule of thumb – if a company or manufacturer doesn't come right out and state it, than they aren't. Is the "preservative free" label missing? Then it's got preservatives. It's as simple as that.
A few minutes of investigation on your own – including reading reviews by non-biased companies and consumers – can avoid a lot of hassle and bellyaches for your pup, and less heartache for your wallet down the road.
Specs on the Sticks
For this review, we tested the standard 6″ bully sticks. Also available are 10-count pack of 6″ standard, 2- or 5-count packs of 6″ jumbo, and 3-count pack of 12″ jumbo.
Sourced from Brazil, the beef is grass fed and free from industry-standard antibiotics. The bully sticks themselves are crafted from 100% beef, without any added preservatives, additives, or chemical flavoring. Nothing but 100% natural beef … uh, just google it.
This product is noted as "low odor". Unfortunately, such a claim is completely subjective; that being said, it is my opinion that Raw Paws® bully sticks are definitely lower in odor than most, although they are not odor-free – from either end of the dog!
The resealable bag really was that – resealable. It might seem like such a little thing, but we've all been there with "resealable" bags that weren't. And that's just a big 'ole pain in the bully stick, if you know what I mean. Because the product is a dried natural product, refrigeration was not required – and that was appreciated as well.
Don't forget; like any pure beef product, bully sticks contain amino acids – a nutritional requirement for any healthy canine.
Although they contain multiple nutrients and minerals, bully sticks are not to be considered part of your dog's diet; they need a consistently balanced diet with the proper nutrients fed in a reasonable manner and quantity for your individual canine's needs.
Treats are meant to be just that – treats. If your dog is filling up on chews, cut down the amount he gets.
What We Liked
As a natural option for chewing, bully sticks are at the top of the pecking order, so to speak.
For over a century, rawhide has been the traditional go-to for dog owners. Unfortunately, as modern manufacturing techniques, contamination concerns, and the pursuit of cheaper products are brought out into the light of day, an alternative for chewing treats was needed.
Bully sticks have gone from an exotic treat to surging forward as a primary chewing option to not only satisfy a canine's natural desire to chew, but to combat boredom – and control plaque and tartar between professional cleanings.
Raw Paws ® uses only specifically selected, natural product. For us – and this review – that's a big thing. As you would expect from the base product, there is wide variation from one stick to the next, in formation and coloration.
This is a hallmark of a truly pure, natural product. Only a manufacturing plant can make something perfectly uniform – and how natural can that be?
The bully sticks we tested left no stain or residue on the carpeting or the beds, and I credit this back to the lack of ancillary ingredients and fillers.
If a product is truly made from 100% beef (or chicken, or what-have-you) like this one is, you don't need to add to add extra chemical-created flavors to make it taste like what it is. Right?
The two of the three dogs involved in the review – the American Staffordshire Terrier and the Rottweiler – both enjoyed the sticks in their own way.
The Pittie engaged in recreational aggression with the stick before conquering it. His jumping and running around in circles as he tossed it about showed his clear enjoyment of the play – and stick. Once settled in chewing mode, he ate about half, before wandering off. A few hours later he polished it off.
The Rottie took her prize to her bed, and curled up for an afternoon of delicate surgery as she slowly disassembled and ingested the stick in one sitting.
What We Didn't Like
Traditionally, the primary drawbacks of bully sticks has been their odor. While the commercially processed sticks have managed to eliminate the natural odor with the numerous additives and preservatives, as well as over processing the sub-quality ingredients, the trade-off simply isn't worth it.
By using only higher quality, natural ingredients, Raw Paws® has reduced the odor – but it's still there.
Although keeping the product in a sealed container and using before the expiration date (yeah, that's important when feeding fresh or high quality food and treats) when feeding bully sticks, it's important to remember that there is odor both before eating, and after eating, if you know what I mean…
The concerning issue with the bully sticks we sampled from Raw Paws® was the reaction from the GSD.
Not only did she refuse the bully stick, she made her opinion quite clear as she barked at it.
And I don't mean the playful barking at treats that's exhibited by some of the breeds, like GSDs and huskies – but barking at it. "Get back or I'll tear you a new one" kind of barking.
Outside of the downright hostile reaction – that was clearly dislike rather than fear or aggression – she had no interest in the stick, and calmed down when I took it away. Reintroduction of the stick after she watched her companions enjoying themselves made no difference.
She clearly – and uncharacteristically – wanted nothing to do with that treat.
Our Two Cents
When considering natural chews for your four legged companions, remember that it's not all about the price – or how cute or fancy the product looks. Your furball isn't going to care what it looks like, but what it tastes like.
Bully sticks are a natural chew, and definitely should be chosen over commercially processed rawhide.
As with any other chew, toy, or new food, you should pay attention to your canine while they are engaged with the sticks – especially when first introduced.
Chewies are a great way to occupy your pup, but you should always pay attention to their chewing habits, especially when introducing them to bully sticks for the first time.
Summing it Up
One of my favorite things about being associated with Central Park Paws is participating in consumer product reviews.
We have the freedom not only to review products through our affiliate programs, but we will often respond to concerned emails from readers with reviews of questionable products.
We give honest reviews of all the products we test – the good, the bad, and the ugly.
But with great reviews comes great responsibility.
We strive to keep our reviews neutral – focusing solely on the product at hand – rather than engage in the 'politically correct' arguments of food preferences, dietary styles, or the pink elephant in the room – raw food versus kibble.
It is our opinion that Raw Paws® bully sticks are not only a premium bully stick, but the overall company ethics and commitment to superior products allows us to put our stamp of approval on this product.
Happy chewing!