This post may contain affiliate links. It doesn't cost you anything extra and it keeps our lights on, our families fed, and our dogs spoiled. For all the juicy fine print, see our affiliate disclosure
The great bone debate has been raging on for years.
Some say bones are an excellent healthy option to give your dogs and others say they are the worst to give your pups.
Without a doubt, bones come with several risks such as choking, internal blockages, broken teeth, internal punctures from sharp edges and points, and food poisoning from raw bones.
Though bones have many benefits, such as being rich in vitamins and nutrients, plus they can help keep teeth and gums healthy, many dog parents find the risks too high.
As pup parents, we all know the importance of providing safe chews for our dogs.
Chewing helps our dogs keep their teeth clean, provides mental stimulus, alleviates frustration, and releases the much-loved endorphins.
So if we don't feel comfortable providing bones, what can we give our dogs to chew?
Thankfully, that is an easy question to answer since there are several alternatives to bones on the market, but nothing is 100% risk-free.
Below, we have provided a list of our top 10 bone alternatives, including the pros and cons of each.
Top 10 Alternatives to Bones
Antlers – Least Messy Alternative
Pros:
All-natural alternative
Excellent source of calcium, potassium, manganese, and zinc
They don't leave a greasy or crumbly mess
Available in a wide range of sizes
Not processed
Cons:
Can cause broken or cracked teeth
Can break or splinter causing severe internal injuries
Summary:
Antlers are an excellent all-natural alternative to bones. Antlers come from elk or deer, making them a hypoallergenic option for dogs with allergies.
Also, antlers do not have a foul odor like other natural alternatives such as bully sticks or tracheas.
However, unlike bully sticks and tracheas, antlers last a long time.
You can purchase antlers split or whole and in a variety of sizes.
Bully Sticks – High Protein Alternative
Pros:
High in protein
Single-Ingredient chew
Rich in amino-acids
Are an excellent option for canines of all ages
Cons:
Can have a bad smell
Higher in calories
It can contain harmful bacteria like salmonella
Large pieces can be a choking hazard
Summary:
Bully sticks, also called pizzle sticks, are available in a variety of options and sizes.
Is Your Dog Driving You Nuts During the Day?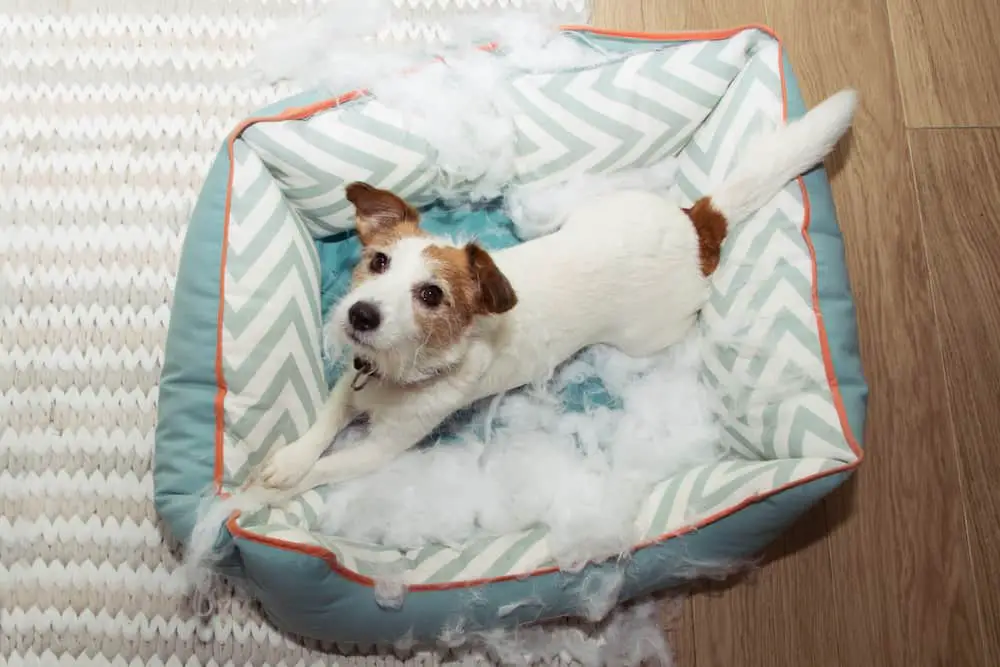 Get Our List of 11 Awesome Indoor Activities to Keep Your Dog Busy and Out of Trouble!
You can get bully sticks that are thinner for small dogs, thicker for aggressive chewers, long, short, braided, and in the shape of a ring.
I like giving bully sticks because they are easily digestible and don't splinter.
Bully sticks also aid in keeping your dog's teeth clean and can last quite a while, depending on your dog's chewing style and the size you buy.
I buy the Best Bully Thick Sticks because the girls are aggressive chewers.
Smart Sticks – Budget Friendly Alternative
Pros:
Highly digestible
Budget-Friendly
Variety of flavors
Help keep teeth clean
Cons:
Processed
Contains artificial flavors
Summary:
Smart Sticks come in a variety of shapes and sizes and won't break the bank.
Although Smart Sticks look like rawhide, they do not contain rawhide and are instead made from ingredients such as chicken, sweet potatoes, corn, peas, and carrots.
No-Hide – Premium Chew Alternative
Pros:
Highly digestible
Variety of flavors and sizes
Help keep teeth clean
Made in the USA
Cons:
Price
Not always a great option for canines with a allergies
Summary:
Though No-Hide looks like a rawhide chew, Earth Animal No-Hide does not contain any rawhide material.
Instead of rawhide, No-Hide is made with a minimal ingredient recipe containing Rice flour, organic eggs, agar-agar, olive oil, pineapple, banana, and the chosen protein.
These are an option my girls love, and they last longer than a lot of other chew options.
Whole Carrots – Budget Friendly Alternative
Pros:
Budget-Friendly
Healthy
Helps Keep Teeth Clean
Calorie Friendly
Won't Break Teeth
Cons:
They may not be appealing to all dogs
Summary:
Whole carrots are an excellent alternative to bones[1].
They are safe for your dog's teeth and will help keep your dog's teeth clean and the gums healthy.
Plus, carrots are easy to find at the store and won't break the bank.
If you have a puppy or a more aggressive chewer, you can put the carrots in the freezer for a bit to firm them up.
Also, cold carrots are perfect for teething puppies as it helps relieve discomfort.
However, do not fully freeze them; or they will become too hard and may crack or break teeth.
The Honest Kitchen Fish Skins – Hypoallergenic Alternative
Pros:
Single-ingredient
Hypoallergenic
Easily digestible
High in protein
Available in several sizes and shapes
Cons:
Summary:
I have been giving my dogs fish skin chews for years. They not only love them, but fish skin chews are one of the safer alternatives to dog bones.
Fish skins will not break or chip your dog's teeth, nor will they splinter and cause internal injuries.
Plus, fish skins come in various types, such as salmon, cod, and wolffish.
My preferred brand is The Honest Kitchen because they use 100% human-grade ingredients.
Yak Cheese Himalayan Dog Chews – Grain Free Alternative
Pros:
Hypoallergenic
Minimal ingredients
It lasts a long time
Digestible
Cons:
Summary:
Yak Cheese Chews have become quite popular over the recent years, especially for dogs who suffer from allergies.
Most dogs love Yak Cheese chews (these are my favorite), and being highly digestible makes them a good choice. Plus, Yak chews last a long time.
However, the drawback is that they are very dense and can crack or break teeth. Plus, if your dog breaks off larger chunks, they can become a choking hazard.
Sweet Potato Chews – Lower Calorie Alternative
Pros:
All-natural
Single-ingredient
Hypoallergenic
Superfood
Cons:
It doesn't last as long as other options
Summary:
Sweet potatoes are an excellent healthy option.
Sweet potato slabs help keep teeth clean and gums healthy, without the risk of cracking or breaking your dog's teeth.
Sweet potatoes are also an excellent source of fiber, which is essential to a healthy digestive system.
These are the ones I buy my dogs.
Beef Trachea Tubes- Natural Alternative
Pros:
Dogs love them
Available in a variety of proteins
High in protein
Full of glucosamine and chondroitin
Cons:
Smell
Can be greasy
Large pieces can be a choking hazard
Summary:
Beef Trachea tubes are part of my dogs' regular chew rotation. They are rich in glucosamine and chondroitin[2], which are vital for active dogs like Ginger and Mira.
Trachea tubes are easily digestible and don't splinter, making them a safer alternative.
Additionally, beef trachea are good at helping to keep your dog's teeth clean.
Stuffed Water Buffalo Horns – Best Alternative for Lighter Chewers
Pros:
Low in fat
High protein
Long-lasting
Cons:
Can be brittle
Can cause broken or cracked teeth
Summary:
Water buffalo horns are too hard for aggressive chewers but are an excellent choice for dogs who like filled toys and gnawing on chews.
Some people fill the horns with canned food and kibble, then freeze it, which makes a long-lasting chew for your pup—kind of like a doggie ice cream cone.
But because of their brittle nature, aggressive chewers can hurt their teeth on these, so they are best for lighter chewers.
You don't need to fill it, but it's a great and fun way for your dog to eat part of their meals.
Resources