This post may contain affiliate links. It doesn't cost you anything extra and it keeps our lights on, our families fed, and our dogs spoiled. For all the juicy fine print, see our affiliate disclosure
I'm a big fan of dogs with clean teeth and fresh breath.
Not only because Ginger greets me every morning by jumping on the bed and giving me kisses, but also because bad dental health can cause serious health issues[1].
I have no issues with bringing my dogs in for annual dental exams, but Ginger and Calvin have terrible plaque and tartar build-up. So even though we bring them in annually, they need daily dental care.
I do my best to ensure they receive it, but the truth is Ginger is just not a fan of having her teeth brushed.
So, instead of brushing her teeth daily, I use dental chews and other dental products to help keep her teeth reasonably clean throughout the year.
I have tried a variety of products, but the truth is, I've yet to find one that compares to daily brushing.
A New Canine Dental Hygiene Product?

That being said, I got pretty excited when I saw TruDog Spray Me on a Dr. Oz ad.
Not because I think that Dr. Oz rocks or that he's an expert on dog's dental health, but just for the sheer fact it was being advertised on Dr. Oz.
I am definitely a skeptic when it comes to products that seem to be too good to be true, but sometimes I do find that needle in the haystack, and who knows?
TruDog Spray Me could be that needle.
Here's what I learned about TruDog at a glance.
It is a dental spray that claims to clears plaque and tartar in days just by using it daily.
Is Your Dog Driving You Nuts During the Day?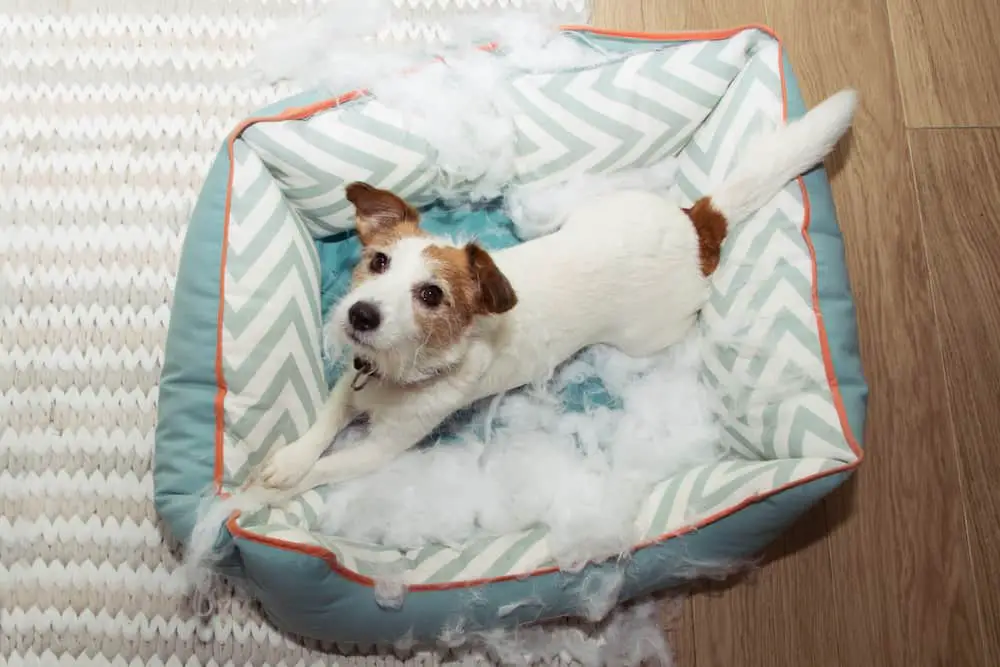 Get Our List of 11 Awesome Indoor Activities to Keep Your Dog Busy and Out of Trouble!
Heck, that sounded pretty good, and honestly, if it worked half that good, I would definitely save some serious moola on dental visits.
What is TruDog?
TruDog Spray Me is a dental spray that claims to controls tartar, freshens bad breath, encourages healthy gums, and boosts the immune system.
It is a daily dental spray that is applied to both sides of the upper and lower teeth.
The liquid "bonds" with your dog's saliva ensuring full exposure to the teeth.
TruDog has a 60-day money-back satisfaction guarantee.
What I Like about TruDog
I like the idea of a dental spray that replaces the need for daily brushing and expensive dental appointments.
I think that a spray that removes plaque and tartar plus boosts the immune system is pretty incredible.
What I Didn't Like about TruDog
I am not comfortable with three of the ingredients: grain alcohol, grapeseed oil, and neem seed oil.
All three of these ingredients have the potential to can cause GI upset or significant illness.
Also, it is not VOHC certified.
The VOHC is the Veterinary Oral Health Council. This group tests various oral health products and will give products that test well their stamp of approval[2].
Who TruDog Works Best for and Who It Doesn't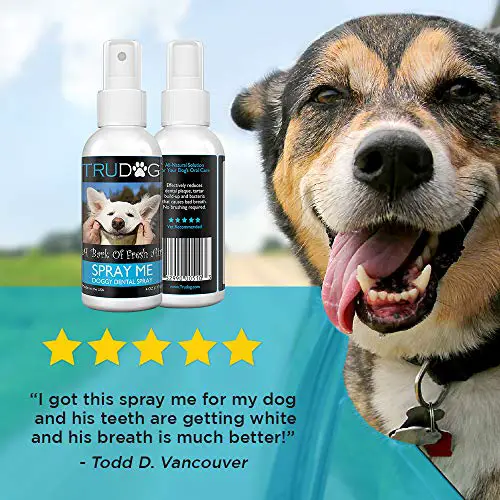 Though I am not comfortable using this product with my dogs, there are literally over a thousand reviews from people who did try it.
Greater than 50% of those who tried TruDog Doggy Dental Spray felt the product worked very well for their dogs.
Many consumers on a third-party website stated that they saw results within weeks of using TruDog.
All of those with favorable reviews made no statement of their dogs getting sick or strongly disliking the product. Many consumers even said it was easier to use than brushing.
However, the flip side to that was the negative reviews stating their dogs hated it or even became ill after receiving multiple doses of TruDog.
These consumers were in the minority and only a small percentage of these dog parents mentioned any GI upset from TruDog.
Personally, I believe dogs are like people, and there will always be a group that will be able to physically tolerate foods or chemicals that may cause illness in others. Two of my three dogs suffer from chronic diseases, so I use extreme caution when introducing new products of any kind.
My Recommendation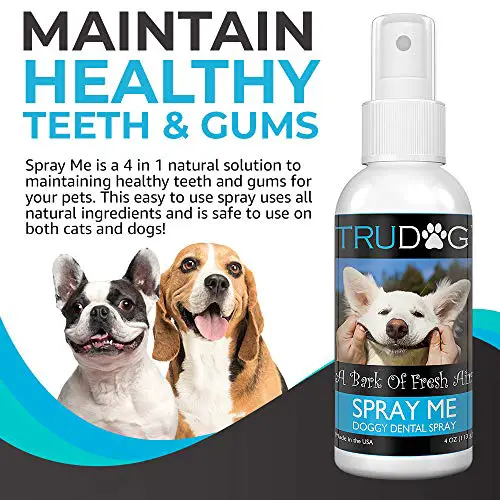 I believe that if you have read the ingredients and have weighed the possible risks against the health benefits of keeping your dog's teeth clean and healthy, that is what is most important.
You know your pup better than anyone and will make the best decision for their wellbeing, and ultimately, you must trust your parental instincts.
I know that through my research of several different products for dogs, there is always a percentage of people who have had a negative experience. There is no product that will work for all dogs.
However, I would caution those that have dogs that are considered high-risk–say, ones that are young, old, or have a chronic illness–that an alternative product might be best.
If you're still on the fence about TruDog Spray Me, the best option would be to contact your vet and get their feedback on whether or not this is the right product for your dog.
Alternatives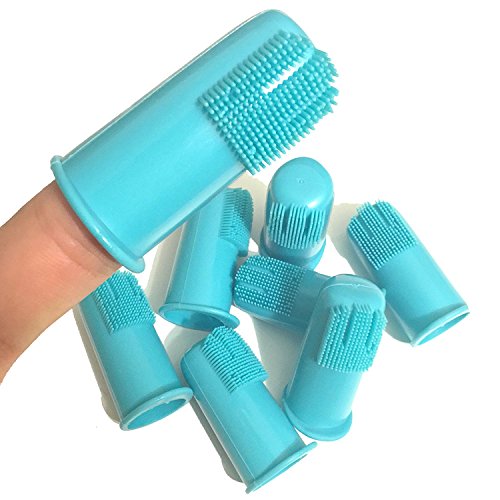 The best alternative to using TruDog Spray Me would be to brush your dog's teeth.
According to Dr. Donnell Hansen DVM, DAVDC from the Dentistry and Oral Surgery department at Blue Pearl Specialty Pet Hospital, the best way to keep your dog's teeth healthy and clean is to brush your dog's teeth[3].
She also noted that if supplemental products are used to be sure that they are VOHC certified as those have been tested and proven most effective.
Some of the VOHC approved options are:
As for water additives and sprays, the only VOHC approved brand is Pet Essential, which can be purchased on their online store or in select vet offices.
I am not saying that products that aren't certified by the VOHC don't work.
Many likely do.
However, if you are looking for products that have been tested, then sticking with products with the VOHC stamp is best.
Final Thoughts
For now, I am just going to stick with my dental chews and regular vet visits.
If Ginger were more amenable to allowing me to brush her teeth, I would absolutely do that, but it's just not worth the fight.
I think that if there weren't so many health concerns in my household (heart murmurs, IBD, and Cushing's), then I would be more willing to try TruDog.
I know that some of the products I use, such as dental chews and elk antlers, are not always vet recommended, but I've weighed the pros and cons and go with what works for our family.
This article is not to persuade you to either buy or not buy TruDog Spray Me. It is merely my findings after doing the research.
I hope that I've provided you with enough information so you can decide whether or not it's a good match for your pup.
Resources
Hanson, D. (2019, September 19). Email interview