This post may contain affiliate links. It doesn't cost you anything extra and it keeps our lights on, our families fed, and our dogs spoiled. For all the juicy fine print, see our affiliate disclosure
Every dog food brand prides itself on being the newest and best food for your dog.
Companies plaster promises on every bag, so it's hard to know what to buy when you're walking down the aisle at your pet store.
Sometimes I look at new dog food brands online to learn more about what Maggie could have for dinner.
Supreme Source recently came to my attention and looked like a good option.
The bags had a great design and labeling that looked official, so I took a deep dive into their blends.
Here's everything I've learned about Supreme Source so you can make the best decision if it's time for your dog to try something new.
About the Brand
Supreme Source is a brand owned by American Pet Nutrition (not to be confused with American Journey), which is a massive corporation that distributes food and treats for both dogs and cats.
The company has made dog food for over forty years[1] and recently created the Supreme Source brand as an option for dogs to eat quality food that's all grain free.
Related: Is Grain Free Dog Food Bad for Dogs? Should You Switch Kibble?
Ingredients

To take a closer look at the ingredients, I looked at the Turkey Meal and Sweet Potato recipe that Maggie might enjoy.
The first thing that struck me was the labeling on the bag.
It immediately said the top four ingredients were turkey meal, peas, chickpeas, and sweet potatoes.
Don't get thrown off by turkey meal. It's basically ground up turkey meat that's made into a paste for the ease of production[2].
It still contains all the nutritional benefits of turkey and doesn't guarantee chemicals or fillers.
The next biggest ingredient surprise was the seaweed.
I haven't seen seaweed used in dog food before, so I read a bit about it.
Is Your Dog Driving You Nuts During the Day?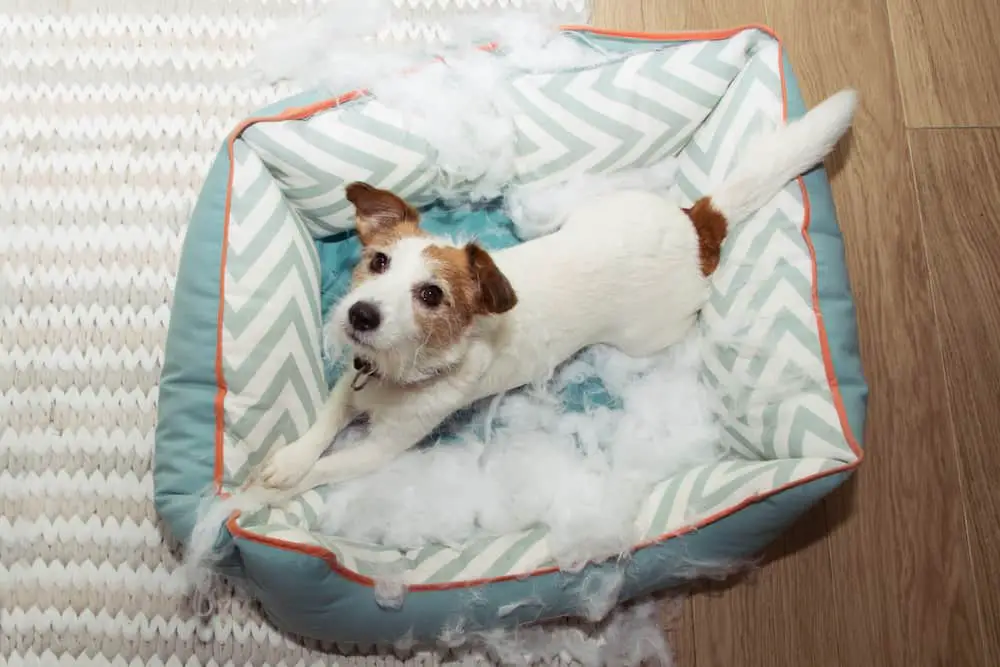 Get Our List of 11 Awesome Indoor Activities to Keep Your Dog Busy and Out of Trouble!
Turns out, seaweed has many nutritional benefits for dogs[3].
It helps their digestive system, intestinal health, and immune systems. Plus, it contains antioxidants that help keep them healthy.
Features
The biggest features of Supreme Source come from the fine details and attention the brand pays to their production process.
Their seaweed is hand-harvested during specific tides, so it isn't mass generated in a factory.
The brand also works to keep the seaweed's local ecosystem intact, which is a big benefit for those who want their dog's food to be sustainable.
The brand is also family owned and made in the US, so every purchase goes directly back in the American economy.
They're verified by the FDA, USDA, and the Association of American Feed Control Officials (AAFCO) as well.
When this brand says they care, they clearly mean it.
There's another feature I noticed, too.
The brand makes it clear that all their food is made in a Level 3 SQFI Certification facility.
That means they pass the Safe Quality Food Institute's (SQFI's) Level 1 and 2 certifications.
The Level 3 guarantees that along with using quality ingredients in a safe production environment, the factory takes extra precautions to prevent food contamination or poor quality products.
I feel like I see recalls on dog food for contamination all the time, so it's nice to know this brand goes the extra step to make good food.
What I Liked
I never thought I'd appreciate seaweed in dog food, but I actually love that idea.
It's especially great for dogs who have issues related to their digestive or immune systems and have tried every option on the market.
It's also great to know that the brand isn't likely to get recalled because of their Level 3 facilities.
It shows me that they're committed to their standards, compared to some brands who say one thing and do another.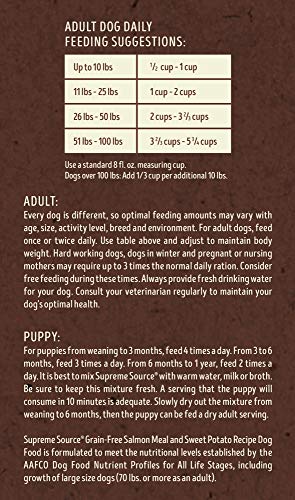 I think it's awesome that dogs who prefer or need grain-free food have such a nutritional and affordable option.
Their standard 22-pound bags come average between $35-45 per bag, which is a bargain for the quality food you get.
Besides the ingredients I already listed, there's also the extra prebiotics and vitamins in each blend, plus fiber for proper nutritional absorption.
I did a check on their website to see where this food is sold. With such great ingredients and sustainable business practices, I figured it would either be only available online or in specialty stores.
Supreme Source is actually available at most grocery stores.
You can also get it on Amazon and Chewy.com, which might land you a better price and free shipping.
What I Didn't Like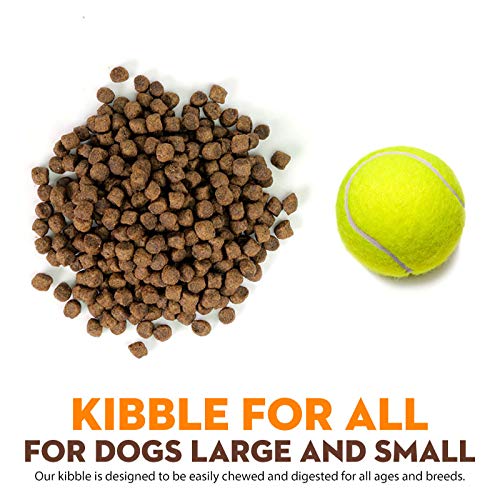 There's very little that I don't like about this brand, but there are two things I think every dog owner should know.
The first is that some of the formulas include legumes.
They're a great source of protein, but can be rough on a dog's digestive system until they get used to it.
The brand also makes tiny kibble pieces.
Slow eaters won't mind the size, but medium to large sized dogs that nearly inhale their food at mealtime might choke on the small kibble bits.
That's why it's always good to ease your dog into any new foods and monitor them while they eat.
After a few days of adjustment, you'll know if it's the right brand and blend for them.
Recommendation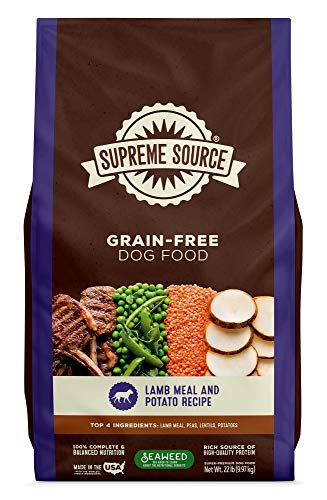 The small kibble pieces and legumes are something to keep in mind, but they aren't a huge concern for me.
I think this is a great brand for dog owners to try.
It has many nutritional benefits and it's from a well-regulated and sustainable brand.
You can get any formula blend at an affordable price, so there's nothing that would keep me from getting this for my own dog.
Alternatives
If you want your dog to eat a grain-free diet, but Supreme Source isn't for you, try some of these alternative brands.
They make great food for dogs and are trusted by dog owners around the world.
Taste of the Wild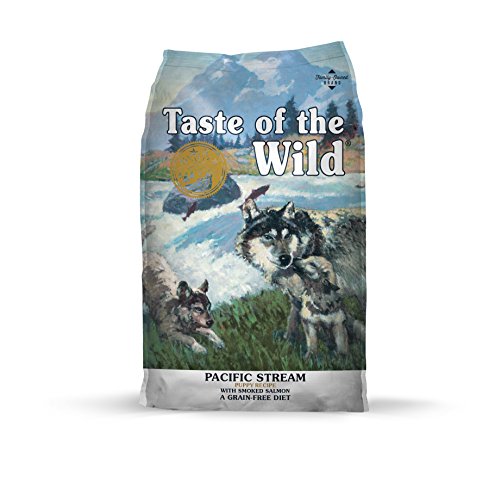 Taste of the Wild is an all-American based brand that crafts their formulas based on what a dog's DNA profile would lead them to eat in the wild[4].
The brand uses a protein-based grain-free formula that includes probiotics for healthy digestion.
Feel free to check out our Taste of the Wild Brand Review.
Orijen
Many dog owners trust Orijen because their grain-free food is tailored to a dog's anatomy and uses only regional ingredients[5].
Because they buy local foods, the brand is more affordable than its competitors.
WholeHearted
WholeHearted is a brand owned by Petco, so you can find it in any Petco store or online.
Their grain-free formulas include essential nutrients and omega-3 fatty acids, which helps dogs with skin and coat issues.
Why not check out our WholeHearted Brand Review?
References