How to Choose a Dog Bed
You've likely spent tons of money and time choosing the right items for your canine buddy – from leashes to collars and of course toys, nothing has been spared. Choosing the right dog bed can be daunting though, and we'll hopefully dispel some of the myths and disinformation out there so you can get your best friend the best bed possible for the best naps possible.
The One Thing a Great Dog Bed Must Be (Might Surprise You)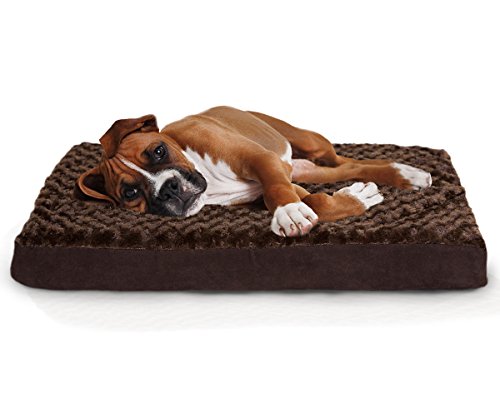 There are tons of fancy options for your dog out there – visiting your local pet store can be an incredibly daunting experience, especially given how much product there is. This is no surprise though, pets overall encompass a $6.5 billion dollar industry – and that's just in Canada!
With that said, you are probably wondering what separates a good dog bed from the ones that are just overpriced. That one feature you should be looking for is definitely washability.
Everyone knows dogs shed, and if you have certain breeds (such as a Labrador retriever which shed the most according to vet Dr. Becker) it can be a constant struggle to keep the dog hair under control.
Having the ability to toss your pet's entire bed into the wash on a weekly basis and not have to worry about it not surviving is definitely something you'll appreciate.
How Big Is Big Enough?
Another issue you're going to have to consider is sizing. Obviously everyone has a different size dog, but choosing one that's too big can be problematic and a pain.
You're definitely going to need to control the odor and shedding that comes with having a dog of any size, and regularly throwing your dog bed in the wash is going to help immensely.
Some have covers that are removable, but the ideal situation is that you can just chuck the entire thing into the washer and be done with it.
So when you're roaming the aisles of your favorite pet store, keep in mind that this will need to fit in your residential washing machine and dryer, as well as be suitable for your dog to stretch out and nap on.
Right Bed for the Right Dog
If you've got allergies due to pet hair, controlling where they sleep is going to help you get a full night's sleep. Choosing the right bed isn't just about what colors fit your décor as well as fit your budget.
Your dog's comfort and health should also be concern, especially if you are getting them a bed so they get out of yours. Up to 62% of small dogs sleep with their owners according to the American Pet Products Association so finding the right alternative option isn't always easy.
Knowing the sleeping tendencies of your specific breed can help you not only find a bed they will sleep in, but love you more for it – definitely a win-win situation.
Large Loose-Fill Beds: Perfect For Older Dogs
When you think of a dog bed, you probably envision these large circular pillows that dogs love to lounge in. This is one of the most popular types, and it's for good reason.
They are relatively inexpensive and your pet will love it for how large and comfy it is. Older dogs, especially those suffering from joint paint or arthritis will enjoy it due to how easy it is to crawl up into and fall asleep in.
Of course as we mentioned, washability is important and depending on the size of your loose-fill bed, it may be awkward to fit into a washing machine.
Some do have covers that zip off so you can wash them, but the take away is to be sure you can wash it accordingly before you invest in this type of bed.
My Dog Has Long Hair, Which Bed is Best?
Keep in mind your dog's comfort is super important – you love him to death anyways. So it's only natural that dogs with thick, heavy coats of hair need a cooler place to sleep that prevents them from retaining their heat.
The solution to this is an elevated cot-style bed that allows airflow to cool down your dog at night and sleep at night comfortably.
You can often detach the fabric portion and wipe it down or slip it into your washing machine if necessary making removing pet hair, odor and even fleas effortless.
The Right Option For Smelly Pups
Let's face it – sometimes your dog just has odor issues. Whether it's temporary or a prolonged issue, you probably don't want them cuddling up to you at night. The good news is, there is a solution for this.
By getting a cedar filled bed – either loose-fill or another type that uses cedar shavings as filling, you'll wake up to your dog smelling fresh and inviting instead of unpleasant. The more your dog rolls around, the better he'll smell when he wakes you up in the morning.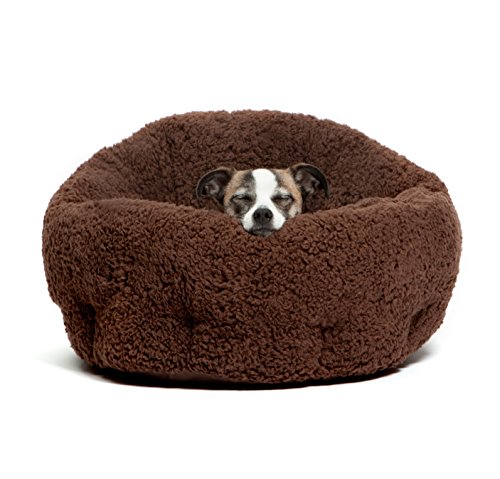 Of course if you notice your dogs horrible smell is consistent and not the product of a random adventure in the mud, you may want to have this checked out by a local vet.
Often times, unpleasant smells can be due to some natural reasons, but according to experienced canine vets, issues like yeast infections are also common and can cause horrible smells in dogs.
Finding The Right Bed Isn't Rocket Science
The truth is that getting your dog the right bed, and getting them to sleep in it can be a big task, but knowing what they like, and what's actually best for them – and you – is definitely possible.
The most expensive beds aren't always the best options. Know your dog's breed, their preferences and you can find him the perfect bed without messing around.