Leo is believed to be half husky and half lab, so he will likely enjoy the winters as much as the summers.
Though Leo enjoys spending time with his family, he much prefers to be outdoors, especially when they're at work.
My friends recently purchased a new wooden dog house for him, but they have to figure out a way to insulate it for both the summer and winter.
Since my husband is skilled at doing home repairs and woodworking, they reached out to see if he would be free to help modify the dog house.
This is where I come in. Since my husband hasn't worked on dog houses before, he asked if I would help with researching the best methods to insulate the dog house.
Of course, I said, "Yes!"
Not only does it help out a friend, but I always enjoy learning new things. I've never had an outside dog, so haven't ever needed a dog house, so this was all new stuff for me!
When and Why to Insulate a Dog House
As soon as you buy a dog house, you should contemplate your dog's needs based upon the weather in your area.
Since we're in Minnesota, we have temperatures as hot as 100°F in the summer or as cold as -55°F in the winter, plus everything in between. Though, in the extreme temperatures, it is best to bring your beloved canine inside.
If you live in an area like Minnesota, you will want to insulate your dog house right away.
Dogs need shelter from all types of weather:
They need shade in the summer, a dry place to rest in the rain, and a warm cozy house in the winter.
So, for our friend's dog house, it needed to be set up to withstand some pretty warm and cold days. Thankfully, insulating a dog house is the same as insulating any home.
Insulation protects against both the hot and cold temperatures.
Insulating Material Options for Dog Houses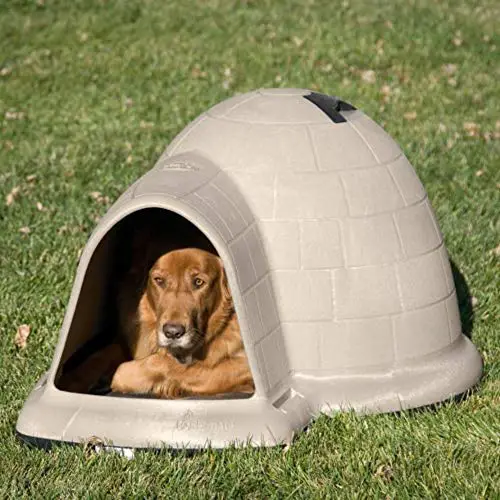 There are several insulation materials options on the market like fiberglass, spray foam, and reflective insulation.
The type of insulation material will depend on things like climate, the type of dog house, and cost.
One thing to keep in mind with plastic dog houses is that most of them are already insulated, but many could still use a little boost in climates with extreme temperature changes.
Below is a list of common insulation types recommended for dog houses.
Fiberglass Insulation for Dog Houses
Fiberglass insulation is made up of mostly glass and usually comes in rolls at varying thicknesses, lengths, and widths.
If you choose to use fiberglass insulation for the dog house, you will need to make sure that your dog does not come in direct contact with the material.
The fiberglass needs to be fully contained either within the walls of the dog house or covered in strong plastic sheets.
It is essential to check for leaks before installing the insulation. If the fiberglass insulation becomes saturated from rain, it will no longer be effective, and if left unattended while wet it may cause damage to the dog house.
Pros
Retards moisture[1]
Various sizes and R values
Easy to install
Works well for both warm and cold temperatures
Economical
Lightweight
Holds up well
Cons
Hazardous when breathed in
Causes skin irritation
Fiberglass Insulation Installation for Wood Dog Houses
Walls and Ceiling
Fiberglass insulation is best for dog houses that have a gap between the inner and outer walls.
The insulation can fill this gap, providing protection against extreme temperatures.
If there isn't a gap between the walls or in the roof of the doghouse, you can staple the fiberglass directly to the interior wall or ceiling.
Then you cover the insulation to keep your dog from coming into direct contact with it.
Floor
You can secure the fiberglass to the underside of the dog house then cover it with either a sheet of wood or durable plastic to keep it safe from moisture and critters.
Fiberglass Insulation Installation for Plastic Dog Houses
You will first want to attach a protective plastic sheet to the insulation; you can use epoxy to do this[2]. The plastic sheet will keep your dog from coming into direct contact with the insulation.
All surfaces that come directly in contact with the epoxy should be cleaned of debris and dust prior to the application of the epoxy. Cleaning the surfaces will better help the epoxy adhere[3].
Walls and Ceiling
After the epoxy has fully dried and the plastic is securely attached to the insulation, you can use the same epoxy to attach the fiberglass to the inside walls and ceiling of the doghouse.
It is easiest if you work in sections, using multiple sheets of insulation instead of a single sheet for large space.
After all of the dog house has been fully insulated, it is vital to make sure you cover the edges where the sheets meet to ensure the insulation doesn't seep through the seams.
You can use heavy duty tape to seal these areas.
Floor
It is the same technique used on the wood dog house.
Fiberglass insulation comes with or without facing, which is a type of paper that acts as a barrier to control moisture.
If you purchase fiberglass with facing, you will still want to provide a protective barrier between your dog and the insulation.
Reflective Insulation for Dog Houses
Reflective insulation is a thermal style insulation[4].
It is a metallic reflective foil that is attached to a variety of insulation materials like foam, cardboard, or plastic film.
Pros
Works well to reduce heat transfer
Lightweight
Multiple forms
Non-toxic[5]
Vapor barrier
It doesn't deteriorate over time from moisture or compression
Cons
Isn't suitable for cold climates
Cost
Electrical hazard
Reflective Insulation Installation for Wood Dog Houses
Walls and Ceilings
Reflective insulation works well for walls that are in direct sunlight and ceilings.
To receive the maximum cooling effect from the reflective insulation, an air pocket needs to be maintained between the walls or ceiling and the insulation. This will ensure the natural airflow in the dog house[6].
The method on how you install the insulation varies depending on the material the reflective foil is attached to; however, staples or epoxy will often work.
Reflective Insulation Installation for Plastic Dog Houses
Reflective insulation is not the best option for plastic dog houses as it would be difficult to install and still allow proper air flow.
Expanding Foam Spray for Dog Houses
Expanding foam spray is an excellent insulator, but it isn't the most cost-effective choice.
Also, if the area you intend to use the spray foam is a more substantial space, proper safety and spray equipment are required.
However, spray foam is perfect for small areas, especially holes and gaps in the dog house.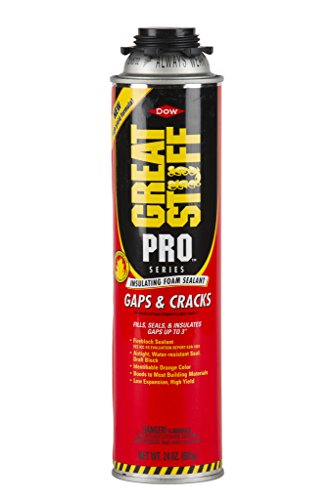 Pros
It expands to fill most gaps
It is easy to use in small spaces
Is good for both warm and cold climates
Fills spaces eliminating drafts or leaks
Doesn't absorb water[7]
Deters mold growth
Cons
Possibility of the foam shrinking over time
Requires experience to apply properly to large areas
Cost
If installed incorrectly, the foam can be hazardous[8]
Spray Foam Insulation Installation for Wood Dog Houses
Walls/Ceiling/Floor
If you are in the process of building a wood dog house, spray foam can be applied in between the interior and exterior walls of the walls, ceiling, and floor.
If you have an existing dog house, foam insulation can be used to repair holes and gaps.
The foam should be appropriately covered to eliminate direct exposure to your dog if the foam crumbles or deteriorates.
Spray Foam Insulation for Plastic Dog Houses
Foam insulation is best if used for repair purposes only.
After making the proper repairs, it is vital to cover the foam with a protective material, such as plastic sheets, to reduce contact with the foam insulation in the event it cracks or breaks.
Insulation Kit for Dog Houses
Dog house insulation kits protect from both the heat and cold, but unfortunately are limited to specific brands of dog houses.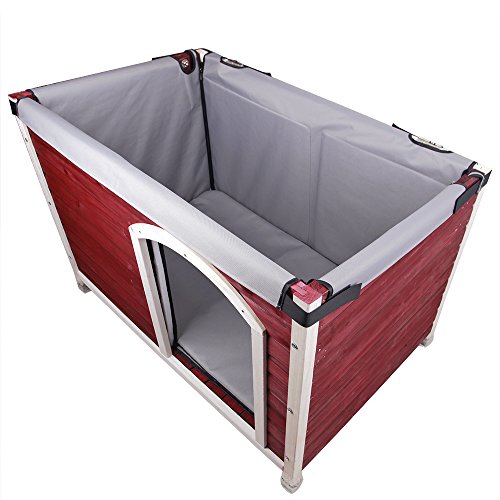 Pros
Easy to install
Machine washable
Is good for both warm and cold climates
Provides a comfortable bed-like floor
Cons
Does not fit all dog houses
Lacks durability
Best Ways to Insulate the Dog House Door
Installing a dog door kit is the best way to keep your dog's house warm on cold winter days.
PetSafe makes a great dog door in a variety of sizes and styles.
We use a two-panel wall mounted version on our porch, and it has held up for over ten years.
However, it is best to take the door out in the summer to allow greater airflow.
One great feature on the PetSafe door is that the flaps are removable for the summer.
Additional Techniques to Insulate the Floor
In addition to the fiberglass insulation method, rigid insulation board can also be useful for insulating the floors.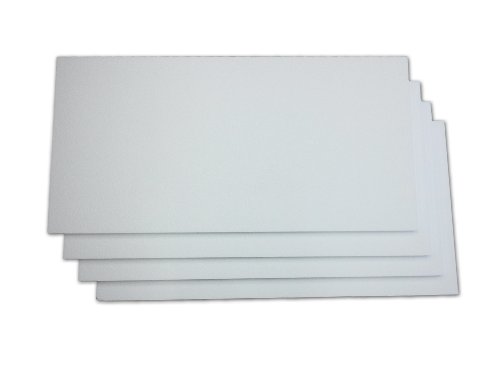 Affix insulation boards to the exterior side of the dog house, then cover it with plastic or a wood panel.
Installing insulation boards on the interior of the dog house is possible, but it is more expensive and more complicated to install.
Outdoor dog beds, blankets, and carpet can also provide warmth and comfort.
However, it is essential to check the bedding regularly to ensure it isn't retaining moisture, getting moldy, or attracting unwanted pests like fleas, spiders, or even snakes.
Additional Tips
In addition to using insulation to help keep your pup comfortable in their dog house, you will also want to do routine checks for leaks, gaps, or holes.
Even if you have the best insulated dog house, a hole in the roof can cause severe damage and negate the usefulness of the insulation you installed.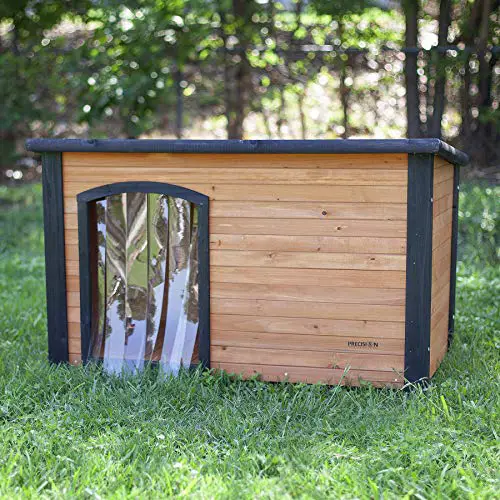 Another tip to keep your dog comfortable in their new digs is picking an optimal location for their new house.
Look for a place that has either a wind barrier or shade. Either will aid tremendously in regulating the temperature in the dog house; if you can find a location with both that's all the better!
Proper ventilation is important for airflow in the dog house.
Airflow can help keep the dog house cooler, reduce the risk of mold, and keep odors from building up.
Final Thoughts
If your pup loves the outdoors, and it is safe to leave them outside, providing them with a well-insulated dog house is key to their wellbeing and comfort.
Dog houses will protect your fur baby from rain, heat, and cold.
Without proper insulation, dog houses can easily reach below freezing or in the summer will heat up to unhospitable temperatures.
In extreme weather conditions, the ASPCA recommends that your dog be brought inside, even if they have a dog house[9].
FAQs
Do Dog Houses Need Insulation?
It depends on the climate you live in, but in most areas insulation would be beneficial against hot and cold weather.
What temperature should dog houses be in the winter?
45°F is the lowest a dog house should be in the winter[10].
However, 45°F may be too low for smaller dogs or dogs lacking thicker coats.
How hot can dog houses get in the summer?
That depends on the dog house, but temperatures above 70° F are not safe for your dog, and dog houses without proper insulation or ventilation can easily reach temperatures much higher than 70° F[11].
Resources