This post may contain affiliate links. It doesn't cost you anything extra and it keeps our lights on, our families fed, and our dogs spoiled. For all the juicy fine print, see our affiliate disclosure
Best Dog Beds for Big Dogs: Winners
A dog's bed is not just a place where they sleep. It is their safe haven!
Our furry friends come in all shapes and sizes, and so do their beds.
So whether you own a Golden Retriever, a Doberman, or a Great Dane, it goes without saying that our canine companions deserve the best bed for a good night's sleep.
As humans, we spend over half of our lives sleeping and don't hesitate to invest in expensive mattresses and pillows to enhance our sleeping experience.
Your pet pooch will undoubtedly sleep most of the day away, so it makes sense to provide them with a comfortable space, too, where they won't be disturbed.
A good quality bed provides your dog with a space of its own, kind of like a bedroom.
Having a bed as a point of relaxation is good for disorders such as separation anxiety.
The Best Dog Beds for Large Breed Dogs
Overall Best Large Dog Bed – Big Barker Orthopedic Dog Bed
The Big Barker bed is one of the most popular and best orthopedic dog beds on the market for larger breeds.
The Big Barker was designed and created specifically around a dog's body to give large and extra-large dogs the comfort and support they need to create the ultimate relaxation experience.
The multiple layers of quality foam, 7 inches to be exact, provide your dog with the comfort and support they deserve.
This indestructible dog bed has a multi-layer core made up of orthopedic foam, support foam, and a structured foam bolster.
It can also support 300 lbs of weight.
In addition, the removable microfiber cover is machine washable, which means you and your dog can both enjoy fresh sheets!
Big Barker states1:
"The unique 3-state foam engineering process provides a soft-top layer that forms a comfortable pocket around the bones and joints, and a middle "support" layer which ensures that no pressure points are created between the dog and the hard floor below."
Purchasing a Big Barker also comes with a 10-year warranty and is guaranteed never to flatten.
The company uses CertiPUR-US approved foam free of harmful toxins that can be found in cheaper foam used to make other dog beds in the market.
In 2020, a study conducted by the University of Pennsylvania showed that dogs using the Big Barker bed showed improved mobility and seemed to be in less pain than before2.
Available Sizes
Large – 48" x 30" x 7" (For breeds such as Labrador Retrievers and Boxers)
Extra-large – 52″ x 36″ x 7″ (For breeds bigger than a Labrador but smaller than a Great Dane)
Giant – 60″ x 48″ x 7″ (Explicitly designed for Great Danes)
Verdict
The Big Barker dog bed is a good quality bed for larger canines as they are prone to suffering from joint problems, particularly when entering their senior years.
Best Budget Large Dog Bed – Majestic Pet Products Bagel Shaped Dog Bed
These bagel-shaped mattresses are ideal for dogs that like to curl up when drifting off to sleep.
The bolster and cushion are stuffed with premium polyester fiberfill, and the base is made with a heavy-duty, waterproof liner if there should be any accidents/spillages.
Is Your Dog Driving You Nuts During the Day?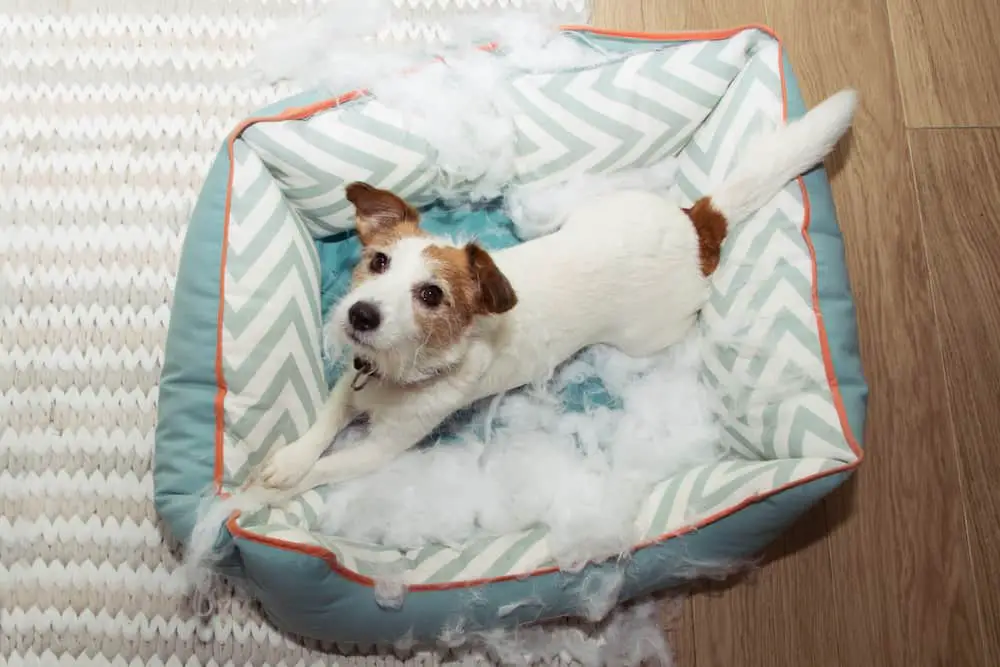 Get Our List of 11 Awesome Indoor Activities to Keep Your Dog Busy and Out of Trouble!
This snack-shaped doggy mattress is an affordable bed that can be customized using a variety of patterns and colors, so you can truly spoil your pup.
Available Sizes
24" – Suitable for a weight of up to 25lbs
32" – Suitable for a weight of up to 45lbs
40" – Suitable for a weight of up to 60lbs
52" – Suitable for a weight of up to 110lbs
Verdict
The Majestic Pet Bagel may not cater to the largest of dog breeds, but 110lbs isn't so bad, right?
The only downside to this fantastic product is that it isn't best suited to older dogs with joint problems, primarily due to its structure and shape.
Related: Check Out the Best Outdoor Dog Beds for Your Pooch
Upgrade Pick – Casper Dog Bed
The technology used in the Casper Dog Bed is the same used in the Original Casper mattress for humans.
The durable microfiber cover is one of the strongest ones available, and the material used on top mimics the sensation of dirt. Good news if your four-legged friend likes to explore!
Designed using a layer of viscoelastic memory foam and polyurethane support foam, this technology reduces stress on joints.
In addition, the memory foam bolsters offer total comfort so your dog can lay his head and limbs down comfortably.
The nylon cover is available in different colors and can be thrown in the washing machine if need be.
This bed was created with sewn-in pockets so that the metal zippers won't scratch your puppy or your floors!
Sold with a 1-year limited dog bed warranty, the Casper Dog Bed has been approved and tested never to flatten or sag.
Available Sizes
Small – Dogs up to 30lbs
Medium – Dogs up to 60lbs
Large – Dogs up to 90lbs.
Verdict
Although it is one of the pricier beds in the market, the Casper could be the bed that lasts a lifetime. After all, a good night's sleep is priceless!
Best Temperature Regulating Large Dog Bed – Dogbed4less Orthopedic Memory Foam Dog Bed
This dog bed is one of the more affordable ones in the market and is made with high-grade memory foam that is highly resilient and will not flatten over time.
This orthopedic bed features 4 inches of GEL-infused memory foam pad, providing unlimited comfort for your dog.
This temperature-sensitive cooling technology not only keeps dogs cool but also soothes aching joints and is long-lasting.
This memory foam mattress is diverse and offers endless amounts of comfort for your pet.
If you have an arthritic dog, a purchase like this will ensure a better quality of life and could very well be the right dog bed for your pet.
The waterproof internal cover is handy for any accidents, and the outer zipper cover is both machine washable and available in 10 different color options.
This orthopedic bed has a memory foam mattress available in 7 sizes, starting with medium and ending at a giant XXXL/Jumbo.
Available Sizes
Medium – 35″ x 20″ x 4″
Large – 37″ x 27″ x 4″
Large Crate size – 41″ x 27″ x 4″
XL – 40″ x 35″ x 4″
Xl Crate – 47″ x 29″ x 4″
XXL – 55″ x 37″ x 4″
XXXL/Jumbo – 55″ x 47″ x 4″
Verdict
The Dogbed4less Memory Foam Dog Bed has been cleverly designed to cater to larger dogs. With products like this, who needs human mattresses?
Best Large Elevated Dog Bed – Coolaroo Elevated Pet Bed
The off-the-ground design of the Coolaroo Elevated Pet Bed uses an HDPE (high-density polyethylene) fabric surface to keep your canine buddy cool.
In addition, the increased airflow to the fur promotes healthy joints by reducing the stress placed on them when walking.
Pet parents will also be impressed by the Coolaroo as it is flea, mite, mold, and mildew resistant.
The durable knitted lead-free fabric covering can withstand extreme weather and natural temperatures.
Dirt or spillages can be hosed down and wiped clean, and the tough structure of this product means it is less likely to be chewed!
In addition, this inexpensive dog bed is sold with a 5-year guarantee against UV degradation.
Available Sizes
Small – Up to a weight of 15kgs
Medium – Up to a weight of 30kgs
Large – Up to a weight of 45kgs
XL – Up to a weight of 60kgs
Verdict
The Coolaroo is a great dog bed for big dogs who like to get down and dirty when out taking their daily exercise.
The wipe-clean bed feature can only be truly appreciated by pet owners that deal with dogs who like to roll around in the mud.
Best Large Dog Bed for Active Dogs – BedSure Orthopedic Memory Foam Dog Bed
The BedSure Orthopedic dog bed has a memory foam core that contours around your dog's body shape for optimal support.
The faux fur covering is finished with a non-slip base which provides a safe sleeping space for your dog that won't budge should they come down with a severe case of the zoomies!
The removable premium plush surface cover is machine washable and easy to clean. It's also waterproof.
The sizes range from medium to XL and have been specifically designed for big dogs.
Available Sizes
Medium – 28″ x 23″ x 7″
Large – 35″ x 25″ x 7″
XL – 42″ x 32″ x 7″
Verdict
The BedSure mattress caters to larger dogs struggling with arthritis or joint pain as it offers orthopedic support.
Best Large Dog Bed for the Biggest Dogs – PetFusion Ultimate Pet Bed and Lounge
Made with 4 inches of high-quality memory foam, the PetFusion Ultimate Pet Bed and Lounge offers three sides of foam bolsters and is the ultimate snoozing space for a large breed dog.
The water-resistant outer covering is convenient for dogs that are prone to having accidents or like to chew.
The easy-clean removable cover is machine washable and consists of durable polyester twill.
Available Sizes
Small – Length up to 25 inches
Considerable – Length up to 36 inches
X-Large – Length up to 44 inches
Jumbo – Length up to 50 inches
Verdict
The PetFusion dog bed is a great choice for large breed dogs that make a mess of their beds.
Most Comfortable Large Dog Bed – BarksBar Snuggle Sleeper Orthopedic Dog Bed
Composed of high-quality human-grade orthopedic foam, the Snuggle Sleeper offers optimal comfort and security by using soft-to-the-touch, cotton-padded walls.
The machine washable cover is another reason to purchase this orthopedic dog bed with a rubber grip base to prevent it from slipping.
Again, this product is targeted at medium to large dog breeds and can hold weights from 30lbs to 100lbs.
Available Sizes
Small – 26″ x 20″ x 10″
Medium – 32″ x 22″ x 10″
Large – 40″ x 30″ x 10″
Verdict
When you are a dog parent to a large dog breed, having your dog sleep in one place is important when introducing discipline and routine. There are hundreds to choose from, including cot-style beds, or maybe a bolster bed is a perfect choice for your big dog.
A comfortable bed like the BarksBar Snuggle Sleeper ensures your dog will get the sleep it needs to enjoy a healthy life.

Which Type of Dog Bed is the Right Choice?
A typical dog spends anywhere between 12-18 hours a day asleep, so it is worthwhile to invest in a high-quality bed for it3.
A dog bed for large breeds should be big enough to fit their whole bodies in, and it should be structured around your four-legged friend to create a comfortable atmosphere that they feel safe enough to sleep in.
Memory foam beds provide unparalleled support amongst other beds.
A good quality orthopedic dog bed with a memory foam base not only provides your pet with constant comfort but they are scientifically proven to reduce stress on limbs and promote healthy joints.
The market is heavily saturated with various dog beds ranging from shredded memory foam mattresses to specialist orthopedic dog beds.
A good quality large bed should not only provide your furry best friend with comfort, but it should also support any ailments such as arthritis or joint pain, which is particularly common in senior dogs.
Few beds tick all of the boxes. Even a good quality human bed can be hard to find.
Below you will find a selection of fabulous dog beds that we think go the extra mile for your gentle giant.
So which type will be the best dog bed for your canine companion?
Key Tips When Sourcing the Perfect Bed
Quality
The bed quality is important, but that doesn't necessarily mean it has to be the most expensive.
A good quality dog bed should be durable and able to withstand any bad habits your dog may (unfortunately) be accustomed to.
Dog parents are usually aware of any chewing, digging, or incontinence, so these should all be taken into account before making your purchase.
Size
The size of your dog's bed should depend on their age, height, and weight.
Your paw-tner may like to have something to burrow under, or maybe a structured product, and the one offering more support will suit them best.
Comfort
What kind of surface does your furry friend prefer?
Some dogs like to lie on cool, hard areas, whereas others may prefer a softer, more cushioned sleeping surface.
Material
Is it machine-washable?
Can you wipe it clean?
Is it safe to chew?
Most pet beds are made with durable materials that look brand new after a machine wash.
Resources