This post may contain affiliate links. It doesn't cost you anything extra and it keeps our lights on, our families fed, and our dogs spoiled. For all the juicy fine print, see our affiliate disclosure
As a dog parent, you know, a dog bed is one of the quintessential necessities for any pup.
It's the spot where they can feel safe and warm, they can get plenty of sleep, and they can also feel loved and cared for.
So if you want to make sure that your pet can achieve all three out of these three things, you need to find the right bed for them.
Dog beds can be found in many varieties, each with its unique attributes.
So naturally, it can be challenging to find the perfect dog bed, especially if you don't know what to look for.
But you don't have to worry for long because, in this article, I am going to talk about all the different types of dog beds out there, and once you're done reading this, you'll have an idea of what kind of dog bed you should get for your pet.
Standard Dog Bed
Standard dog beds are the most common types of dog beds.
These beds don't have unique features like orthopedic foams, rims, edges, or other components.
Instead, they look more like pillows and cushions that come in various colors, shapes, and sizes.
Standard dog beds are mostly round-shaped; although, there are square and rectangular styles available.
The materials used in the production of these beds also vary.
Some bed manufacturers use microfiber fabrics, while others use fleece or flannel. Some standard dog beds are produced with faux suede to give the mattress a more luxurious feel.
Some dog bed makers consider odor control and infestation of insects, so they use cedar chips to produce the bed.
Cedar is a lovely, fragrant wood that prevents pests and bacteria from growing in it. It is also considered a very healthy wood.
Standard dog beds are mostly affordable.
However, if you want more fashionable or high-end designs, you might have to shell out more money to get them.
You can also get chew-resistant dog beds, such as above bed by Bully Beds.
Is Your Dog Driving You Nuts During the Day?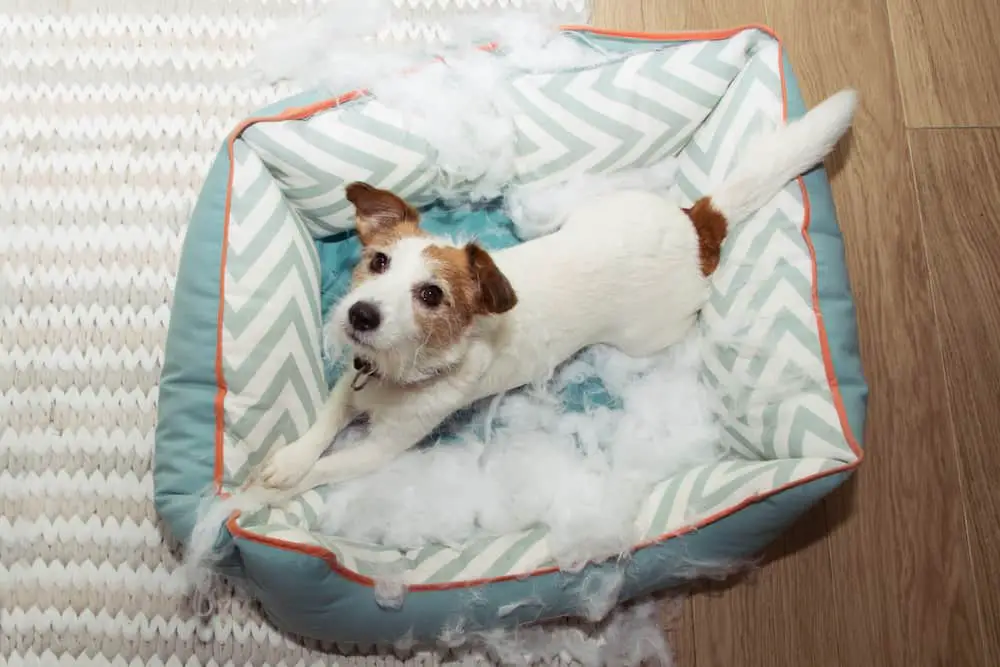 Get Our List of 11 Awesome Indoor Activities to Keep Your Dog Busy and Out of Trouble!
These beds are ideal for dogs with no health problems. But if your dog has joint pains, arthritis, or other health issues, you need to get other suitable canine beds for him.
Donut-Style Dog Bed
Also known as a round dog bed, donut-style dog beds are also popular among dog parents because they are affordable, simple, and comfortable.
So if you are looking for a mattress that will give your furry friend maximum comfort without spending a fortune, this dog bed is the one you need to get.
The donut-styled dog bed is round, so it is a good bed for dogs who like to curl up and sleep.
But for dogs who like to sprawl out when they sleep, you may want to consider getting a bed that will suit such sleeping patterns.
However, if you have a small dog, you can buy a big-sized donut-style dog bed, and even if he sprawls out, it will be fine.
Plus, for those small dogs who always feel cold, there's the Aspen Self-Warming Dog Bed.
You can find donut dog beds in pet stores or online through a dog store website such as Petco.
Orthopedic Dog Bed
Orthopedic dog beds such as the K9 Ballistics Tough Orthopedic Dog Bed are specially designed beds made exclusively to provide comfort and relief for dogs with health issues.
These beds are ideal for older dogs, but they can provide comfort and a good night's sleep for dogs of any age.
These beds are made with orthopedic foam. Orthopedic dog beds are usually fluffy, and they also have deep-pile fabrics that help the pet keep its body heat well.
The cover of this bed is removable so that the pet owners find it easy to wash.
You can clean the cover in a washing machine or merely using your hands. so that you can preserve the soft and fluffy feel of the fabric.
If your dog has arthritis, joint problems, hip dysplasia, bone or soft tissue injuries, an orthopedic bed is an economical & helpful choice.
In addition, an orthopedic dog bed can improve your pet's quality of life as it provides them with a comfortable place to rest and heal.
Pillow Dog Bed
Just like the name suggests, a pillow-styled dog beds like the Majestic Pet Super Value Dog Bed is like a pillow for your dog.
It has a small pillow-like shape, and you can imagine this as a sort of a divan.
Pillow dog beds are designed with the assumption that your pet will curl up in them and sleep.
This bed is ideal for dog owners who have a healthy dog or don't want pet accessories taking up space in their homes.
It is a simple type of dog bed without special features.
Cave-Style Dog Bed
Dogs sometimes like their privacy, even when they're sleeping.
Therefore, cave-style dog beds liken the Snuggery by FurHaven are recommended for dogs who want to sleep in their cave.
These types of dog beds are made such that they have a cave-like aspect to them.
With this bed type, your dog will be able to hide in his cave and feel safe and secure in his personal space.
Breeds such as Terriers and Dachshunds like to sleep under the covers, so this bed type is an excellent choice.
Heated Dog Bed
If your dog's fur is thin enough that he gets cold during the winter, a heated dog bed is a perfect solution.
K&H Pet Products' Thermo-Snuggle Cup Bomber in particular is great for smaller pups.
Adding some warmth to their bed will provide your dog with extra comfort, plus they'll be happier and healthier overall.
Heated dog beds are made with particular heating elements, but many also have a soft cushion of some kind.
In addition, heated dog beds include a thermostat that regulates the temperature for your dog's comfort.
As a result, they make an excellent gift for a pet owner who lives in a cold climate.
Cooling Dog Bed
Some dog breeds, such as brachycephalic dogs (dogs with short noses and flat faces, like Shih Tzus, pugs, bulldogs, and boxer), overheat easily2, especially during the summer.
Cooling dog beds like the one by Sealy Lux are great for these breeds.
These beds have cooling gel pads throughout the bed so that your dog can stay cool.
Kennel Dog Bed
A kennel dog bed is a bed specifically designed for dogs who spend a lot of time in a crate.
These beds are usually machine-washable and are made of a durable material (such as canvas, vinyl, or fabric) that can be easily cleaned.
In addition, kennel dog beds are typically made to fit the dimensions of a pet's kennel.
Sometimes they're called a crate mat or pad, like with the K9 Ballistics Tough Crate Pad.
Pet Sofa Dog Bed
If you don't like your dog on the sofa, you may get a pet sofa for him.
Pet sofa dog beds like the Keet Fluffy Deluxe are designed so that your pet can have a sofa-like sleeping surface in a confined space.
Travel Dog Bed
The travel dog bed resembles a sleeping bag that can be folded or rolled up quickly and conveniently.
It is made of fabric to ensure that your dog cannot get irritated while sleeping on it.
You can fold the travel dog bed and put it in the car when you are on the go.
Some, like the ZonLi Travel Dog Bed, even have walls to help your pup feel more secure as they sleep!
Conclusion
Dog beds are some of the essential accessories for your dog. There are so many kinds of dog beds available in the market.
Choose a dog bed according to your pet's size, sleeping pattern, chewing behavior, comfort, and budget.
Resources