We all want to keep our canine companions comfortable, but it can be challenging if you have a dog that likes to chew or dig at their bed.
Calvin is an excessively aggressive nester, so I am always on the lookout for dog beds that can withstand his attentions.
Finding a high-quality, durable dog bed can be challenging; however, K9 Ballistics Beds are some of the best dog beds I have found.
In this K9 Ballistics Dog Bed review, I am focusing on the Tough Rectangle Orthopedic Dog Bed. You can also check out our review of the K9 Ballistics TUFF bed crate pad.
I will cover the bed's features and benefits and provide a few alternative options for those looking for a different style.
For more options, check out our complete list of the best chew proof dog beds.
Things to Consider before buying a K9 Ballistics Dog Bed
First, it is vital to point out that no bed is 100% chew proof, though the K9 Ballistics dog beds come pretty close.
When considering a K9 Ballistics Dog Bed, it is essential to think about why you need a durable bed.
Is your dog is like Calvin, who likes to nest, but tends to tear the average bed, or does your dog have separation anxiety and all-out destroys beds?
If it is the former then these beds are a great fit, however, if your answer is the latter, I would hold off on spending the money until you are able to get your dog's anxiety under control.
Other important factors to take into consideration before buying a K9 Ballistics Dog Bed include:
Your dog's size
Location – Indoors or outdoors? Is the space large enough? Which shape would best fit the area?
Your dog's age and health – Do you have an older dog that would benefit from an orthopedic style bed?
Bed Style – Some dogs prefer to bolster style beds, whereas others prefer open beds they can stretch out
Waterproof – Waterproof covers help to protect the bed's interior.
Type of Closure – Zipper or Velcro
Removable cover – For easy cleaning
Cost – K9 Ballistics dog beds are not inexpensive, but you do get what you pay for when buying these beds.
Related: Best Chew Proof Dog Harnesses
Is Your Dog Driving You Nuts During the Day?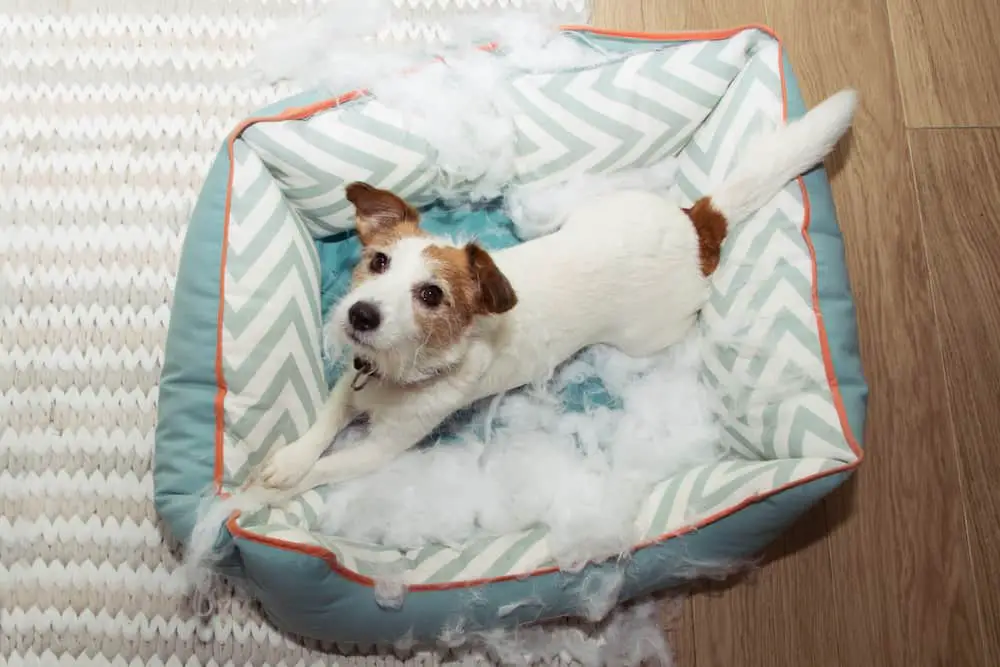 Get Our List of 11 Awesome Indoor Activities to Keep Your Dog Busy and Out of Trouble!
Features & Benefits
There are several benefits of choosing a K9 Ballistics dog bed. My favorite of their many options is the Tough Rectangle Orthopedic Dog Bed.
This bed is ideal for dogs with joint issues and arthritis.
Though my focus is on the Tough Rectangle Orthopedic Dog Bed, it shares many of its features and benefits with other beds made by K9 Ballistics.
Waterproof Fabric – The waterproof fabric helps to protect the mattress from becoming saturated and is perfect for both indoor and outdoor use
Hair and Dirt Resistant – The Ballistic Fabric may not keep your dog from shedding, but the smooth texture makes it easy to brush the hair and dirt off.
Rip-Stop Ballistic Fabric – The Ballistic Fabric is durable and designed stand up to multiple times in the washing machine, as well for dogs who like to dig and chew
Removable Machine Washable Cover – And for small stains, this cover is easy to spot clean (see our list of the best washable dog beds).
Orthopedic Foam Mattress – This five-inch mattress is made with K9 Ballistic's CertiPUR-US solid foam, which provides optimal support for your dog's comfort
Non-Skid Bottom – Keeps the bed in place when your dog is nesting.
Reinforced Corners with Triple Stitch Seams – Even if the material is durable, the stitching needs to be equal to that, and K9 Ballistics does not disappoint.
Multiple Sizes – Small, Medium, Large, X-Large, and Giant
11 Color Options and Patterns – Perfect for ensuring it matches any decor
Personalized – K9 Ballistics offers embroidery on the removable covers to personalize your dog's bed.
Best of all, K9 Ballistics covers their dog beds with their Chew Proof Promise.
The Chew Proof Promise is if in the first 120 days of having this bed your dog damages it in any way they will provide a one-time store credit good towards a new bed.
Related: Best Indestructible Squeaky Dog Toys
What Do Other Owners Think?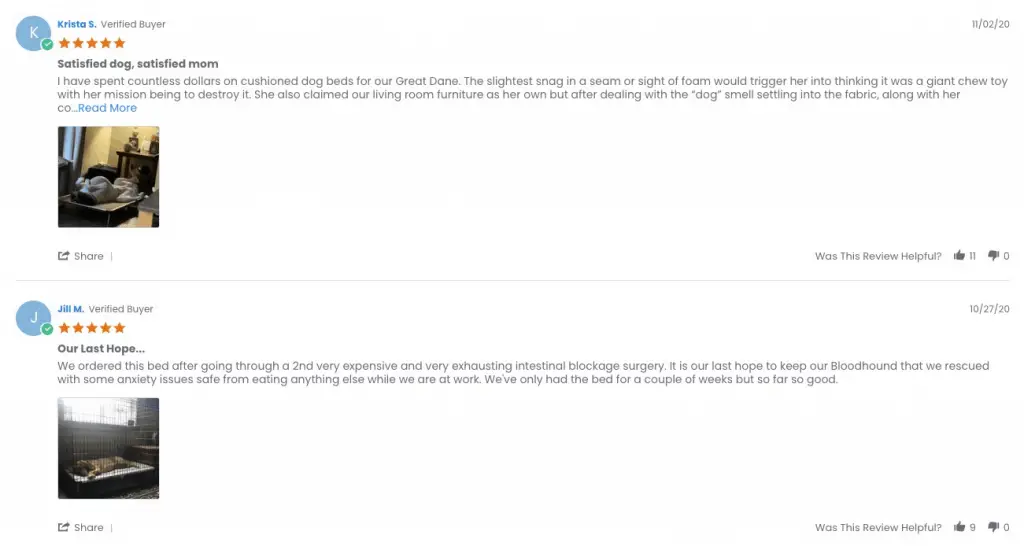 When reviewing products, I like to see what other customers have to say about the company and products.
So when I searched the internet over, I found some pretty favorable reviews on third party websites.
Though most comments were positive, there were some complaints. The complaints I found were all about the same, that the bed did not stand up to their dog's chewing and destruction.
However, the interesting part is that most of the customers had purchased beds from the Tough and Durable line, not the Chew Proof Armored bed.
So make sure that the bed you end up buying is covered under this warranty.
Related: Best Chew Proof Dog Collars
Alternatives
Though the Tough Rectangle Orthopedic Dog Bed is ideal for my seniors, it is not necessarily the right bed for all dogs.
Chew Proof Armored Elevated Bed
This bed is ideal for really aggressive chewers and diggers. The metal frame protects the edges and seams of the ballistic waterproof fabric.
And the lightweight aluminum frame makes it easy to move in and out of the home.
Though the Armored bed lacks stuffing, it is still very comfortable and supportive.
The elevated bed allows for good airflow keeping your dog cool in the summer. Plus, the waterproof cover is easy to clean.
This bed is available in five different sizes and five different colors and patterns.
Tough Bolster Nesting Dog Bed
The Tough Bolster Nesting Dog Bed is ideal for dogs who like the feel of a bed that hugs them yet still allows them to stretch out.
And the bolster adds comfort, support, and warmth, perfect if your dog's bed sits against an outside wall.
The interior of this nesting dog bed is made from the CertiPUR-US Foam, but the foam has been shredded allowing your dog to nest and fluff the bed to their heart's content.
Plus, it comes with the Chew Proof Promise in case you underestimated your dog's digging capabilities.
And of course, this bed comes in a variety of sizes and colors, making it easy to find the right fit for your dog and home.
Tough Deep Den Dog Bed
K9 Ballistics Round Dog Bed Deep Den
CHEW PROOF RATING: 3/5

Offers dogs a sense of security and comfort for dogs who love to cuddle

Pproprietary RipStop Ballistic Material

Machine Washable
The Tough Deep Den Dog Bed is a round bed with high sides, ideal for the dog that likes to snuggle and curl into a ball in their bed.
The Deep Den bed is made with a rip-stop waterproof, dirt, and hair resistant fabric, perfect to bring camping.
The interior is filled with Certified Clean Recycled Polyfill fiber, which is pliable and easy to nest in.
Plus, the PolyFill Fiber is lightweight, so the bed is perfect to take along in the car when traveling.
Though the cover is not removable, the whole bed is machine washable. Because of this beds particular design it only comes in four sizes, small, medium, large, and X-large.
Where to Buy K9 Ballistics Dog Beds
K9 Ballistics beds are available for sale on their website and Amazon.
Recommendation
Though the K9 Ballistic dog beds may appear to be expensive at first glance, they are cheaper than constantly replacing cheaper beds.
Plus, with the Chew Proof Guarantee, it is hard to find a better deal anywhere else.
Not only does K9 Ballistic make strong dog beds, but the beds are designed with your dog's comfort in mind.