I was recently talking to my friend Sarah about her new dog. I asked if she had started them on a flea preventative since they spend a lot of time outdoors.
She said she had not purchased one yet because she was still researching the many options and asked if I knew anything about Credelio.
I said it had been a while since I researched it last, so before giving my opinion on it, I needed to refresh my memory.
After looking into Credelio again, I thought it would be helpful to provide a full product review.
What Is Credelio?
Credelio is a chewable flea and tick medicine made by Elanco Animal Health.
Credelio received approval in early 2018 and is one of several anti-parasite products created by Elanco.
Credelio is beef flavor, and great care has been taken to ensure Credelio is easy to administer, with more than 90% of dogs finding it pleasing to the palette.
Though Credelio requires a prescription, you can still buy it online.
Credelio Ingredients
Credelio's active ingredient that works to keep dogs flea and tick-free is lotilaner.
Lotilaner is part of the isoxazoline chemical class of parasiticides used in the fight against fleas.
In addition to lotilaner, Credelio also contains1:
Pork liver
Soy
Barley
Wheat
Lactose
So Credelio may not be best for dogs with food allergies.
How Does Credelio Work?
After your dog eats a Credelio chew, it enters the bloodstream and remains active for up to 35 days.
Because it is a systemic medication, fleas and ticks must bite your dog for Credelio to go to work.
Once ingested, the active ingredient prevents the transfer of chloride ions to cell membranes, resulting in uncontrolled neuromuscular hyperactivity in fleas and ticks. The uncontrolled movement results in the parasites' deaths.
Is Your Dog Driving You Nuts During the Day?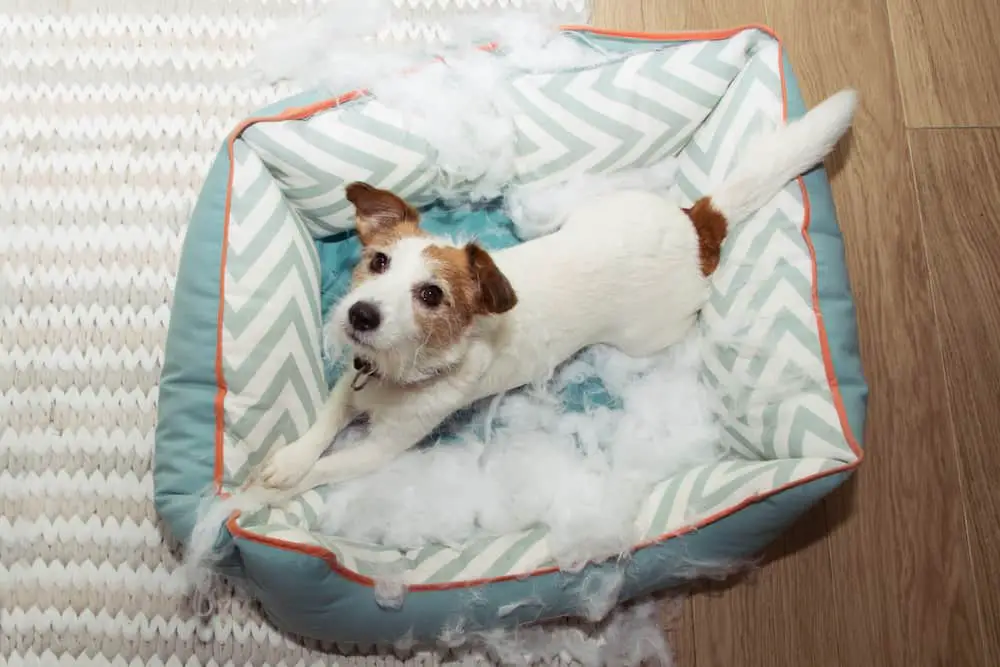 Get Our List of 11 Awesome Indoor Activities to Keep Your Dog Busy and Out of Trouble!
The toxicity of lotilaner differs in sensitivity between insects and dogs.
Is It Effective at Killing and Preventing Fleas and Ticks?
Credelio begins to kill adult fleas within four hours after treatment and has a 100% success rate of killing fleas within twelve hours after administration2.
However, it is imperative to point out, Credelio does not impact flea larvae or eggs, nor does it act as a preventative.
So, even after you administer Credelio, you may see fleas over the next few months as eggs hatch and larvae mature.
Credelio is also effective at killing a variety of ticks, including:
Lone Star Tick
American Dog Tick
Black-legged Tick
Brown Dog Tick
Studies show that Credelio kills ticks in as little as four hours and can impair their ability to attach to your dog in less than two hours3.
Is Credelio Safe for Dogs?
Overall, Credelio is a relatively safe flea and tick medication.
However, drugs in the isoxazoline chemical group, like lotilaner, have been connected with neurological adverse reactions in dogs4.
Additionally, seizures have been recorded in dogs who've taken drugs in the isoxazoline class; this includes dogs who have never had seizure activity before.
It is recommended that caution be exercised with dogs who have had a history of seizures since Credelio may increase the chance of a seizure.
Is Credelio Safe for Puppies?
Credelelio is safe for puppies eight weeks old and older and who weigh at least 4.4 pounds.
Though, you should know that side effects and risks for puppies are the same if not greater than for adult dogs.
Credelio Side Effects
Credelio, like all medications, comes with some risks.
Common side effects associated with Credlio includes:
Weight loss
Elevated blood urea nitrogen
Increased urination
Diarrhea
If your pup experiences any of these side effects, you should contact your veterinarian immediately to determine how best to treat your dog.
Where to Buy Credelio
Credelio requires a prescription and can be purchased through your vet, at some pet supply stores, and online at places like Chewy (read our comparison of Chewy vs Petflow), PetCareRX, and BudgetPetWorld.
The average cost for Credelio per chew is about $20 for dogs ranging from 6.1 pounds – 25 pounds.
Plus, after purchasing Credelio, you can stop by their website to see if they are offering a rebate.
Alternatives
NexGard
Active Ingredient: Afoxolaner
Type: Chewable Tablet
Duration: 1 Month
NexGard is a Boehringer Ingelheim Group product. And, like Credelio, it is a beef-flavored flea medication.
NexGard uses the active ingredient afoxolaner, an effective parasiticide that throws off a flea and tick's nervous system.
NexGard goes to work killing fleas in 4 hours and ticks in 12 hours.
And it is effective at killing American dog ticks, Black-legged ticks, Lone Star ticks, and Brown dog ticks.
In addition to killing ticks and fleas, NexGard eliminates a few varieties of mites, including Demodex, Sarcoptes, and Otodectes.
Bravecto
Active Ingredients: Fluralaner and Moxidectin
Type: Flavored Chewable Tablet
Duration: 3 Months
Bracevto is a flea and tick medicine for dogs. It has been on the market for four years longer than Credelio and is a bit better known due to its uniqueness.
What sets Bravecto apart from the rest is that it lasts for up to three months.
Once ingested, Bravecto spreads through their system and into your dog's skin.
Bravecto goes to work, killing fleas within two hours and killing ticks within 12 hours.
Bravecto kills fleas, ticks, and various mites, including Sarcoptes mites, Demodex mites, and ear mites.
Comfortis
Active Ingredients: Spinosad
Type: Flavored Tablet
Duration: 1 Month
Comfortis is an Elanco Animal Health Incorporated product.
The active ingredient found in Comfortis is spinosad, which is a chemical from the spinosyn family.
Comfortis is available in a palatable beef-flavored chewable; but, it does not contain beef. Instead, it is flavored with pork, making it a better option for dogs with food sensitivities.
Comfortis will start to kill fleas in as little as 30 minutes. And it only takes 4 hours for it to eliminate the adult fleas.
However, it does not work against eggs or larvae, so continuous use is recommended to prevent reinfestation.
Recommendation
I would recommend Credelio for dogs who are not currently infested with fleas or those with food allergies.
Credelio is an economical and effective flea and tick medication that lasts longer than many other flea treatments.
FAQs
How Long Does It Take for Credelio to Work?
It takes 4 hours for Credelio to start working at killing fleas and ticks.
How Long Does Credelio Last?
Credelio works for up to 35 days and is not impacted by bathing.
Is Credelio Harmful to Dogs?
All flea and tick medications come with a certain amount of risk, and Credelio is no different.
Has Credelio Killed Dogs?
There have been no reports of Credelio killing dogs when used as directed.
Can You Get Credelio Without a Vet Prescription?
No, Credelio is a prescription-only flea and tick medication.
Resources