This post may contain affiliate links. It doesn't cost you anything extra and it keeps our lights on, our families fed, and our dogs spoiled. For all the juicy fine print, see our affiliate disclosure
The first of the month means applying flea medicine to our dogs. It is now fall and near the end of flea season for our region.
However, I continue to use flea medication year-round due to the rare but still possible chance of our dogs getting fleas even in the winter.
Flea season changes depending on where you live, and here in the US, we have six different regions.
The Northeast
The Southeast
The Midwest
The Southwest
The Northwest
Alaska and Hawaii
When I'm talking about flea season, I refer to the time of year when your dog's chances of getting fleas are at their highest.
However, regardless of where you live, it is essential to continue to treat your dog for fleas year-round.
And for snowbirds heading to warmer climates in the winter, it is essential for you to know when flea season is for your winter destination.
Related: How to Get Rid of Fleas on Your Dog
When Does Flea Season Start in Your Area?
Northeast
The weather in the northeast region varies tremendously, which means so does the flea season.
The northeast region includes:
Maine
Vermont
New Hampshire
New York
New Jersey
Pennsylvania
Delaware
Maryland
Massachusetts
Rhode Island
Connecticut.
Because the flea season depends on temperature and humidity, the peak of the season for each state may start anywhere between February and April and end between November and December.
Related: How Do Dogs Get Fleas?
Maine
Because winters in Maine can be both frigid and long, residents can expect a slightly shorter flea season than other states in the region.
Therefore the peak season for fleas in Maine is between April and November.
Pennsylvania
Flea season in Pennsylvania and states south of it can expect fleas to be active through December.
However, because Pennsylvania is on the border where north meets south, the cities in northern Pennsylvania can expect a slightly shorter season than their southern neighbors.
Related: Found a Flea on My Dog, Now What?
Southeast
The Southeastern area of the country is one of the most ideal and welcoming regions for fleas.
The states that are part of the southeastern region include:
Virginias
West Virginia
Georgia
Louisiana
Florida
Arkansas
Alabama
Kentucky
North Carolina
South Carolina
Tennessee
Puerto Rico
U.S. Virgin Islands.
Fleas love the heat and humidity offered by the majority of the states in this region. However, there are a few states that enjoy one to two months of lower flea activity.
Florida
It's not just snowbirds and Disney fans that love Florida; fleas love this sunny and humid state too.
Fleas find the central and northern parts of the state exceptionally comfortable due to its subtropical climate.
Is Your Dog Driving You Nuts During the Day?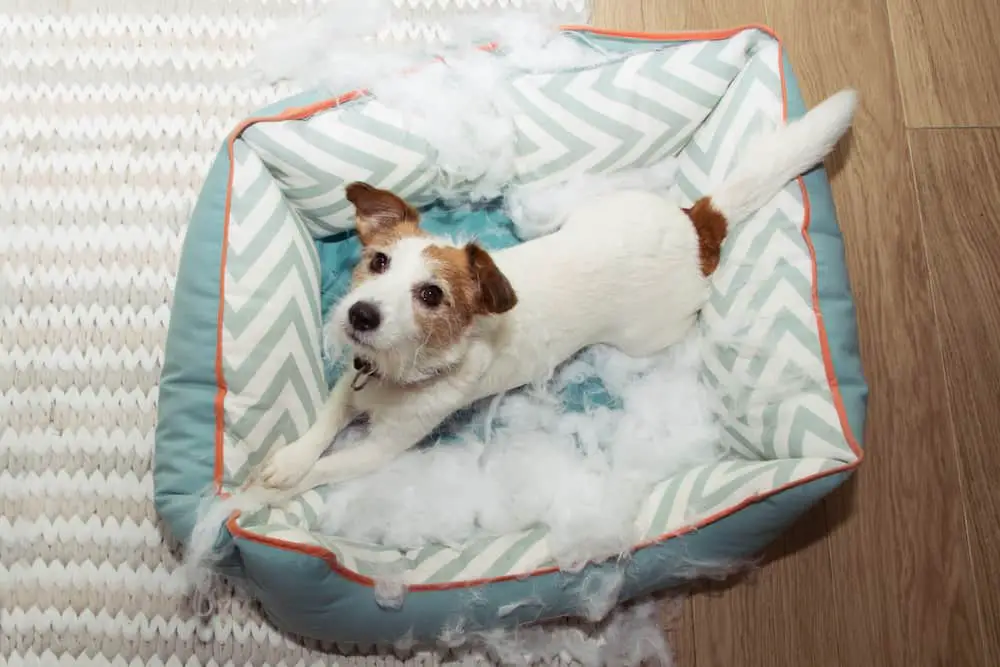 Get Our List of 11 Awesome Indoor Activities to Keep Your Dog Busy and Out of Trouble!
Tennessee
Tennessee is one of the states in the region that enjoys a couple of months with lower flea activity.
Here, flea season runs March through December but will at least have January and February off when the weather cools down below 60.
The warmer temperatures in January and February tend to be in the 40s and 50s.
Though Adult fleas will not die during this period, they will be less active.
And the flea larvae and eggs will just hibernate until warmer weather returns.
Midwest
The Midwest has the most diverse flea season because it starts at the Canadian border and extends as far south as Missouri.
The area has two larger regions and two smaller regions making up four unique seasons.
The first of the regions has a seven-month flea season that runs from April to November and includes:
Minnesota
Wisconsin
Nebraska
South Dakota
Iowa.
The other larger area has the longest flea season in the Midwest that runs from March to December and includes:
Nebraska
Missouri
Illinois
Indiana
Ohio
The shortest flea season in the Midwest runs from May to November and only impacts North Dakota.
And the final region includes Michigan with a flea season that runs from April to December.
North Dakota
North Dakota has the second shortest flea season in the US, With fleas being the most active between May and November.
The reason North Dakota has such a short flea season is that the state is geographically very flat.
Due to the lack of mountains and hills, the winds roll over the state easily, keeping it just a bit cooler than its neighbors.
Michigan
Although Michigan has similar weather conditions to nearby states such as WAlthough Michigan has similar weather conditions to nearby states such as Wisconsin and Minnesota, it is warmer in the winter.
The summer temperatures between Minnesota and Michigan are almost the same.
Still, the winter temperatures are warmer in Michigan by at least 10 degrees, making for a slightly longer flea season that extends into December instead of November.
Southwest
The southwest is another unique region that encompasses multiple flea seasons.
Because the area includes warmer dry states such as Arizona and cooler mountain regions such as Colorado, there is a significant variance in the different flea seasons.
The states included in the southwest are:
California
Colorado
Nevada
Arizona
New Mexico
Oklahoma
Texas
Utah
This area includes states with a never-ending flea season, such as:
Nevada
California
Arizona
Texas
Though not quite as long, with a flea season that extends from March to December, the next region covers:
The shortest flea season in the area, which starts in April and runs through November, is found in Colorado.
Texas
Texas is noted as one of the states with a year-round flea season; there are regions within the state that may have a few months off here and there, especially the areas of Texas with mountain ranges such as big bend.
Also, the western part of the state may not have as strong of a flea population due to its drier, hotter climate, but fleas can still be found year-round here.
However, the eastern portion of Texas is a flea's dream come true with its subtropical climate.
California
California is another state with varying zones where fleas may not be as active, such as the mountain regions and deserts found throughout the state.
However, most of the state has a milder climate with rainy winters and more desirable temperatures where fleas thrive.
Colorado
Unlike other states in the southwest region, Colorado has the shortest flea season.
And it's no wonder why with its snowy winters and beautiful mountain ranges.
However, Colorado does have exceptionally perfect springs and summers that fleas love.
Northwest
The northwest region of the country includes:
Oregon
Washington
Montana
Idaho
Wyoming
Although this region is small, it has multiple flea seasons due to the varying temperatures found in these states.
Washington and Oregon have milder temperatures and wetter climates which are ideal for fleas.
Whereas Idaho is a bit cooler than its western neighbors so has a shorter flea season extending from March to December.
Montana has wet springs, warm summers, and cold winters, so it has a slightly shorter flea season than Idaho, running from April to November.
And finally, Wyoming has by far the shortest please season in the region, running for only six months from May to November.
Washington
Washington enjoys a mild coastal climate which allows please to flourish year-round.
And, of course, we have all heard of their rainy season, which doesn't bother fleas at all.
However, fleas may not be so active in some areas of Washington, such as the mountain regions.
Idaho
Although Idaho is in the same region as its neighbor to the west, it does have colder, snowier winters, which gives pet owners a short break in January and February from fleas.
And if you live in the mountains, flea season maybe even a bit shorter than the rest of the state.
Alaska & Hawaii
Alaska and Hawaii are on opposite ends of the spectrum when it comes to flea season.
Due to Alaska's long cold winters, it has the shortest flea season in the country, running for only five months from May to October.
However, during the summer months, fleas take great advantage of the warmer weather like many other insects in the state.
Hawaii, on the other hand, has a tropical climate which allows for a year-round flea season. And temperatures in Hawaii usually stay within a flea's optimal range of 70-80 degrees Fahrenheit.
Temperatures Fleas Flourish In
Fleas can be found year-round but tend to thrive in temperatures between 70 to 85 degrees.
So in most regions of the country, flea season will be at its peak between late spring and summer. In addition to ideal temperature is fleas also prefer humid areas.
And hot, dry areas of the country will see less flea activity at the height of their summers since fleas will die if they cannot find a cool, damp place to hide.
Related: Where to Buy Flea Medication Online
Though winters are brutal on fleas, they're still able to live if they've found a host such as a rabbit or a squirrel.
And it is just adult fleas that are affected by the freezing temperatures.
Flea larvae and eggs will go dormant until the seasons change to more favorable conditions.
FAQs
When Do Fleas Come Out?
Fleas usually start to come out in the colder states when temperatures are consistently above 45 degrees Fahrenheit between March and April.
When Are Fleas the Worst?
Fleas are the worst between March and December.
When are Fleas Active?
Fleas are active when temperatures are between 45-95 degrees Fahrenheit.
When is Flea Season Over?
That all depends upon where you live because, in some states, flea season never ends.
When is Flea Season in Texas?
Flea season is year-round in Texas, and fleas are worse on the east side of Texas.
When is Flea Season in Florida?
Fleas season is year-round in Florida; in fact, Florida has one of the best climates for fleas to thrive.
When is Flea Season in California?
Flea season is year-round in California, though residents may get a small break in the mountainous areas during the colder months.
Resources
https://foxbaltimore.com/features/for-pets-sake/colder-months-are-not-the-time-to-skip-flea-and-tick-medication