This post may contain affiliate links. It doesn't cost you anything extra and it keeps our lights on, our families fed, and our dogs spoiled. For all the juicy fine print, see our affiliate disclosure
If you're a dog owner, you might have noticed powdered cellulose mentioned in the ingredient list of your dog's food.
Let's discuss what it is and whether or not it's a good addition.
What is Powdered Cellulose in Dog Food?
Powdered cellulose is basically a technical name used for dietary fiber. It comes from the ground as it's naturally found in many plant materials.
More often than not, this material is used as an alternative to vegetables and ingredients that are rich in fiber.
It's a non-allergic, odorless, and tasteless material that doesn't offer any considerable nutritional value to dogs.
Typically, it's used in dog foods because it's extremely cheap.
Some manufacturers claim that powdered cellulose is an excellent source of insoluble fiber.
It undoubtedly is, but the counterargument is that manufacturers should source insoluble fiber from vegetables and fruits instead of additives to use in dog food.
It's important to note that the Food and Drug Administration allows food manufacturers to use powdered cellulose in their products.
But it certainly doesn't mean that it's a great addition to your pet's food.
Related: What is Montmorillonite Clay in Dog Food?
Is Powdered Cellulose Good for Dogs?
When it comes to dog food, powdered cellulose is a controversial ingredient because of its lack of healthy nutrition and source.
The term powdered cellulose allows dog food manufacturers not to disclose the actual source of this insoluble fiber.
As mentioned earlier, it's a cheap ingredient[1] that also helps manufacturers to avoid using healthy and expensive ingredients in their products, like dried beet pulp and tomato pomace.
Is Your Dog Driving You Nuts During the Day?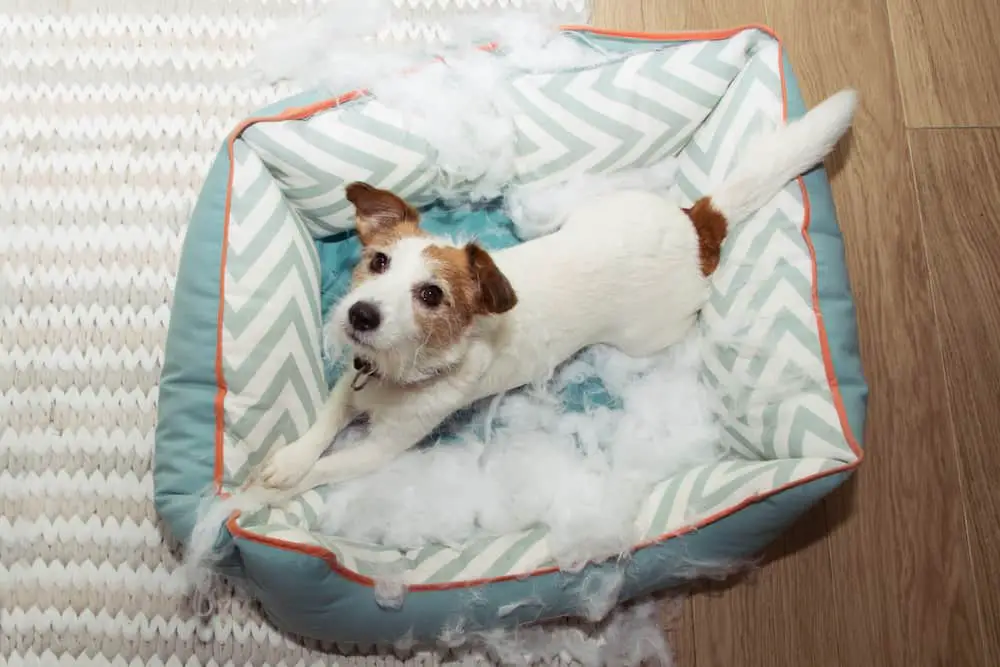 Get Our List of 11 Awesome Indoor Activities to Keep Your Dog Busy and Out of Trouble!
Is Powdered Cellulose Bad for Dogs?
Powdered cellulose isn't bad for dogs, but only if your pet consumes it in small amounts. It doesn't bring any severe side effects or direct harm.
However, if your dog eats this filler content in a large amount, it can lead to an upset digestive system. Resultantly your dog can suffer from vomiting and diarrhea.
Related: Hill's Prescription Diet W/D Dog Food Alternatives
Sources of Powdered Cellulose in Dog Food
Powdered cellulose is usually derived from natural wood pulp or cotton[2].
Dehydrated water is obtained by baking the wood down and removing the water.
Some manufacturers are more accountable and use powdered cellulose by sourcing it from a single ingredient.
However, the process of producing this substance is also questionable because it usually involves a high level of pesticides.
How Much Powdered Cellulose Do Dogs Need?
Dogs belong to the Canidae family, which means they are carnivores.
This means that they don't necessarily need dietary fiber as they get everything from fat and protein.
Therefore, feeding your pet powdered cellulose is not recommended because dogs don't need this much fiber in their diet.
Related: What is BHA in Dog Food and Treats?
Dog Foods with Powdered Cellulose
Here are a few dog foods that contain powdered cellulose.
Dr. Tim's Metabolite Grain-Free Dry Dog Food comes with a special fiber blend, moderate fat, and high protein.
It's designed for adult dogs of all breeds to help them lose weight.
In addition, it's a grain-free formula that makes it suitable even for dogs with sensitive stomachs or allergies.
Blue Buffalo designed this formula to promote lean muscle development in dogs.
It comes with a reduced-calorie count and offers essential vitamins, phosphorus, and calcium for stronger teeth and bones in adult dogs of all breeds.
This Royal Canin blend is designed for adult dogs of large breeds such as German Shepherds.
It comes with highly digestible protein to promote healthy digestion.
It also contains DHA and EPA fatty acids to improve skin and coat quality.
Dog Foods without Powdered Cellulose
The following are our favorite picks of dog foods that don't contain powdered cellulose.
Taste of the Wild is one of the most popular dog food brands, and this blend offers a very high protein content to promote lean muscles, healthy joints, and strong bones.
It also offers essential minerals and vitamins derived from superfoods and real fruits, and it's suitable for adult dogs of all breeds.
Hill's Science Diet Chicken Recipe is highly digestible and supports optimal nutrient absorption in adult dogs of all breeds.
It comes with natural ingredients, including omega-6 fatty acids, minerals, and vitamin E to support a lustrous coat and healthy skin.
The main source of protein in Purina Pro Plan is salmon, and it also contains oatmeal to support healthy digestion.
The blend also comes with sunflower oil and vitamin A to promote coat and skin health in puppies of large breeds.
Final Thoughts
Powdered cellulose is basically a technical term used for insoluble dietary fiber that moves through your dog's digestive tract without breaking down.
While it's not bad or toxic for dogs, it's not a good addition to dog foods either.
It doesn't offer any considerable nutritional value and also allows manufacturers to keep the true source of fiber a secret.
Hopefully this helped explain what powdered cellulose in dog food is and if it's right for you and your pup.
FAQs
Here are a few other common questions people ask.
Why is Powdered Cellulose Used in Dog Food?
In addition to essential fatty acids, minerals, vitamins, and protein, powdered cellulose isn't intended to offer any additional nutrients in dog food. Most manufacturers add it to their dog food only as filler content.
What Does Cellulose Do to Dogs?
Just like any dietary fiber, powdered cellulose is indigestible to dogs[3]. It doesn't offer any nutritional value to your canine friend, and it also doesn't have any harmful effects. It moves through your dog's digestive tract pretty much intact.
Is Cellulose Toxic for Dogs?
No, cellulose isn't toxic if your dogs eat it in small quantities. Commercial dog diets don't offer this filler material in high amounts. It means that dog foods containing cellulose aren't harmful to your dogs.
However, it's important to note that you should not offer powdered cellulose to your dog in large amounts because it can lead to vomiting and diarrhea.
Do Dogs Need Cellulose?
No, dogs don't need cellulose in their food because they are carnivores and get everything they need from fat and protein. Plus, many other ingredients in dog foods also contain dietary fiber.
Most manufacturers use cellulose in that dog food as an additive because it's cheap.
Resources
https://blog.homesalive.ca/dog-blog/bad-dog-food-ingredients-to-avoid#:~:text=There%20isn%27t%20really%20an%20alternative%20for%20cellulose%20in%20dog%20food%2C%20it%27s%20nothing%20more%20than%20a%20filler%2C