This post may contain affiliate links. It doesn't cost you anything extra and it keeps our lights on, our families fed, and our dogs spoiled. For all the juicy fine print, see our affiliate disclosure
It's that time of year again to switch from fall collars to Christmas collars.
Yes, I am that mom who has a variety of collars for different seasons and a couple of sports teams.
And yes, I am well aware that the dogs don't care if they are wearing cute collars or nothing at all.
But there are too many cute collars out there, and I just can't help myself!
After choosing their new collars, it was time to wash the ones they were wearing and put them away for the winter.
I usually throw my dog's collars in the washing machine in a delicates garment bag, then lay them flat to dry.
I've learned the hard way that the washing machine method only works for some collars. More delicate collars don't fare so well in the washing machine, and leather collars obviously need an alternative plan.
Thankfully, there are several different cleaning options available, anything from laundry detergent to baking soda.
Below I've covered a variety of cleaning products and methods to help keep your pup's collar clean and smelling good.
How Often Should You Wash Your Dog's Collar?
Dog collars should be washed regularly.
I always wash the dogs' collars when I change them out or when the dogs are getting bathed.
However, even if you wash the collars frequently sometimes, pups make bad decisions and decide to roll into something nasty, which requires a bit more work to get them clean.
What Can I Use to Wash My Dog's Collar?
The below options are for fabric or synthetic collars.
Cleaning options for leather and metal collars are listed further below.
Dog Shampoo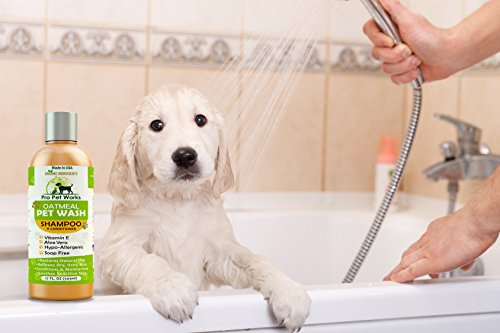 The benefit of using dog shampoo to wash your dog's collar is that it won't cause skin irritations[1].
Plus, if you happen to be bathing your dog at home, adding the collar to the tub is an easy and fast way to freshen it up.
How to Use
Either drop it in the tub or use about a ¼ Tbsp of shampoo in a bowl of warm water.
Baking Soda
Baking soda is known to help neutralize nasty smells.
It is used for deodorizing pet areas such as dog beds and carpet.
How to Use
Baking soda can be used in one of three ways when cleaning a fabric or synthetic dog collar.
Baking soda can be used the same as dog shampoo, with two teaspoons mixed with hot water.
If you are washing dog beds or blankets, you can place the collar in a delicates bag, then drop it in the washing machine with fragrance and dye-free laundry detergent. For a full load, you can add 1 cup of baking soda; this will help deodorize the whole load.
Mixing 2 tsp baking soda with 2-3 tsp apple cider vinegar in a bowl of warm water will also eliminate any bad smells and dirt[2].
Dish Soap
The dish soap should be mild, such as Dawn dish soap.
The one drawback of using dish soap is that some dogs with sensitive skin can react to the soap.
However, it might be good to have some on hand because you can use Dawn against fleas, too!
How to Use
Dish detergent can be used in the same fashion as dog shampoo.
Bleach
Bleach should never be used on your dog's collar.
Bleach carries a high risk of causing skin irritation, so it should always be avoided.
How to Use
Don't.
Laundry Detergent
Laundry detergent can be used if it's free from fragrances, bleach, and dyes; this will help prevent skin irritation.
How to Use
Laundry detergent can be used in the same fashion as the dog shampoo, or you can place the collar in a laundry bag and wash on a gentle cycle, then just air dry.

Apple Cider Vinegar
Apple cider vinegar (ACV) has been used to clean a variety of things, including dog collars.
ACV helps to remove dirt and eliminate bad smells.
However, ACV should not be used if your dog has sensitive skin.
How to Use
Mix Apple cider vinegar with warm water in a bowl.
When done washing the collar, it is essential to thoroughly rinse the collar, to avoid skin issues.
How to Clean Cloth & Nylon/Synthetic Dog Collars
Materials Needed
Cleaning solution – Laundry detergent, dish soap, apple cider vinegar, or baking soda
Deep bowl or bucket large enough to fully submerge the collar
Warm water
Soft bristle brush
Steps
In a bowl large and deep enough to submerge the collar, fill with water and cleaning solution.
Place the collar in the bowl, making sure the water and soap solution fully cover it. Allow the collar to soak for 10-15 minutes.
Rub the collar against itself or gently use a toothbrush to remove any additional debris or stains. Be careful to give special attention to any nooks or crevices, especially around the buckle area.
Thoroughly rinse the soap from the collar and let air dry. Do not put a wet collar back on your dog as it can lead to hot spots.
How to Clean Leather Dog Collars
You can use similar cleaning products for leather dog collars that you can use for synthetic collars.
Materials Needed
Cleaning Product – Gentle dish soap, apple cider vinegar, olive oil or leather conditioner
Small Bowl
Warm water
Soft cloth for cleaning
Soft cloth for drying
Soft cloth for olive oil or leather conditioner
Steps
Using your preferred cleaning product add a small amount to a bowl then fill with warm water.
Gently wipe down collar, do not saturate the collar.
After thoroughly cleaning the collar with cleaning solution, rinse the cloth out, and use plain water to rinse the cleaning product from the collar.
Fully dry the collar with a clean, dry cloth.
Using a clean cloth dab on a small amount of olive oil or conditioner to condition the collar.
How to Clean Metal Dog Collars
Materials Needed
Dog shampoo or gentle dish soap
Bowl large enough to submerge collar
Warm water
Cloth
Towel for drying
Steps
Add a small amount of soap or shampoo to the bowl.
Fill bowl with warm water, leaving enough room to add the collar.
Submerge collar in warm water for 10 – 15 minutes.
Remove the collar from water and use a cloth to wipe down and remove any dirt or debris.
Thoroughly rinse the collar with clean water.
Towel dry or allow to air dry.
Conclusion
Your dog can't help but become stinky from time to time, and their collars can definitely get a funky smell.
Imagine if you wore the same thing day after day and never washed it. Ick!
And as much as we all love those hugs and snuggles, nothing will end them faster than a bad smell.
Thankfully, cleaning your dog's collar is one of the easier chores that come with being a dog parent.
So, let's keep the snuggles and hugs coming from our fresh smelling dogs.
FAQs
Can You Wash Dog Collars in a Washing Machine?
Yes!
You can use a fragrance-free detergent and a laundry bag.
But do not put the collar in the dryer. Instead, allow it to air dry.
How Do You Get Skunk Smell Out of a Dog Collar?
Using gloves, take off your pup's stinky collar and submerge it in a solution of 1 quart 3% hydrogen peroxide, 1/4 cup baking soda, and 1 teaspoon pet-safe detergent[3].
Don't be surprised if you have to repeat the process a couple of times.
Is it Safe to Bleach Dog Collars?
It is best to stay away from bleach and other harsh chemicals.
Instead of bleach, try using a baking soda and apple vinegar solution.
References
Still Have Questions?
Ask a Vet!