Best Training Dog Collars and Harnesses: Winners
Have you recently searched for a good training collar or harness?
I have, and it blows my mind at how many options there are available.
My friend, Sarah, just got a new dog from a dog rescue group and wanted help selecting the best training collar for her new dog, Jack.
Jack starts his basic obedience training classes next week, and Sarah wanted to have everything she needed to be successful.
However, this is an excellent time to mention that, when it comes to training collars and harnesses, there isn't just one option that will work for all dogs, which is why there are numerous choices on the market.
And, like with all things, collars and harnesses each have their pros and cons.
This article is designed to aid you in choosing the best training collar or harness for your dog.
Best Collars and Harnesses to Use When Training a Dog
Best Overall Collar for Training – PetSafe Gentle Leader Head Halter
The Gentle Leader head halter was designed by a veterinarian who realized there was an easier way to walk and control a dog on a leash.
Also, the Gentle Leader applies minor pressure to calming points on the back of the head, which can aid excited dogs.
And the PetSafe head halter is safe to use; it will never choke or damage your dog's throat.
The Gentle Leader is the ideal training tool for dogs learning basic obedience and how to walk on a leash. It is also an excellent tool for dogs who lunge at the end of their leash.
Key Features
Padded nose loop
Available in several colors
It comes in five different sizes
Pros
Two adjustable points
Easy to fit and put on
Perfect for leash training
Works well for large dogs
Safe tool for leash pullers
Cons
It takes time to train your dog to get used to the head halter style
It does not work for dogs with flat noses, such as pugs
Best Overall Harness for Training – PetSafe Easy Walk Deluxe
The PetSafe Easy Walk Deluxe uses martingale loop technology, which helps apply pressure to train your dog to walk better on a leash.
The PesSafe harness features a different colored strap for your dog's underside, which helps to ensure you are putting the harness on correctly.
And because the leash attaches to the front, it helps you gain better control of your walk, making it an excellent choice for dogs who pull.
Is Your Dog Driving You Nuts During the Day?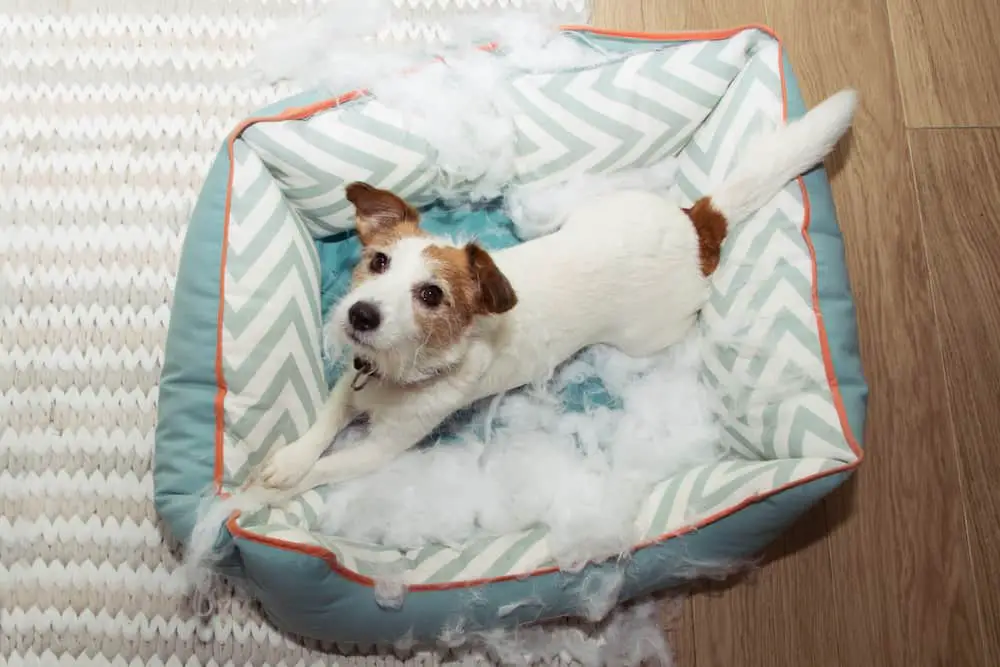 Get Our List of 11 Awesome Indoor Activities to Keep Your Dog Busy and Out of Trouble!
Key Features
Front clip
Available in multiple colors and sizes
Reflective stitching for better night visibility
Nylon material with sturdy plastic buckle
Pros
Padded interior to reduce chances of chaffing
Reduces leash pulling
Will not cause choking and does not apply pressure on the throat
Cons
Not available for extra small or giant size breeds
Not meant to be worn all-day
Best Multi-Purpose Body Harness – PetSafe 3 in 1 Body Harness
PetSafe 3 in 1 Body Harness is the perfect multi-use harness.
For people who run with their dogs, the top D-Ring will give your dog more freedom.
And the front ring will provide you with control for when you need your dog to walk by your side.
Additionally, to ensure a safe ride in the car, the PetSafe 3 in 1 harness has a car control strap that will keep your dog in their seat and not running around the vehicle.
The PetSafe is great for training active dogs and prevents you from needing to buy three different harnesses.
Key Features
Front and back ring to attach a leash
It comes with a seatbelt attachment
Reflective stitching for when you are out after dark
Five-point adjustment
Padded interior
Pros
All in one harness for walking and riding in the car
Ideal for runners with the top leash attachment
The front and top D-Ring give added control when needed
Available in multiple colors and sizes
Cons
Not to be worn 24/7
May cause chaffing since the neoprene padding does not cover 100% of the interior
Best Collar for Escape Artists – haapaw Martingale Collar and Leash
For dogs learning how to walk in the heel position, the haapaw Martingale collar can provide greater safety and control during training.
And both the Martingale loop and slide lock helps in keeping escape artists from getting out of their collar.
However, the haapaw Martingale collar is only available as a combo deal with their leash.
Key Features
It comes with a soft rope leash
The collar and leash has reflective stitching for added low-light visibility
It comes in three sizes
Available in multiple colors
Pros
Locks to prevent accidental release
The Martingale technology will reduce the chances of your dog backing out of their collar
Made with heavy-duty nylon
Provides good control for training
Cons
Not available for extra small dogs or extra large dogs
Only sold as a combo so you cannot purchase the collar separately
Best Harness for Escape Artists – Beirui Escape Proof No Pull Harness
The Beirui Escape Proof No Pull Harness is ideal for dogs learning to walk on a leash but can also be used for hiking and running when you prefer your dog out front.
The added padding and straps allow for greater control and comfort during training.
Plus, the harness is a good choice for dogs who can't wear a head halter training collar.
Key Features
Neoprene padding to prevent chaffing
Available in four sizes
Slide locks
Reflective stitching
Front and top rings
Pros
Prevents choking
Aids in training dogs to walk nicely on a leash
Two body straps
Cons
Not ideal dogs who wear their harness 24/7
Types of Collars and Harnesses
Below I have listed five types of collars and harnesses people use for training.
This list is not complete and does not include aversive training collar options.
Aversive training collars include things collars like prong and shock collars.
These collars are designed for strong corrections, and they should be used under the guidance of a certified dog trainer before attempting to use them on your own.
Flat Collar
Flat collars are your standard collar with either a buckle or clip closure.
These collars often are used to display your dog's identification tags and are generally safe to be kept on 24/7.
Flat collars are best for dogs who have basic obedience skills and are not escape artists.
No-Pull Harness
The primary difference between a no-pull harness and a standard harness is that the leash clips to the front, not the back.
Sometimes these are referred to as a front-hook harness.
Clipping your leash to the front of the harness instead of the back allows you more leverage and control of your dog.
No-pull harnesses are best for dogs that need assistance learning to walk on a leash without pulling.
Head Halter
Head halters were designed based on a horse halter, giving you control of their head; and where the head goes, the body must follow.
Additionally, head halters are an excellent choice for those with large breed dogs.
Head halters give you the best control of your dog and are an excellent tool for dogs who tend to pull or even lunge when out and about1.
Martingale Collar
Martingale collars look a lot like flat buckle collars but have an additional loop that, when pulled, tightens the collar2.
Although the collar tightens up when pressure is applied, it should not be mistaken for a choke chain. The martingale loop limits how tight you can pull the collar, protecting your dog from being choked.
However, the martingale rests on your dog's neck and could damage a dog's throat if excessive pressure is used.
Martingale collars are the best option for dogs who escape from their regular collars or harnesses. They work best for dogs who do not pull too hard when out on a walk.
Body Harness
Body harnesses are the perfect option for smaller dogs. They often have two rings, so you can choose to attach the leash to the top or front of the harness.
The body harness can help prevent your dog from harming their throat when pulling and can also aid in reducing the chances of your dog getting tangled in their leash.
Body harnesses are best used for dogs who have some basic understanding of how to walk on a leash since the back leash hook does not provide much-added control.
Conclusion
Sarah ended up buying the PetSafe Gentle Leader head halter for Jack since it wouldn't choke or hurt him as he learned how to walk on a leash.
When choosing the best training collar, harness, or head halter, remember these are tools and are not magical items that will fix your dog's behavior.

It is equally important that you know how to correctly use the different training tools to avoid accidentally harming your pup and make the most of your training time.
If you aren't sure where to find a good trainer, check with your dog's vet. Vets are an excellent resource when it comes to finding a good trainer.
Resources