This post may contain affiliate links. It doesn't cost you anything extra and it keeps our lights on, our families fed, and our dogs spoiled. For all the juicy fine print, see our affiliate disclosure
Bringing home a puppy is such an exciting time of life.
I remember bringing Maggie home on a Friday and being in complete awe of her for the rest of that first weekend.
It was magical to spend all our time together, but I was nervous to leave her on Monday morning.
What would she do all day?
I didn't want her to get lonely or get into something she shouldn't.
There are tons of options for you to try with your puppy while you're at work.
Check out some of the best ways to keep your puppy safe during those long work shifts.
Hire a Dog Walker
Puppies have tons of energy, even though they take naps every ten minutes when you first bring them home.
No puppy enjoys being cooped up all day, especially when you consider that they aren't house trained yet and have a very small bladder.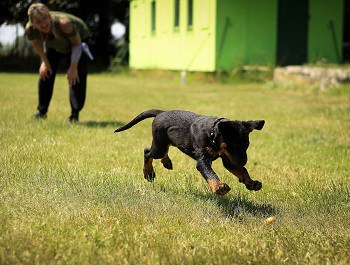 That's why it's a great idea to hire a dog walker.
Find a neighbor who's around during the day, a nearby kid who's responsible or hire a dog walker through the internet[1] and discuss your puppy's schedule.

Plan for the dog walker to stop by at least three times during the day, if not more frequently for young puppies.
Eight week old puppies need to go out every two hours at a minimum, so guess how frequently they should be walked based on how often you take them out while you're home.

Is Your Dog Driving You Nuts During the Day?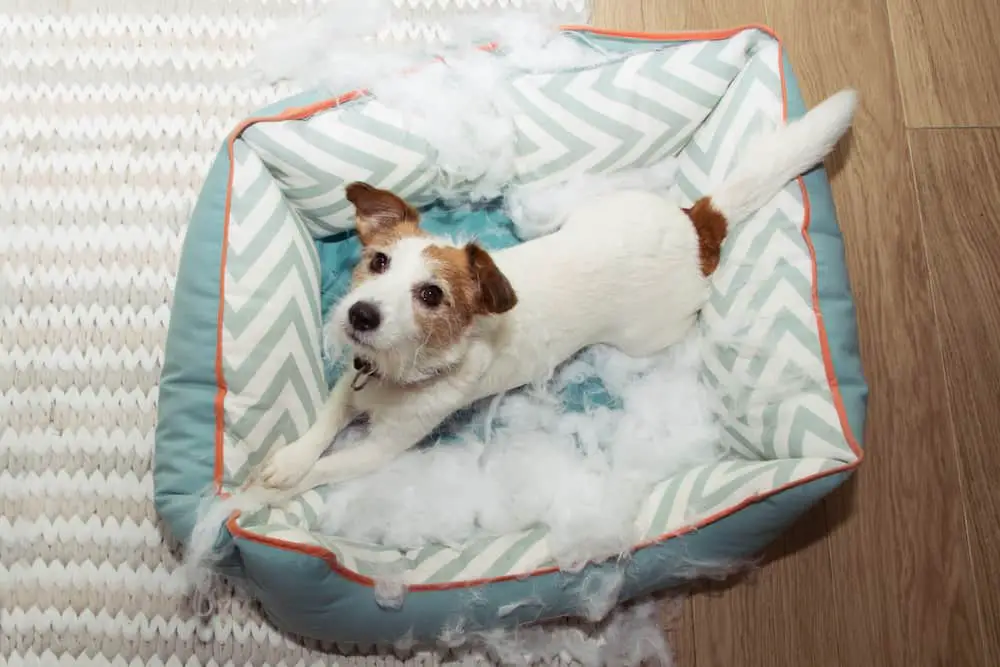 Get Our List of 11 Awesome Indoor Activities to Keep Your Dog Busy and Out of Trouble!
The dog walker may possibly need to feed your pup at lunchtime to get their multiple meals in, if your puppy still eats three times per day[2] (if they aren't eating, check out these tips).
Make sure to mention all this to your dog walker, as some people may not want the extra responsibility of feeding your puppy and taking them out for a second bathroom trip.
Crate Train Your Pup
Many dog owners choose to crate train their pups, which is a win for everyone involved.
Crates prevent puppies from exploring around the house while you're away.
Even if you've spent time puppy proofing every part of your home that you could think of, they'll still manage to chew on something that could end up hurting them.
Dogs also often enjoy spending time in their crate, though they may whine at first.
Once they get through training, their crate becomes their den. Wolves depend on their den as their ultimate safe spot, where they can eat, sleep, and raise puppies in peace.
The instinct for a den is still in modern dogs, which is why they end up loving their crates.
Take some time to review how to crate train a puppy so you do it correctly and encourage your pup that the crate is a good place to be.

Another way to make your puppy comfortable in their crate is to give them a shirt you've worn to snuggle with.
Your scent will comfort them[3], much like a blanket or toy they come home with that smells like their mom.
Toss in the shirt you wore the previous day before you leave for work, so your puppy is surrounded by your comforting scent.
Set Up a Dog Camera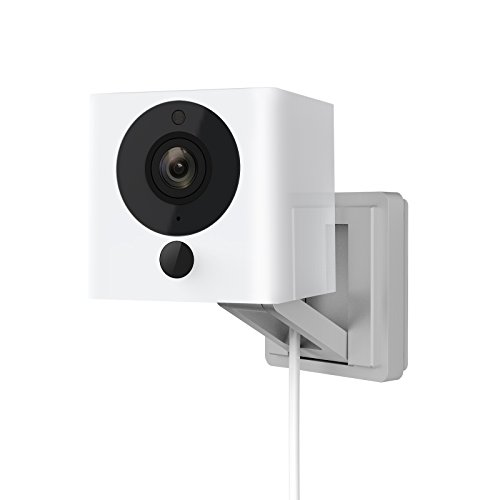 Maggie came home from a breeder who was big on training their pups.
Her litter was raised in their home alongside her parents and learned to go to the bathroom on potty pads. She watched the older dogs and learned how to fetch and only chew on dog toys by the time she was eight weeks old.
She behaved perfectly after I brought her home, so I felt comfortable setting up baby gates and a dog camera for her while I was at work.
Once I laid a potty pad in the play pen for her comfort, I positioned a dog camera (I really liked this one) on my dresser that would watch over her all day long.
This method was great because she roamed around inside her play area freely, going in and out of her open crate as she pleased.
I could also check in on her through the live camera feed whenever I missed her or worried about her.
In order to keep her entertained, I always dropped her favorite toys into the play area, as well as some of my freshly worn clothes.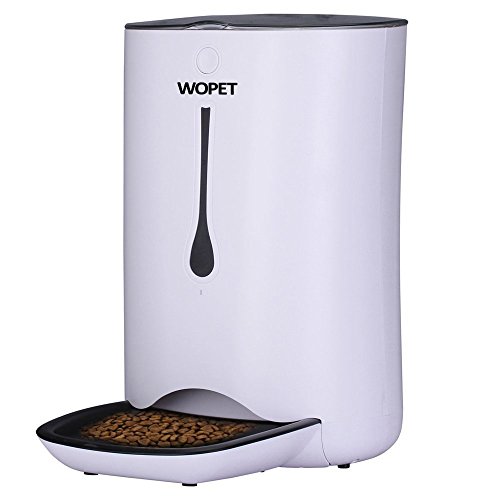 She also had an automatic feeder in there that would drop her food into her bowl at lunch and a water bowl right beside that.
I'd recommend this method for puppies who are previously trained, well behaved, and young enough that they can't reach over the baby gates.
It was a fool-proof setup for Maggie until she got big enough to put her paws over the gate and monkey her way out.
Product Recommendations
Pay for Doggy Daycare
Depending on what your budget looks like and how old your puppy is, you may be able to find a doggy daycare.
Puppies who have received all their shots and are cleared by the vet to be around other dogs will love daycare. They get to socialize, make new friends, and go out to the bathroom whenever they need to.

The only downside to traditional puppy daycares is that they can cost a lot of money.
Look up daycares in your area to see what their daily rate is and if they have a special discount if you pay for each month in full.

If you don't have that kind of budget, ask one of your stay-at-home friends to dog sit for you during your puppy's first few months.
When your puppy's old enough to hold their bladder until you can let them out on your lunch break, they'll benefit from the constant supervision and care of a friend.

Wherever your puppy goes for your work hours, send them with at least one or two of their favorite toys and a bit of extra food
Young pups need a snack around lunchtime and they'll feel more comfortable in a new place with their favorite toy by their side.
Conclusion
You can adopt a puppy and work away from home without either canceling the other out.
With a little planning, your puppy will enjoy wherever you keep them while you're at work.
Leave them with a daycare, friends, or in their crate.
As long as you put their happiness first, you'll raise a thriving dog.
Resources