This post may contain affiliate links. It doesn't cost you anything extra and it keeps our lights on, our families fed, and our dogs spoiled. For all the juicy fine print, see our affiliate disclosure
If you're moving with a pet, you know that it's so notoriously difficult to find a condo that allows your furry best friend to live with you.
While the exact reason landlords are so strict can vary from person to person, a common reason is the liability that accepting pets will bring since pets, especially dogs, can cause a lot of property damage that isn't covered by the security deposit.
Still, that's not going to stop us to keep searching for a condo that will allow our beloved dogs to stay with us.
So we've gathered 7 tips for fellow dog owners to consider when buying a condo.
1. Know the Difference between Pets Allowed and Pet-Friendly
Yes, wouldn't you know it, these two are not the same thing.
When a condo says that pets are allowed, it really means they're tolerated, but the building wasn't designed with them in mind[1].
On the other hand, a pet-friendly condominium like Fifty-Seven Brock Condos is pet-friendly because of the additional amenities for pets you can find, such as the pet spa.
Not everyone is as lucky, though.
So keep your eyes peeled! It's always worth it to find a pet-friendly place.
2. Sell Your Pet to Your Landlord
We don't mean that you should literally sell your dog, but be prepared to negotiate with this in mind.
Is Your Dog Driving You Nuts During the Day?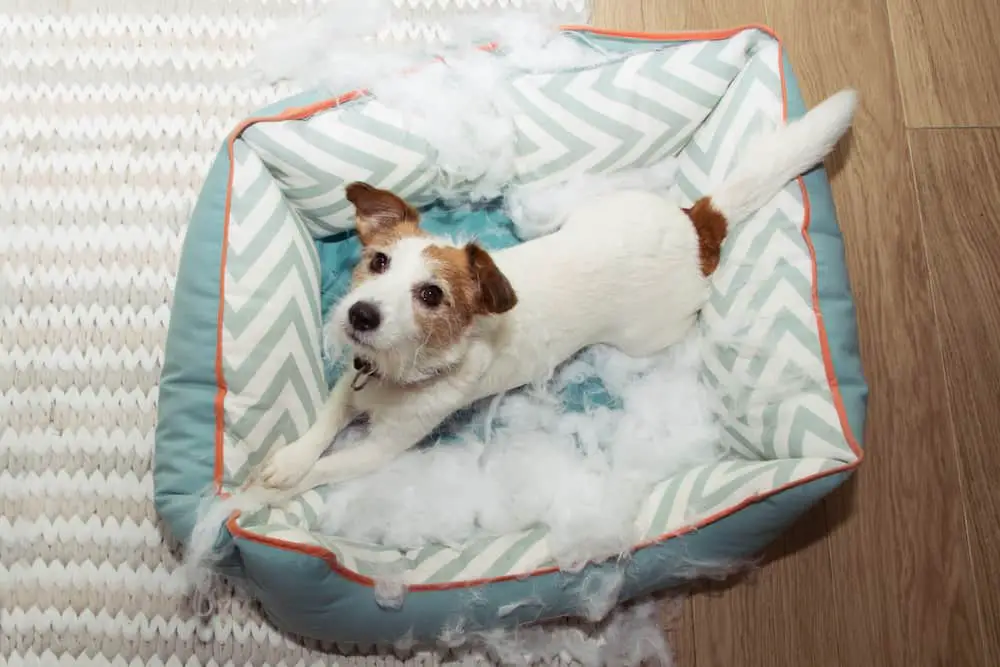 Get Our List of 11 Awesome Indoor Activities to Keep Your Dog Busy and Out of Trouble!
Make sure to highlight good pet traits your dog has, and maybe even showing a picture or a video of your pet being well-behaved will net you some brownie points and hopefully they see your dog's charms the same way you do.
3. Check for Nearby Pet-Related Establishments
Not only do you want your condominium building to be friendly, but the area surrounding it as well.
This means checking out the nearby places to see whether there are any veterinarians, groomers, pet supply stores that's conveniently located.
Having a nearby park is also a big boon.
Having these nearby ensures that not only will your dog be happy, but you can feel safe that all your pet's needs will be met without the fuss.
4. Check for Soundproofing
Staying in a condominium with a dog can be very annoying for your neighbors. Dogs aren't exactly quiet, unlike cats.
So consider how soundproof the walls are and be considerate towards your next-door neighbors.
It would help if you explained to them that you're a dog owner so that they understand that it will be noisy at times.
Another tip would be to make your dog be friends with them so they won't be as annoyed in case hiccups happen and they're barking in the middle of the night.
Lastly, if you find that the walls aren't soundproof enough, consider adding some foam soundproofing tiles that you can buy for cheap just to help with the noise problem[2].
5. Analyze Your Condo Room's Layout
Will there be stairs?
Check how high they go as older pets might not be able to manage that.
Is the place carpeted?
That might be a problem if there are inevitable pet accidents that happen.
Is there enough room for your pet to play?
Don't forget to consider this when looking for a home. Your dog may need a lot more space to roam around and play fetch than you initially thought.
6. Consider Your Dog's Breed
Smaller dogs generally have a higher chance of being allowed in a condo unit since they take up less space and are less prone to accidentally damaging the property.
Small breeds like french bulldogs, shih tzus, dachshunds, and pugs all play well and are well-behaved with humans in close quarters.
If you have bigger dogs, like German Shepherds or Golden Retrievers, then consider looking for a bigger place or maybe just buying a house instead of a condominium.
There are some places that only accept dogs of a specific breed, so be sure to double-check if your pet fits the bill[3].
7. Get Any Agreements in Writing
Finally, make sure any agreements about your pet are detailed in black and white.
This avoids any miscommunication and is legally binding so there are no surprises on either end.
Any details on what's allowed and what isn't for your pet should also be detailed there along with any consequences. Trust us, the more detailed, the better.
If you want to see more pet-friendly condominiums in Ontario, you can see this list and check some of the properties out yourself.
In the meantime, we hope that these 7 tips will help you find a condo for you and your dog with less stress and more time to play and hang out together in your new home.
Resources