This post may contain affiliate links. It doesn't cost you anything extra and it keeps our lights on, our families fed, and our dogs spoiled. For all the juicy fine print, see our affiliate disclosure
Winter is Coming
Well, that escalated quickly.
Just a couple days ago it was bright and sunny, albeit slightly on the cool side, and I was raking the leaves into a pile for the four-legged kids to play in.
Now I'm standing here with a cup of coffee warming my hands, staring out at about 3 inches of snow on the ground while listening to a weatherman drone on about an overnight low expected to be around 24°.
With the change in weather comes the most-asked – and often delivered in a panicked way – question this time of the year, "How do I keep my dog house warm?"
Okay, before we get started, let me set out a few ground rules (yes – I'm setting ground rules).
We are not starting a debate on whether or not dogs should stay inside or outside during the winter – or for how long; sufficed to say if you're not 100% sure your dog has the coat to maintain then in a cold environment, then keep them inside.
We are not discussing how canines generate their body heat – or how they disperse it.
And we're certainly not going to discuss doggie sweaters and jackets.
We are simply discussing the how to keep a dog house warm outside in winter by insulating (or improving the insulation of) an existing dog shelter or choose a new dog house that is in an unconditioned space – specifically outside.
If ya'll can agree to the ground rules, then lets jump in …
Related: Can Dogs Get Fleas in the Winter?
(Dog) Home Improvement
At the risk of stating the obvious, the first order of business is to determine if the existing structure – whatever it may be – is adequate to provide the required protection. Basically, how good is it?
Keep in mind that protection is completely dependent on your location, and the expected temperatures, so a dog house in Florida or Texas will have different requirements than one in, say, Colorado.
Because we're pushing into the cold months, we will concentrate on protection from the cold – and not with sweaters.
A few basics for your pooch palace to take into consideration:
The house should be large enough to allow your dog – or dogs – to move around inside. The height should allow them to keep their heads up and not hunch over. The height should allow them access to their bed without bumping their head. They should be able to stretch out without cramping. The more dogs, the more room is required.
Without exception, the roof should be waterproof and extend over the opening to keep any rain from going into the house. Also, make sure the structure is set in a manner that the opening is away from the prevailing direction of incoming rain.
The opening should be large enough for your dog to comfortably enter and exit, without being excessive – or solid.
Without question, there should be some type of bed for your dog. Make sure it's on a platform of some sort, raised up about 6″ from the floor of the house.
The walls, roof, and floor should be completely insulated.
The house needs to be windproof, period. Insulation and waterproofing are important, but wind chill can be a killer – literally.
If you find your dog house meets most of the requirements – then let's see how we can improve it!
A homebuilt doghouse can easily be modified, and alterations should be straightforward enough to tackle in an afternoon with some help from your favorite DIY store.
Leaky roof? Start by removing all the old shingles and sub-roofing. Add a layer of insulation, lay down some water-resistant membrane, and then re-shingle. If the height isn't quite what it needs to be, now is the perfect time to add height – before finishing off the roof.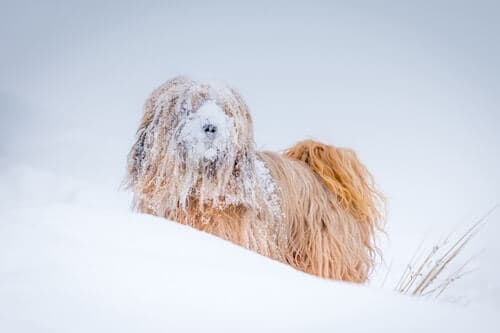 If the walls or floors have no insulation – or if the insulation is not what it should be – then you have the option to add the insulation and another layer on the outside of the structure, or the same on the inside.
Is Your Dog Driving You Nuts During the Day?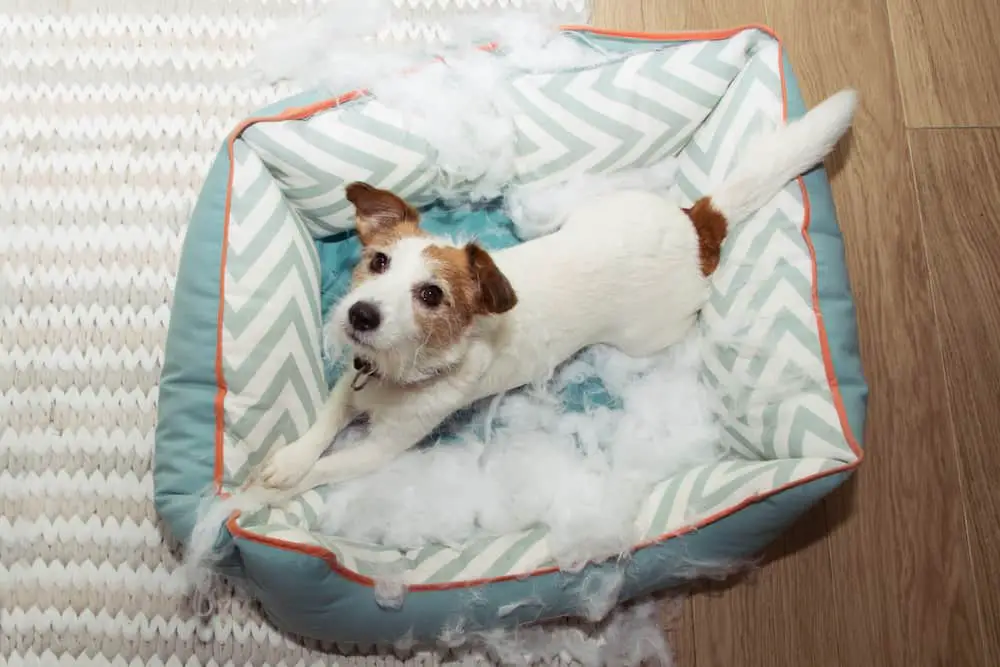 Get Our List of 11 Awesome Indoor Activities to Keep Your Dog Busy and Out of Trouble!
Insulation materials can be standard fiberglass, filler, insulation board, or even bubble-wrap. In a pinch, even stuffing old blankets or towels between the layers will be better than nothing.
If your dog is a chewer, make sure that he can't get to the insulation.
For some additional protection at the entryway, try hanging a light section of screening or plastic sheeting up to cover the opening; this will allow easy access for your pups and keep some of the outside elements where they belong – outside.
If there isn't one, make a simple platform for a bed – and make sure the bed is able to withstand the elements. Some 2×4 legs and a plywood top are perfect, the key is to get your pup up off the ground.
If for some reason there's no room for a platform – or you're not able to construct one – consider purchasing a raised dog bed frame, or even a pile of straw. The key is to get your kid up off the floor.
Let There Be Heat
The danger with dog houses comes in with the northern half of the continent and snow – and the owner that gets the bright idea to add heat to the new quarters.
Now don't get me wrong – I'm not against heat at all. I like toasty toes on a snowy night.
Personally, I leave the house open to the yard for the pups so they can go in and out of the garage and the house  as they please, with a couple of those nifty "as seen on tv" screens up over the doorway to keep the cool weather out – you'd be amazed how much cold block they provide. But I digress …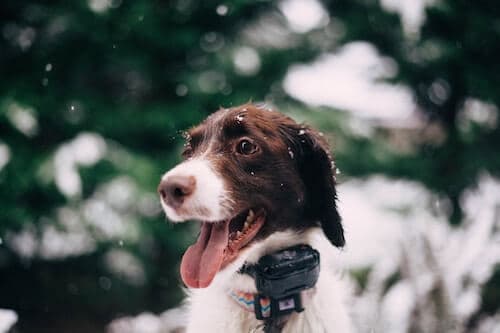 Heat's not a bad thing. Heat's good – especially if it's snowing like it was last night.
But where there's heat, there's usually electricity. And that's where the trouble starts.
If you're thinking about grabbing the space heater that usually camps out under your desk keeping your toes warm, you need to set it back down and back away – now.
Heating a space for your canine isn't like heating a small area in a house, for humans.
For starters, the smaller the area, the quicker the area heats up – then proceeds to quickly overheat. And that's when we start throwing around words like "fire hazard" and "flammable".
And don't forget, the area also contains your dog so it's a lot smaller once they're in there – and the last thing you need is for that wagging tail to knock a heater over. Or burn their tail.
So where does that leave us? Well – like anything in life, it's all about the right product for the application.
House Warming
You've got a few options to keep your dog warm and toasty this winter. First, you need to decide if you're going to do it yourself or just buy something premade.
DIY
If you're in the do-it-yourself kind (or know someone handy around the toolbox) then building a doghouse should be right up your alley.
It's really not much different from a treehouse or kids playhouse, and there are tons of plans on the internet.
And you can paint it to match your house.
But if, like the rest of us, you're less of a builder and more of a buyer, then a little research and shopping is in your foreseeable future.
Insulated Dog Houses
When shopping for a new dog house, the most important thing to keep in mind is that you're shopping for Fido – and not for a lawn accessory.
Try not to fall for the lure of "it's so cute" or "it matches the garage". The overall look of the structure is really on the bottom of the list of requirements.
Make sure the overall interior is large enough for your dog to move around.

This one comes with a floor heater

Ensure that it is fully insulated. If it doesn't state fully insulated – then it's not (if not, here's how to insulate a dog house).
You will need to set the house on blocks to get it up off the ground, so the base should be sturdy enough to handle it.
Windows look nice, but are not for all climates so try not to fall for them. Windows, at best, allow for air leaks in colder climates. At worst – they let in the rain as well.
Go for rain and wind proof. Not resistant – remember that resistant can resist to some degree, but that's it. A wind proof and rainproof structure will block the wind and rain completely.
Something should cover the opening – if there's not an easy access then make sure you can hang a screen or vertical plastic strips to protect the opening and allow easy in and out. Avoid solid or doggie-doors; snowfall can block these and trap your pet inside or outside.
Let's be honest – porches are nice. You like 'em, I like 'em, and we know the dogs like to lounge on 'em. So, feel free to splurge on a house with a porch – just make sure it's a covered porch.
Finding an appropriate insulated dog house basically comes down to one test; if you and a sleeping bag can handle it overnight and be relatively comfortable (well – except for the whole size thing…) then it's going to be warm enough for your four-legged kid.
Dog House Heaters
That's right, there are heaters specifically designed for heating dog houses.
You might also hear them called "dog house furnaces". As my mother would say, "six of one, half a dozen of another".
At around 100 bucks, they aren't cheap but these, obviously, are the best option to keep your dog house warm in the winter since they are made to do just that.
There is a bit of installation so get ready to pull out your toolbox or call your neighbor.
Some benefits of using a dog house heater are;
There is generally some protection or guard to keep your pup from getting his nose into the heating element
Since they are designed to heat small areas, you won't risk overheating the space
The cords are wrapped, protected, and usually "chew proof"
They are compact and easy to install
Heated Kennel Pads
Heated kennel pads are probably the most popular heating option for tempering the inside of a dog house.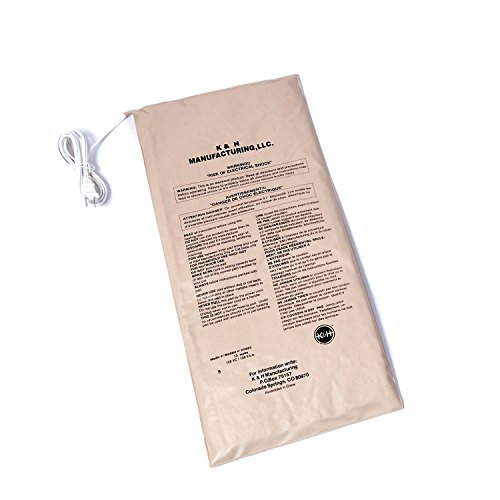 These are placed directly under the bedding, but more often are tucked into the space between the floor and the bed (cuz you raised it a few inches off the floor, right?) to warm the overall space while avoiding overheating your pup.
There are numerous benefits to these mats;
The temperature is moderate, which will eliminate overheating of the space – and your pet
While not completely waterproof, higher quality mats are weatherproof and will withstand light moisture.
Most cords are PVC and steel-wrapped to eliminate chewing tendencies.
They are about 1/5 the price of a dog house heater
There's even one that's made specifically to fit inside igloo shaped dog houses! (It's this one)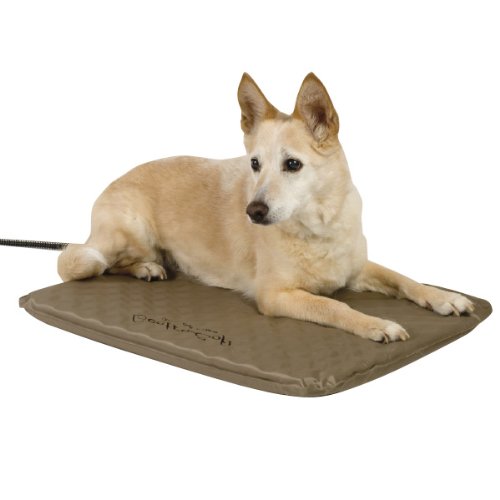 Heated Dog Beds
Try not to confuse the heated kennel pads with heated dog beds; they might sound alike but while the kennel pads are made for, well, kennels – the heated dog beds are strictly for indoor use only.
These would be good if your dog's crate or current bed is currently in a drafty room or one with tile floors. If it's too cold for you to walk on without socks, Rover probably won't enjoy it either.
Think of them as a fluffy electric blanket.
Again, heated dog beds are for keeping your dog warm indoors.
Heater Boxes
Heater boxes are popular because they are less expensive than a high-quality heated mat, and maintain a lower heating temperature.
The drawback of heater boxes is that there is a smaller, concentrated source of heat in the form of a bulb – which can be broken and scatter glass in the dog house.
Personally, these seem like a bit of a death trap so I wouldn't recommend them but they're an option so I had to include them.
Professional HVAC System
If you've got a few hundred bucks burning a hole in your pocket, call up your HVAC guy and consider a small package unit that's designed to heat – and even cool – very small spaces, like sheds and dog houses.
They're not for the very small houses, so if you're considering one – or if you have multiple dogs sharing the structure – you might want to look into it. Besides – it will add value to your house!
Heated Dog Bowls
This may seem like a luxury item to most. I know when I saw it, I thought, "really? This is getting a bit ridiculous."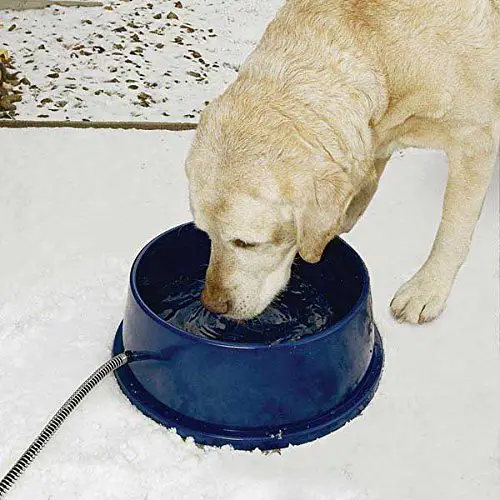 But then I thought about people in much colder climates whose dog's water bowl may actually freeze.
Which leaves Fido licking an ice cube when he gets thirsty.
I guess you could use it as a food bowl too if your dog's chow gets rock hard in the winter. Not sure how common of an issue that is.
So for those of you facing that problem, or if you just think it's cruel to make a dog drink ice cold water when he's already cold, there is a solution.
And don't worry, these babies are temperature controlled so you won't have to worry about scalding your dog's tongue on boiling water.
Do It Yourself – Outside The Box
If you've jumped into the whole DIY scene with both feet and no snorkel, or simply refuse to spend a weekend shopping, there are options that don't include a massive building project or breaking the budget;
If you're pinched for time – or pennies – consider wrapping the existing doghouse in a good tarp. You can pick one up for only a few dollars, but they can make a huge difference by keeping the rain and wind at bay. If you cross wrap the front flap, you can fashion a sort of 'door' for extra protection – just make sure your pooch can easily go in and out.
Save all your dollars by keeping Fido inside during the winter. Allow them to go in and out, but make them primarily inside dogs during severe weather. Problem solved for free!
Ready for some real fun? Grab a sheet of plywood, two sheetmetal "C" collars, and a dryer vent kit from your favorite DIY warehouse. Cut the plywood to fit into one of your windows, cut a hole in the center, and affix one of the "C" collars. Cut the other collar into the side of the dog house, and run the flex from the window to the shelter. Make sure that you have the backflow flap going the right direction and presto! Free heat for the kennel. Of course, this only works if the dog house is close to your house and you don't mind covering up a window…
Hot Dogs
Whether you're looking to make improvements to your current dog house, or upgrade to a new one, it's important to remember that our canine kids aren't wild wolves; they are domesticated companion animals that need to be sheltered from extreme weather.
Try to pay attention to them – they will let you know if they're too cold.