Best Truck Bed Dog Crates: Winners
With this guide, we hope to make one of the biggest purchases of your life a little easier.
We've compiled a list of six dog crates that are best suited to fit in the back of your truck bed.
These are great for dogs that need more space and can't be trusted not to jump out.
They also do a great job at containing messes and protecting your truck from scratches and dents you might get from a free-roaming pup.
Truck Bed Dog Crates – Pickup Pups Go Go Go!
Looking for ways to make traveling with your canine companion safer?
Then look no further than this page because we've got you covered!
Most dog owners are aware that traveling in any vehicle with a dog is never recommended.
However, you can always follow the safety measures if you want to do so!
As long as your dog travels safely (and in style), the risk of injury is hugely minimized.
Your dog's safety is paramount, even more so when traveling in the back of a pickup truck.
Fortunately, there are some amazing dog crates out there that have been constructed using the most durable of materials and with the safety of your four-legged friend at the forefront.
Below you will find our best picks for truck bed dog crates that will keep your dog safe when on the road.
Overall Best Truck Dog Crate – MIM Variocage Single Dog Travel Crate
The MIM Variocage Single Dog Travel Crate is possibly one of the most impressive dog crates on the market as it is one of the only crates to have been crash-tested1.
The manufacturer states:
"Variocage is the only dog cage in the world crash tested and certified for front, rear, and rollover impacts that protects BOTH human and dogs alike in the car."
This highly competitive design is constructed using industrial-grade stainless steel and is finished with a powder-coated steel frame.
The double door design is ideal for when your dog is entering and exiting the crate, especially if they are a large breed.
The high-quality crate even has an escape hatch should the cage be difficult to open in the event of an accident.
Is Your Dog Driving You Nuts During the Day?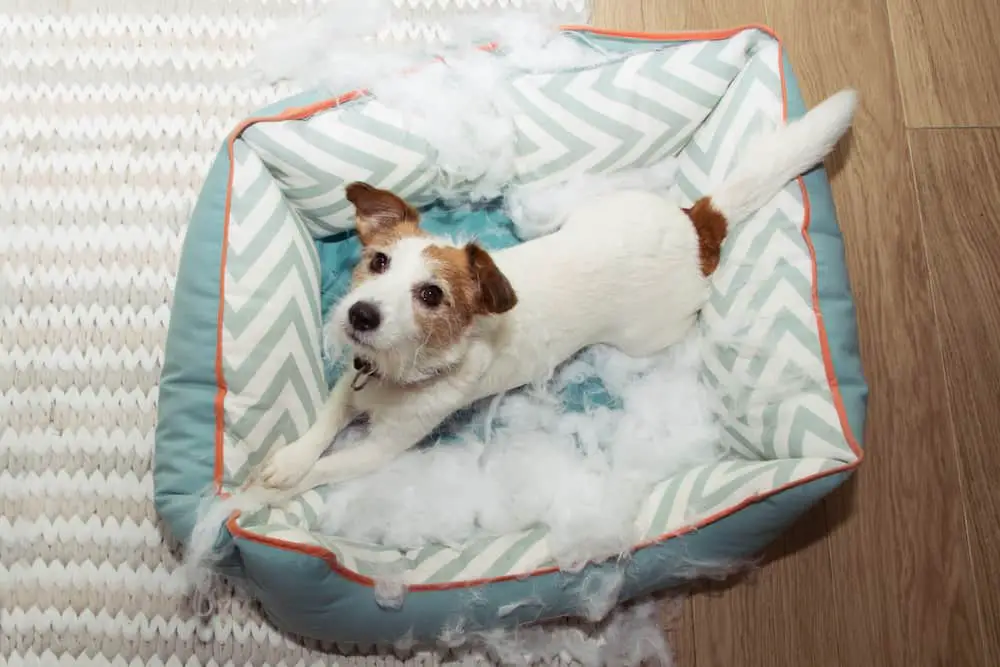 Get Our List of 11 Awesome Indoor Activities to Keep Your Dog Busy and Out of Trouble!
Pros
It's crash-tested. The dog inside this crate is going to feel safe and most likely stay safe
Available in fourteen different sizes, it accommodates every breed of dog according to the official Variocage website
The door locking system is unparalleled with gas hydraulic motion springs as well as a key lock.
This dog crate is more like a fortress
Cons
It is difficult to find any disadvantages to this super-safe dog crate. The online reviews are mostly positive, and the structure is of high quality
The pricing is at the high end but can you really put a price on the safety of your furry bestie?
Budget Choice – Amazon Basics Double Door Folding Dog Crate
This simple and affordable crate is a popular choice for pup parents. This wire product comes with a water-resistant, removable plastic pan for easy cleaning with plenty of ventilation.
Assembly requires no tools and is lightweight and easy to construct.
The pet kennel measures 36″ length x 24″ width x 26.5″ height and can hold a weight of up to 70lbs.
Pros
This is one of the more affordable crates on the market
The fold-flat design is ideal for easy storage, and the removable pan makes it easy to clean
Cons
It will not provide much safety in the event of an accident, and this is mirrored by the price
Upgrade Pick – G1 Gunner Dog Kennel
This 5-star crash-tested dog crate uses a double-wall rotomolded construction which means your dog is doubly protected2.
Rotomolded constructions are resistant to certain chemicals and environmental elements.
To put it simply, gunner kennels are literally bomb-proof!
This heavy-duty dog crate is one of the best dog kennels out there, voted this way simply due to its crash-testing history.
Pros
This company invests in the economy by working with 20 small businesses across the USA to create their kennels
Built-in tie-down pins ensure proper anchorage to the vehicle, which has been tested to stay put even on impact
Escape-proof, reversible door and locking system – Houdini himself would struggle his way out of this!
Cons
The Gunner kennel dog box is not totally unchewable, so it is best to keep an eye on your dog if it has a habit of eating anything and everything
Again, this heavy-duty crate is expensive and may not be needed if you are only traveling short distances on rare occasions
Best Truck Crate for Hunting Dogs – Primos Kennel Up Dog Kennel
The Primos Hunting Kennel is specifically designed for hunting dogs. Similar to the G1 Gunner kennels, this crate is ideal for truck beds, as the adjustable vents and built-in drains are fit for any type of weather.
Made for the hunting dog, the rotomolded construction provides dependable security and will keep your dog comfortable for the duration of the ride.
This is a good crate for medium to large dogs, complete with a handy reversible front door and aluminum tie-downs.
Pros
The sturdy structure renders this truck kennel a safe traveling vessel
At 37lbs in weight, it is lightweight and easy to lift for most individuals, thanks to the heavy-duty handles
Cons
Reviews suggest the pricing of this dog cage does not mirror the quality
The material used to manufacture this item is not as high quality as other cages on the market
Best Insulated Truck Dog Crate – Owens Dog Box 55006
This high-quality diamond tread aluminum constructed dog box boasts a double door design as well as an integrated storage compartment.
An ideal dog box built for holding up to two dogs, it offers a layer of insulation as well as plenty of ventilation and airflow.
Rest assured, the lockable slam latch door provides optimal security for your little friend while they enjoy the ride.
Pros
This is a great dog box and is worth every penny when it comes to the safety of your dog
While it is probably the most expensive dog box on the market, it is extremely secure and ideal for traveling long distances
Cons
The only downside is that this option is available in just one size: 48″ length x 45″ height x 26″ width. So before making a purchase, don't forget to measure your pup!
Best Truck Dog Crate for Hot Weather – Bushwhacker K9 Canopy Dog Crate
The Bushwhacker K9 Canopy uses a 600 denier polyester canopy and tear-resistant mesh to protect your dog from harmful UV rays and harsh rains.
This versatile product is perfect for a large dog and can be used for camping vacations or trips to the beach.
The reflective, breathable fabric absorbs sunlight so your dog can keep cool during the ride. The half-inch pad comprises closed-cell foam so that any dirt, spillages, or accidents can be washed away with the spray of a hose.
Larger breeds love this cool, open space as there is plenty of room to get comfortable during the journey.
Installation is quick and simple with zero requirements for tools and is secured to the truck bed using straps and gutter hooks.
Pros
The item is lightweight, portable, and ideal for a variety of different activities
The easy installation and sturdiness of this crate are praised by buyers
It will remain securely attached to the back of the truck even during high speeds
Cons
The Bushwhacker is not a safe option if you are looking to use it for long, frequent road trips. It will not offer a great deal of protection in the case of a serious accident
There is no real ventilation or insulation system, so it does not keep your furry friend warm in wet and windy conditions
Tips to Find a Suitable Truck Bed Dog Crate
Security
It goes without saying that the best dog crate is going to be the safest dog crate.
It is essential that both you and your dog feel safe when driving.
A sturdy dog crate that is installed properly will put your fears to bed the moment you put the key in the ignition.
If your canine buddy has never traveled in a moving vehicle before, it can be very daunting and stressful for them.
Make it a positive experience by showing them that a truck bed dog crate is a safe place to be.
Durability
A wide variety of materials are used to manufacture dog crates for truck beds.
Some use plastic materials and metal caging, while others are constructed using stainless steel hardware.
There are even dog kennels made simply using polyester and mesh! (This kind of dog crate is mainly used for dogs traveling short distances in rural areas with less dense traffic.)
Suitability
This is all dependent on the size, height, and number of dogs that will be traveling in the truck bed at one time.
Pickup truck owners should purchase a truck bed crate that their dog can stand up, sit down and turn around in, but not much more.
This is not solely for the comfort of your dog; it also reduces the chance of them being seriously hurt should you collide with another vehicle.
Keep your dog safe by choosing a dog kennel that is not too small but not too big.
Insulation
A truck bed is open to all elements of the weather throughout all four seasons.
Therefore, it is wise to consider how often your dog is going to be traveling in the truck bed and for how long.
Big dogs may not need as much insulation as smaller breeds; however, the air is always going to be that bit cooler for them when traveling at speed.
Ventilation
This is just as important in any truck bed crate as insulation.
While a layer of fur keeps dogs warm, traveling at high speeds in cold temperatures and wet weather conditions can cause serious illness.
It is also irresponsible to keep your dog in a truck bed crate for long periods of time in the warmer months without proper ventilation.
There are dog crates on the market that provide ample ventilation and also have the option to seal off vents to repel wind, rain, and snow.
Are There Different Types of Crates?
Yes, the dog market is littered (excuse the pun!) with all kinds of crates for truck beds.
Maybe you are looking for a dog box as opposed to a dog cage.
Metal Crates
These are highly recommended if your four-legged friend frequently travels in the truck bed.
The sheer size, safety, and longevity these constructions offer far outweigh the price, and you will never need to buy another dog box.
Most designs are big enough to hold two dogs and the dimensions are just the right size to cater to a vast majority of dog breeds.
A quality dog box with good ventilation and insulation keeps your dog dry and warm when it is cold and cool when it is warm.
As well as being constructed for the housing of multiple dogs, most metal crates offer a handy storage compartment for all your doggy travel accessories.
Wire Crates
Unlike traditional wire dog crates for the household, a wire crate for the truck bed is made with thicker bars.
While these do offer optimal ventilation and airflow, they are not escape-proof and can be a problem if you have a little explorer on your hands!
The simple design makes for easy storage as most fold flat and can be moved easily.
This type of crate is popular among dog owners who only travel short distances as they are not that safe and lend little to no protection to your dog in an emergency.
Conclusion
All dog crates are specifically designed to bring a certain level of safety and comfort to small dogs, large breeds, and every dog in between.
Some are more secure than others, and any chosen crate is purely down to the owner's discretion.
You may live in a location where the chances of being involved in a road traffic accident are very low. Therefore, it may not appeal to you to spend too much of your hard-earned cash on a dog crate.
On the other hand, it is without a doubt the best money you will spend on your dog if you do live in the city where the traffic is heightened, and the chances of a collision are increased.
Resources