Best Wet Dog Foods for Mixing: Winners
If you have a new pet dog and have no idea what to feed it, this article would definitely help you.
Though wet foods are enough to curb hunger, mixing them with dry foods is recommended during the early stages of your dog's growth.
This helps the dog adjust to the new food variety1, develop a fine coat and a stronger muscular structure.
Before purchasing wet food, there are a lot of parameters that need to be checked. The majority of canned dog foods are high in artificial supplements.
Make sure the canned food you choose is made of dog-friendly ingredients so that your canine can have a complete and balanced diet each time.
Here are our top picks:
Best Wet Dog Foods to Mix with Dry Dog Food
Overall Best Wet Dog Food for Mixing with Dry Kibble – Taste of the Wild High Protein Real Meat Grain-Free Recipes Wet Canned Dog Food
Buying wet dog food might be a big task if your dog's weight fluctuates a lot.
Taste of the Wild's combination of wet foods keeps that issue in check, thanks to its preparation in beef broth.
The fat to protein ratio remains constant, and only muscle building is favored by this Taste of the Wild meal.
No other canned food brand has such customization options and varieties.
Perks for Dogs
Many essential vitamins included
The grain-free formula will nourish your pet's health
Salmon and lamb alternatives are loved by all breeds
Budget Pick – Purina ONE SmartBlend Canned Wet Dog Food
Purina's SmartBlend dog food has two alternatives that suit senior dogs – gravy and ground.
Is Your Dog Driving You Nuts During the Day?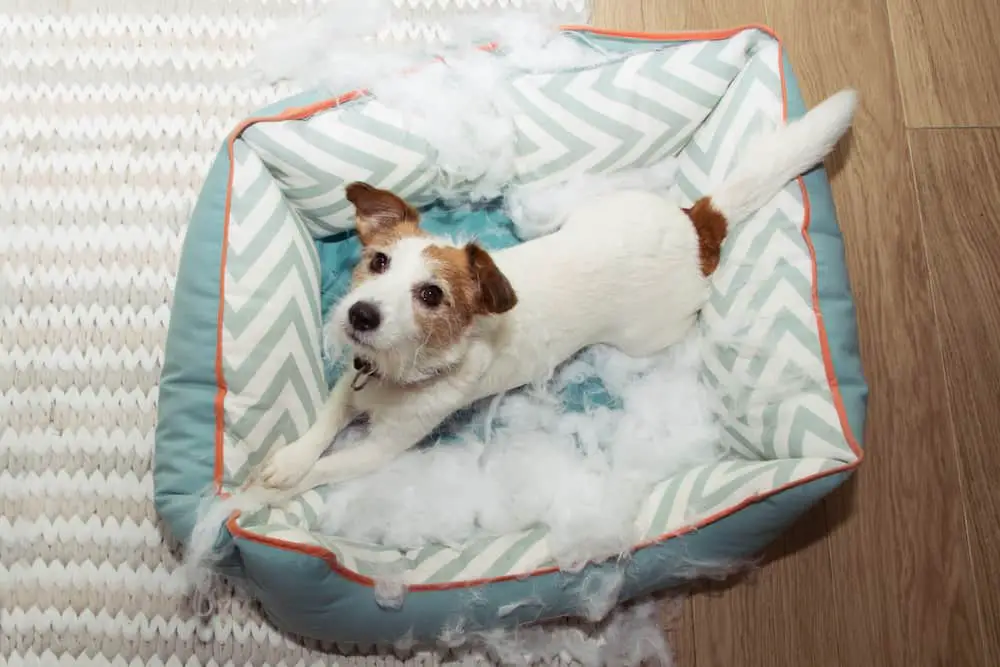 Get Our List of 11 Awesome Indoor Activities to Keep Your Dog Busy and Out of Trouble!
You can choose from a wide range of packaging options for this antioxidant-rich dog food2.
Chicken liver is also included. When you mix wet dog food by Purina ONE with dry food, the taste also remains the same (improved likability).
Overall, it aids in maintaining a healthy weight and provides essential vitamins to your puppy.
Perks for Dogs
Chicken broth for dogs suffering from irritable bowel syndrome
Has high protein content fit for a balanced meal
Apt canned food to mix with dry kibble
Upgrade Pick – Nutro Cuts in Gravy Grain-Free Wet Dog Food Adult & Puppy
The Nutro Cuts wet dog food comes in four flavors – beef, lamb, chicken, and turkey.
The proportions vary based on the quantity of wet and dry food mixed.
Pet parents rely on this brand due to the low content of fatty acids.
The sweet potato formula is replaced with regular potatoes from whole earth farms.
It belongs to the category of "canned foods without preservatives."
Perks for Dogs
Zero meat by-products included
The beef liver makes it a fulfilling puppy food
Grain-free mixture keeps weight issues at bay
Best Wet Food for Dogs with Sensitive Stomachs – Hill's Science Diet Wet Dog Food, Adult, Sensitive Stomach & Skin
Hill's Science Diet is one of the best-wet dog food options, especially for adult dogs with sensitivities or allergies.
The gravy has a mixture of meat by-products and essential vegetables. Chicken broth further enhances the consistency required for a portion of thick wet food.
Dog owners who cannot prepare homemade dog food should try this customized pack at least once, as it has no artificial flavors.
Perks for Dogs
Turkey liver adds ample animal protein to the dog's diet
Sweet potatoes are good for picky eaters
Healthy digestion is ensured, unlike other adult dog food brands
Widest Range of Flavors – CESAR CLASSICS Loaf in Sauce Gourmet Wet Dog Food
For the pet owners who think that canned food has less variety, CESAR CLASSICS offers them a whopping range of thirteen different flavors of wet food.
The exhaustive range has only non-vegetarian food and no sweet potatoes.
The complete and balanced diet provides for a good competition to all other puppy foods, as the taste is pleasing for all breeds.
Perks for Dogs
Mixtures with brown rice are loved by adult dogs
Essential fatty acids regulate the digestive system
A healthy proportion of chicken liver, as well as chicken broth, maintains appetite
Best Grain Free Wet Dog Food – Blue Buffalo Wilderness High Protein Grain Free Natural Adult Wet Dog Food
Blue Buffalo Wilderness has a rich gravy of chicken broth, making it an excellent choice to be mixed with any type of dry kibble.
Other ingredients include beef, liver, and potatoes.
This Blue Buffalo wet food combination has slow-cooked grilled food items as well.
Omega fatty acids are also present in a balanced proportion.
Perks for Dogs
Healthy grain-free dog food that suits small puppies
Made with essential nutrients and high-quality protein (low fat-to-protein ratio)
Beef and chicken blend is loved by adult dogs
Best Wet Food for Small Dogs – Merrick Lil'Plates Mini Medley Wet Dog Food Variety Pack
Balanced nutrition is ensured by Merrick's blend of tasty pet food in their Mini Medley Pack.
The absence of gluten makes it fare well in the list of best dog foods.
Its gravy suits dogs at all life stages as the ingredients are easy to digest.
On mixing with dry food (including dry kibble), the health quotient is enhanced.
Canned dog foods by Merrick Lil' Plates are known for their adequate serving size, too.
Perks for Dogs
Beef broth base is apt for dog breeds with a sensitive stomach
Whole foods and vegetables make a complete and balanced diet
Rich wet food made with turkey broth
Best Chicken-Free Wet Dog Food – Weruva Grain-Free Canned Dog Food
For adult dogs who love steak, this product by Weruva might prove to be the best canned dog food.
It comes in four flavors, and each of them makes for a balanced diet for dogs.
Furthermore, the components come directly from whole earth farms owned by Weruva pet food manufacturers. Therefore, the risks associated with artificial flavors are reduced.
Perks for Dogs
A perfect blend of essential nutrients supplied by natural ingredients
Good choice for dogs who do not prefer chicken and fish oil
Dry dog foods can easily soak the gravy
Conclusion
Once you have ordered your favorite pack, just mix wet and dry food for your pup.
Steer clear of human food while feeding your dog, as it might lead to several health complications.
Brown rice is a perfect partner in most cases.
Check for any allergens or preservatives to avoid future digestive problems.
Lastly, let your pet dog savor the taste of these delicious combo meals!
Resources