This post may contain affiliate links. It doesn't cost you anything extra and it keeps our lights on, our families fed, and our dogs spoiled. For all the juicy fine print, see our affiliate disclosure
Living in Minnesota, I have to be conscious of the temperature and winter weather conditions before taking my dogs out walking.
And having four active dogs, and it is essential to keep them well exercised any time of the year.
I am often asked how cold is too cold to walk your dog?
Unfortunately, there is no hard and fast answer to that question because many factors need to be considered.
However, below we cover the various elements to consider, how to keep our dogs warm and safe when out and about, and how we can exercise our dogs in cold winter weather.
Related: Can Dogs Get Fleas in the Winter?
Factors to Consider Before Walking Your Dog in the Cold
A variety of factors impact whether or not it is too cold for your dog to go out walking.
Elements to consider include:
Breed of Dog – Many different breeds enjoy cold weather, such as Huskies, Saint Bernards, and Newfoundlands. However, some breeds that are not made for frigid weather, like Whippets, Chinese Crested, and Greyhounds, can not withstand temperatures 45F and lower without proper cold-weather gear.
Health – Dogs with health conditions such as thyroid issues, arthritis, lung conditions, and joint diseases may be more susceptible to the cold
Size – Smaller dogs are more susceptible to the cold than larger dogs
Coat Length and Thickness – More fur often makes for a warmer dog
Duration Outdoors – When the temperatures are cold and it is borderline on going out or not, then shortening the duration of your walk is best
Activity Level – Slower dogs or ones who like to dawdle, as Calvin does, will become colder faster
Age – Puppies and seniors are more sensitive to the cold than adult dogs
Previous Exposure – Dogs who have been acclimated to the cold will do far better than dogs new to winter weather.
PetPlan offers a cold-weather chart that will help you determine if it is safe to go out walking[1]. Though each dog is different, it is a good point of reference.
Safety Concerns When Walking Your Dog in the Cold
There are several safety concerns to keep in mind when walking your dog out in the cold, such as frostbite, hypothermia, and injuries.
Is Your Dog Driving You Nuts During the Day?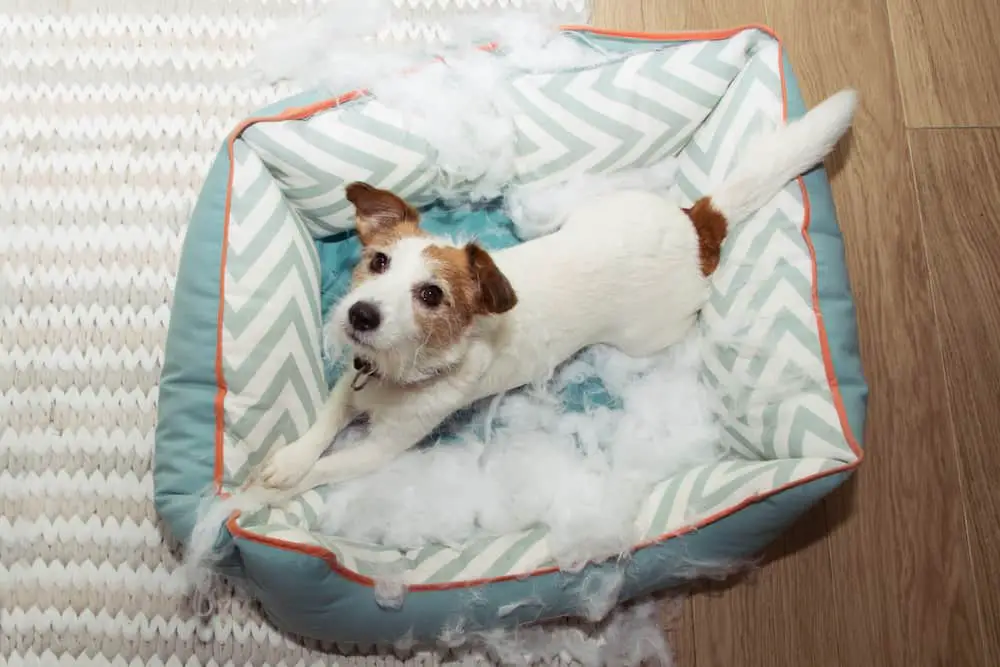 Get Our List of 11 Awesome Indoor Activities to Keep Your Dog Busy and Out of Trouble!
Symptoms of hypothermia in dogs include[2]:
Lifting paws
Uncomfortable walking
Extreme shivering
Stiff muscles
Pale grey gums
Stumbling or lack of coordination
Lowered heart rate and breathing
Fixed or dilated pupils
Lethargy
If you witness any of these issues with your dog get them inside immediately. It is best to wrap them in warm blankets to help raise their body temperatures.
If your dog shows serious symptoms such as pale gray gums, stumbling, and lowered heart rate, call your vet immediately.
Remember, just because it's warm enough for you to go outside does not mean that it is warm enough for your dog.
The pads on your dog's feet only provide a minimal amount of protection against the cold and ice. Also, the pads of your dog's feet are a point where body heat is released.
In addition to hypothermia and frostbite, abrasions and cuts from ice and rigid snow can cause injury to your dog.
However, the greater risk is chemical burns caused by ice melt and salt used to treat sidewalks in the winter[3].
How to Keep Your Dog Warm in the Winter
Some of the things you can do to help keep your dog safe and warm during the winter include using jackets or sweaters, boots, and paw balm.
We put jackets and sweaters on our dogs when it gets around 30 degrees and lower.
Additionally, we will put their coats on them if it's raining or extraordinarily windy.
We have the Ruffwear Overcoat. The jackets feature reflective piping, a loop for light, and a wind and water-resistant shell. Plus, they have a fleece lining. This jacket also fits over their harnesses (see our top picks for the best escape proof harnesses for all types of dogs).
Best of all, it is machine washable and durable. We have had ours for over five years.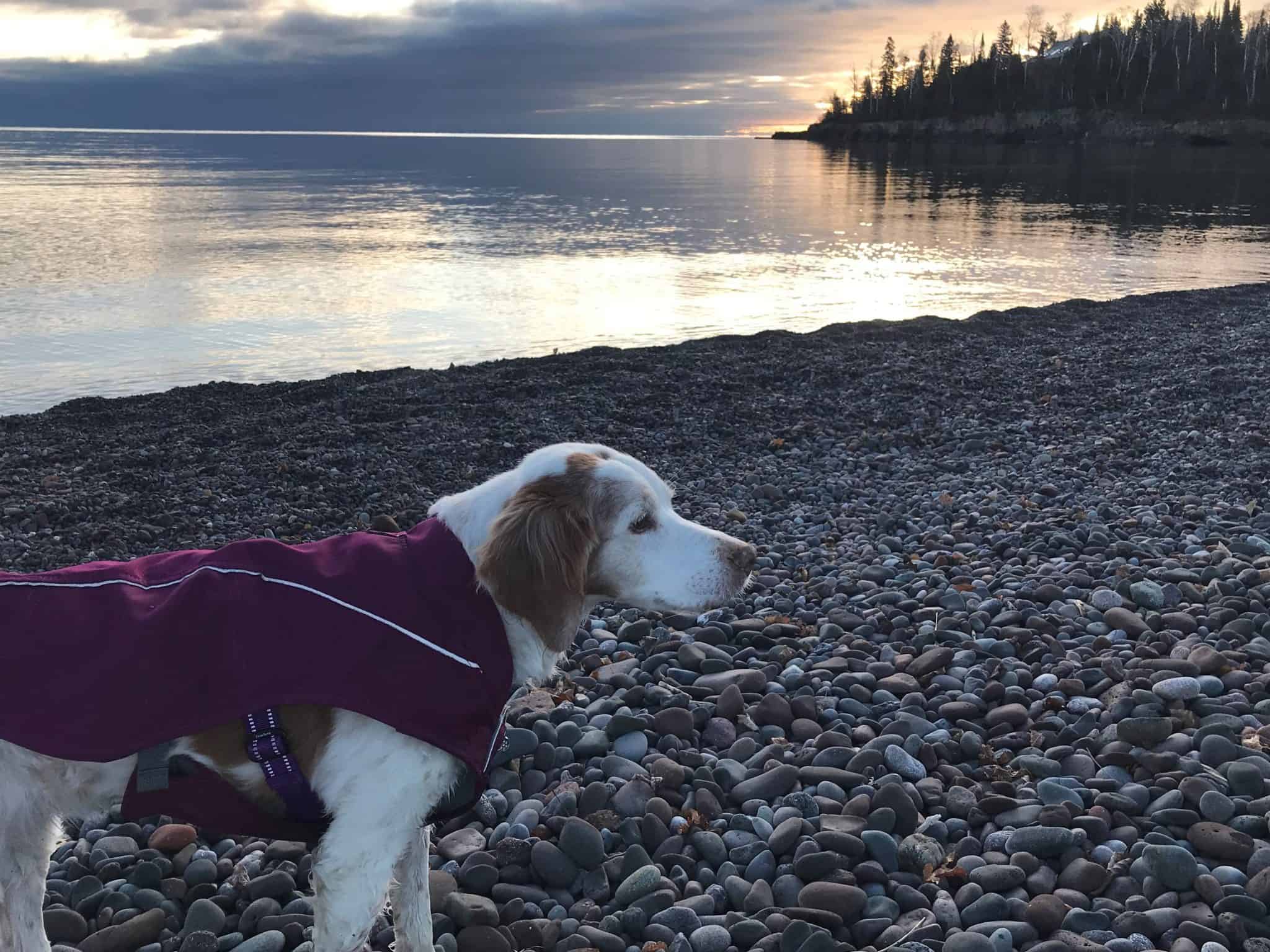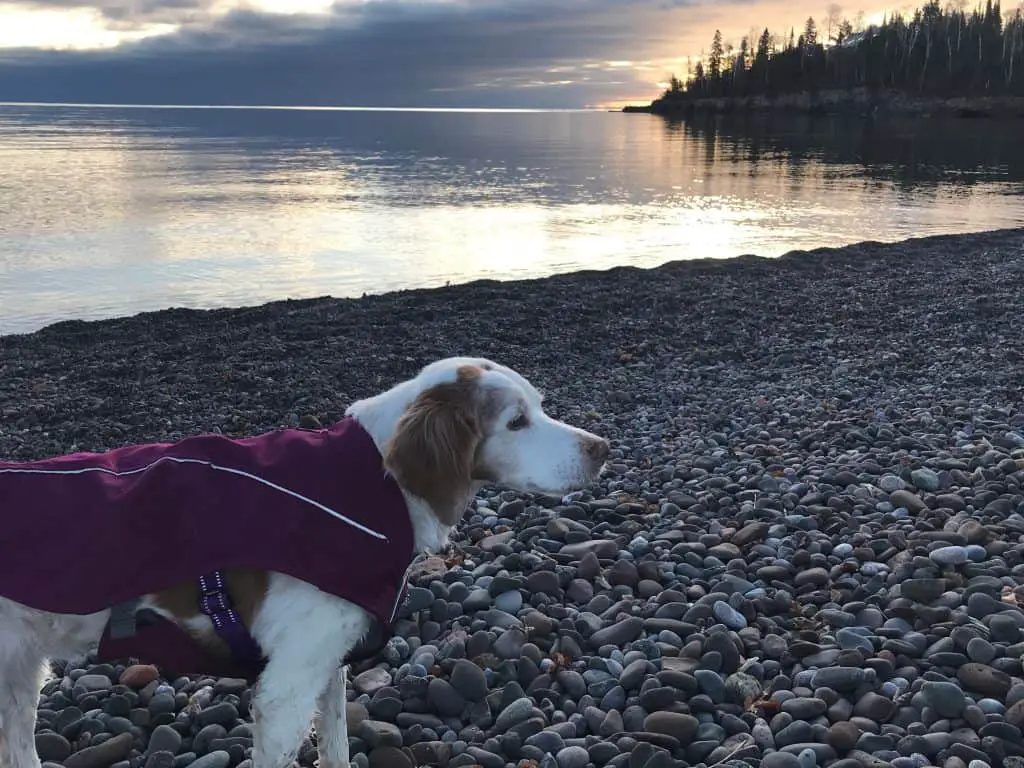 How to Keep Dog's Paws Protected in the Winter
Because dogs lose heat through their paws, using boots can help your dog retain their body heat and protect your dog's pads against harmful ice melt chemicals, snow between the toes, and sharp ice that can cut the bottom of your dog's feet.
We have tried a variety of boots and found that the EXPAWLORER boots work best. They are secure and have protection at the top of the toe if your pup drags their feet.
We have also used these boots when they have had foot injuries and even use them to prevent injuries.
Paw balm can also be an excellent option to help protect and treat your pup's paws.
My favorite is Natural Dog Company Pawtection which helps prevent and treat dry and cracked pads.
I like that all of the ingredients are safe and natural. Plus, the applicator is easy to apply the balm without making a mess.
Related: Best Winter Dog Houses
How to Exercise Your Dog in the Winter
If it is borderline too cold to walk your dog outside when it is too cold, try cutting your walk down to be shorter.
This still allows your dog to get out and get some exercise. It is also a good idea to avoid allowing your dog to dilly-dally on their walk, instead keep them focused on moving forward.
Remember, you are out walking for exercise, not for adventure.
Also, when the temperatures start dropping, using coats and boots can help, but they can only do so much.
For the days that you can not go out due to the cold, there are a few different indoor activities you can try to burn off some of their excess energy, like:
Hide and seek
Fetch
Indoor DIY agility course
Puzzle toys
Conclusion
We often hear about the dangers of hot summer weather, but cold winter weather can be equally as hazardous, which is why it is critical to know when it is and isn't safe to get out walking.
The good news is there are things we can do to keep our dogs safe in cold weather and still get out for our walks.
And on the days it's too cold, and we have to stay indoors, there are a few different fun activities to keep your dog entertained.
Resources