This post may contain affiliate links. It doesn't cost you anything extra and it keeps our lights on, our families fed, and our dogs spoiled. For all the juicy fine print, see our affiliate disclosure
My friend Kathleen adopted a one-year-old puppy, Toby, that had been returned to the breeder.
Toby is a purebred poodle, and though they are predisposed to specific genetic diseases, they are usually considered a healthy sturdy breed.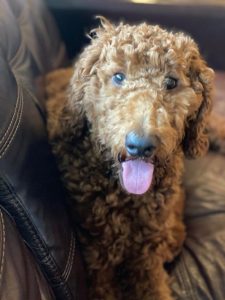 Knowing my love of dogs, Kathleen reached out and asked my thoughts on pet insurance and whether or not it was worth the cost.
After reading my Eusoh pet health plan review, and knowing how expensive vet bills can be, Kathleen was considering signing Toby up and wanted my opinion on the subject.
After discussing the pros and cons of general insurance, Kathleen asked if I had written a Petplan review since it was one of the companies at the top of her list.
I told her I knew a little about Petplan, but if she would like, I could look into it and get back to her.
About Petplan
Petplan's founders Chris and Natasha Ahston[1] moved to the US from Britain with their cat Bodie.
In 2001 they moved into their Pennsylvania apartment, looking forward to getting started on their MBA at the University.
Unfortunately, Bodie became very ill, and the vet bills piled up quickly, forcing the Ashtons to move to a more economical apartment to help pay their $5,000 vet bill[2].
During this challenging time, the Ashtons reflected on pet insurance availability in Britain and how it would have been financially helpful had they had insurance for Bodie here.
So, from their scary and expensive experience with their cat, the Ashtons gained inspiration and pursued their journey, opening up a pet insurance company.
And in September of 2003, the Ashtons started their new business under the name Fetch, Inc. However, by November, they were given exclusive rights to the Petplan name in the US and granted affiliation with Petplan UK.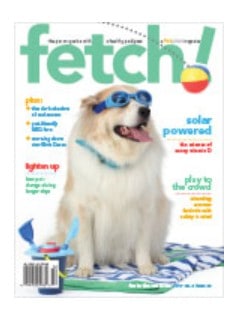 Since opening Petplan has grown to over 200 employees and has received multiple awards, like:
2013 Ernst and Young Entrepreneur of the Year
Smart CEO Future 50
Stevie American Business Award for Petplan's fetch! magazine[3]
In addition to winning awards, Petplan has been recognized by several media companies such as Financial Times, Bloomberg and Inc Magazine, and Forbes[4].
And they are listed as the preferred insurance provider with American Animal Hospital Association Preferred Provider, AARP, and North Shore Animal League America.
How Petplan Works
Petplan offers conventional pet insurance. Petplan offers protection for both cats and dogs, without any age restrictions.
Petplan makes working with them as easy as one-two-three:
Bring your pet into a licensed vet.
Submit your claim using your smartphone or online
Get reimbursed quickly and easily.
Petplan offers up to 80% coverage for accidents and illnesses, which is in line with most other insurance companies.
And, since they allow you to submit your claims using your smartphone, it makes sending in requests even easier.
I wish the pet insurance company I work with would offer this feature since it would make things even more convenient and help me send in my requests in a more timely fashion.
Read Also: What is Pet Insurance and How Does it Work?
There are three insurance plans available:
Most Affordable
Maximum payout: $5,000
Annual deductible: $500
Reimbursement: 80%
Most Popular
Maximum payout: $15,000
Annual deductible: $300
Reimbursement: 80%
Most Reimbursement
Maximum payout: Unlimited
Annual deductible: $250
Reimbursement: 80%
Premiums vary depending on your dog's age, where you live, and your dog's breed.
Is Your Dog Driving You Nuts During the Day?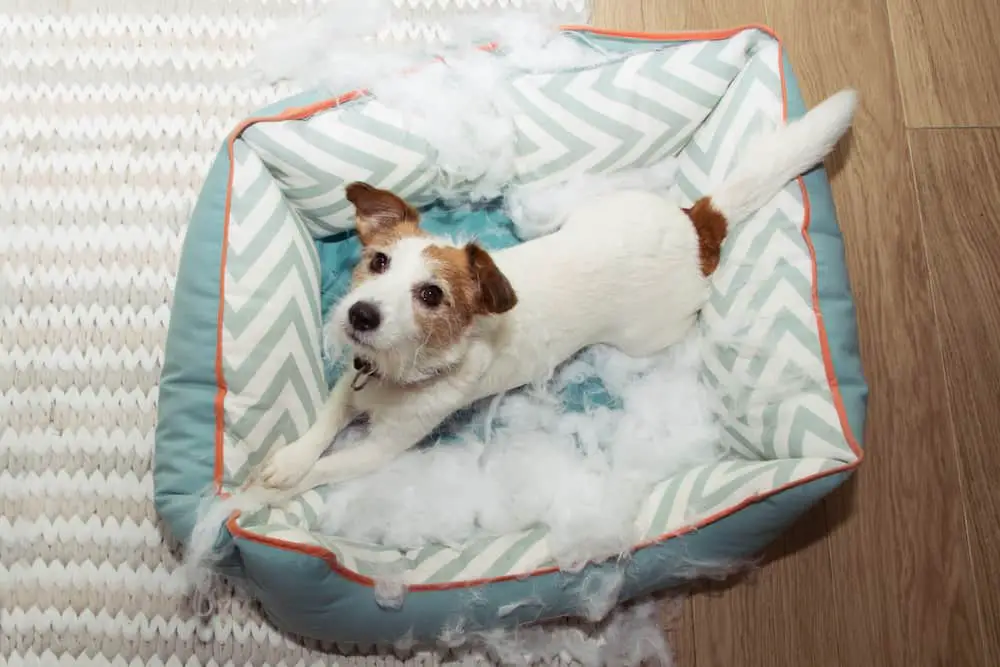 Get Our List of 11 Awesome Indoor Activities to Keep Your Dog Busy and Out of Trouble!
Petplan's view on coverage is that they are here to help pet parents for situations that can't be planned or budgeted for.
✔
Pros
No signup fees
No age limit
Covers online visits
Offers a 30% savings for keeping your dog healthy
Covers alternative & holistic therapies such as acupuncture for pain
✘
Cons
Doesn't cover general wellness care
Zero coverage for monthly preventative medicine
No coverage on bilateral conditions
Doesn't include spaying or neutering
Things to Consider When Buying Pet Insurance
I swear by pet insurance and recommend it to anyone interested in signing their pups up.
Since I have four dogs, I have four times the chance of dealing with illnesses or injuries.
And unfortunately, most of my dogs have experienced a variety of unexpected illnesses and injuries such as allergies, jaw infections, pancreatitis, strokes, ACL surgeries, and tumor removals.
Thankfully, we had our dogs signed up for insurance, and though we are still responsible for some of the costs, the majority of these incidents have been covered. And receiving $4,000 back on a $5,000 bill goes a long way in making the vet bills more bearable.
Additionally, insurance has aided in covering medications for chronic diseases, which also helps lighten the financial load.
But before signing your dog up for insurance, there are a few different factors to consider:
Wellness Coverage – Some choose insurance to aid with all costs including prevention and wellness, whereas others prefer a less expensive option only to cover the unplanned
Monthly Cost – The cost for monthly premiums are directly linked to the amount of coverage you can expect from the plan.
Coverage Inclusions and Exclusions – Though many insurance plans are similar, there are always slight coverage differences; for example, Petplan allows for coverage on curable pre-existing conditions after 12 months of your dog being free of said condition.
Upfront Costs – Some, not all, plans have a signup fee
Waiting Period – All insurance companies have a prespecified wait period after signing up before insurance kicks in.
Pet insurance is definitely worth it for most pet parents.
However, if your dog has recently been diagnosed with an illness, you may want to wait until the issue is resolved before signing up for insurance.
Pet insurance is not retroactive and will not cover any conditions diagnosed or seen before the end of the pet insurance waiting period.
Petplan Insurance Features and Benefits
Petplan pet insurance offers several benefits to their clients:
Three Different Plans
Not all pet insurance companies offer more than one type of coverage.
However, Petplan has three plans, allowing you to choose which one best meets your needs.
Having three options is particularly helpful because it allows you to select a plan that best fits your finances.
No Age Limitations
Petplan covers dogs from 6 weeks old and up.
Waived Waiting Period for Cruciate Tears
Usually, there is a six month waiting period for cruciate tear coverage.
However, there is a way around this guideline:
If your vet conducts a medical examination within 30 days of the start of your and writes a statement that your dog's knees are healthy they will waive the waiting period.
Coverage of Hereditary Conditions
Many pet insurance companies are no longer covering what is considered hereditary conditions such as hip dysplasia or intervertebral disc disease.
But Petplan does cover genetic and hereditary conditions associated with specific dog breeds.
Holistic Therapies
I would have greatly benefited if my insurance covered this for Daisy since we used acupuncture to provide relief and aid in mobility after she was diagnosed with arthritis.
Discount
Petplan offers a variety of discounts for registered medical services pets, active military personnel, and veterans.
Plus, Petplan provides a 30% savings for those who have healthy pets.
What Does Petplan Cover?
All three plans cover the same conditions. However, they have different deductible amounts and limits.
Covered
Petplan covers:
Cancer
Hip dysplasia
ACL tears
Virtual vet visits
Accidents
Injuries
Illness
Non-routine dental treatment
Referral and specialists
Diagnostic tests
Vet exam fees for non-wellness visits
Imaging – MRI, ultrasound, CAT scans, and x-rays
Not Covered
There are a few things not covered by Petplan:
Pre-existing conditions
Cosmetic procedures
Liability coverage
Preventative and wellness care – Annual exams, vaccines, flea and tick medicine, and heartworm medicine
How Much Does Petplan Cost?
When you request an online quote, there is a form with four questions:
Dog's name
Breed
Age
Zip code
In addition to the above factors, each of the plans varies in price based on:
Reimbursement level
Annual coverage cap
Annual deductible
To get an idea of how much policies cost, I tested it out for the dogs in my family, plus a couple of variables:
Mirabelle – 6 Weeks & 11 Months mix breed:
Most Affordable $23.34
Most Popular $37.73
Most Reimbursement $59.23
If she were a purebred Golden Retriever then prices would be higher by $5.46-$15.32
---
Ginger – 7 y/o Brittany:
Most Affordable $70.11
Most Popular $118.39
Most Reimbursement $190.55
If she were a purebred Golden Retriever then prices would be higher by $28.80-$74.55
---
Calvin, 12 y/o, would cost $286.70 per month and Sophie, 15 y/o, would cost $805.78 per month for the following coverage (there was only one plan available for my seniors):
Maximum payout $15,000
Annual deductible $750
Reimbursement 70%
---
Based on the prices I got back, I would say that though they would insure my older dogs, it is cost-prohibitive to do so.
Social Proof
I searched the internet and found some user reviews that seemed fairly positive.
I like to take the time to see what other pet parents are saying about different products and services, so I sought out other Petplan reviews.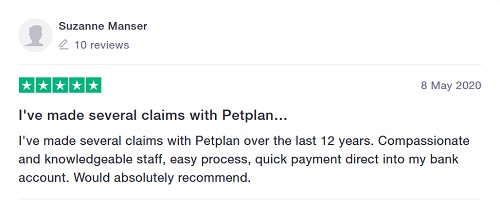 When I checked Petplan out on the Better Business Bureau, I was happy to see they scored an A+. Unfortunately, they only received 1 star based on customer reviews.
The two primary complaints were:
Increase in cost but decrease in coverage over the years
Misunderstanding the coverage policy
Though I understand their frustration, the first complaint seems to be the industry norm.
And for the second complaint, I feel it is the consumer's responsibility to understand the plan they sign up for, but I also think companies should be upfront and clear regarding their guidelines.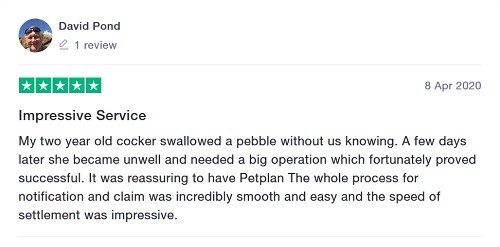 Alternatives
If you are interested in how Petplan compares to other companies or are just curious about alternatives, below are three other pet insurance options.
Eusoh
Eusoh prides itself on being a community of pet parents that help to support one another to help cover vet bills together.
Since Eusoh is a cost-share plan, your monthly fees vary based upon what was covered the month before. The monthly fees range between $17-$65/month, though the average payment is about $35 per month.
Like Petplan, Eusoh only covers illnesses, accidents, and injuries but does not include any wellness or preventative care.
Eusoh only has the one community plan which has a maximum $250 deductible, and they cover 80% of the national average of the approved charges.
Which is another difference, in that Eusoh bases its coverage on a national average whereas Petplan is community-based.
If you are interested in Eusoh's cost-share plan, click here to learn more.
Companion Protect
Companion Protect (AKA Agile) is similar to Petplan as it covers accidents, injuries, and illnesses.
However, Companion Protect also includes some pre-existing conditions; qualifying conditions are listed in the plan.
Another difference between Petplan and Companion Protect is that their pricing is non-breed-specific, but like Petplan, prices vary depending on your dog's age.
Companion Protect covers conditions like prescription food (some restrictions apply), cancer treatments, hip dysplasia, and holistic therapy such as acupuncture and chiropractic care.
Other differences between Companion Protect and Petplan are:
Companion Protect works with a vet hospital network but will cover expenses at a lower percent from vet clinics not on their list.
Covers 90% of the cost instead of 70%-80%
Companion Protect is the ideal plan for those who have dogs with pre-existing conditions that qualify for coverage.
Additionally, if you are looking for a non-breed specific program with a higher coverage amount, click here to get a quote.
Pets Best
Pets Best is a conventional pet insurance company that offers a variety of coverage plans, including unlimited care options.
Just like Petplan, the monthly premium is impacted based on the plan's deductible and other coverage options, such as reimbursement limits.
Don't miss our comprehensive review of Pets Best Insurance!
Unlike Petplan, they do have some insurance plans that cover wellness and preventative care. Also, Pets Best offers a very low-cost accident plan for $9 a month for any age dog of any breed.
The differences between Pets Best and Petplan:
Specific policies cover spay/neuter up to $150
They offer plans that include coverage for flea/tick/heartworm prevention.
Coverage reimbursement is sometimes a flat rate versus a percentage
Pets Best is the ideal pet insurance for those looking for more comprehensive coverage or those looking for low-cost accident coverage for a senior (it's also the best pet insurance company for German Shepherds).
If you want more information on a full-coverage plan, click here for a free quote!
Should You Get Petplan?
If you have a senior dog with pre-existing medical issues, you may want to put the monthly premiums into a savings account instead of signing up for PetPlan insurance since the monthly senior premiums are high
If you recently adopted a puppy, signing up for PetPlan would be perfect
If you have a dog that is relatively healthy and is only a few years old, signing them up with Petplan before any health issues arise would be a great idea.
If you adopt a dog that has a higher chance of suffering from a hereditary condition, then Petplan is a sound investment choice.
Conclusion
After reviewing Petplan's options and customer feedback, I told Kathleen I believed they were an excellent choice if she as seeking an accident, injury, and illness plan.
Some of the reasons I liked Petplan for Toby is that they cover hereditary conditions, none of which are showing in Toby at this time but are future possibilities.
Additionally, I said I liked the three-tier plan options they offer since it is more budget-friendly than companies who only provide the one choice.
Finally, because I know my friend is crazy busy, I told her that they offer a easy and fast way to submit claims using your smartphone.
If you are interested in taking a few seconds to get a free quote, click here.
Resources