This post may contain affiliate links. It doesn't cost you anything extra and it keeps our lights on, our families fed, and our dogs spoiled. For all the juicy fine print, see our affiliate disclosure
Even though we feed the same foods, treats, and chews to our dogs, Ginger's teeth are way worse than her siblings.
We get her teeth cleaned annually at the vet, but six months later, the plaque is already making its way back.
Whereas, Calvin, our 12-year-old, has excellent teeth and has never needed to get a dental done.
Not only does Ginger not have good teeth, but she also has a hard time going to the vet by for dentals. She gets very anxious and panics.
The last time Ginger was in for a cleaning, she had an absolute melt-down crying, and she wouldn't go into the kennel.
Our vet is amazing, so when as soon as Ginger panicked she took her to her office to get her calmed down, then gave her some medicine to relax her a bit.
But because it is so traumatic for Ginger to go in for dental cleanings, I started to look for home remedies that could help improve the health of her teeth.
That's when I stumbled upon coconut oil for dogs teeth. Read on to see what I found!
Coconut Oil for Dog's Teeth?
One of the ideas that came to me was trying coconut oil.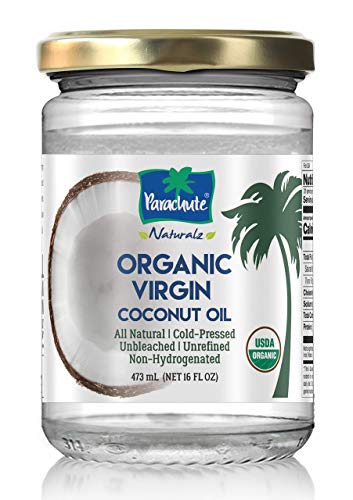 I had just read an article regarding coconut oil pulling to improve dental health in humans, and though I know dogs can't do pulling, I thought there still might be a way to use it for dogs.
Using coconut oil for cleaning Ginger's teeth is very appealing to me, because of coconut's many other health benefits.
Plus, coconut oil is a natural product and not full of chemicals or allergens.
Is Your Dog Driving You Nuts During the Day?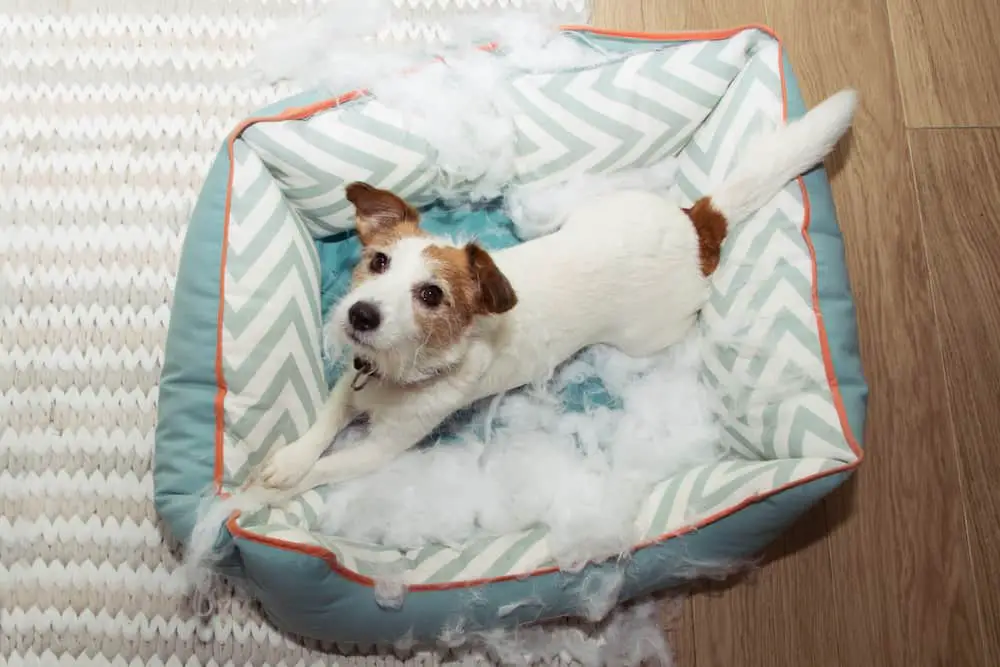 Get Our List of 11 Awesome Indoor Activities to Keep Your Dog Busy and Out of Trouble!
Additionally, it is available in an organic form, which is strictly a personal preference.
And, if my dogs ingest any of it, I don't have to worry about it causing GI upset since they consume coconut oil for other reasons regularly.
Is Coconut Oil Safe for Dogs?
Not only is coconut oil safe, but it also has a lot of health benefits.
Amongst the many benefits, coconut oil aids in promoting good oral health.
According to the National Center for Biotechnology Information, coconut oil reduces plaque and gingivitis, plus it prevents tooth decay[1].
Because coconut oil is a natural antibacterial, antimicrobial, antiviral, and anti-inflammatory, it can fight off the bacteria responsible for plaque, as well as reduce and repair gum damage[2].
Coconut oil is safe for dogs to consume, and in proper amounts carries benefits such as:
Promotes good skin and coat health
Kills Staphylococcus – a bacteria responsible for causing most infections
Aids in maintaining a healthy weight
What Kind of Coconut Oil Should You Use?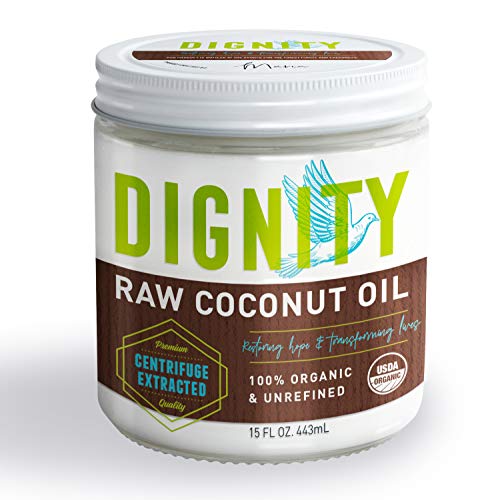 The best coconut oil to use is virgin coconut oil, which means the oil is unrefined and made from fresh coconuts.
Additionally, if you can find one that states centrifuged coconut oil, which is the extraction method, that is the purest variety of the different coconut oils.
However, it is also the most expensive.
If centrifuged is not available, look for cold-pressed, which is the next best variety.
Product Recommendations
How to Use Coconut Oil to Clean Your Dog's Teeth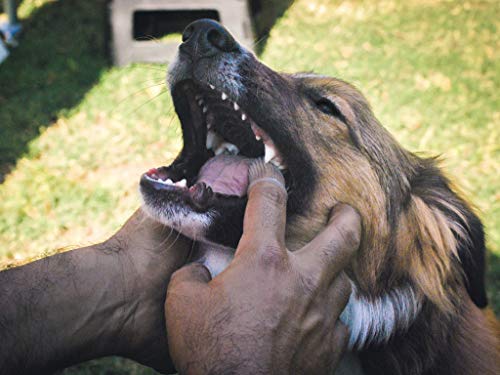 Coconut oil has the greatest amount of lauric acid of all the different oils.
In fact, coconut oil contains almost 50% lauric acid, which is responsible for killing bacteria and viruses.
Additionally, lauric acid is effective at fighting bacteria responsible for bad breath, tooth decay, and gum disease[3].
What You Will Need
Finger Brush, Dog Tooth Brush, or Damp Gauze
Coconut Oil
Directions
First, put a small amount of coconut oil on the tool of choice.
Then, gently but firmly hold their head as you brush their teeth in small circular motions, being sure to clean the back molars.
After you finish brushing your dog's teeth, rinse the brush with warm water.
Product Recommendations
Using Coconut Oil on Dog Toys to Improve Dental Health
If your dog is resistant to you brushing their teeth, try using a dental chew bone with a light coat of coconut oil smeared on it.
As your dog chews on the bone, the coconut oil will spread onto your dog's teeth, and the chewing motion will act as the brush to help work the oil in and clean the teeth.
Unfortunately, this method will not be able to clean all of the teeth evenly like brushing, but it will still help improve your dog's dental health.
It is essential to find a toy with ridges or nubbins.
The added texture will aid in keeping the oil on the bone and act as a brush as they chew.
Product Recommendations
Great bones that work for aiding in cleaning dog's teeth are:
Benefits of Using Coconut Oil on Dog's Teeth
In addition to fighting plaque, gingivitis, and tooth decay, coconut oil has other oral hygiene benefits too.
A few of the advantages of using coconut oil on your dog's teeth include:
Safe to use
Reduces inflammation
Whitens teeth
Generally works well for dogs with allergies
Your dog may prefer the taste of the coconut oil to dog toothpaste
Plus, besides oral health, coconut oil can be used topically for:
Improving the overall health of your dog's coat and skin
Killing and preventing fleas
Finally, if you use essential oils on your dog, coconut oil works as an excellent carrier oil.
Coconut Oil Dangers, Cautions, & Dosage
Although coconut oil has many benefits, there are few things to be aware of before using it with your dog.
First, start with a small amount and watch for allergic reactions. Though it is rare, your dog still can react negatively to it.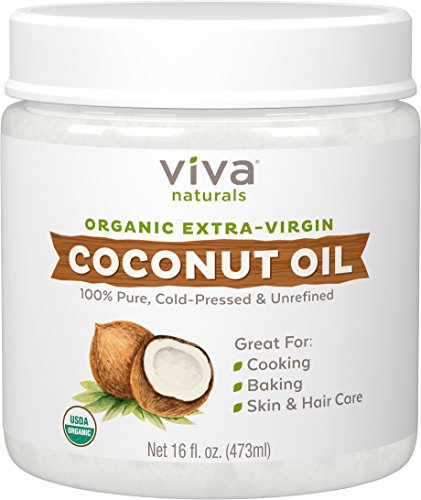 Second, if you start with too high of a dose to begin with, it can cause diarrhea.
For brushing your dog's teeth with coconut oil, you only need a small amount as it will quickly liquefy and spread easily over the teeth as you clean.
When brushing your dog's teeth, there's no reason for concern if your dog ingests some, but be aware if you are also using it daily as a supplement to cut back a little on the days you are brushing their teeth.
Conclusion
Using coconut oil to brush your pup's teeth does not take the place of veterinary dental care.
But it will help keep your dog's teeth clean and healthy in between dental procedures.
I like using coconut oil since two of my dogs, Calvin and Sophie, have food allergies.
Some of the commercial dog toothpaste flavors contain allergens, like poultry. And the varieties that don't contain chicken are ones my dogs don't care for, which is why coconut oil is the ideal option for us.
If you have a dog that doesn't love the flavor of their toothpaste, has food sensitivities, or if you are looking for a more natural dental solution, you should give coconut oil a try.
So far, it has been working great for our family.
Resources:
Still Have Questions?
Ask a Vet!