This post may contain affiliate links. It doesn't cost you anything extra and it keeps our lights on, our families fed, and our dogs spoiled. For all the juicy fine print, see our affiliate disclosure
Not all canines are fans of having their teeth brushed, and Ginger happens to be one of those pups.
However, that does not mean that I can neglect her oral hygiene, and it's not just about avoiding bad dog breath.
Your dog's oral health is vital to your dog's overall wellness.
Poor oral hygiene can cause gum disease, tooth decay, and even heart problems, which is why it is critical to find a way to keep your dog's teeth clean.
But don't despair if you have a dog like Ginger who is resistant to the toothbrush; there are several other options available to help ensure your dog has clean and healthy teeth and gums.
How to Clean Dog Teeth without Brushing
Though nothing can replace brushing your dog's teeth, there are many options available that will help keep your dog's teeth clean.
For the best results, it is best to use multiple teeth cleaning alternatives to ensure your pup's teeth and gums are as healthy as possible.
Chews
Dental chews are by far the easiest dental care alternative available.
Most dogs love dental chews, and today there are tons of options on the market.
Dental chews help scrape plaque and tartar from your dog's teeth.
And though all dog chews such as bully sticks, Himalayan Yak Chews, and Earth Animal No-Hide will keep your dog's teeth clean, there are some chews explicitly made for dental care, such as:
Greenies – Greenies come in a wide variety of flavors and sizes, plus they offer several options for special needs varieties such as weight management, grain-free, or aging care.
Is Your Dog Driving You Nuts During the Day?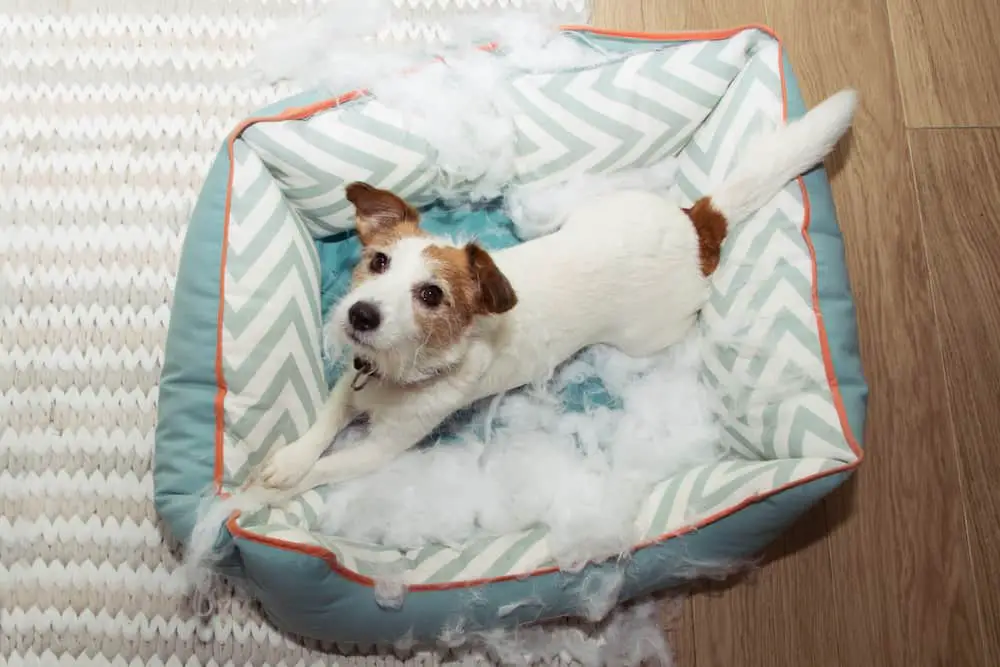 Get Our List of 11 Awesome Indoor Activities to Keep Your Dog Busy and Out of Trouble!
To learn more about how Greenies can help your dog click here.
Virbac C.E.T Veggiedent Flex Chews – Virbac produces a wide array of dental products and has been a trusted vets brand for many years. In addition to Veggiedent Chews, they also make:
Natural Balance Dental Chews – I've used these for years because they are available in a hypoallergenic variety, L.I.T Duck formula. These are best for small to medium-sized dogs.
Zukes – Zukes are one of my favorite dog dental chews; they last a bit longer than other brands, and my dogs love them. They come in a couple of different flavors, apple and carrot, and three different sizes.
Whimzees – Another one of my top picks is Whimzees. They are hypoallergenic and come in a wide variety of shapes, sizes, and flavors, like:
Dental Toys
Dental toys are another great option since many have soft rubber nubs that mimic a toothbrush. And dental toys aren't just a one-time use option.
Dental toys can be made more enticing by spreading your dog's favorite canned food or peanut butter between the soft nubs.
Some of the more popular dental toys include:
Dental Wipes
Dental wipes are an excellent alternative to brushing your dog's teeth and tend to be a lot more comfortable for your dog.
Most dental wipes are small clothes sleeves that slide over your finger, giving you easy access to your dog's teeth.
Dental wipes can be used daily and help to loosen and remove plaque and tartar buildup.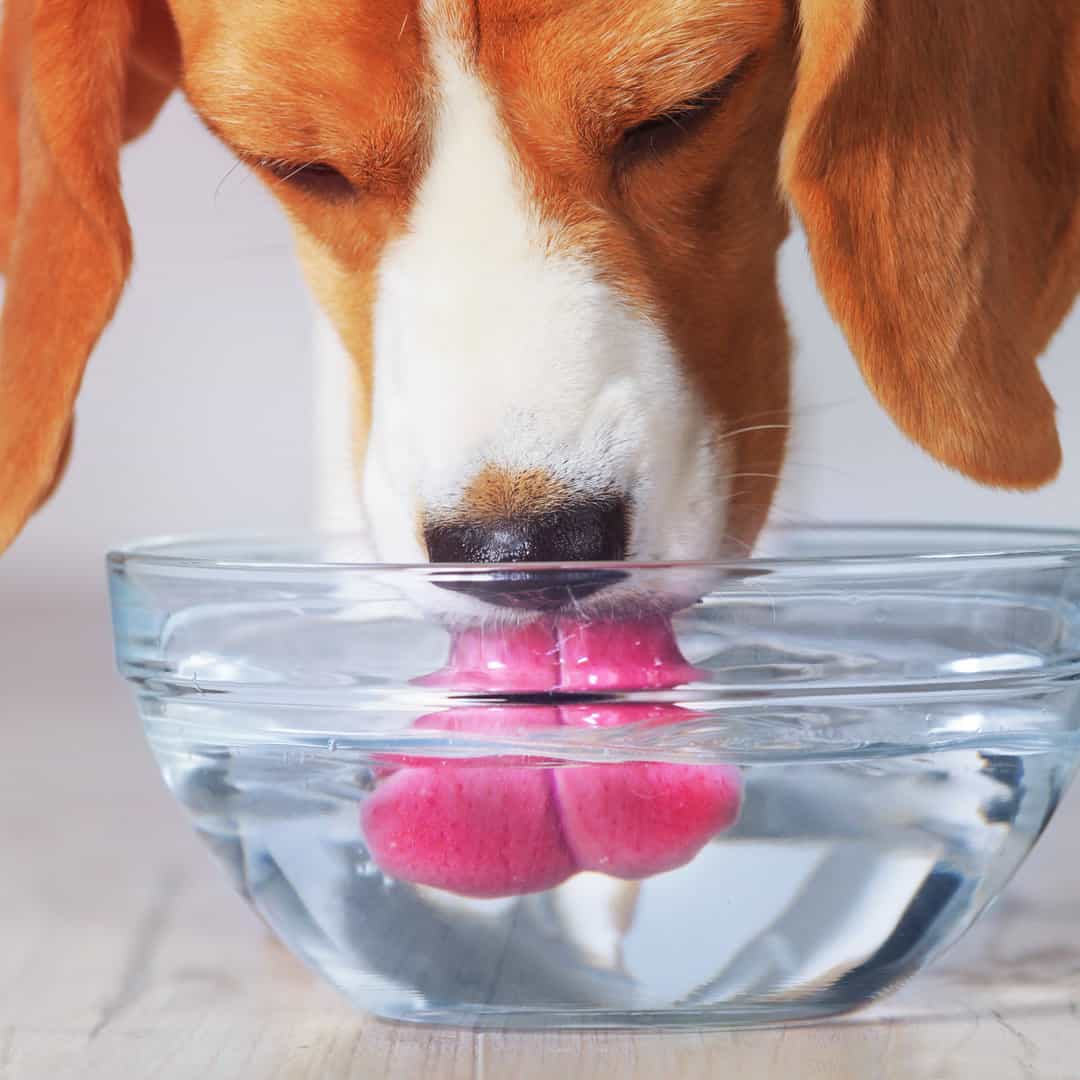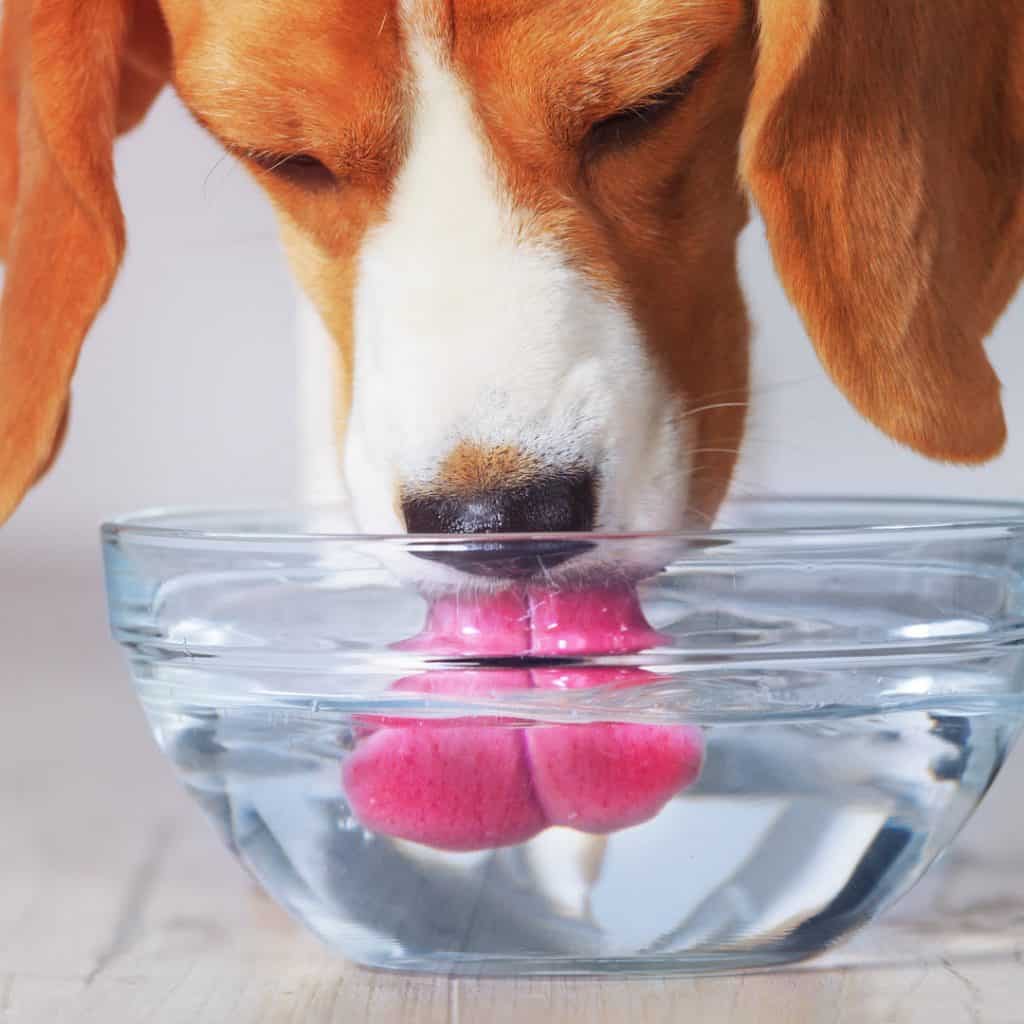 Water additives
Water additives are just like what they sound like, a supplement you add to your dog's water.
When your dog drinks, the additive will start to work cleaning your dog's teeth and freshening their breath.
The downfall is that it can be challenging to know how much your dog is consuming daily.
However, the good news is that additives are odorless and tasteless, so your dog will never know you added it to their water bowl.
Coconut Oil
Though it sounds odd, using coconut oil is another excellent way to clean your dog's teeth.
Put a small amount of coconut oil on your finger and run it over your dog's teeth.
Be sure to use a minimal amount since too much can cause GI upset.
Coconut oil helps freshen your dog's breath, reduces inflammation, whitens your dog's teeth, and is very palatable to most dogs.
Check out our article How to Use Coconut Oil to Clean Your Dog's Teeth.
Why It's Important to Keep Your Dog's Teeth Clean
There are many reasons you should keep your dog's teeth clean; first and foremost is for their health.
When your dog's teeth aren't cleaned regularly, bacteria will begin to collect, causing plaque and tartar to build up.
And dogs are susceptible to many of the same dental diseases as humans, such as gingivitis and periodontal disease.
Plus, the bacteria that grow on tartar can cause infections in the heart and kidneys[1].
Another reason why it's essential to keep your dog's teeth clean is to help reduce the number of times your dog needs to have their teeth cleaned.
My dog Daisy never had to go in for a dental appointment until she was ten years old.
The average age for dogs to get their first dental cleaning is 2 to 3 years old, so it definitely pays off to get started early on good dental care[2].
The average cost to get your dog's teeth cleaned varies based on your dog's size and where you live, but the average range is $500-$1500[3].
And, if your dog requires additional work such as tooth extractions, root canals, crowns, or sealants, the price is much higher.
Conclusion
Thankfully for dogs like Ginger, there is an abundance of excellent options to help keep her teeth clean.
Although nothing is as good as brushing your dog's teeth, using multiple dental care methods comes pretty close.
And, even if you can brush your dog's teeth, providing them additional dental care options such as dental chews and toys can only aid in the battle against dental disease.
FAQs
Can I remove plaque from my dog's teeth without brushing?
Yes, dental chews, toys, rinses, and wipes are great options for reducing plaque and tartar.
Are dental chews as good as brushing your dog's teeth?
No, brushing your dog's teeth is the best way to keep your dog's teeth clean. However, dental chews are a great addition or even alternative for when you can't brush your dog's teeth.
How do dental chews work?
Dental chews mechanical remove plaque and tartar build-up by scraping your dog's teeth as they chew.
Resources
https://www.montanapetdental.com/how-often-should-dogs-get-their-teeth-cleaned/#:~:text=Most%20dogs%20and%20cats%20should,commonly%20seen%20by%20these%20ages.