This post may contain affiliate links. It doesn't cost you anything extra and it keeps our lights on, our families fed, and our dogs spoiled. For all the juicy fine print, see our affiliate disclosure
Best

Top Pick (2023): Dremel 7300-PT
The Dremel 7300-PT Cordless Grinding Tool is the gold star of dog nail grinders.
It's a high-quality, no-frills design that's emulated by the other dog nail grinders.
Unless you need other features or an ultra-quiet device, the Dremel 7300-PT is the best dog nail grinder available!
Any dog owner would argue their dog is the cutest in the whole world.
No other pup melts my heart like Maggie, but even I can admit that sometimes she needs a spa treatment.
Every once in a while, dogs need their hair washed and cut.
It's part of life, much like other basic dog maintenance.
You might ask for the groomer to clean out your dog's ears or trim their nails for an extra fee, but why do that when you can take care of their nails at home?
If you're new to canine manicures, check out the best dog nail grinders in the game.
You'll find one that fits your dog's needs so your dog can get back to playing around or napping on the couch.
The Best Dog Nail Grinders
You can find nail clippers at almost any pet supply store, but the harsh edges and loud clipping noises are often stressful for both dogs and their owners.
Try out nail grinders instead for a worry-free experience.
Read about how each of these nail grinders can fit different needs so you find the best option for your furry best friend.
Best Choice
Dremel 7300-PT Cordless Grinding Tool

You'll ultimately have to make the final call concerning which nail grinder is best for your dog, but the Dremel 7300-PT Cordless Grinding Tool is a great place to start.
It comes with everything you'll need and it's super easy to get used to, all for an affordable price.
✔
What I Liked
There are many great things about this grinding tool, but some of the best are:
The two-speed rotary tool
The 60-grit sanding drum which is powerful, yet comfortable
The two-year warranty that covers both the tool and battery
✘
What I Didn't Like
Here are a few other things you should know about this tool:
It may be a little noisy on the highest speed
The 120 voltage has burnt the wiring of the tool in some UK electrical plugs
Overgrown paw hair may get stuck in the rotary tool if not clipped first
Conclusion
The Dremel 7300-PT is well reviewed for a good reason. It's sturdy and reliable, plus it's covered by an extensive warranty.
It's worth trying out on dogs of any age and size, even if you've never used a nail grinder before.
Budget Choice
Peteast Pet Nail Trimmer
It isn't always possible to get premium dog products and I totally get that, but I have good news.
Pet parents on a budget don't have to worry about sacrificing quality for price when there's the Peteast Pet Nail Trimmer on the market for a third of the price of most other products.
✔
What I Liked
Some of the best features about this nail grinder are:
The 2-speed functionality
The three differently sized grinding ports and two heads
The built-in LED light for more precise nail care
✘
What I Didn't Like
Before you buy one of these grinders for yourself, make sure you know:
Some dogs may need a tougher grinding grit
It makes minor buzzing sounds, so it's not silent
Only comes with a USB charger
Conclusion
As long as you don't mind the USB charger, you'll love how efficiently the Peteast Pet Nail Trimmer will take care of your dog's nails.
Take advantage of the differently sized grinding ports so you can use it on multiple dogs of any size in one sitting.
Is Your Dog Driving You Nuts During the Day?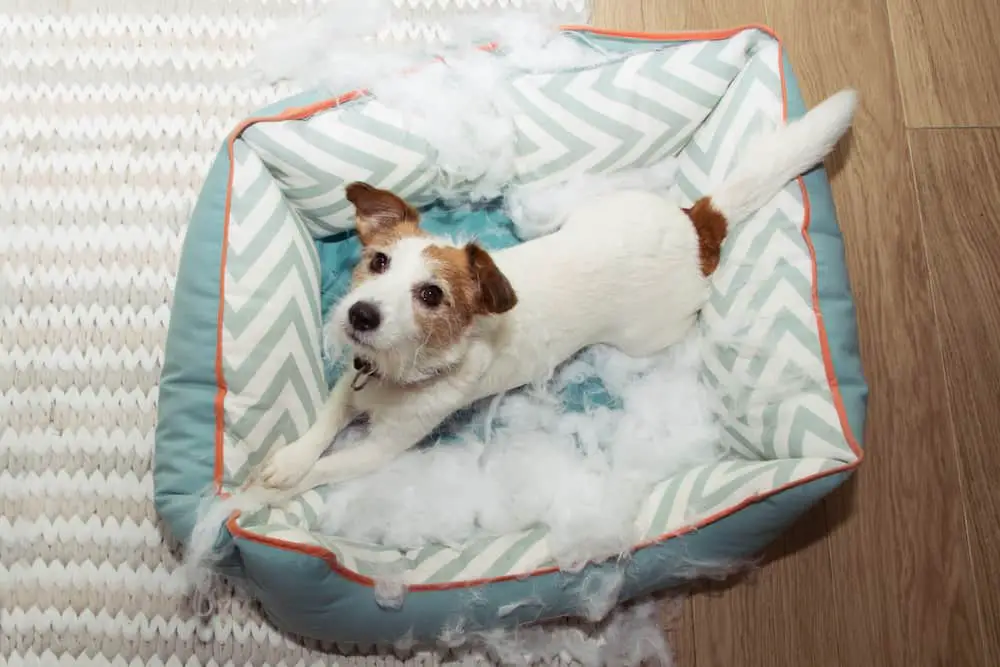 Get Our List of 11 Awesome Indoor Activities to Keep Your Dog Busy and Out of Trouble!
Upgrade Choice
Pieviev Nail Grinder
If you're willing to pay a bit more up front, you'll be impressed with the Pieviev Nail Grinder.
It has the ability to perform three functions and two speeds, plus it comes with a cute carrying case.
It'll fit easily in a drawer or cabinet, without bunching up in a bag that blocks your view.
✔
What I Liked
People pay more for this nail grinder because:
It comes with three heads for grinding, trimming body hair and trimming paw hair
It has a very quiet 60 decibel motor
It holds up to two hours of battery life
✘
What I Didn't Like
You might not enjoy this product because:
Short-haired dogs won't need hair trimmed often
It doesn't come with an additional grinding head
It only has a USB charger cord
Conclusion
When you have room in your budget, splurge with an extra few bucks and get Pieviev Nail Grinder for your dog.
You'll see why it's worth your money as soon as start trimming hair and shaving down your dog's nails.
Best for Older Dogs
Oster Gentle Paws Grinder
It's easy to accidentally spook older dogs, especially if they can't hear the nail grinder turn on.
They need something gentle on their joints as well, which is when the Oster Gentle Paws Grinder will come in handy.
✔
What I Liked
The Oster is a great choice for older dogs because:
The rotary is extra quiet
It includes a coarse and fine stone band for sensitive paws
It has an adjustable safety guard so you never grind nails too far
✘
What I Didn't Like
Be aware that this nail grinder is also known for:
Taking longer on larger nails
Requiring four AA batteries
Slowing the sanding drum down when pressed too hard against nails
Conclusion
The quiet rotary and adjustable stone bands make the Oster Gentle Paws Grinder a winner with older dogs. Get it and play around with the safety guard and volume before introducing it to your furry best friend.
Best for Younger Dogs and Puppies
Casfuy Upgraded Nail Grinder
I know the struggle of trying to get your puppy to sit still for any length of time.
They love to squirm and play, so you'll need an extra safe nail grinder to protect their paws.
Try the Casfuy Upgraded Nail Grinder, which is made with small dogs in mind.
✔
What I Liked
I'd pick this nail grinder for puppies because:
It's low on vibration and noise, so it shouldn't scare your pup
It's cordless, so it's easy to maneuver around a squirming puppy
It has an ergonomic design that works in both hands, so you can hold your puppy with either
✘
What I Didn't Like
You should know that while you use this nail grinder, you may encounter:
It may take a while to charge completely
The rotary motor will slow down under intense pressure
Only comes with a USB charger
Conclusion
Given that most nail grinders will slow down if you put pressure on them, the Casfuy Upgraded Nail Grinder should still meet all your puppy's needs.
It's safe, has two speeds to choose from and won't let your puppy's nail slip through because it has a rotary guard.
Best for Scared or Timid Dogs
Rusee Noise Free Nail Grinder
Dogs don't fully understand why humans do what we do, so nail grinders can seem scary.
It's totally normal if your dog hasn't warmed up to traditional grinders.
Check out the Rusee Noise Free Nail Grinder to see if it helps your dog breathe easier while they get their at-home spa treatment.
✔
What I Liked
This nail grinder is great because it comes with:
Thick diamond grindstone, for easier grinding
Two replaceable grinding wheels
Unique technology to keep the noise under 50 decibels
✘
What I Didn't Like
You may not enjoy this nail grinder if:
You own a large-breed dog with large nails
You need to grind your dog's nails quickly
You can't clip overgrown nails first
Conclusion
Buffing and grinding are easy to do with the Rusee Noise Free Nail Grinder. It's quiet and gently works away at your dog's nail so they don't experience intense vibrations.
Try it out with your dog and you'll see how easy nail grinding can be.
What is a Dog Nail Grinder?
Some dog owners may not have heard of a dog nail grinder before.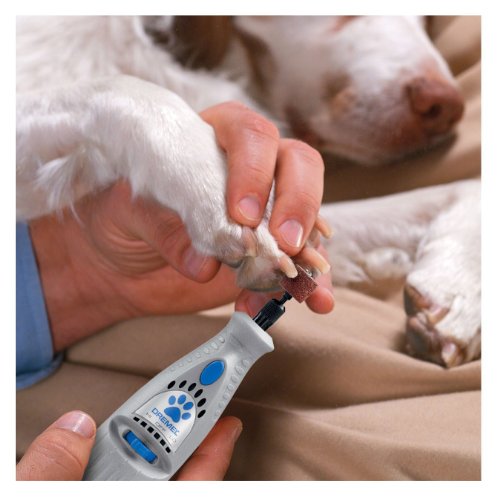 Until Maggie came into my life, I hadn't either.
Nail clippers are standard and cut nails off at harsh angles, which freaks some dogs out.
They may be uncomfortable for owners to use too, if you're not practiced at avoiding a dog's quick[1].
A nail grinder is a hand-held tool that has a rotating head on one end that feels like sandpaper.
You press your dog's nails to the rotary head one at a time to gently grind them down.
This helps shorten and buff their nails at the same time, which you don't get with a traditional clipper.
What to Look for in a Dog Nail Grinder
Now that you know some of the many dog nail grinder options that exist, you might feel confused.
There are so many features to consider, so which is the most important?
The truth is that it depends on your dog.
Here are a few things to look for in a dog nail grinder and why they might matter most to you or your furry best friend.
Level of Noise
Dogs don't understand nail trimming at first.
They'll panic if they're held down and put near a loud metal object, which is understandable.
Some dogs get used to the noise of a grinder and others don't.
You'll want to start off with something quiet if your dog normally bolts at loud noises or switch to a quiet model if they haven't adjusted to a louder nail grinder after a few tries.
Is It Rechargable?
Most nail grinders are rechargeable, but some require batteries.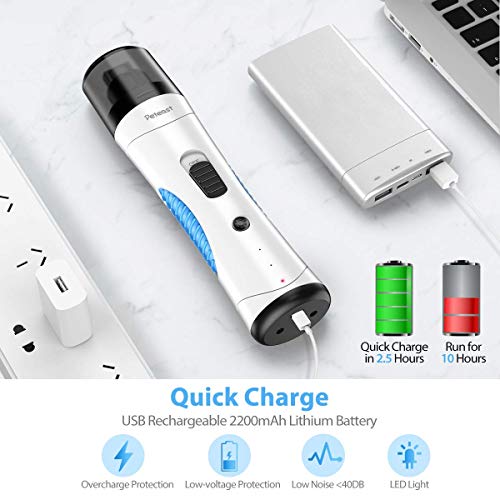 What's the big difference?
You might value rechargeable nail grinders because you save money when you don't replace batteries frequently[2].
On the other hand, a high quality nail grinder that requires batteries won't drain them immediately.
The best way to know if it's worth investing money into batteries is to read reviews or try the nail grinder out and time how long the batteries last depending on your usage.
Overall Weight
Some nail grinders are heavier than others.
It depends on the brand and model, but the wrong weight could wear you out. It may take you an extra fifteen to thirty minutes to grind your dog's nails because they wiggle away or you don't want to press too hard.
Holding that heavy weight in your hand will quickly become a nuisance.
If it takes longer than ten to fifteen minutes to trim your dog's nails with a clipper, you'll want a lighter nail grinder.
Ease of Use
A cord will determine how easy a nail grinder is to use, especially if you move around a lot to keep your dog still during spa treatments.
Cordless models make it easy to switch from hand to hand instantly.
You'll also want a nail grinder that has easily attachable rotary heads.
If you need a toolkit to eventually replace the worn down rotary attachment, there's a better model out there for you.
Keep in mind, you'll need to do this every two to three weeks to maintain healthy canine nails[3].
Total Comfort
It's easy to forget, but not all nail grinders are made for both hands.
Some are restrictive to the left or right hand, so look for how you should hold it before you buy one.
Conclusion
These nail grinders are all great options, depending on what your dog needs.
Still, I'd have to say the Dremel 7300-PT Cordless Grinding Tool is the perfect way to start out into the world of dog nail grinding. You'll have everything you need after one purchase and it's easy to learn.
Think about how your dog reacts to nail trimming, their age and their size to help narrow down which nail grinder is right for you.
FAQs
Are Nail Grinders Good for Dogs?
Nail grinders are safe for every dog, but they're especially good for dogs with dark nails.
Dark nails make it harder to see the quick, which is painful for your dog if you accidentally cut it with a nail clipper.
How Often Should You Grind Your Dog's Nails?
You can cut or grind your dog's nails as frequently as every two to three weeks or up to every two months.
If you can hear your dog's nails clicking on your hardwood floor, it's time for a trim.
Long nails put extra pressure on your dog's paws as they walk and can be very painful.
What Happens If You Don't Cut Your Dog's Nails?
If you don't cut your dog's nails, they'll continue growing until they reach under and up into the paw pads.
They may also crack down to the quick and expose the sensitive nerve endings.
Overgrown nails quickly lead to pain and infection, so it's important to trim them frequently.
References