This post may contain affiliate links. It doesn't cost you anything extra and it keeps our lights on, our families fed, and our dogs spoiled. For all the juicy fine print, see our affiliate disclosure
The great debate of flea and tick medicine continues to thrive with the abundance of options on the market today.
I recently talked with my dad about different flea and tick medications and told him that we have chosen to switch our dogs from a chewable to a topical medicine.
I chose to change flea and tick preventatives because I prefer the topical option since parasites don't need to bite my dogs for the medicine to work.
That being said, there are two top brands that I am considering: Vectra 3D and Frontline Plus.
Though they both have some similarities, they also have significant differences, so I wanted to compare the two against one another.
Vectra 3D vs Frontline
Vectra 3D
Active Ingredients: Dinotefuran, Pyriproxyfen, and Permethrin
Type: Topical Treatment
Duration: 1 Month
Vectra 3D is unique because it is a broad-spectrum topical pesticide that protects against more than just fleas and ticks.
The other parasites it kills include mosquitoes, sand flies, and stable flies.
Vectra 3D is a Ceva Animal Health product. Ceva animal health is a French-based company that has been in the pet pharmaceutical market since 1999. Since then, they have expanded to include headquarters in the US.
Ceva is also the parent company to other pet medications such as Adaptil, the popular calming pheromone spray, and plugins.
Vectra 3D contains three active ingredients: dinotefuran, pyriproxyfen, and permethrin.
These chemicals are what give Vectra 3D the strength to be effective against so many parasites.
Like most topical flea treatments Vectra 3D is available in individual doses with an easy mess-free applicator.
Vectra 3D not only kills adult fleas but also works against flea eggs and larva, ending the life cycle immediately1.
And unlike other flea medications, Vectra 3D kills on contact before fleas and ticks bite your pup.
Also, Vectra 3D repels 80% of mosquitoes, and the few that do land on your dog will die on contact.
Is Your Dog Driving You Nuts During the Day?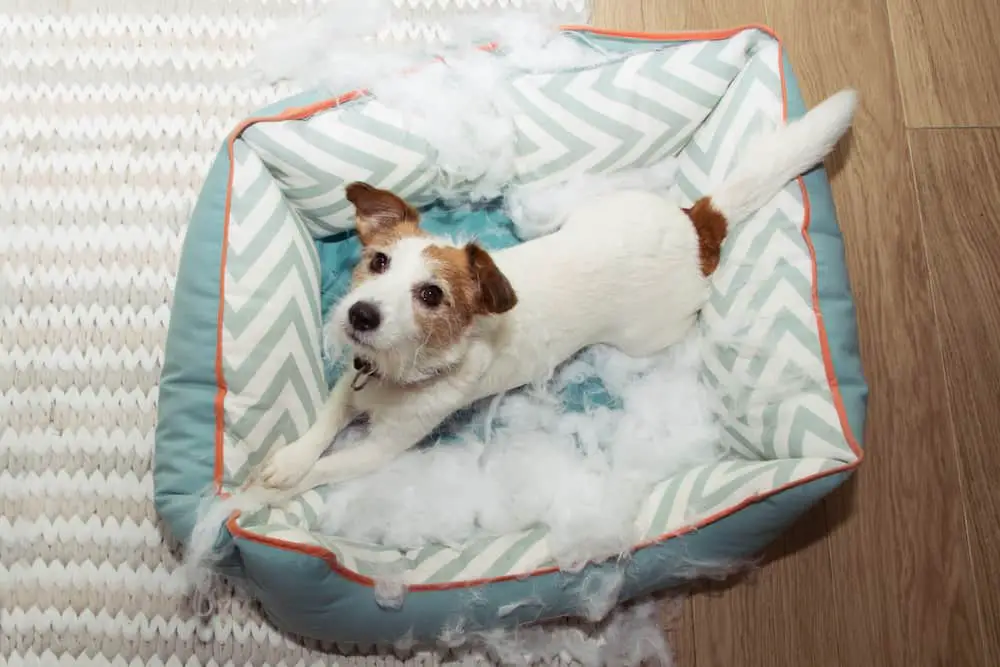 Get Our List of 11 Awesome Indoor Activities to Keep Your Dog Busy and Out of Trouble!
Vectra 3D is reported to be safe for puppies as young as seven weeks old.
Pros
Effective against several common pests
Repels 80% of mosquitos
Reduces flea activity in just five minutes
Economical
Cons
Significant side effects
Requires a prescription
To order Vectra 3D today, click here!
For more information, check out our Vectra 3D article!
Frontline Plus
Active Ingredients: Fipronil and (S)-methoprene
Type: Topical Treatment
Duration: 1 Month
Frontline Plus is produced by Boehringer Ingelheim & Merial Group and has been available since 1993.
Boehringer Ingelheim & Merial Group is a French world-renowned pharmaceutical company with more than 100 years of experience.
Frontline is a topical flea and tick medication that you apply between your dog's shoulder blades.
Frontline is packaged in individual doses with a self-puncture top for easy application.
Frontline uses two active ingredients, Fipronil and (S)-methoprene, to prevent and kill fleas and ticks.
What makes Frontline unique is that, unlike many flea medications, it takes care of adult fleas as well as the larva and eggs. Fipronil eliminates adult fleas and ticks, and (S)-methoprene takes care of the eggs and larvae, interrupting the flea lifecycle.
In addition to fleas and ticks, Frontline also works to kill and prevent chewing lice2.
And it only takes Frontline 4 hours to start working and 12 hours to eradicate any flea infestation.
Best of all, Frontline works topically and does not need to enter the bloodstream fleas and ticks die on contact instead of waiting for the parasite to bite them.
Though Frontline is waterproof, dogs should avoid swimming for 24 hours after Frontline is applied.
Additionally, Frontline is safe enough for puppies as young as 8-weeks old.
Pros
Starts to work within four hours
Fewer side effects
No Prescription Needed
Economical
Cons
Can cause skin irritation
Dogs can't swim or be bathed for 24 hours after application
Click here to order Frontline Plus Today!
For more information check out our Frontline Plus Review!
Face to Face Comparison
Vectra 3D
Frontline Plus
Form
Topical
Topical
Kills Both Fleas and Ticks
Yes
Yes
Repels Fleas and Ticks
Yes
No
Other Parasites
Mosquitos, Stable Flies, and Sand Flies
Chewing Lice
Active Ingredients
Dinotefuran,
Pyriproxyfen, and
Permethrin
Fipronil and (S)-methoprene
Duration
1 Month
1 Month
Prescription Needed
Yes
No
Waterproof
Yes
Yes
Price per Month (Based on a Small-Sized Dog)
$13.33
$11.33
Number of Treatments per Box
3
6
Minimum Age Requirement
7 Weeks
8 Weeks
Side Effects
There isn't a flea and tick medication on the market that does not have side effects; however, some have more side effects than others.
Below are the side effects associated with Vectra 3D and Frontline Plus:
Vectra 3D:
Chemical burns
Itchiness
Manic behavior or anxiety such as being jittery, agitated, and restless3
Lethargy
Panting
GI upset, including diarrhea and vomiting
Increased heart rate
Increased thirst
Increased body temperature – skin warm to touch
Dehydration
Frontline Plus
Redness or skin irritation at application site
Scratching
GI upset such as vomiting or diarrhea
Which is Most Effective?
Vectra 3D
Because Vectra 3D is effective against a variety of parasites, I have chosen it as the winner in this category.
It is essential to point out that both are equally effective against adult fleas and eliminate all life stages.
However, you should know that though Vectra 3D and Frontline are useful against four types of ticks, one of those four is different for each product.
Vectra 3D is effective against Gulf Coast ticks, whereas Frontline is effective against Lone Star Ticks; choosing the right product for your dog depends upon where you live in the US.
Which is Safest?
Frontline
Frontline's minimal side effects are one of the reasons why this is one of my favorite products.
However, when comparing Frontline into Vectra 3D, it is essential to remember that the more active ingredients a product has, the greater the chance of side effects.
So though it is nice that Vectra 3D works against many parasites, the downside is that the side effects are greater in number and can be more severe.
Which Works Fastest?
Vectra 3D
This time, Vectra 3D is the winner because it begins to reduce flea bites within as little as five minutes after application.
And dogs previously treated with Vectra 3D show effects of eliminating new flea infestations in as little as two hours, and for dogs who have not been treated with Vectra 3D, it can take up to six hours to eliminate 96% of the fleas.
Frontline takes 4 hours to start working and 12 hours to eliminate any flea infestation.
Which Lasts Longer?
Tie
This was an easy one since they both last up to one month.
Standout Features
What sets Vectra 3D apart from its competition is its effectiveness against a variety of pests.
Vectra 3D is a product that I would highly recommend for those who have healthy adult dogs that enjoy the outdoors, especially those who live outside.
What I like most about Frontline Plus is that it has fewer side effects than its competition.
And what I like about these two products above other flea and tick medications is that they are effective against adult fleas, and their eggs and larva and fleas and ticks do not need to bite our dogs to be effective.
Overall Winner
Frontline
Although vector 3D covers more parasites, it also carries greater risk than Frontline.
When I decide upon a product, safety is always my number one concern.
Though I have tried other products, I always return to Frontline because of safety and because the parasites die on contact.
Conclusion
Both Vectra 3D and Frontline are fast-acting, effective against fleas and ticks, and last up to 30 days, making them pretty similar.
However, the most significant difference is the active ingredients and how they affect your dog and other pests.
Frontline is my number one pick between the two; however, there are situations when Vectra 3D is the better option.
For example:
If your dog lives outside, then Vectra 3D is the better choice
If you live in an area that sand or stable flies are an issue, Vectra 3D will help your dog stay more comfortable
If your dog has health issues, then Frontline is the best choice for your pup.
Resources