This post may contain affiliate links. It doesn't cost you anything extra and it keeps our lights on, our families fed, and our dogs spoiled. For all the juicy fine print, see our affiliate disclosure
One familiar problem dog owners face is the infestation of fleas, ticks, and worms.
Fleas can not only spread deadly diseases such as heartworm and roundworms to your pets, but they also cause a significant amount of discomfort for your pet.
As a caring pet parent, you are always looking for new and effective treatments that promise to provide your pet with better health and more comfortable life.
One such product is the Simparica Trio Chewable Tablet for dogs. This tablet is one of the few products that can provide your pet with complete protection against fleas, ticks, and worms.
In addition, it is a chewable tablet and can be given to your dog without any complications.
I understand that many dog owners may be skeptical because of many products promised and failed in the past, so I will review the product in full detail and let you know if it is as effective as it claims to be.
What is Simparica Trio Chewable Tablet for Dogs?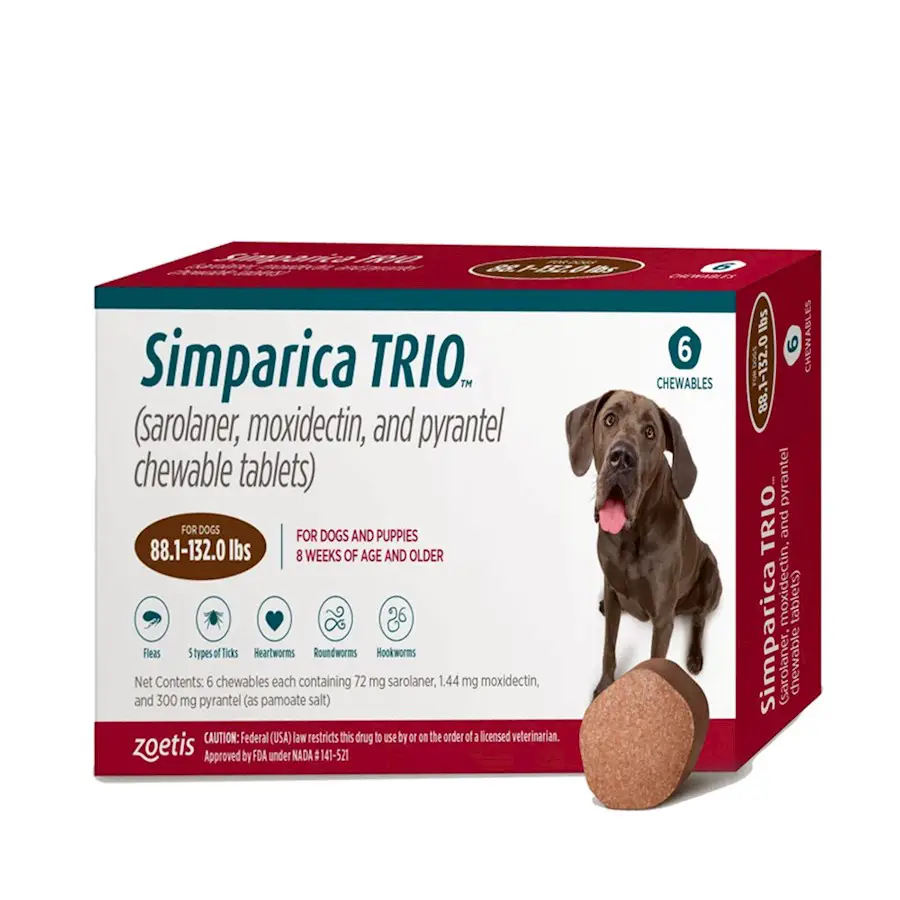 Simparica Trio Chewable Tablet for Dogs is an oral medication that can deliver three different types of protection to your pet against fleas, ticks, and worms.
It is the first product of its kind that is effective against all three types of parasites.
This product provides a monthly solution to flea infestations, ticks, and worm infections in dogs.
The FDA has approved this product for use in dogs between 5.6 and 11 pounds1.
It is the most convenient flea and tick protection product on the market. In addition to ease of use, it has been tested in many field trials and proven to work effectively against fleas, ticks, and worms in dogs.
Simparica Trio contains three active ingredients: pyrantel, sarolaner, and moxidectin.
Do these ingredients sound familiar? They can also be found in Bravecto. Read our review here!
Why use Simparica Trio Chewable Tablet for Dogs?
This tablet is used in dogs to treat ticks (American dog ticks, lone star ticks, gulf coast ticks, brown dog ticks, and black-legged ticks).
Is Your Dog Driving You Nuts During the Day?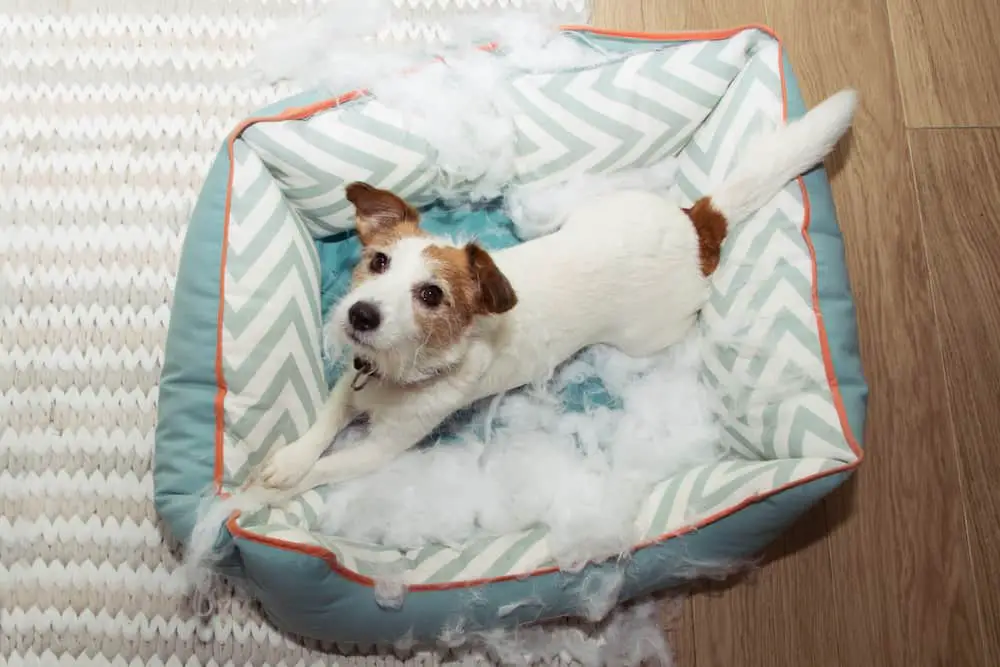 Get Our List of 11 Awesome Indoor Activities to Keep Your Dog Busy and Out of Trouble!
Simparica Trio is also used to prevent fleas infestations, heartworms, adult hookworm infections, and roundworms.
How does Simparica Trio Chewable Tablet for Dogs work?
Pyrantel pamoate belongs to the tetrahydro pyrimidine class of nematocides2.
The paralyzing properties of pyrantel also make it a neuromuscular blocker, which is why it causes the infection to cease and the parasite to be expelled.
Sarolaner belongs to the isoxazoline group of acaricides3.
The neurotransmitter sarolaner inhibits the glutamate and gamma-aminobutyric acid (GABA) receptors at the neuromuscular junction and acts at the cell membrane. As a result, insects and acarines die from uncontrolled neuromuscular activity.
Macrocyclic lactones include moxidectin, an endectocide4.
The chloride channels in the parasite are disrupted by moxidectin. As a result, the parasite is paralyzed and dies.
Are there Side Effects of Simparica Trio Chewable Tablet for Dogs?
Some likely side effects of giving your dog Simparica Trio include diarrhea, polyuria, polydipsia, vomiting, lethargy, and hyperactivity.
There have been reports of seizures in dogs that have been given Simparica Trio.
This is because sarolaner contains isoxazoline, which is has been linked with neurological adverse reactions, including ataxia, seizures, and tremors5.
Consult with your veterinary professional before you give Simparica Trio to your dog.
Safety Precautions
Do not give this medication to lactating, breeding, or pregnant dogs because there has been no safety data to show that it is safe for dogs of these ages.
It is also advisable to keep this drug away from children and pets.
Secondly, before Simparica Trio is administered, the dog should be tested by a vet for the presence of a heartworm infection.
Finally, a veterinarian can determine whether adult heartworms should be removed from infected dogs.
What I Like About Simparico Trio Chewable Tablet for Dogs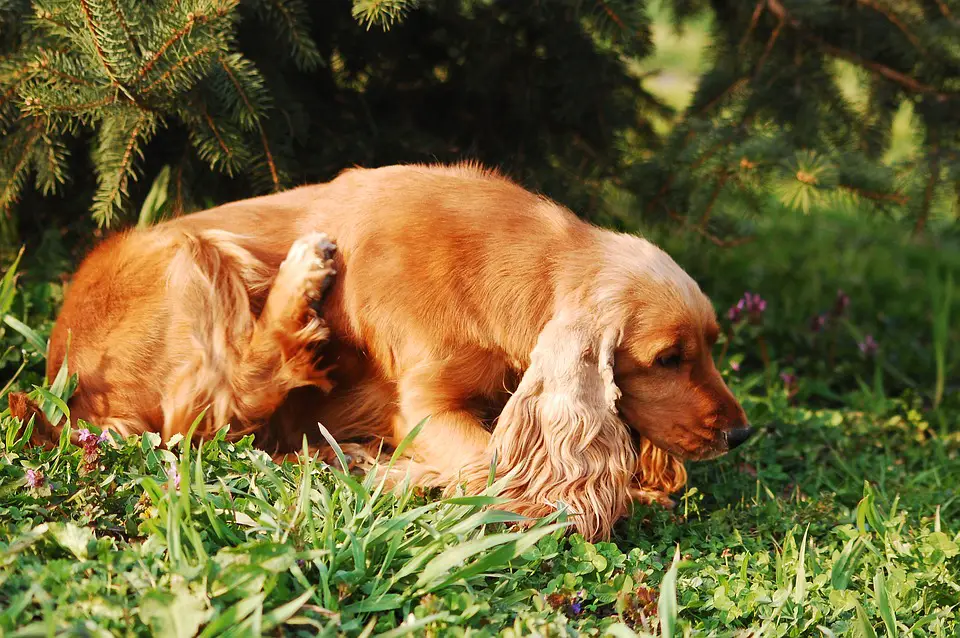 Simparico Trio is a highly efficient flea and tick protection product that is safe for dogs.
It can treat flea infestations, flea allergy dermatitis, and ticks. This medication is also effective against adult heartworms.
However, the most appealing quality of this medication for me is the all-in-one protection.
Dogs typically don't like to take medications.
But Samparico Trio makes the tablet chewable, and dogs feel as if it is a treat.
Another reason this drug gets a top mark from me is, it is FDA approved, which means that it is undoubtedly safe for all dogs. In addition, it is non-toxic, non-irritant, and non-allergenic.
The best thing about this product is that you can adjust the dose according to your pet's weight.
Final Thoughts
Simparico Trio is a solid product, and even though it does not come cheap, it gives your dog the best health.
However, before you decide to buy this product, make sure that it is what your dog needs and nothing more. Consultation with your vet should be a must.
Also, make sure that you are aware of the side effects.
This is particularly important if your dog has an underlying medical condition.
If you have any questions regarding Simparica Trio, ask your vet or leave a comment below.
Frequently Asked Questions
Where to Buy Simparica Trio Chewable Tablet?
How Long Is Simparica Suitable For?
Simparica is a monthly chewable that starts working immediately and lasts for 35 days.
So, if you're running behind on the next dose, you'll have some wiggle room at the end of the month.
How Is Simparica Chewable Tablet for Dogs Sold?
These tablets are sold in three packs for a three month supply, and six packs for a six month supply.
Also, your dog's weight is essential, so you need to weigh your dog accurately before giving her a Simparica tablet.
How Can I Store Simparica Chewable Tablet for Dogs?
Keeping tablets below 86°F (30°C) is best, but excursions to 104°F (40°C) are permitted.
Do I Need a Prescription to Buy Simparica Trio?
Yes, you need a prescription from your vet to buy Simparica Trio Chewable Tablets for Dogs.
Is Simparica Harmful to Dogs?
If your dog has a history of neurologic disease (or rarely not), Simparica can cause neurological signs like tremors, instability, and seizures.
The safety of Simparica in pregnant, lactating, and breeding dogs is not known.
In clinical trials, vomiting and diarrhea were the most common adverse reactions.
What to Do If My Dog Overdoses on Simparica Trio?
If you ever suspect or encounter any overdose situation, please visit your nearest vet or emergency center at once and inform them of the details of what has occurred.
It is most credibly essential that you develop the extent of your dog's illness and communicate it to the vet.
Resources