This post may contain affiliate links. It doesn't cost you anything extra and it keeps our lights on, our families fed, and our dogs spoiled. For all the juicy fine print, see our affiliate disclosure
Back when I was first considering getting a dog, people told me that one of the most important decisions I would make for my dog would be deciding which flea prevention method I would choose for them.
I tried researching the options on my own, but there are so many to choose from.
Some dog owners prefer to use a flea repelling collar, such as Bayer's Seresto, to keep their dogs safe when they're outside, which can work effectively, especially in conjunction with other methods to control flea in your home and yard.
What really caught my eye, though, was that the flea medication usually protected dogs against much more than bugs.
I talked with my vet about Maggie's options at her first appointment, and they suggested I look into Trifexis and Sentinel chewables.
Here's what I found out and how I made my final decision.
Want another option? Check out our Bravecto Chews review
Overview
The only way to make an informed decision is to compare the two brands to see what they offer and how they differ.
Trifexis
Trifexis is a solid, white pill that was designed to take care of and prevent many problems at once.
It kills fleas and parasites, along with preventing and treating hookworm, whipworm, roundworm, and heartworm.
Other medications that target parasites are applied on the coat and require the dog to stay away from other dogs and people for a certain amount of time. Trifexis doesn't cut into your dog's social life and can be given in less than a minute.
While Trifexis is recommended by vets for dogs as young as eight weeks old, there was a momentary scare back in 2013 that Trifexis may have caused dog deaths.
However, after more research was conducted, vets concluded that the dogs died of heart-related ailments and not the medication.
There have been no recalls of Trifexis and no other reports of possible negative reactions.
Sentinel
Sentinel is another very popular flea preventing chewable.
It also protects dogs from fleas and parasites, specifically whip, hook, heart, and round worms.
What sets it apart from Trifexis is that it can also fight tapeworms.
In 2011, the Novartis Animal Health company that produced Sentinel put their production on hold after failing a quality control inspection by the FDA.
They continued production two years later and have been selling Sentinel ever since.
Sentinel may be preferable to certain dogs because it is a little softer and chewier than other flea pills.
It also comes in a variety of flavor packs, so your dog can enjoy the experience without pill pockets hiding the taste.
Is Your Dog Driving You Nuts During the Day?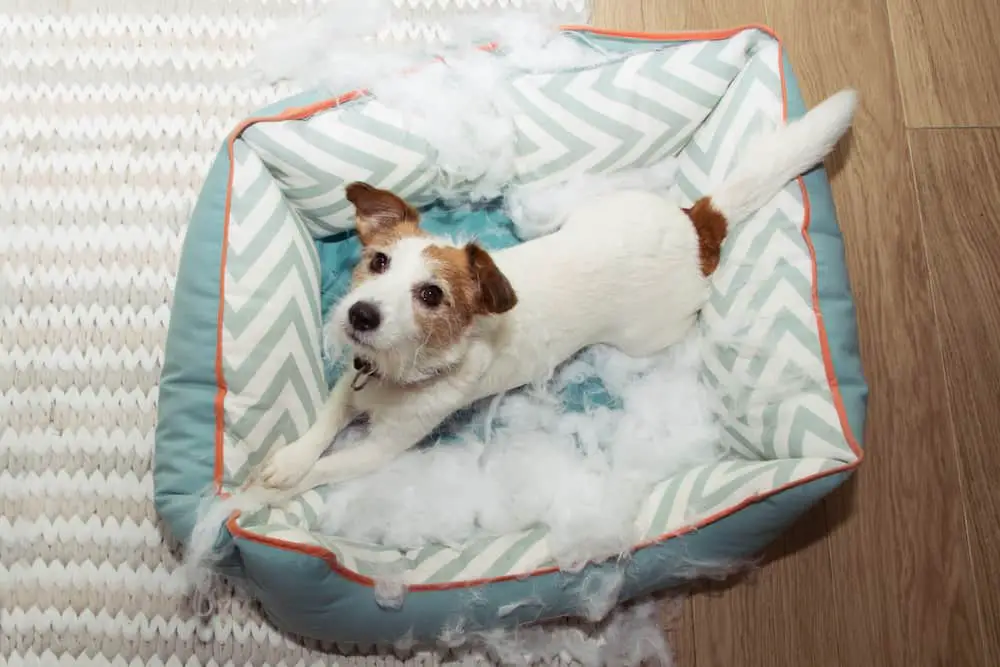 Get Our List of 11 Awesome Indoor Activities to Keep Your Dog Busy and Out of Trouble!
Features to Look for in a Chewable Flea Pill
At this point, I was a little overwhelmed with information.
Here's what you can really focus on with each chewable flea pill option.
Efficacy
You want to look for a flea pill that not only covers everything you want your dog protected against, but that also works.
That's when it's important to look at user reviews.
Your vet's opinion will be critical to get before picking a medication, but user reviews could make you lean one way or the other.
Price
Pricing for flea medication will change as your dog grows.
The more each dog weighs, the more medication they'll need.
Larger dogs will require more expensive, larger pills, so you should compare the pricing of the pills according to how much your dog is expected to grow.
Availability
Are you able to pick up medication at your vets office?
Would you prefer for the medication to be delivered to your home?
Which medication is more available will be a game changer in what you choose.
Side Effects
It's always good to know the potential side effects of any medication you might give to your dog.
There may be a very little chance that your dog will experience them, but you should still know what to look for.
Flavor
Not many medications come in a particular flavor, but it's a good choice to have.
Your dog should be able to find a flavor that they enjoy, instead of being forced to take a pill they hate.
Which is the Best?
Now that you know what features are most important, you can compare them in both Trifexis and Sentinel.
Efficacy
  Winner: Toss Up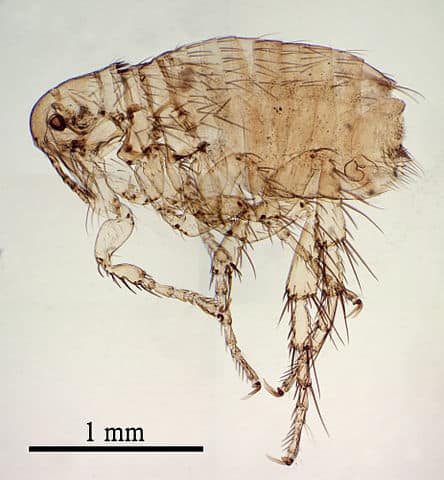 There's a reason why these are two of the top flea preventative medications out there.
Trifexis has been proven to be highly effective. It targets fleas and worms to banish and prevent them.
Owners who give this medication to their dogs are highly satisfied with the results.
The same goes for Sentinel, with one exception.
It's successful at preventing the many fleas and worms it claims to fight, but it hasn't been able to kill adult fleas.
If your dog already has fleas, it's best to get rid of the fleas with collars or topical treatments in addition to Sentinel so fleas of all life stages go away.
Based on these studies, it's safe to say that they're both equally effective at treating and preventing most flea cases.
However, if you want total coverage, Sentinel is the better choice since it will protect your dog from tapeworms as well.
Price/Value
  Winner: Sentinel   
The overall value of the medication you choose will mostly relate to the size of your dog. Users who gave their dogs Trifexis reported that it was costly, but effective.
If you don't mind paying a little extra, you'll get great results.
Sentinel users pay less than Trifexis users, but they still get almost all the same results.
With the exception of adult fleas, Sentinel takes care of all the same issues, which is why this brand would be my choice between the two.
Availability
  Winner: Trifexis   
Both of these medications can be bought online with a prescription.
You may be able to buy them at your vet's office if they're in stock, but they'll always be available through websites that will deliver to your door.
You can also buy these brands in bulk.
They both come in six month supplies, with Trifexis also offering a twelve month supply. Trifexis wins in availability, since it's easier to get a year's supply in one order.
Side Effects
  Winner: Trifexis   
Trifexis side effects aren't known to be common in dogs, but they can still occur.

Side effects may include itching, weakness, diarrhea, vomiting, and lack of appetite. Rare but more serious side effects are drooling, seizures, tremors, and disorientation.
Sentinel shares a few Trifexis side effects such as vomiting, diarrhea, lack of appetite and weakness.
It should be noted that side effects are more commonly seen in Collies, as they're more sensitive to the active ingredient Milbemycin.
Since Trifexis doesn't come with any breed warnings, it's my preferred medication when it comes to side effects.
Flavors
  Winner: Sentinel   
While other variables like availability and side effects are extremely important to consider, whether your dog is happy to take the medication or not is a game changer.
Dog owners reviewing Trifexis stated more often than not that the flavor deterred their dog from taking the pill.
Forcing a pill down their throats is never an enjoyable experience and shouldn't have to happen on a monthly basis.
On the other hand, Sentinel customers have a variety of flavors to choose from. If their dog doesn't like the flavor they buy, they can always try another one.
Users report being able to give their dog's medication much more easily than those using Trifexis.
You'll have to decide for yourself which flavor would be preferred by your dog, but Sentinel is your best bet for finding something your dog will enjoy.
Overall
  Winner: Sentinel   
After hearing what your vet recommends for your dog, I'd recommend trying Sentinel with your dog to prevent fleas and worms.
It's the preferred choice when it comes to price and flavor. It also covers more worm prevention than Trifexis.
However, if your dog is always in areas where adult fleas can be found, such as dog parks, Trifexis may be the better choice for you.
Sentinel won't kill adult fleas, so you may end up spending more money on adult flea treatment in addition to the monthly medication.
Sure, you can try natural methods for killing fleas, but the right medication is easier and can work better.
Conclusion
I've had Maggie for almost two years now, and she's been on Trifexis since she was a puppy.
I was impressed by how much it would protect her from, and I've enjoyed getting the six month supplies shipped to my home.
Additionally, it's what the vet recommended she take as soon as she started getting her first shots.
I trust that the vet has her best interest in mind, but I wish I had known that Sentinel can also be taken at that age.
Like other customers, I've had a harder time getting Maggie to take her monthly pill. Even hiding it in pill pockets won't mask its taste and smell for her.
It's a monthly battle that I dread.
Having the ability to switch between flavors would be a dream, which is why I think it's worth trying out Sentinel first.
Just always keep an eye out for adult fleas after trips to public areas.
Otherwise, you may need to find creative ways to get your dog to swallow their Trifexis dose!
Still Have Questions?
Ask a Vet!