This post may contain affiliate links. It doesn't cost you anything extra and it keeps our lights on, our families fed, and our dogs spoiled. For all the juicy fine print, see our affiliate disclosure
By now, I'm certain we are all conscious of the benefits of coconut oil for dogs.
But what about the coconut itself?
It was a question I've been pondering.
I've wondered if oil would be more concentrated than the coconut meat itself, so of course, I had to satisfy my curiosity.
Also, since I see coconut on the ingredient list for treats and food, I questioned if its an ingredient with any real benefits, or is it there to make dog owners feel better about the food they buy?
Plus, I have to wonder: If coconut oil is good for dogs, what other coconut products have benefits, too?
Can Dogs Have Coconuts?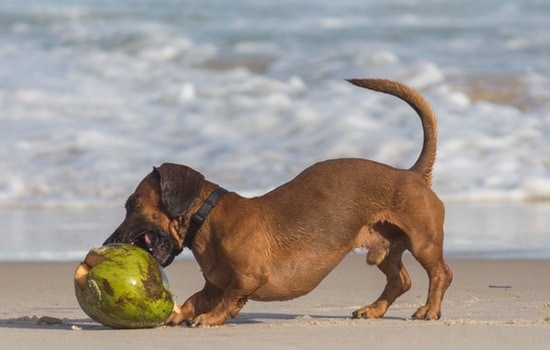 Yes, dogs can eat coconut meat.
Coconuts are non-toxic and have various health benefits. Coconuts and coconut oil have similar positive health effects on our dogs.
However, if you are going to feed your dog coconut, it is best to feed young coconuts instead of mature coconuts since they can be harder to digest.
Is Your Dog Driving You Nuts During the Day?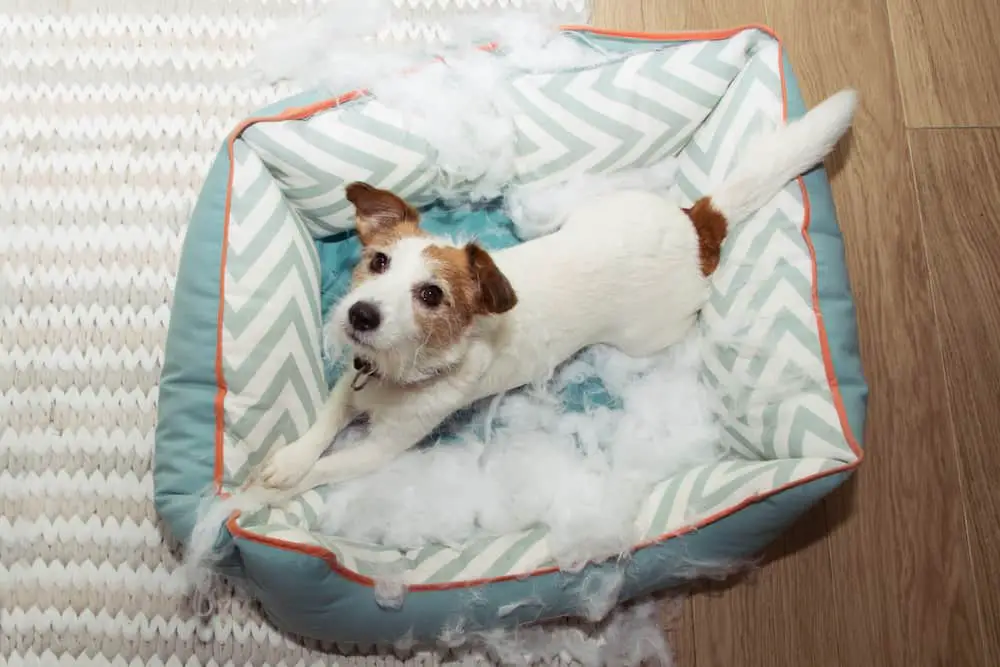 Get Our List of 11 Awesome Indoor Activities to Keep Your Dog Busy and Out of Trouble!
Coconut oil has a higher concentration of health benefits per tablespoon since water and other elements have been removed.
What Coconut Products and Parts are Safe for Dogs to Eat?
Coconut Shells and Husks: Shells and husks are non-toxic, but neither are they good for your dog. The shells can pose a choking hazard and the husks have no nutritional benefit. However, the husks are used for the fiberfill used in many all-natural dog toys[1].
Sweetened Coconut – Though it's not harmful, your dog likely doesn't need the extra sugar in their diet.
Coconut Milk – Yes, but coconut milk generally contains additional ingredients and is high in fat, so it's not great for dogs with weight issues or dogs who suffer from pancreatitis.
Coconut Ice Cream – This is the same as coconut milk. It is safe, depending on the other ingredients involved in making it. Also, it can be high in fat and contains unneeded sugar.
Coconut Water: Dogs can drink coconut water in moderation. It is full of vitamins, nutrients, and electrolytes. However, be sure you purchase non-sweetened coconut water. Also, use caution when feeding it to your pup since coconut water has a high level of potassium. Increased levels of potassium can cause health issues in dogs such as Hyperkalemia[2].
Coconut Flour – As long as it is strictly made from coconut, yes, coconut flour is safe and also a great alternative for dogs who suffer from allergies to grains and gluten.
Are Coconuts Good for Dogs?
Yes, coconuts have several health benefits, just like coconut oil.
Most coconut products share a variety of beneficial health properties like[3]:
High in manganese, which aids in promoting good bone health and helps to metabolize carbohydrates and proteins
Contains a good amount of amino acids, which keep pancreatic cells functioning well and aids in maintaining healthy blood sugar levels
Rich in antioxidants, which boosts the immune system and reduces the risk of disease and illness
Aids in getting rid of as well as preventing fleas
Promotes a healthy coat and skin
Possible Dangers of Coconuts
There are only a few dangers associated with coconuts, but those that do exist are:
Allergic reaction – Rare but possible
GI upset and bloating
Adding to obesity
May trigger pancreatic flareups
The shell poses a choking or obstruction hazard
How to Serve Coconut to Your Dog
Homemade Frozen Treats
If you want to take it to the next level and be a bit more creative, try adding some of the following ingredients to coconut water:
Plain unsweetened yogurt
Blueberries
Bananas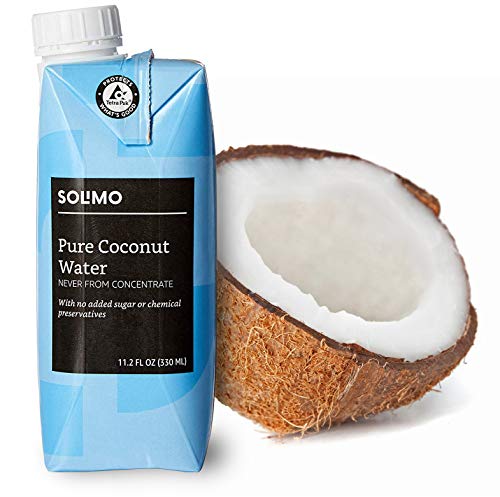 Experiment with using a few, if not all, of the above ingredients together.
All you need to do is toss the ingredients into a blender and mix with coconut water.
Next, pour the coconut water mixture into ice cube trays or silicone treat molds then freeze them.
Your dog will love these!
Plus, if you have dogs with allergies, you can omit anything that would be problematic, like nuts or dairy, and still make a yummy treat your dog will go bonkers over!
How Much Can You Feed Your Dog
Coconut is good for our dogs, but they can have too much of a good thing, especially during the introductory period.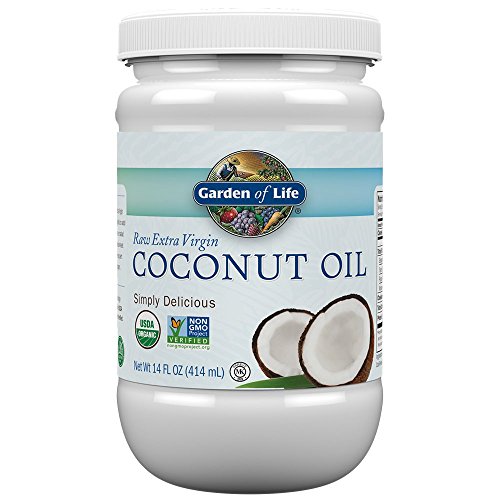 Much like coconut oil, because of its high-fat content, too much coconut meat too soon can cause your dog to have an upset stomach, often in the form of diarrhea.
The normal amount of coconut for dogs is 1 Tbsp per 30 lbs per day.
But that should be adjusted according to your dog's dietary needs.
For example, some dogs who need to keep the weight off will want to consume less than the regular daily allowance.
What's another food dogs can have, but only occasionally?
Waffles. Yes, really!
Conclusion
The answers to all of my questions were answered regarding adding the whole coconut to a dog's diet.
I am pleased to know that all of the different pure coconut products and coconut itself share similar health benefits as coconut oil.
So, regardless of which form you feed coconut to your dog, you can be confident in knowing that it is a healthy treat option for your pup.
Though I rarely have coconut in the house, I always have coconut oil.
My dogs love coconut oil; they eat it just like a treat.
However, the next time I have plain shredded coconut, I will see if my trio has any interest in that since it would make a great food topper when they are picky.
Also, I will definitely be trying a variety of dog treat recipes using coconut flour. It is an excellent flour alternative for my dogs who have food allergies.
And there is no better time to bake with the pups than on a cold February afternoon.
Resources