This post may contain affiliate links. It doesn't cost you anything extra and it keeps our lights on, our families fed, and our dogs spoiled. For all the juicy fine print, see our affiliate disclosure
My dogs do not love the great outdoors for more than hiking and walking, so we have never needed a dog house.
However, my grandparent's Siberian Husky, Star, is a whole different story.
In the summertime, Star spends a great deal of time indoors enjoying the AC, but once fall and winter hit, she's all about the cold weather and snow.
Because she loves the outdoors so much, my grandpa built her a doghouse.
Star prefers to be out all winter, so the doghouse gives her shelter on the colder days when she still refuses to come inside.
She is always welcome to go indoors whenever she wants, but I swear once the first snowflake falls, she is absolutely determined to stay outdoors.
Just before the cold weather hit Minnesota, I helped my grandpa do some repairs to get the doghouse ready for winter.
In addition to regular maintenance, we needed to give the house a good cleaning.
In the summer, my grandpa stores the doghouse in the shed to keep unwanted critters from taking up residence in the doghouse.
Related: Types of Dog Houses – Which One is Right for You and Your Pup?
Start from the Outside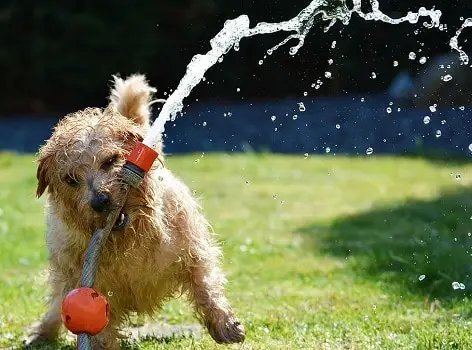 When cleaning your dog's house, it's essential you clean from the outside in.
First, you will want to start with cleaning your backyard and removing any pet waste.
Depending on your dog's bathroom habits and the number of dogs you have, picking up the yard twice a week will aid in keeping your dog's house cleaner.
Picking up your yard is particularly vital in wetter months, as dogs can't help but track in mud and muck all over their doghouse and onto their bedding.
Is Your Dog Driving You Nuts During the Day?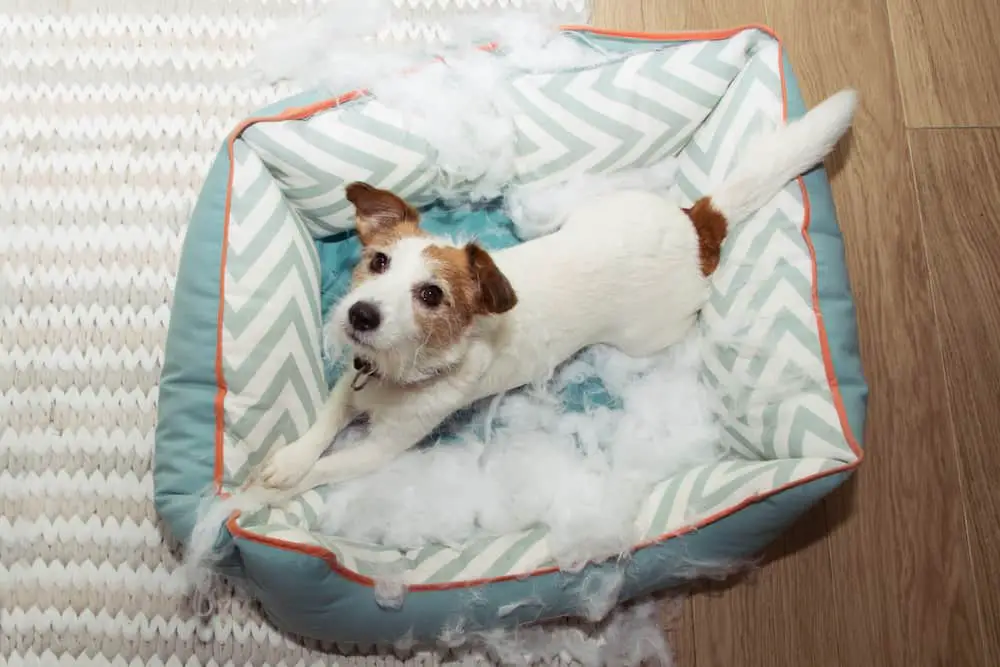 Get Our List of 11 Awesome Indoor Activities to Keep Your Dog Busy and Out of Trouble!
Maintaining a clean yard is critical to everyone's well-being.
Feces of any kind can carry dangerous bacteria that is harmful to both you and your dog's health.
Additionally, the last thing you need is your little four-legged helper tracking muck, aka poop, all over the dog house you're in the process of cleaning.
Star and I had a talk about this, and I told her this was not the kind of help I was looking for. On turn, she kissed me on the cheek to assure me it was fine! LOL!
Tip
This is the perfect time to send your dog to the groomer so that everything can stay clean and smelling great. Well, at least until your pup rolls in something.
Toys, Bones, and Bowls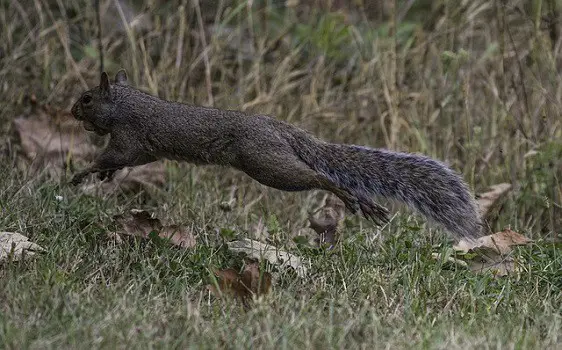 Like all good dog parents, we provide toys to keep our pups entertained. (At least when the squirrels aren't doing it for us.)
The toys, bowls, and bones should all be cleaned regularly; however, for dogs who spend the majority of their time outdoors, it is critical to clean these items even more frequently.
In addition to our dog's waste, our backyards are a haven for a variety of bacteria, such as:
Staphylococcus Aureus is found in the soil, air, and water[1].
Leptospira is the bacteria that causes Leptospirosis[2]. The Leptospira bacteria is found in the feces of wild animals.
Salmonella is a bacteria found in several species feces and can cause Salmonellosis[3], an infection that spreads orally. For example, if your dog's toys come in contact with salmonella, and they later chew on that toy, they are now at risk for contracting Salmonellosis.
To clean your dog's toys, bones, and bowls, first, remove any debris with the garden hose.
Next, pop your dog's bowls into the dishwasher to give them a good cleaning, if you don't have a dishwasher, you can hand wash them in hot soapy water.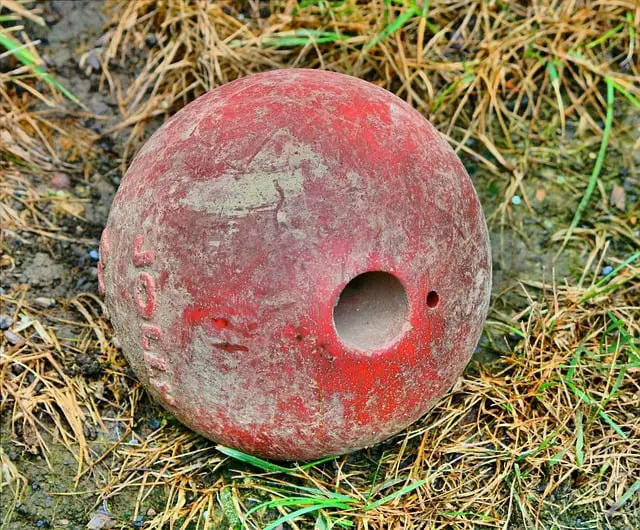 To clean your dog's bones and toys, such as Nylabones, you can use warm water and gentle dog-safe soap[4].
You may need a brush to clean the bone thoroughly.
After washing, rinse well and let air dry.
Some toys are dishwasher safe. I usually just put mine on the top shelf, and they come out looking great!
If you are in question of the correct cleaning method, I would err on the side of caution and just hand wash it.
Related: Best Dog Houses for Indoors
Beds, Blankets, and Bedding
Regardless of what style of bedding you use in the dog's house, be it a dog bed, cedar shavings, or blankets, they all need to be changed routinely.
Also,the weather will determine the frequency that you will want to change out their bedding.
In rainier seasons, you may be changing the bedding daily, since you don't want your pooch to have to lay on wet bedding.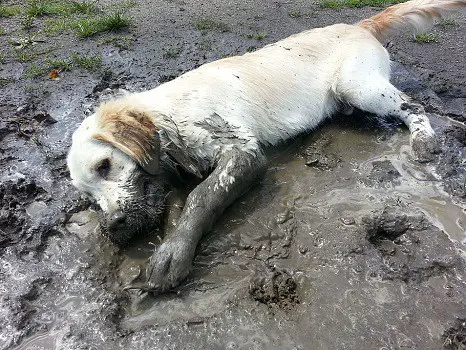 For routine cleaning, you will want to shake out all blankets and beds before putting them into the washing machine.
It is best to use a fragrance and dye-free detergent; this will help reduce any possible skin irritations.
If your dog's bed has a liner, remove and wash the liner, then disinfect and deodorize the interior cushion[5].
I use a tablespoon of vinegar per 2 cups of water and two drops of essential oil to deodorize my dog's beds.
For more information on how to clean your dog's bed, check out our article on dog bed cleaning.
If you use cedar chips, straw, or hay, you will want to remove and replace it with fresh material, but only after you have washed down the inside of the house.
The Dog House
Now for the main event!
After everything has been removed and is undergoing its cleaning process, it's time to tackle the big job.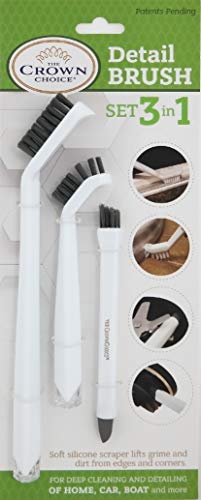 Tools and Equipment
Bucket with warm water
Broom and/or vacuum cleaner
Scrub brush
Toothbrush
Baking soda
Spray bottle with 50/50 vinegar and water
Directions
Sweep out or vacuum any remaining loose or stuck-on debris.
Lightly spray the outside of the dog house with water. You want it dampened but not soaking.
Wet down a scrub brush then sprinkle the bristles with baking soda.
Scrub down the exterior of the dog house. Use the toothbrush for small areas such as latches and corners.
Scrub the door flap if you have one. This is frequently overlooked, but actually attracts a significant amount of grime and bacteria.
Rinse thoroughly with water.
Repeat with the inside of the dog house.
After rinsing, use the spray bottle with the vinegar and water solution to disinfect. Allow it sit a minute then wipe down with a clean or paper towel. Allow it to air out for a few minutes or until the vinegar smell dissipates.
Return clean bedding, dishes, and toys and voila! You have a clean dog house.
Final Thoughts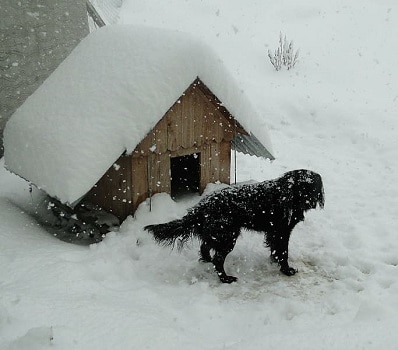 Dog houses are great for the pups who love the outdoors, but it is essential to keep them clean both for the sake of your nose and the health of your dog.
Routine cleanings will not only keep things clean but it will also make the job more manageable.
Using dog-safe cleaning products and thoroughly rinsing everything down will also help ensure your dog stays healthy and happy.
When we clean Star's doghouse out, she usually heads off for a day at the doggie spa. This allows us to get the job done a lot quicker.
Star's way of helping is more about kisses and playing, which oddly isn't helpful at all.
FAQs
How Often Should I Clean My Dog's House?
Once a month for routine cleaning in moderate weather.
However, in humid or wet climates/seasons, it is ideal to clean your dog's house more frequently to avoid the growth of mold and bacteria.
Can I Use Bleach to Clean My Dog's Doghouse?
It is best to use a vinegar and baking soda to clean and disinfect the dog house.
The fumes from bleach products can cause significant skin, eye, and respiratory irritation.
Is Vinegar Strong Enough to Kill Germs?
Yes, vinegar works as an excellent disinfectant[6], and it will kill bacteria from animal feces.
Resources