Best Indoor Dog Houses: Winners
A dog house offers many advantages to dog parents.
It provides a safe space for the canine that has easy access to water and shelter in all types of weather.
It also provides an opportunity for the owners to keep their floors clean by placing the indoor dog house on a rug or mat that can be easily cleaned with soap and water.
In addition, there are many different styles and designs of dog houses available, so you can find one that will fit your home's decor and your budget.
The cost of an indoor dog house varies significantly depending on what type is purchased, but they typically range from $150 – $1000, or more if they are custom-made.
Top Picks for Your Canine Companion
Looking for an alternative to a dog bed?
Then it sounds like your four-legged friend may prefer a dog house.
As a pet owner, your dog's safety is paramount when you have to leave them alone.
Apart from looking adorable, indoor dog houses can be beneficial for dogs who enjoy a bit of privacy and like to spend some quality time alone when winding down for the day.
It may seem like your dog wants to be attached to you at all times, but in fact, many dogs enjoy the sense of security a small enclosed space brings when they are sleeping or relaxing1.
In fact, most dogs thrive when left alone in a secure space that they feel comfortable and safe inside. A place where they can happily chomp on their dog toys and be left to their own devices for a short while.
Read on to discover an array of the best indoor dog houses that may just be the paw-fect pet house for your canine companion.
Overall Best Indoor Dog House – Merry Products Wood Pet Home
Constructed for small dogs, this cute indoor dog house provides two areas for your furry friend to have some quality chill time.
The lattice fence, ladders, and what can only be described as a balcony lends a country-style aesthetic to this product.
The raised floor and staircase make it look like an actual house, while the lower snug area makes it a cozy space for your pooch.
This portable dog house is built using kiln-dried cedar wood, which is perfectly fine to re-stain should you want it to match your home decor.
While this dog house can be used outdoors, it is best kept out of any wet or windy weather conditions as this will impact the wood and can lead to rotting.
Is Your Dog Driving You Nuts During the Day?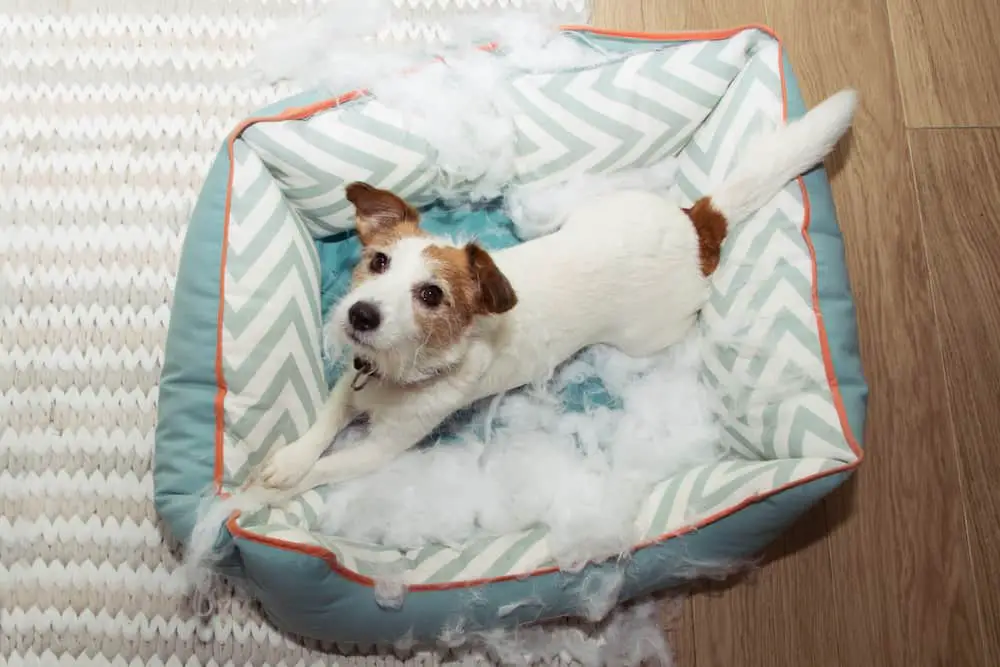 Get Our List of 11 Awesome Indoor Activities to Keep Your Dog Busy and Out of Trouble!
Advantages
It looks great! The log cabin look is aesthetically pleasing and is bound to be a hit with visitors.
It's relatively easy to assemble if you have basic tools.
This small indoor dog house is made of natural materials, so your purchase will support the environment.
Disadvantages
This pet house is not appropriate for large breed dogs and is only available in one size.
This is not an ideal pet home for outdoor use in extreme weather.
The cushions are sold separately, which some people may be unaware of.
Best Budget Indoor Dog House – PetMate Aspen Barn
The sister to the PetMate igloo, the reviews for PetMate Aspen dog house mean it could be the best indoor dog house for your canine bestie.
This easy-clean, easy to assemble, and durable plastic dog house is available in four sizes and can hold a weight of up to 90lbs.
The simple design of this dog house means that it won't look out of place indoors, and the weather-resistant durable plastic makes for a long-lasting outdoor dog house.
Advantages
The PetMate Barn is portable and lightweight, so it can be easily moved around.
It is easy to assemble with no tools required.
Accommodates a large variety of dog breeds and is available in multiple sizes.
Disadvantages
It does not have a secure, fenced doorway, which may hinder the needs of your dog.
This dog house is not as stylish as others available and may not suit your home's interiors.
It might not be suitable for tall dogs.
Upgrade Pick – Unipaws Furniture Style Wooden Dog Crate
This elegant-looking wooden dog crate by Unipaws also serves as a beautiful end table.
Constructed using high-quality wood and metal wiring, this fabulous indoor dog house is the Beverly Hills mansion of dog real estate.
This well-ventilated construction boasts a double-door facility that is well equipped for our four-legged friends, particularly larger breeds.
The three-way lockable design provides your dog with the security they need when relaxing.
Provided with this purchase is a handy bolster bed (with a machine washable cover) to create a cozy atmosphere inside the dog house.
Advantages
It is a high-end dog house that is truly easy on the eye, and the neutral colors are easy to pair with your home interiors.
Doubles up as an end table
As a pet owner, you will be safe in the knowledge that your pet is secure inside the dog house, thanks to the locking system.
It is well ventilated and can hold dogs up to a weight of 90lbs.
Disadvantages
It is fairly expensive.
The wood used to build the crate is not chew-proof.
There is no insulation system, and it is not a great option for pets that are not house trained.
Best Indoor/Outdoor Dog House – Petmate Indigo
Primarily designed to be used outdoors, PetMate's Indigo igloo dog house is constructed using a tough, durable foam that can withstand the worst weather and also the most boisterous of dogs.
The roof area provides air ventilation inside the dog house so your four-legged friend can get the fresh air they need to promote a good night's sleep.
Raised floors around the house prevent the inside from becoming wet from the weather, and the dome-shaped roof will repel any snow or rain.
The high-quality materials used to make this product make it a worthwhile investment, particularly for larger dogs.
This pet home ranges from medium-sized dogs to XL size breeds.
Advantages
The PetMate Indigo igloo uses Microban technology, which prevents odor-causing bacteria from growing.
It is easy to assemble and easy to clean.
The solid construction of this dog house will last a long time, if not a lifetime.
Disadvantages
Check your dog's height before purchasing as the doorway is not catered for to all larger dogs.
It isn't suitable for dogs weighing less than 25lbs.
If you are specifically looking for a new indoor-only dog house, then the Petmate igloo may not be your first choice. Although the quality construction is impressive, it may not match your home decor.
Best End Table Indoor Dog House – Casual Home Wooden Pet Crate
Also known as a furniture dog house, the Casual Home wooden pet crate is the perfect indoor dog house for small and medium dogs.
Doubling up as a chic end table, this solid wood structure is ideal for a well-behaved, smaller breed.
The Hevea wood used to construct the dog house is known to provide a calming environment and therefore renders this crate a secure haven.
Advantages
It is easy to assemble as there is no assembly. The Casual Home Wooden Pet Crate is fully assembled at the purchase point.
The open slats provide ample open air space, which provides unlimited air circulation.
The lockable latch ensures a safe and cozy spot for your furry bestie should you need to leave it, go, and run some errands.
Disadvantages
This indoor dog house is not catered to large dogs, particularly excitable breeds that may enjoy chewing.
As it is constructed using solid wood, it is not best suited to dogs that have not yet been fully house trained as it may be difficult to clean.
It is at the pricier end of the market.
Easiest to Clean Indoor Dog House – DEStar Durable Waterproof Plastic Dog House
Sold in sizes medium to large, DEStar's plastic indoor dog house is also perfectly safe to use outdoors due to its durable exterior material.
This easy-clean idyllic-looking dog house is made from thick PP (polypropylene) material, and pet owners will be pleased to hear this pet house is easy to clean and has all the components a dog house needs.
This is a great dog house for dogs of medium to large sizes but also accommodates small ones.
The strong, plastic material is ideal for withstanding tough outdoor elements, and the two vent installation ensures vital air circulation.
Advantages
This plastic dog house is versatile and can also be used to house different animals such as cats, rabbits, and even chickens!
The durable plastic makes for an easy clean, and the ventilation provides a good insulation system.
The pet house has a raised floor which will lend your pooch some protection against tough weather conditions.
Disadvantages
Although advertised as being able to house dogs of up to 100lbs, the dimensions are most likely to accommodate dogs weighing around the 50 lb mark.
It does not have a lockable doorway, so it may not be secure enough for your pup.
It isn't as easy on the eye as other indoor dog houses available.
Best Soft Indoor Dog House – PetMaker Cozy Cottage Indoor House
Adorable and snuggly looking, the Cozy Cottage indoor house is ideal for smaller dog breeds that like to snuggle up and keep warm.
Small but sturdy, this indoor dog house creates a secure, safe space for your dog to enjoy time alone to relax.
The material used is 100% polyester with a 100% polyurethane foam filling giving your precious pooch the coziest night's sleep.
The inside Sherpa lining can be vacuumed clean or even hand-washed should your dog have any unexpected accidents.
This may be the best indoor dog house for your fluffy friend if they enjoy burrowing into small spaces and taking time away to enjoy their own company in peace.
Advantages
This indoor dog house is sturdy and is constructed using good quality material.
The removable Sherpa pad is water-resistant and easy to clean.
It is one of the more affordable dog houses out there.
Disadvantages
It is not the best indoor dog house for medium dogs or extra large dogs as it only caters to pups up to 35lbs.
Not suitable for dogs that are currently house training.
It cannot be used outdoors as the material is not durable in extreme weather conditions.
It is not machine washable and can only be spot cleaned.
Benefits of Indoor Dog Houses
Apart from providing a safe space for your pup, an indoor dog house is appealing to dog owners who prefer to sleep separately from their pets.
A good indoor dog house should provide the ultimate sense of security when it comes to leaving your pooch alone.
Separation anxiety is common in most breeds, so having an indoor dog house provides them with a small, comfortable space that can help soothe an upset pup.
It is important that both you and your dog are happy with whatever dog house you choose, as it will pave the way for a healthy lifestyle and an even healthier relationship between you and your best buddy.
Things to Look at When Purchasing an Indoor Dog House
Size
Pet owners should look at purchasing an indoor dog house that is the correct size for their dog2.
While it is easy to want to buy an aesthetically pleasing dog house, they are not always convenient for your furry friend.
If you are considering buying a pet house for a puppy, consider what their size and weight will be when they are fully grown.
Also, an indoor dog house can be expensive, so it is wise to take this into account when looking.
Material
Smaller breeds rely heavily on an indoor dog house with a good insulation system as they feel the cold more easily than larger dogs.
Therefore, a soft indoor dog house will be more suitable for a small pup than a wooden or plastic dog house.
Can it fold flat? Is it safe to put in the washing machine?
These are all questions to be considered because you know your dog's personality better than anyone!
On the flip side, bigger dogs rely on more ventilated spaces to regulate their body temperature.
An indoor dog house that can be used outdoors provides the perfect balance for a bigger dog who may be prone to overheating in the warmer months.
Durability
How durable does a dog house need to be?
A wooden dog house will not withstand certain elements of the weather if you are planning to use it outdoors most of the time.
Alternatively, plastic-constructed dog houses are weather permitting, so it can be safe to leave them outdoors all year round if you live in a location where the weather is warm.
Assembly
How handy are you when it comes to using the toolbox?
While most indoor dog houses are easy to assemble, some may be trickier than others which can be frustrating.
You may even want to purchase a dog house that arrives fully assembled for easy use.
Conclusion – Time to Pick Your Dog Bed
A lot of people are opting for an indoor dog house because they want their dog to be near them while at home.
With such a variety of options available, it's difficult to choose which one is the best.
The best indoor dog house is perfect for your pup and gives you peace of mind that they are comfortable all day long.
It should be large enough to provide ample space for your pet, easy to clean, and durable enough to withstand your pet's weight and chewing habits.
Indoor dog houses are an attractive option when you live in a small home with limited outdoor space or if you live in an area that's not very suitable for outdoor activities with dogs.
Resources