This post may contain affiliate links. It doesn't cost you anything extra and it keeps our lights on, our families fed, and our dogs spoiled. For all the juicy fine print, see our affiliate disclosure
Once you've been a dog parent for a while, you start to notice the same products on pet store shelves.
I can recognize brands from across the store, so it's always a surprise to see something new when the shelves get restocked.
It's even more surprising to come across a new brand online.
When I first read about Zignature, I wanted to read everything I could get my hands on. Had my dog been missing out on a great nutritious brand?
Here's everything I learned about Zignature and why I think it's a great food option for most dogs.
Zignature Brand History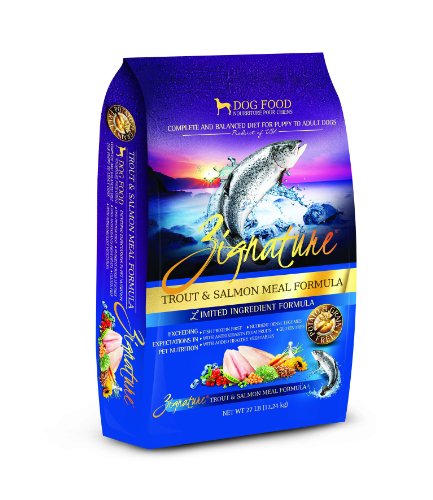 Zignature is owned by Pets Global Inc, which is run by Daniel Hereford.
He's been in the pet industry since 1997[1], so he knows the ins and outs of taking care of pets.
When Daniel's boxer, Ziggy, was diagnosed with allergies and food sensitivities, an opportunity opened up.
He worked with Pets Global to launch Zignature, a dog food line made without common irritants.
The bonus: The food would contain low glycemic binders as well!
The dog food line made for both sensitive stomachs and diabetic dogs launched in 2012 and took off quickly and has grown every year since.
Related: What is Carrageenan? Why is it in Dog Food?
Zignature's Products
Zignature started with only limited ingredient formulas, but now it offers a wide range of products for dogs of all sizes.
All flavors come in wet and dry options[2], but these are the most notable ones.
Dry Dog Food
The dry Zignature dog food comes in 13 and 27 pound bags, depending on how much you want to stock up on.
Is Your Dog Driving You Nuts During the Day?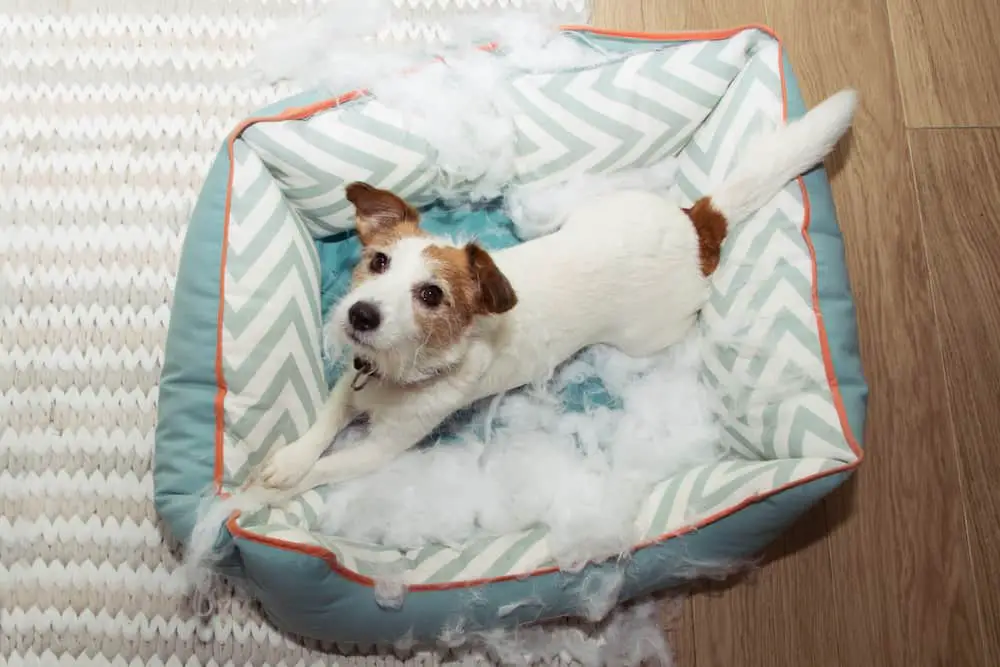 Get Our List of 11 Awesome Indoor Activities to Keep Your Dog Busy and Out of Trouble!
The best dry kibble flavors are:
Each flavor offers different nutrition options, so read the label carefully before purchasing.
Wet Dog Food
Your dog may not prefer dry kibble, which is why there are so many kinds of wet dog food on the market.
When it comes to Zignature, you'll have to try these flavors:
There are also more standard formulas, as well as fish flavors in both wet and dry foods.
Ingredients
Zignature started by only selling foods without grains or blood sugar spiking carbs, but they've recently extended their product line to include standard foods.
One thing I noticed when checking out the ingredients list was that many formulas use mostly plant protein.
Dogs can digest plant protein without an issue, but it lacks the amino acids naturally found in other kinds of protein[3].
Another thing to note is that most blends are higher in carbs than protein, so sedentary dogs may gain weight if this is their daily food (which might be a good thing for some dogs!).
Owners should pay attention to their dog's weight in the first month of feeding them Zignature food so you can determine the correct portion size.

Features
This brand has always produced high quality, grain-free food.
That means they've built an essential trust with their customer base, which is a feature you need in a dog food brand.
They also offer more creative formulas than other brands.
Dogs get more options for their diet and more foods to explore, which makes a world of difference to dogs who have been limited to certain types of food their whole life.
What I Liked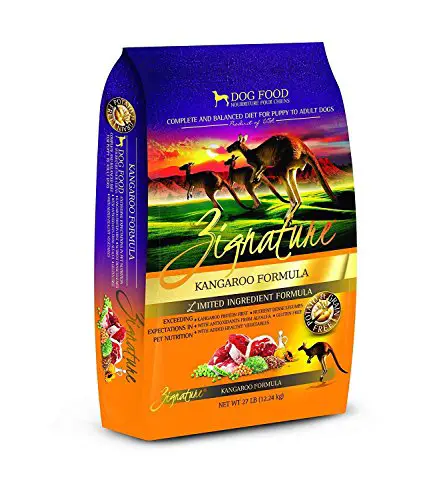 I love the fact that they have wild flavors like kangaroo.
It isn't something I'd jump at the chance to buy, but if Maggie became disinterested in the standard chicken, beef, and salmon flavors, it's great to have something so different for her to try.
Another huge bonus to buying Zignature is their history. They haven't had any recalls since they started in 2012.
While they haven't been around for as long as some other brands, it's easy for companies to mess up their kibble.
Zignature clearly has a production method down that's clean and reliable.
What I Didn't Like
Maggie is a high energy dog, so she's running around basically every minute that she's awake.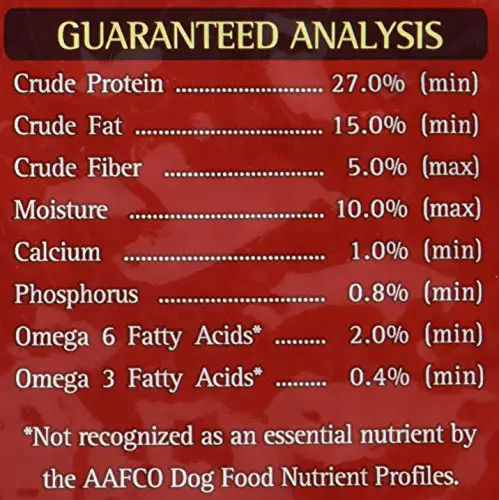 I prefer to feed her foods that have a high protein content, especially because she's still so young.
Zignature formulas contain mostly carbs, but it should be noted that they aren't high caloric carbs.
They won't harm dogs who need the food for their nutritional sensitivities, but dogs who eat a lot will need to watch their weight.
I'm also not a huge fan of the price tags. They're slightly higher than what I've seen with most brands, especially the dry kibble.
Still, it might be worth it for owners who feel like they don't have other options for their dogs.
Recommendation
Zignature is a great food brand that dog owners can trust.
They have a clean history and constantly work towards future change, as evidenced in their many different formulas.
It's the perfect food for diabetic dogs or dogs who can't eat most foods.
Active dogs won't have an issue burning off the calories, but may find themselves hungrier than usual because of the lower protein content.
Alternatives
Although dog parents may feel backed into a corner when they have to find specialty food, there are always alternatives.
Here are the next best brands to try when you're looking for low glycemic or allergen-free foods.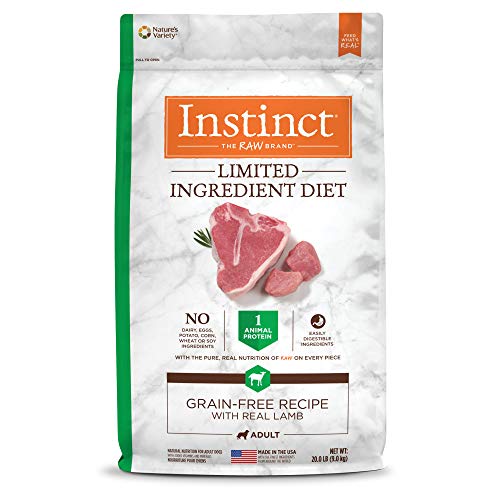 Nature's Variety Instinct
Nature's Variety makes an Instinct blend for dogs who are allergic to typical ingredients.
Owners report that their dogs love the food and that it settles well with their stomachs[4].
Wysong
If you're interested in a plant-based protein for your dog, try Wysong.
They've ranked as one of the best vegan dog foods of 2019 while still including all the nutrients dogs need.
Halo
Halo is a holistic dog food brand that uses whole foods to create vegan formulasfor dogs.
Because the brand stays away from fillers and additives, there won't be allergens in either the wet or dry dog food.
Blue Buffalo
Blue Buffalo has a line of limited ingredient dog food called Basics Limited Ingredient Diet that's also good for dogs with food sensitivities.
Conclusion
After researching the brand, Zignature seems to be an excellent option for most dog owners to buy for their dogs.
Each formula contains all-natural ingredients that are easy on the stomach and the pancreas.
Even with the slightly higher cost, it's worth trying out if your dog needs specialized food or wants to try something new.
Resources