This post may contain affiliate links. It doesn't cost you anything extra and it keeps our lights on, our families fed, and our dogs spoiled. For all the juicy fine print, see our affiliate disclosure
I am embarrassed to admit this, but Ginger has a weight problem. She is the first dog I've had that has been overweight, and I take full responsibility for her condition.
Ginger has some behavioral issues we are working with her to resolve. She suffers from fear and anxiety, resulting in aggressive resource guarding and stranger aggression.
We are working to help her with her impulse control, and because we are using positive reinforcement methods, it requires a lot of treats.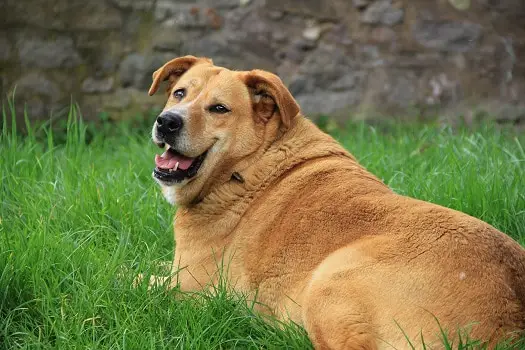 Additionally, Ginger is food-obsessed, so whenever she has an opportunity, she will push her siblings out of the way and attempt to eat their food.
I am usually around to keep an eye on things, but she can be sneaky, and whenever I get lax in my monitoring, she goes in for the steal.
Because of these issues plus the fact that it was winter and she wasn't as active as she is in the summer, Ginger has become a bit on the husky side.
So, after discussing options with her vet, I have chosen to put her on a weight management food.
Her low-calorie diet will only be a couple of months since she will lose weight more naturally once spring is here.
Because she has food allergies, she requires a grain-free food, which is fine for a short period since she does not suffer from heart disease.
Two of the foods I first looked into for her were Royal Canin and Purina Pro Plan.
Since Ginger is 7+, I thought that maybe one of the senior diets might work well for her, and I knew both brands offered a senior and weight management formulas, so that's where I started.
Related: Where to Find Free Dog Food Samples
Royal Canin Company Overview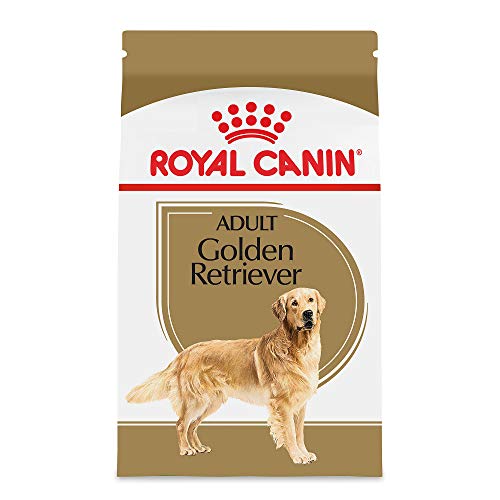 Dr. Jean Cathary, DVM[1], founded Royal Canin in France in 1968.
Dr. Cathary learned through his experience working with animals the importance that diet plays on an animal's overall health.
Taking this knowledge, he invented the first Royal Canin dog food recipe, which he named "Yellow Soup."
In 1974, they expanded beyond France and became a brand recognized worldwide. Between 1968 and 2002, Royal Canin continued to grow and underwent multiple acquisitions.
In 2002, the Mars corporation purchased Royal Canin.
Mars is an American company that manufactures food for both humans and pets.
Is Your Dog Driving You Nuts During the Day?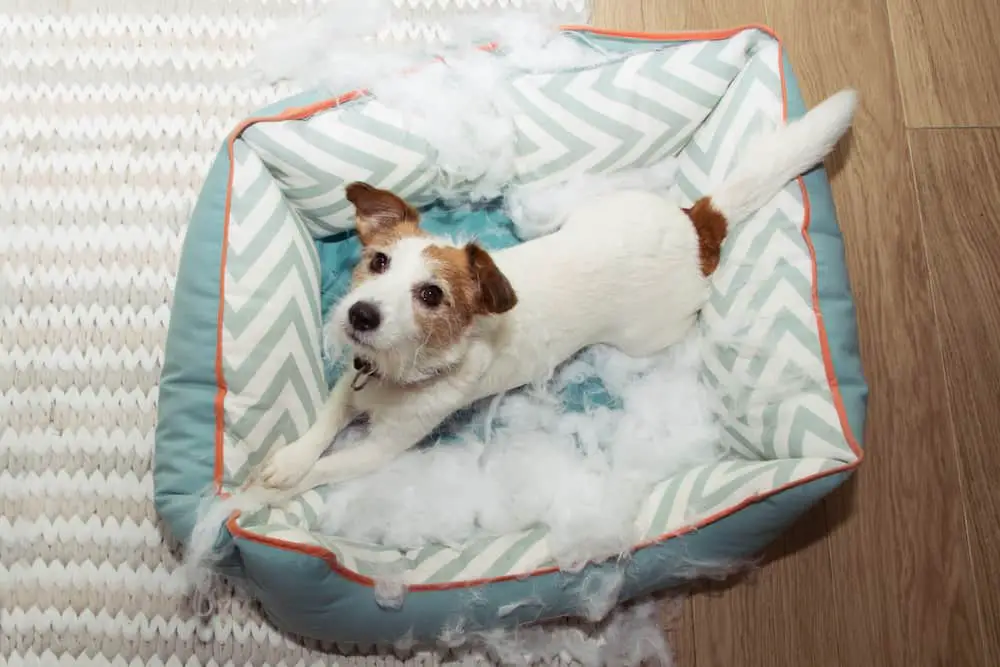 Get Our List of 11 Awesome Indoor Activities to Keep Your Dog Busy and Out of Trouble!
Royal Canin's 3 Best Sellers
Purina Pro Plan Company Overview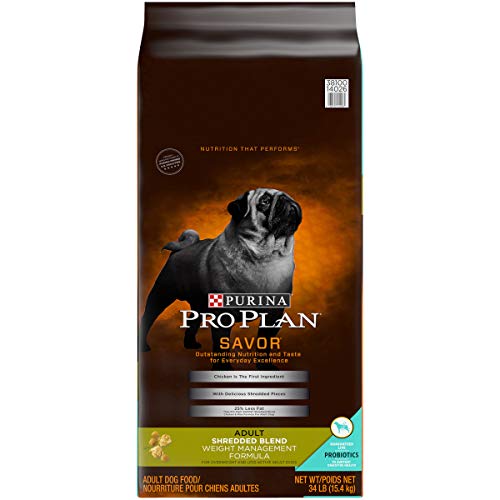 Purina's history[2] goes back to 1894 but was initially named the Robinson-Danforth Commission Company after two of the founders.
The original company focused on feed for farm animals but expanded and evolved into a pet food company.
In 1986, Purina created its first food using real meat as the first ingredient.
This new food line was named Purina Pro Plan and started as a kibble product, but later evolved to include wet food.
Today there are more than 50 different dry dog pro plan options.
However, there are only four different primary lines under the Pro Plan brand:
Sport
Savor
Bright Mind
Focus
Purina Pro Plan 3 Best Sellers
Recalls
Royal Canin Recalls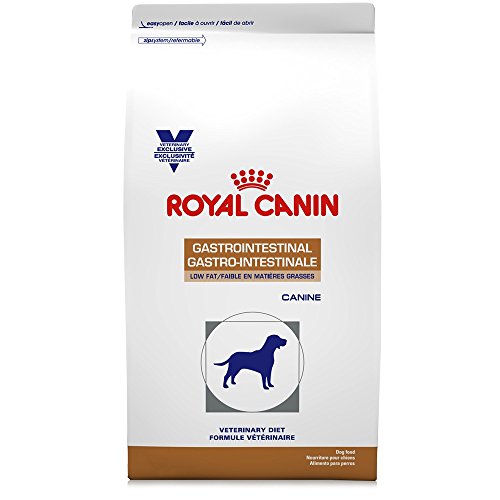 Royal Canin has only had two recalls in the last 13 years, in 2007[3].
Both recalls were for melamine contamination.
The contamination issue was because of tainted rice protein concentrate used in the food.
The cereal byproducts originally came out of Illinois, but the contamination appears to have occurred in China.
Since 2007, Royal Canin has not had any recalls impacting their dog food, so the changes they made since then have all been effective.
The foods impacted in the 2007 melamine recall included:
KASCO Foods
Royal Canin Veterinary Diet Dry Dog Food
Sensible Choice Dry Dog Food (Twice)
Purina Recalls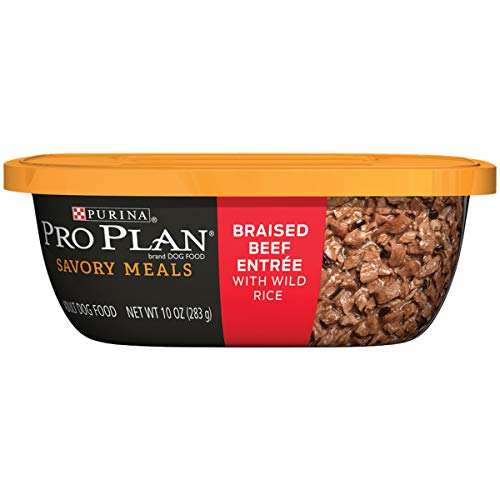 Purina Pro Plan has only had one dog food recall.
The recall was voluntary and occurred in March 2016[4], due to low vitamin and mineral content.
There was only one Pro Plan line impacted in the recall, Pro Plan Savory Meals Wet Dog Food in 10 oz tubs[5].
Since 2016, there have not been any recalls affecting any of the Purina Pro Plan recipes.
Related: What is Crude Ash in Dog Food? Is it Safe?
What's Important When Looking for a Good Dog Food?
Several outside elements influence our purchasing choices when it comes to our dog's diet.
Some of those factors are because of our dog's unique dietary needs, and some are elements directly relating to the dog food.
We have compiled a list of various factors to consider when choosing the best food for your pup.
Dog Specific
Health – Diabetes, kidney disease, Cushing's disease, allergies, urinary health, etc.
Weight – Both loss and gain
Taste Preferences – Many dogs have protein preferences
Breed
Outside Factors
The ingredient label
Guaranteed analysis – Protein, Fiber, and Fat
Where the food is manufactured
Where the ingredients are sourced
Nutritional Adequacy Statement
The label on the of the food – The name of the dog food indicates the percentage of the main ingredients contained in the food
Cost
Ease of availability
Company history
About the Nutritional Adequacy Statement:
Every dog food you buy should reflect the following statement regarding the food's nutritional quality: "Complete and Balanced."
What this signifies is that the dog food is nutritionally adequate for the life stage shown on the label.
Based on the AAFCO (Association of American Feed Control Officials) website, this is the number one thing to look for when picking a dog food[6]
Comparison of Royal Canin vs. Purina Pro Plan
Ingredients
Winner: Purina Pro Plan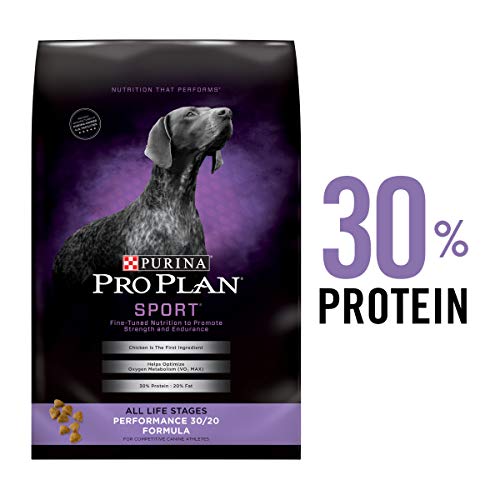 Though the two brands have very similar ingredients, Purina Pro Plan's formulas always start with a whole animal protein.
The next item to follow is usually an easily digestible carbohydrate.
Additionally, the Purina Pro Plan website has a section that explains why each ingredient was chosen and its benefit[7].
Plus, several of the foods are enhanced with EPA (an Omega-3 fatty acid), DHA, and probiotics.
Royal Canin's formulas frequently start with a carbohydrate like a brewer's rice or corn, though some of the recipes do begin with a protein, such as a poultry by-product meal.
I am not saying that starting with carbohydrates is wrong, but it is my preference to see an animal protein listed first.
Price/Value
Winner: Purina Pro Plan
Purina Pro Plan averages $1.79 per pound, and Royal Canin averages $2.61 per pound for dry food.
Though they are similar regarding the ingredients, Purina Pro Plan is less expensive and starts each of its formulas with a protein source, which also makes it a winner in the value category too.
Availability
Winner: Purina Pro Plan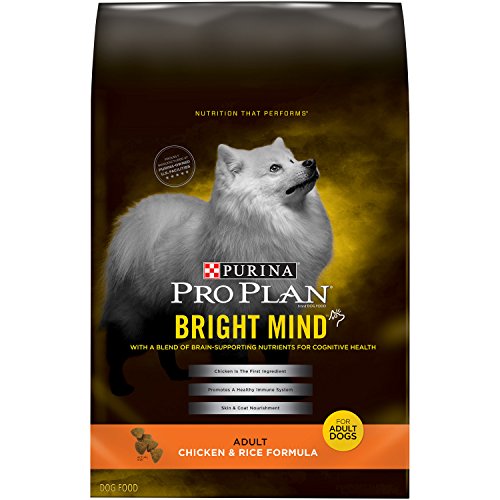 Purina Pro Plan is available at more non-pet supply stores than Royal Canin.
Some of the stores that carry Purina Pro Plan are Wal-Mart, farm supply stores, and some grocery stores.
Additionally, Purina Pro Plan is available on their website.
However, both brands are available at major pet food supply stores, both retail and online.
Variety
Winner: Royal Canin
Both companies offer a wide variety of foods; however, Royal Canin provides an even greater range of dog food product lines than Purina Pro Plan.
Royal Canin has 84 different dry foods and 44 wet foods in their retail lines.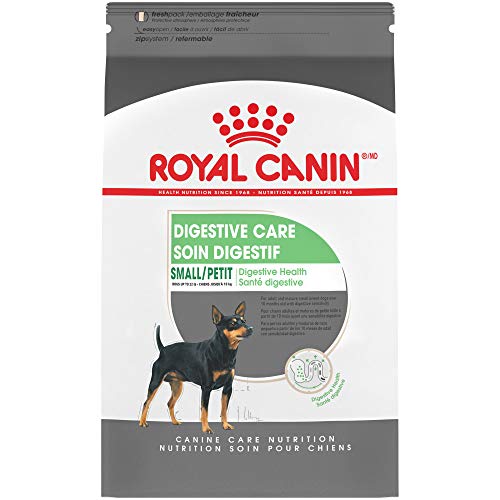 Royal Canin offers five different main food formula lines:
Vet Products
Age
Size
Breed – 24 recipes
Special Needs – Such as digestive care, high energy, or weight management
Purina Pro Plan offers just over 50 dry food options.
The four different food lines, listed above, come in different formulas for age, grain-free, size, and protein type.
Taste
Winner: Purina Pro Plan
I believe that Purina Pro Plan won the taste test because of the Savor line. It contains both kibble and shredded pieces, whereas most other dry foods are strictly kibble.
The difference in texture and smell from the shredded pieces in the food makes all the difference to our dogs' pallets.
X-Factor
Winner: Purina Pro Plan
Both companies give back to their communities, but Purina Pro Plan partners with more charities than Royal Canin.
Royal Canin supports: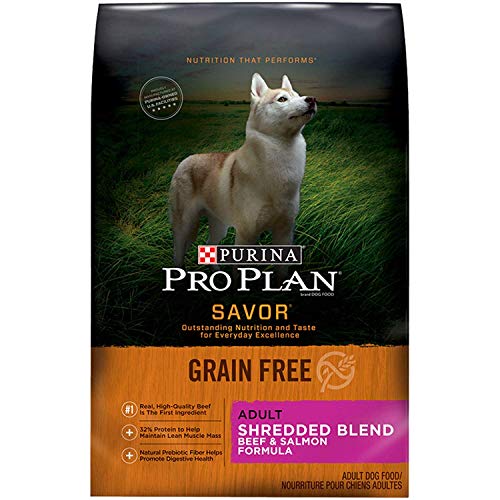 Purina Pro Plan supports:
Rescue Bank
Leader Dogs for the Blind
Supports Adopt a Pet
Duo Dogs – A program that brings dogs and people together to help enhance their lives
Local animal shelters all over the US
Dogs on Deployment – Assisting troops in finding a safe place to board their pets while on Deployment
St. Louis Children's Hospital – And funded a room for children to be able to visit with their pets while staying in the hospital
Purple Leash Project
Overall Winner
Winner: Purina Pro Plan
Purina Pro Plan is excellent dog food.
It is economical, easy to find, and full of ingredients that positively impact our dog's health.
However, it is important to point out that just because Royal Canin didn't come out on top, it doesn't mean that it isn't also a great dog food.
Royal Canin has been around for a long time and is quality food that has stood the test of time.
Additionally, Royal Canin, is the only brand that I know of that has such a wide variety of foods to choose from, especially when it comes to breed-specific foods.
Also, I like that they offer more than the three standard life stage formulas, and have broken up the adult and senior into multiple age categories.
Resources