This post may contain affiliate links. It doesn't cost you anything extra and it keeps our lights on, our families fed, and our dogs spoiled. For all the juicy fine print, see our affiliate disclosure
Of my four dogs I have two very picky eaters. But my oldest, Daisy, is the pickiest of them all.
We've tried everything possible to get Daisy to eat. Finally, it got to the point that I started cooking all of her meals.
To ensure I was providing well-balanced nutritious meals I made an appointment with a nutritionist, Dr. Churchill, DVM, at the University of Minnesota.
We left the appointment hopeful, with a specially formulated vitamin/nutrient supplement in hand. We had food recipes specially created just for Daisy and thought this would be the end of our food battle.
It wasn't.
She wouldn't eat the homemade food with the supplement, so we were back to our game of "What will Daisy eat today?"
In an interesting turn of fate, around this time I was contacted by someone from NomNomNow (I believe they recently changed their name to Nom Nom). They offered to send out a sample for my picky eater to test out. It sounded good, and I'm always up to trying a new food for Daisy.
Looking through the ingredient list I couldn't help to notice it contained their "NomNomNutrient Mix". I absolutely understand the necessity of it, but I was no longer hopeful that Daisy would eat this food.
Did Nom Nom Now pass Daisy's standards? How did my dogs feel about their new food? Read on to see our NomNomNow reviews.
What the Heck is NomNomNow (besides a cute name)?
The Food
Simply put, NomNomNow is dog food made from fresh, wholesome ingredients. All food is made to order.
There are 4 varieties to choose from:
Heartland Beef Mash
Tasty Turkey Fare
Chicken Cuisine
Porkalicious Potluck
The Service
NomNomNow is food delivered to your door. It's packed with dry ice and well insulated.
There's also a Pet Profile Account, which allows you to make changes to your orders, shipping, and general account information.
You also get some nifty bonuses:
They gift you a complimentary variety pack with your first order.
They provide 7 emergency meals (free of charge) with your second delivery
Emergency meals are kept in the freezer, "… life happens, and should a delivery ever get lost or stolen, these will ensure that your dog never goes without their NomNomNow".
Is Your Dog Driving You Nuts During the Day?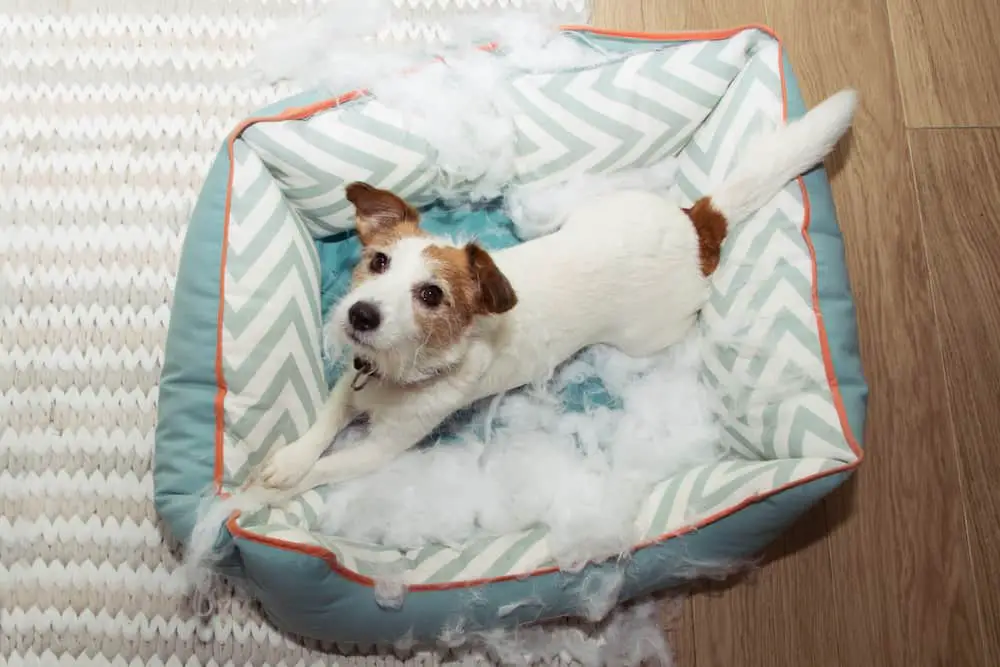 Get Our List of 11 Awesome Indoor Activities to Keep Your Dog Busy and Out of Trouble!
My (Dogs') NomNomNow Experience…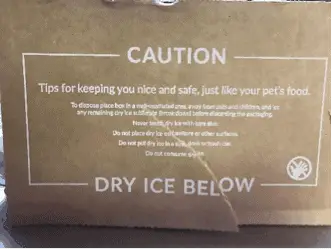 I ordered my variety pack on a Friday which, for my area, is after the deadline, and it arrived two weeks later.
Had I ordered before the deadline, for example on Wednesday, I would've received the food in a week.
When the box arrived, there was no guesswork to what was inside.
I was a bit curious as to what method Nom Nom Now used to keep the food cold.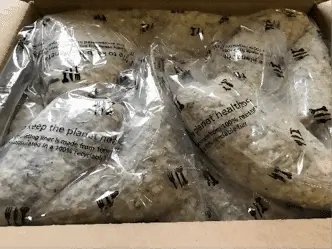 To ensure the food was kept at the correct temperature, the box contained insulation and a packet of dry ice.
The food was frozen when I received it.
Because I wasn't sure about exposing it to heat, not knowing if it would change the nutritional content, I let it thaw overnight in my fridge.
I chose to start with the Porkalicious Potluck, the reason being that Sophie has food allergies and the pork variety didn't contain anything she's allergic to.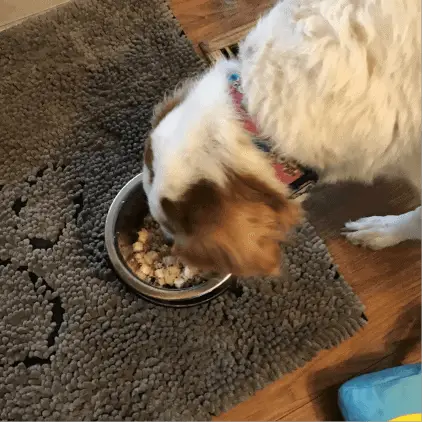 Here are the dogs' reviews of their NomNomNow food:
You can't see it, but Sophie was scoop shoveling the food into her mouth…
And Daisy (she just got a bath, thus the spiky hair) liked it so much she went over to help Calvin finish his…
Ginger had crazy eyes when she was eating it, so I didn't feel like sharing that picture, but it was clear the dogs loved the food.
We've since opened the other packets and, though they ate them, they were not all received with the same enthusiasm.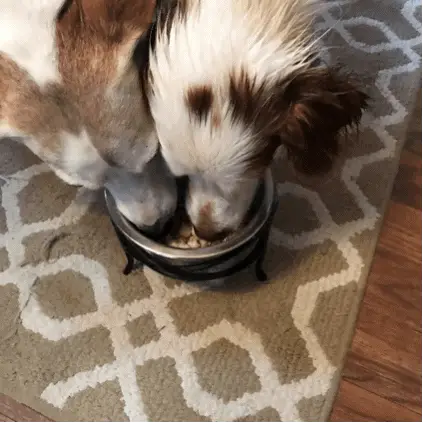 Here's how the dogs would rank them:
Porkalicious Potluck
Tasty Turkey Fare & Chicken Cuisine – Definitely well liked, but not as strongly as the Porkalicious Potluck.
Heartland Beef Mash –  Not the favorite. They just picked at it.
Based on my dogs' reactions, NomNomNow is a winner!
It's terrific my dogs enjoyed the food, but I still had some questions that needed answers before I placed our first order.
Let's Talk Ingredients
I love that the food is all human-grade and cooked to order.
Though nutritional supplements still needed to be added, I'm happy to see a lot of the nutrition is coming directly from a fresh source.
After reading through each of the recipes, I learned only one has brown rice and the others use potatoes as the carbohydrate.
I know a lot of people have steered toward grain-free foods, but recent studies are finding that grain-free diets may cause Dilated cardiomyopathy (DCM).
Yes, some dogs are more prone to DCM than others, so grain-free food may not be a concern.
I like that the recipe page not only includes the recipes but also indicates the nutritional benefits for each ingredient.
Who Created These Recipes?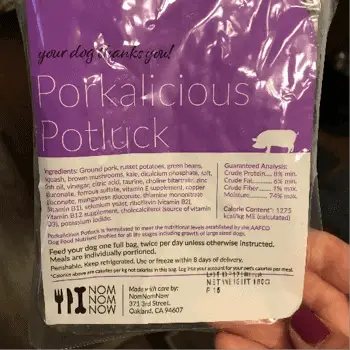 It was nice to read about who actually came up with the recipes. With most dog foods you don't have the comfort of knowing who the nutritionist is and their mission.
The recipes at NomNomNow were formulated by Dr. Justin Shmalberg "…one of the world's foremost experts in veterinary nutrition."
I looked into Dr. Shmalberg a bit more to see if this claim was accurate or not and it absolutely is.
He's published numerous scientific papers in veterinary medicine and frequently lectures on nutritional topics to veterinarians. His credentials can also be found at the University of Florida's Vet Medicine's website.
How Does NomNomNow Compare to a Raw Diet?
For me, it doesn't compare.
Many veterinarians have warned me away from raw diets.
Raw diets carry the risk of Salmonella, Clostridium, Listeria and other bacteria found in raw meat. In addition to infection, there's also the risk of broken teeth and internal punctures from the bones.
Also, many raw diets aren't nutritionally balanced, which can have adverse effects on a dog's health over time.
Alternatives
I looked into three similar dog food companies, and this is what I found:
Pet Plate
✔
Pros
Can choose from beef, chicken, turkey, or lamb meals
Made with real, all natural ingredients
Vet designed and approved
Resealable, user-friendly packaging
✘
Cons
Personalization doesn't include health issues
Not the cheapest dog food subscription service
Guess what? Central Park Paws readers get 30% off their first Pet Plate order! 
---
Farmers Dog
✔
Pros
Bulk discount
Allows for multi-recipe orders without additional charge.
✘
Cons
The varieties were not listed on the website. I had to call to get a list of recipes and ingredients.
Only 3 formulas: Beef, Pork, and Turkey.
Their website doesn't provide much information until you sign up.
---
My Ollie
✔
Pros
4 Recipes with a variety of fresh, healthy ingredients like pumpkin, carrots, chickpeas, and rutabaga
Donates 1% of their revenue to a rescue organization
✘
Cons
No Multi-Pet Discount
Price. While Ollie is less expensive than most of these alternatives, it's still not cheap. Like human food, the fresher and healthier the food, the more it may cost.
---
Overall, there were some universal benefits amongst NomNomNow, My Ollie, and The Farmers Dog.
Free shipping
Made Fresh to Order
Excellent Customer Service (I called all three)
No ingredient Substitutions - so, if your dog has allergies, you can't adjust recipes to accommodate their food restrictions.
Why NomNomNow is Our Favorite
Their Emergency Meal feature.
The variety pack so your pet can try all four flavors.
They introduced the nutritionist behind the recipes.
Their website is easy to navigate.
NomNomNow is great for a variety of dog breeds, from Pomeranians to German Shepherds.
Did you know that Central Park Paws readers get 20% off their first NomNomNow order?
My Recommendation
I think freshly made dog food is a great idea, as long as you are feeding a balanced diet.
Because a dog's nutrition needs are different than ours, I would only recommend a fresh dog food if it's been approved by a veterinarian specializing in nutrition.
If you've ever tried making your dogs food you know how time consuming it is, which makes companies like Nom Nom Now so valuable.
Fresh dog food isn't for everyone, and I'm not even saying it's better than kibble.
I do think that it's a great alternative when you have a dog that's really finicky or one that needs a more specialized diet.