This post may contain affiliate links. It doesn't cost you anything extra and it keeps our lights on, our families fed, and our dogs spoiled. For all the juicy fine print, see our affiliate disclosure
Wondering about how to make your puppy happy and busy when you're not around?
We know you love your puppy, and it may be disheartening to leave your dog alone because you have other responsibilities to get through.
But, don't worry! Here's where we come in to help you out.
Before answering how to keep a dog busy in a crate, let us know why it is essential.
Related: Best Dog Crates for Truck Beds
Why Use a Crate to Keep Your Dog Busy?
You cannot be with your dog all day long, and you're going to go outside at some point.
At such times, your dog needs some companion or something interesting to pass its day.
While some dogs prefer snoozing in their crate, some tend to do something extra invigorating to make their day when you're not around.
And this can be something that you won't like.
Scratching your sofa, biting the curtains, roaming around every corner of your house, and dismantling everything is what a dog finds amusing.
To stop it from doing so, you need to know various tips and tricks on how to keep a dog busy in a crate when you're not around..
Have a look.
Tips & Toys to Keep Your Dog Busy in their Crate
The best thing you can do to keep your dog busy in its crate is to surround him with several exciting dog toys.
Leaving your dog in a crate will always arouse him to get out and do something.
So, here's a bunch of things you can use to keep your dog busy as well as happy.
Plush Toys
Plushies can be a great companion for your dog. Playing with soft, fluffy plush toys can distract your dog from doing anything else.
Is Your Dog Driving You Nuts During the Day?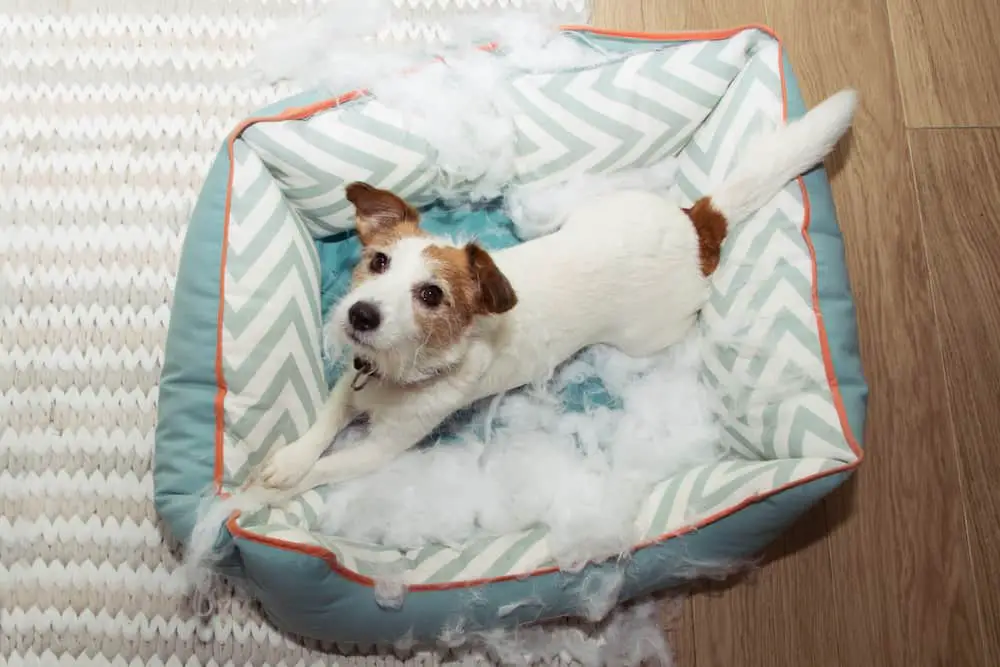 Get Our List of 11 Awesome Indoor Activities to Keep Your Dog Busy and Out of Trouble!
If your dog loves plush toys, then they can also be taken along while walking.
A washable plush toy with the consultation of your vet is a must before giving it to your dog.
It is necessary to consult because sometimes dogs have an allergy to furry toys that can choke them and cause fatal injuries
Give Them a Quality Chew Toy
Chew toys always amuse dogs, and somehow, without getting bored of it, they can chew them all day long.
A chew toy can also be helpful when you are taking your dog for a car ride.
It is challenging to keep your dog distracted while you are driving. Chew toys can be an effective rescue for you there.
The Nylabone Dura Chew Toy is a good option for your dog to gnaw it all day long. It comes in different sizes, colors, and dog-friendly flavors to interest your dog.
Dog Camera
A dog camera or pet cam is very effective when you're outside the house for a long time.
It helps you record your voice and talk to your dog not to feel your absence.
With a dog camera, you can also monitor your dog's actions and know what makes it engaged while left alone.
A Furbo Dog Camera is available online and is an easy and effective option to communicate with your dog throughout the day.
It is easy to set up with a 1080p video quality that covers a 160-degree angle of the room.
Along with this, you can also treat your dog, talk to him via microphone and express your love at any point in time.
It also shoots notifications when your dog is barking. You can quickly turn on the camera and see what's wrong.
Isn't that amazing?
Try a Kong
Kongs are entertaining rubber toys filled with treats and goodies your dog loves.
Peanut butter, popsicles or ice cubes, or biscuits are the best options.
The Kong Classic Dog Toy is a rubber bouncy toy that your dog will love to play with. You can fill in goodies and freeze and wash them using a dishwasher.
Get Comfy
The cozier the bed is, the more your dog will love to take naps.
You can add soft fur on the bed and a nice warm blanket to make a perfect nap time for your dog.
(Don't miss our post on how to make a dog bed more comfortable)
Soothing Music
While there are suggestions to leave your radio or TV on, it can be disturbing at times for your dog, making it get aggressive.
A better option can be shutting off the curtains while you are heading out and turning on calm, soothing music to make your dog feel like it's snooze time.
So far, we hope you're getting answers on how to keep a dog busy in a crate. Continue reading!
Dog-sicles
Dogs are fond of ice and especially popsicles.
So all you need to do is freeze peanut butter or chicken broth and put it somewhere close to your dog before moving out. Check out the video above or this recipe for more info.
Another good option is putting your dog's favorite food on a small peak of ice.
So, whenever your dog feels hungry, it'll lick up the heap of ice to melt down and get its favorite snack.
Ethical Pet Seek-A-Treat Puzzle Toy
Dogs can be kept busy by introducing them to some canine mind games.
Toys like the Seek-A-Treat intrigue your dog to find its favorite snack by mindful play.
You need to hide the snack under the sliders and wait for your dog to solve the puzzle and find it.
It is enthralling for the pets, and they get along with such toys very quickly.
Although, a bit of training is required to let your dog understand the game.
IQ Treat Dispenser Balls
Dispenser balls are also one such kind of toy that keeps your dog engaged for an extended period.
Such toys keep them mentally and physically engaged.
Pet Zone IQ Dispenser Balls are available in the market with various features, including changing the difficulty levels of the toy.
Such toys can also be helpful for brain training your dog.
Conclusion
Apart from the tips mentioned above, there are many other tips to keep your dog busy.
It can be introducing a new pet for companionship (although it is risky as you need to take care of both of them), avoiding placing things that can trigger your dog, sedatives (if emergency and also pre-discussed with the vet).
You can also look online to find many other enthralling toys for your dog.
Whatever you do, make sure that your dog is your buddy, so don't go too harsh on it.
Instead, try keeping it busy as well as happy so that you can freely complete your other jobs and get back to it.
How did you find these tips? Let us know in the comments!