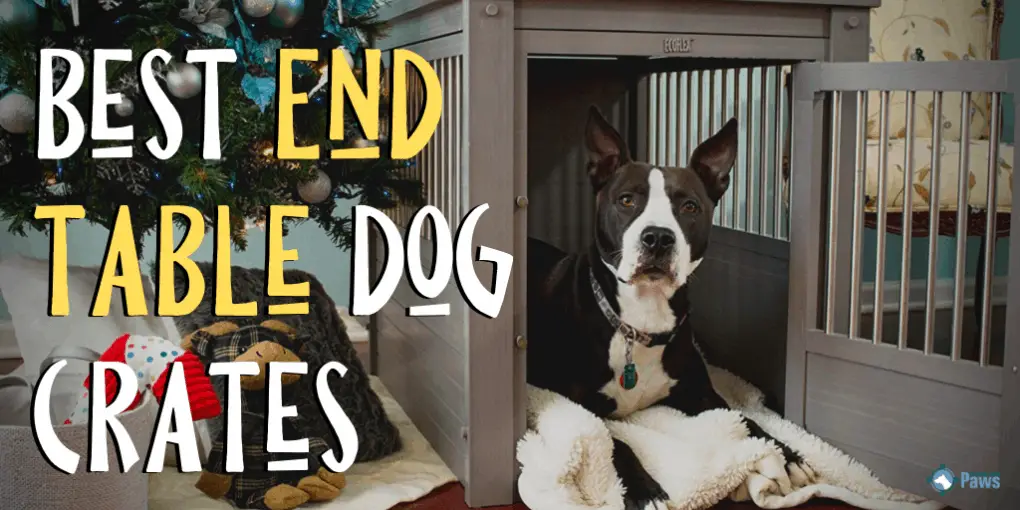 Made from sustainable rubberwood, this end table dog kennel by Crown Pet Products is good for the environment, your dog, and your wallet.
Plus, it's available in both Espresso and Mahogany!
Check Price
However, I have always tried to keep my house looking like the dogs haven't completely taken it over.
Sometimes I succeed, and sometimes I fail.
There have been numerous occasions over the years that I have had to set up a crate in the house, and quite honestly, I hate the look of them.
Usually, I will use a crate cover to soften the appearance, but at the end of the day, we still have a giant wire box sitting in our room.
My dogs love resting in crates; it's their safe place[1].
So, when I take down the unneeded kennel, my dogs are generally disappointed.
My solution to the problem was to invest in three end table crates. Though this was a fair investment, it met my needs of being functional and looking good.
Most people don't even realize the tables are crates until they look closer at them.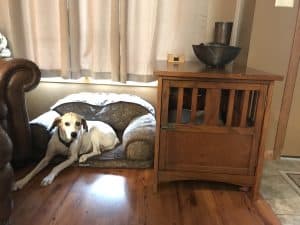 Because my dogs have free run of the house, we took the doors off of two of the crates.
We left one door on for Ginger as she has some behavioral issues that require her to take some time to self soothe, but that's a long story for a different article.
Also, if you are wondering why I have a gate across the staircase rungs, it's because Sophie likes to eat cat food and is wonderfully tenacious about getting what she wants.
I know it detracts from the décor, but as I said earlier, sometimes I fail.
What are End Table Dog Crates?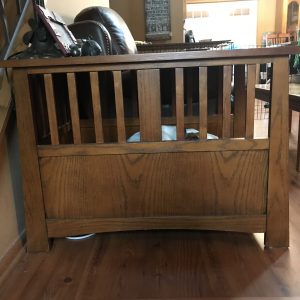 The best invention in the dog crate world!
Simply put, they are dog crates that are also functional furniture.
They make having a dog crate in any living space far more bearable and aesthetically pleasing.
There is a fair variety of furniture-style dog crates to choose from, ranging in style, size, and color.
Dog crate furniture can be an investment, but when you combine the costs of an end table and crate, it's usually the better deal.
Why You Should Buy an End Table Dog Crate
Furniture style dog crates are the perfect solution for having a dog crate and retaining the décor of any room.
I recommend this style table to all my friends and family that crate their dogs.
They blend well into any home and meet the needs of the dogs.
They say (please don't ask me who they are) a picture is worth a thousand words. Below is visual proof of why you should buy an end table crate: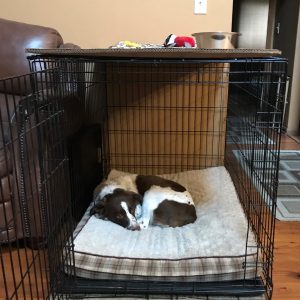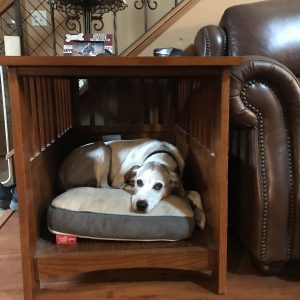 Unfortunately, we do have the big wire crate set up in the living room.
It is far more bearable than the X-Pen we had up before.
We are currently using this wire crate as a temporary training tool for Miss Ginger (I can't wait to tear it down and put my end table crate back in its place!).
What to Look for when Buying a Furniture Style Dog Crate
Like with all buying situations, different factors need to be taken into consideration.
For the end table crate, here's a pretty comprehensive list to ponder:
Color/Style
There is a multitude of colors and styles to choose from.
Since you're making this investment, you will want to find one that matches your room perfectly.
Material
These crates come in a variety of materials from different wood types to recycled polymers
You want to choose one that will both match your interior decorating preferences as well as the wear and tear from your dog.
Ease of Use
Depending on the space you plan on putting the crate, you will want to be sure the door is oriented to open easily.
Some crates have multiple entrances.
Size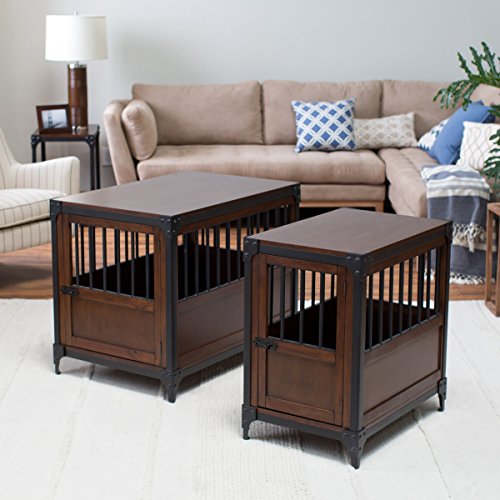 Getting the right size crate is important both to you and your dog.
This comes down to two factors: the size of your dog and the size of the space.
Be sure to consider height when looking for a crate as you don't want it to sit too high or low.
Another item of note is there are two sets of measurements: One set is for the inside of the crate, and the other is for the overall table size.
For example, my crate has a 4-inch difference in the length and depth of the crate interior versus table exterior.
Sturdiness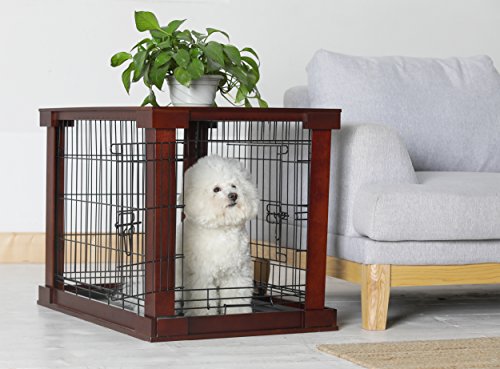 The sturdiness of a crate is vital.
You don't want the table collapsing on your dog, and you don't want a flimsy crate your dog can easily escape.
As much as I love furniture crates, the reality is if you have a dog with separation anxiety or barrier anxiety, these crates won't hold up against a dog that desperately wants out.
Price
These furniture style crates range in price from a little under $100 to over $1000!
The price usually depends on the material and size of the crate.
The Best Furniture-Style Dog Crates
Top Pick
Crown Pet Products Wood End Table Dog Crate
Why It's the Best Choice
The overall style of Crown Pet Products' Wood End Table Dog Crate is nonintrusive and would easily match most homes' décor.
The Crown Pet Table is a solid wood crate that comes in two colors and two sizes.
Also, the door to the crate can swing in or out, making it easy to keep the door out of the way when not being used.
Another excellent feature on this crate is the base
It is made of waterproof melamine, making it a breeze to clean in the case of an accident.
The overall crate allows for excellent airflow, to better keep your pup comfortable.
Cons
Only comes in two sizes
Only comes in two colors
Price
Budget Pick
Casual Home Dog Crate End Table
Why It's the Best Choice
What first caught my eye was the conservative style of Casual Home's Dog Crate End Table.
This mission-style crate would fit in with a variety of interior decorating styles.
The second thing I noticed was that this crate comes in five different sizes and four different colors.
The smallest crate will fit dogs under 25 pounds, and the largest can hold dogs up to 90 pounds.
The color options available vary on crate sizes.
Pros
Open slats on all four sides, allowing for sufficient airflow to keep your pup comfortable
Made from sustainably-sourced solid wood
Moderately priced
Cons
It is not made for chewers, so if your dog chews on wood or their crate, this will not be the right choice
It is not scratch-resistant
Upgrade Pick
Omlet Fido Studio Luxury Dog Crate with Wardrobe
Why It's the Best Choice
Omlet's Fido Studio crate comes in a walnut color, giving any room a warmer feel.
What makes this crate unique is that it comes with a wardrobe to keep all of your pup's stuff neatly tucked away.
The crate features two doors allowing for easier access to get your dog in and out.
While the wires aren't disguised, this crate may be a better choice for dogs who like to chew on their crate.
Pros
Multiple entries
Wardrobe
Easy wipe down finish
Cons
It isn't made from solid wood
The wire sides don't disguise the overall appearance
Limited sizes
Best End Table Crate for Small Dogs
Boomer and George Wooden Dog Crate End Table
Why It's the Best Choice
The Boomer and George crate has a dark espresso finish and metal accents, giving the crate a luxurious look.
The overall design would fit great in most homes and would easily tuck in nicely next to a sofa.
The metal bars give it a sturdier feel, and though it's far from indestructible, it would hold up well against mild chewers.
The crate sits well off the floor, allowing airflow around the entire crate, ensuring the greatest amount of comfort for your dog.
The wood veneer makes it easy to wipe down and keep clean.
Pros
Unique design
Well vented for natural airflow
Easy wipe down finish
Cons
Made from wood veneer
Limited size and color
Best End Table Crate for Medium Dogs
Zoovilla Dog Crate End Table
Why It's the Best Choice
The Zoovilla dog kennel is a nicely sized medium crate.
It has a beautiful design that is aesthetically pleasing and easy to fit in any home.
This crate has a couple of unique features:
First is that this is a multi-door crate; it opens from the end and the side.
The second feature is the removable tray to make cleaning a lot easier.
This crate comes in multiple sizes and colors.
Unlike many of the crate end tables, this one comes in white or black instead of natural wood.
Pros
Stylish design
Multiple entries
Removable bottom tray
Cons
Made from MDF, which has certain disadvantages compared with solid wood[3]
The latch is not as sturdy as other models
Best End Table Crate for Big Dogs
Polar Bear's Pet Shop Double Door Extra Large Crate
Why It's the Best Choice
This espresso colored crate by Polar Bear's Pet Shop is quite spacious and would comfortably fit most large dogs.
This crate is solid wood and features a double door front to allow even the chonkiest doggers to get into the crate.
The wide-set slats allow for airflow and light to keep the crate cozy.
Pros
Double door front
Exceptionally wide and deep
Classic rich design
Cons
Only available in one color
Not sturdy enough to use for crate training
Price
Best Nightstand Dog Crate
Pinnacle Woodcraft Amish Dog Crate Entertainment Center
Why It's the Best Choice
The Amish dog crate entertainment center by Pinnacle Woodcraft is perfect for any bedroom.
It stands slightly taller than most crates.
This nightstand is solidly built from hardwood.
Additionally, this crate has the option of a flip-up top allowing for a storage area under the tabletop.
Pros
Can be customized
Chew and scratch-resistant
Multiple color options
Solid wood
Best Coffee Table Dog Crate
Merry Products Dog Crate and Table
Why It's the Best Choice
Though the Merry Products dog crate would make a slightly taller than classic coffee table, it would still easily work.
It has a slide away door, so it won't be in the way when the door is open.
This table comes in two different colors and has a classic clean line style, allowing it to blend well in most rooms.
Pros
Slide away door
Moderately priced
The tabletop crate can hold up to 300 lbs
Durable
Cons
Made with solid wood veneer
Comes in only one size
Best Multi-Dog Crate
Southern Crafted Furniture Custom Indoor Kennel
Why It's the Best Choice
This rustic handmade crate can also double as a side or sofa table.
Southern Crafted Furniture's indoor kennel is custom made and can hold two medium-sized dogs.
There is an option to have a divider in the middle to keep your pups separate, or it can be left open so they can mingle.
Pros
Handmade pine crate side table
Can be customized in size and color
Allows for multiple dogs
Durable
Conclusion
If you are ready to ditch the metal or plastic crate for something more useful and aesthetically pleasing, then choosing a furniture style crate is your best bet.
Just because you share your home with dogs doesn't mean you have to live in a dog house.
The dog crate furniture is an excellent compromise between pleasant décor and functionality.
I have had my crate end tables for a few years; they have held up magnificently and work perfectly.
I love the way these crates look and blend into the main room. My dogs love them and spend hours snoozing away in their crates.
In truth, the only thing negative I can say about these is that they are not made as durable as traditional crates, so wouldn't be the best choice for dogs who are not fully crate trained or need a heavy duty crate.
Resources